A new week has arrived and if you wish to begin it on a positive note then you've come to the right place. The below-mentioned happy new week wishes and messages are the ones you can send to your family and friends to be the medium of joy and optimism. Each new day comes with renewed hope for things to go better and that hope is amplified on that Sunday when one is looking forward to a new week.
These wishes and messages are filled with optimism. They can be contagious in terms of joy and positivity only. But that's what you exactly need to start a new week with a bang.
Happy New Week Wishes:
#1. Another week has come to renew your hope and light up your spirit. Let the joy embody your spirit and dance to the rhythm of love. Have a happy new week.
#2. Shake up and dust off the sorrow. Honey, chin up and walk the talk. Here's another week for you to do better. Wishing you a happy new week.
#3. Know that the world is your oyster and there's nothing that you can't do. Everything is feasible as long as you can believe it is! Have a happy new week.
#4. You hold the key to the gateway of the land of your wish fulfilment. Don't hand it to anyone else. Be in charge of your emotions and make your wishes come true. Happy new week.
#5. Stay away from drama and cocaine and you'll be fine. Keep your hopes high and the intake
of caffeine low. And you'll have a happy new week.
#6. Chase the butterflies. Stop by to smell the roses. Let the inner child in you keep alive and live with the spirit of joy. Have a happy week ahead.
#7. When things don't go your way, you're supposed to go with the flow. The more you can trust the universe, the more easily it can bring blessings to you. Have a happy week ahead.
#8. Don't forget to keep a track of your mental health. The best way to have a happy new week is by setting an intention of avoiding burnouts and breakdowns.
#9. As long as you're juggling your tasks and maintaining a work-life balance, you're good to go. And the key to doing so is prioritising and I know you'll do well. Have a happy new week.
#10. May the divine sprinkle some extra good luck into your life and help you move forward at a faster pace. Cheers to a happy new week.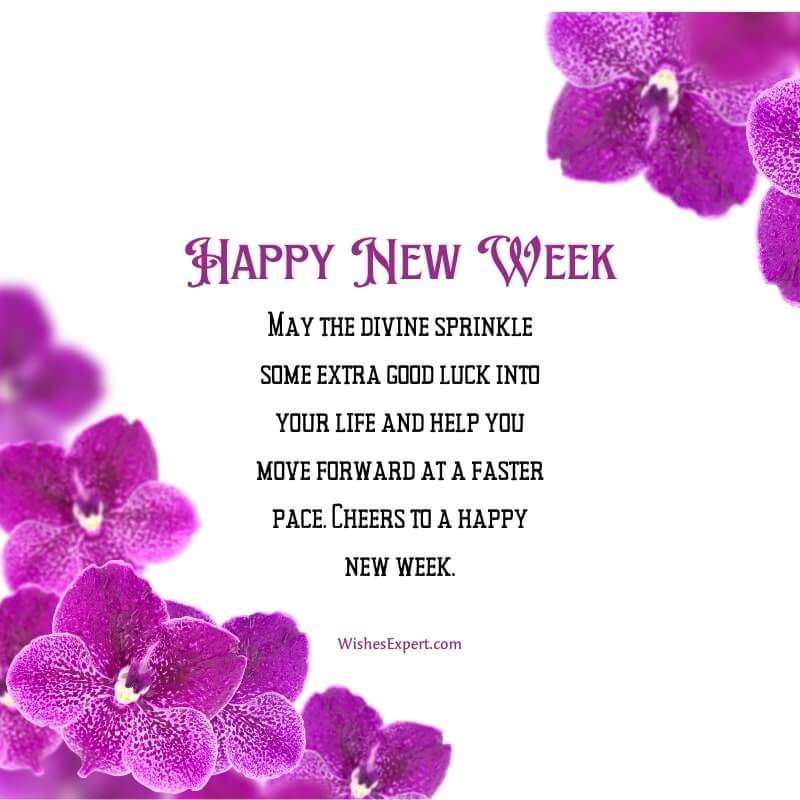 Read: Have A Great Day Wishes
Blessed New Week Messages:
#11. As we step into this new week, may God provide you with all the strength and patience to stay persistent. Have a good week.
#12. As you begin this week, I pray for your well-being. I hope you could make your way through this week without facing any hurdles. Wishing you a happy new week.
#13. I hope that this new week brings harmony into your life and that only love and joy surround you. Have a happy week ahead.
#14. Honey, I wish you a week where you make things happen and reap the rewards of the seeds you've already sowed. Have a successful week ahead.
#15. May the opportunities that can bring you an abundance of joy and wealth knock on your door this week and you feel the most fortunate being on this planet. Have a happy new week ahead.
#16. I wish that success follows you as you take any step forward in your career and reap fruitful results in every endeavour of your life. Have a happy week ahead.
#17. May you bloom into the version of yourself that you can be proud of. I wish you become the magnet of everything good this week. Have a fantastic week ahead.
Read More: Happy New Month Wishes For New Start
New Week Greetings:
#18. Hopefully, this week is the gateway for you to the land of prosperity, joy, love and everything good. Listen to your heart and you'll find the key to this gateway. Have a loving week ahead.
#19. May this week's fortune turns in your favour and blessings find their way to you. I hope this week brings you happiness that you've not felt in a while. Have a happy week ahead.
#20. Wishing you a week ahead where you find yourself surrounded by people who help you achieve your goals and only uplift you. Have the best one.
#21. Wishing you an error-free week filled with the enthusiasm to go after your dreams and the joy to share with your loved ones. Have a happy new week ahead.
#22. As you step into this new week, may your heartfelt wishes come true and you find yourself in the midst of an ocean of blessings. Have a great one.
#23. May your soul stay filled with optimism and enthusiasm. May you shine so bright that you become the beacon of light for everyone around you. Have a happy new week ahead.
#24. Wishing you a week where you stay protected in divine light and get to live a happy life which stays protected from the evil's eye. Have a nice new week ahead.
#25. I hope this week turns out to be a treasure hunt and at the end of it you find the sacred treasure you can cherish for the time to come. Have a magical week ahead.
Read More: Happy Holiday Messages And Wishes
Final Sayings:
Save these messages to slide into everyone's DMS with a note of positivity. As you can agree that the above-mentioned happy new week wishes and messages provide the enthusiasm one needs to start a week, don't forget to share the little epitome of joy with your friends. You can visit our main page for quotes and wishes for anything you can think of. Make sure you subscribe to stay updated as we provide tons of wishes frequently and you don't want to miss out on them.