Birthday Wishes For Big/Elder Brother: Big brothers are always a support system for their little ones. They always hold a special place in siblings' hearts. So, birthday wishes for big brother should be the best of all!
Big brothers are protective, responsible, and friendly to their siblings. If you have a big brother, it's time to realize that you are being well protected and loved more. It's the perfect chance to show your big brother how much you love him. Looking for some splendid and heart-touching quotes and birthday wishes for big brother? We have some for you, let's have a look:
Happy Birthday, Big Brother:
1. A very happy birthday to my favorite big brother. Let this day be as special as you are. Once again, happy birthday to my human diary, for others I may be a princess, it's just you, who calls me a fairy!
2. All these years, I have seen you grow up with me, so I never had any fear. I wish the bond we share will always be filled with love and care. Wishing you nothing but happiness for all the coming years, may you taste success in your career.
3. A big brother is also a best friend. You were always a friend at times, I felt you are God send. When I needed someone to cry to and laugh together, you were always near. Thanks for all the memories. Happy birthday, bro, I am sorry if I caused you any worries!
4. People say a sister and brother are the cutest friends. Yes, they are true! From the day I saw you, I knew everything changed. Thanks for all the happy days. Happy birthday to my friends and my bro!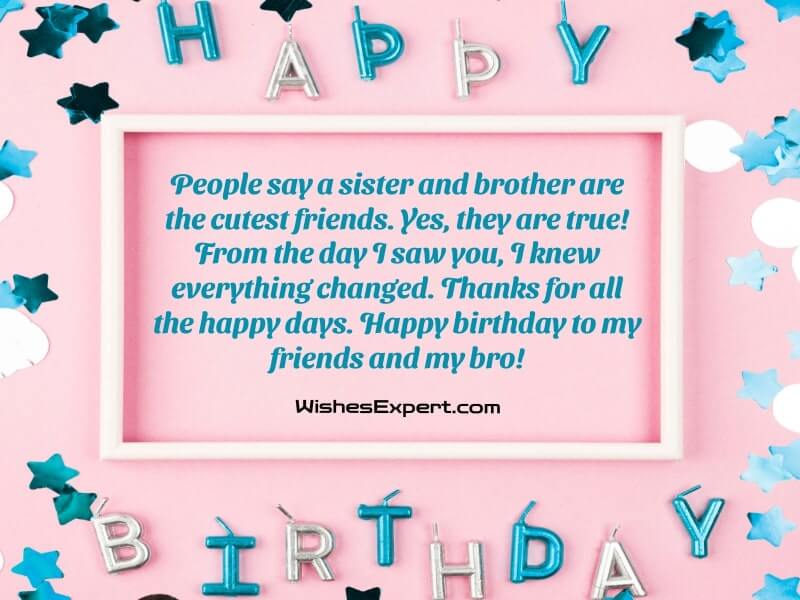 5. When mom and dad said you are my protector, I did not know how it makes my life better. But you know what, you protected me in all my life's combat. Happy birthday, big bro, of all siblings you love me the most, no!
6. I always wish to have had a best friend who will be through all my ups and downs. That is why God has sent you to me, as you are the best clown. Apart from being a great big brother, you were there for me like my shadow. I love you, bro. Happy birthday, missing our game of UNO!
7. Brothers are god's greatest gift, who are always ready to give your mood a lift. I know mama papa loves me a lot, you see, but I feel you are like a parent to me. From taking responsibilities to taking good care, more than mamma and papa, for me, you were there. Thanks for everything, big bro. Happy birthday, you know whatever it is you are always a pro!
8. If I could turn back time, I wish to extend all our happy days and hours spent together. That is how much you mean to me, happy birthday big brother!
9. I will always love you as you do. When every day passes, I wish I could have spent more time with you even if it means creating a mess. You mean so much more to me. Happy birthday, bro, stay happy busy bee!
10. Wishing my best, a very happy and amazing birthday. Let all your years be filled with love and happiness only. Love you, brother!
Read: Happy Birthday Wishes For Brother
Birthday Wishes For Big Brother:
1. A big brother is someone who will wholly be responsible for their siblings. And just like that, I am so blessed to have you in my life to make my life fascinating. Happy birthday, big bro, you taught me at times, it is good to go with the flow!
2. Though I do not say this much, you are my everything and I miss your protective touch. I love you, big brother! Wishing you the best birthday ever. With lots of love and hugs, your little sister!
3. I am so lucky to have you in my universe, without you my life would have been a meaningless verse. It is all because of your presence. How will I ever bear your absence? Thanks for all that you have done to me and done for me. Happy birthday, bro, I miss you when I sip my evening tea!
4. If happiness can be defined, it is you, my big brother. Thanks for creating millions of wonderful memories together. I will love you forever. Happy birthday, my full-of-life teddy bear!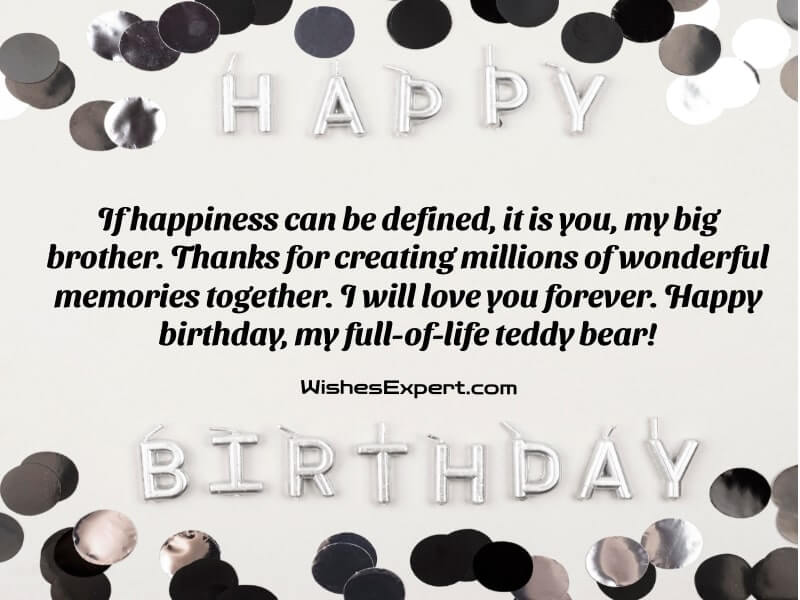 5. When you are here why should I bother? I am so happy and proud to be your little brother. Every day I see you, I feel that I should grow just like you. That is how much you inspire me. Happy birthday to my inspiration, you are the only one to tolerate my gaming spree!
6. From day one, you were there for me, even if there was none. I promise you that I will never leave your side. Happy birthday big brother, I will always be there in all your fight!
7. When people tell me how lucky and blessed, I am to have this beautiful family, I accept it happily. Because more than everyone you are important to me. Happy birthday, bro, because of you I have started drinking black coffee!
8. Let this day and year be, as wonderful as your life and care towards me. You were there for me when I stumble, happy birthday to my guardian angel.
9. Though we fight at times, the love and care you show are worth all dimes. At the end of the day, you are matchless, to me you are just priceless. Nobody can show this much love and care. Happy birthday, big brother, with you, life is all fair!
10. You will always be irreplaceable in my life, no matter what happens, how I survive! You taught me, to accept challenges and dare, happy birthday to my lovely big brother, you are pretty unique and rare!
Check: Birthday Wishes For Brother In Law
Birthday Wishes For The Elder Brother:
1. Whenever I feel my life had taken a wrong turn, you were always there to point me in the correct direction. Thank you for everything. Thank you for being there for me no matter what others were saying. Congratulations on your birthday, dear big brother, you know at times, you are more caring than mother!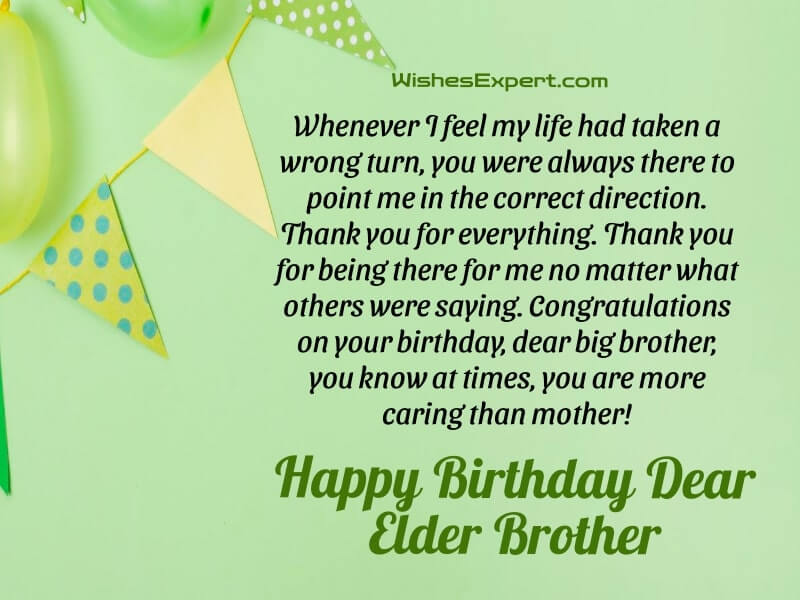 2. When everyone else turned their backs on me, you made my life a whole lot easier by telling, self-confidence is your key. You are the sort of brother that every girl dreams of having. Greetings and best wishes for your birthday, keep rocking!
3. You're the kind of brother who's always willing to go the extra mile to make sure his sister gets the best of everything. I like that about you, more than anything. Best wishes on your birthday dear, for being such a wonderful brother!
4. This day is particularly memorable for me, it marks my elder brother's birthday, you see. You cannot imagine my joy at having such a wonderful brother as you are, after all, you only taught me to be aware. Take pleasure in yourself! Besides you, I am just an elf!
5. On your birthday, my dear brother, I plead with you to take a holiday! I know you are working hard for your success, but do take time to rest genuine love and happiness!
Take A Look: Birthday Wishes For Little Brother
Funny Happy Birthday Wishes for Big Brother:
1. It's your birthday today, buddy. I wish you a happy and prosperous year, guess you are having it already. Take advantage of the fact that you still have teeth to enjoy your cake, after a few years you will enjoy them with teeth fake.
2. Happy birthday to my kind and supporting older brother, I know such good words from me is very rare. Actually, I am coming to your place to annoy you, I won't lie, have a good time, elderly guy.
3. Happy birthday to your older brother, now, it's clear you're getting older. I'm hoping you'll finally admit that I'm more attractive than you are, and finally, I will have the junks of your share.
4. Dear big brother, on this significant day, I want to remind you of that pink envelope with the scented letter. You see that was your sweet little brother, before you kill me, happy birthday, dear!
5. Since you have left home, life has become super boring. My nights are sleepless without you beside me, loudly snoring. Happy birthday to you, this year, enjoy the entire chocolate cake all alone, big brother!
Take A Look: Funny Birthday Wishes for Brother
Happy Birthday Elder Brother:
1. I hope you will have your children soon to plan some pranks for your birthday together. Prepare yourself for today's joke, tomorrow I'll be there!
2. I wish you a year filled with plenty of excitement, fun, and beautiful memories. Happiest birthday to you dear brother, I wonder like you who will be proud of me with all my follies!
3. I am eternally thankful to God for choosing you to be my older brother, who is always there to advise me and prevent me from making errors. Finally, I want to wish you the happiness and love you deserve next year.
4. May God continue to rain His blessings upon you now and in the future. Wish you a very happy birthday big brother, may you never lose your humor!
5. No one else on this planet understands me as well as you do, I have found the greatest friend and big brother that's you. All my best wishes for you on your birthday, big brother have it your way!
Big brothers are more like best friends for life. Make your big brother feel your love towards him by writing amazing quotes on his birthday. Express all your love and gratitude to your big brother on this special day. Make things memorable with him. These birthday wishes for your big brother will make your dear sibling feel special. So, why not choose one for him?