Funny Birthday Wishes for Brother: The birthday of your brother is the most awaited day in his life. Not only for the party and the gifts but also to understand the importance of his presence. So, start your day by extending sincere gratitude with these funny birthday wishes for your brother.
On his birthday, your brother tries to harvest the best memories. Moreover, he cherishes those with his near and dear ones.
Going through life is just a practice everybody does, but growing through life makes the journey much harder. Every year on this memorable day, you pledge to start anew, keeping the good jobs you did and learning from the mistakes you made. Life is a journey of infinite steps, so the birthday is your first step to start.
So, why don't you make the journey memorable not only for you but for your brother too?
Funny Birthday Wishes for Brother:
1. A very Happy Birthday to you Brother! Happy 22! Keep on with your crazy antics because that's what defines you, I will be happy to be your partner in crime always, don't bother.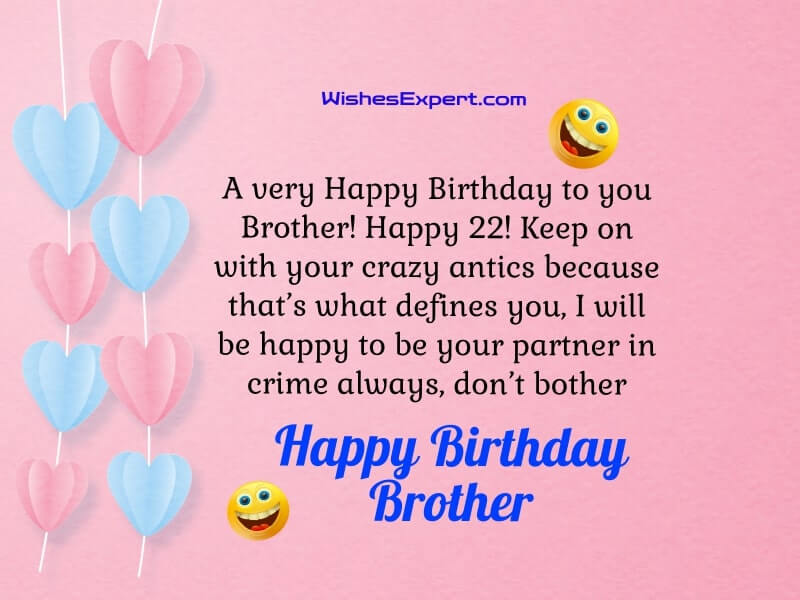 2. Happy Birthday my lazy brother! Why say such things louder! Well, you are always LAZY at your studies, but you turn out to be CRAZY wooing ladies. Before you beat me with the hay, I leave you free for the day.
3. Whenever I remember your face, for no reason I start smiling and finally laugh out loud, without a doubt. You are the funniest and cool brother, and I your, sister, will love to annoy you forever.
4. Happy Birthday my naughty brother! You are always incomplete without your naughtiness, somehow it has become an ornament that suits you the best. Naughtiness is something that you will soon master.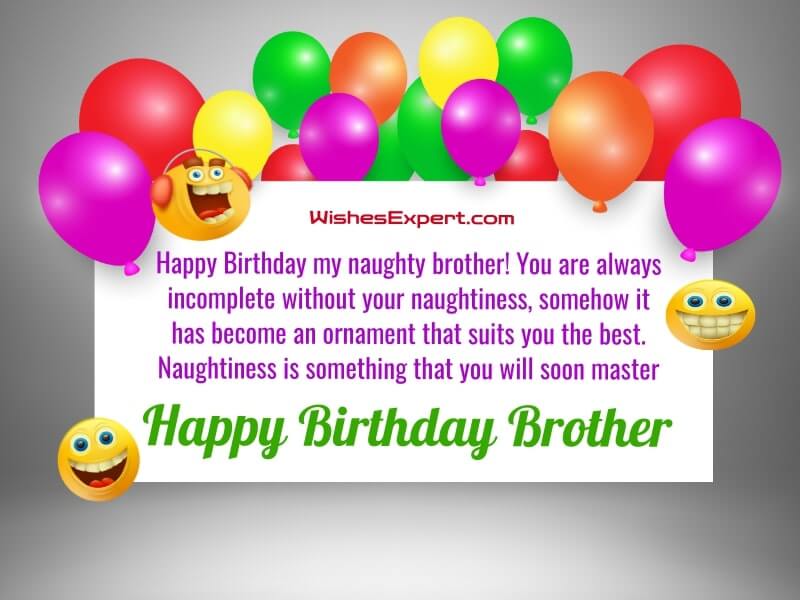 5. Happy Birthday to the coolest and the funniest boy of this planet. Your funny nature is an asset. Cuteness and fun, make you as hot as a Sun!
6. The more I think of you, the more I laugh, and the less I love others. So, my thought for you is directly proportional to my laughter and inversely proportional to my love for others. Don't stress brother, after all, we shouldn't discuss arithmetic on your birthday, dear.
7. Happy 7th Birthday toothless bunny! You now look very funny! Next time, you forget your big brother, while sharing honey, I will complaint about you to mommy!
8. Happy Birthday young boy! The would-be father, you have filled our hearts with joy. I am so eager to tell them how you used to such your toe, I guess now you have started thinking me as your foe!
9. Happy Birthday my cutest brother! You know how cute you look like whenever you make your face funny? See, I have already started laughing, honey-bunny!
10. Hey brother! You are taller than me but you are still younger. Happy Birthday, Dear! Do you still cry when you spot a lizard near?
Read: Birthday Wishes For Brother From Sister
Funny Birthday Wishes For Brother From Sister:
1. God has been kind to our parents, you see, my dear Daisy. That's why sent me before you otherwise they would have gone crazy. Happy birthday to the person who always ruins my dates in the perfect time, my partner in crime.
2. I couldn't have a better brother than you, because for every mischief we do, you get the beating for the two. Have a joyous birthday, big bro, I am also hiding your secret truth, you know!
3. Happy Birthday to my dear brother. May you grow naughtier and me cuter. May our pranks break all records that's what I look forward towards.
4. I am happy that I have a brother like you but I am happier because you have an elder sister like me. After all, you are the brother of a charming lady, many happy returns of the day, buddy!
5. Don't be sad as you grow older and older, because you shall still be younger than your elder sister. My wrinkles will come first, if they may, now give a big smile on your joyous birthday!
6. Happy Birthday, brother, and smile a little harder. Open the gift with without fear, trust me this time it won't burst, dear!
7. I know you love me the most as my birthday wish and gift reach you the first on your big day every year. Happy Birthday my little boy, with love, your elder sister!
8. I won't tell anyone what your salary is, as long as they have a chance to guess what our age difference is. Happy Birthday to my little brother, when you have your sister, why fear?
9. Happy Birthday to my bossy brother! You make a face like a boss and act like a brother, dear. Yet you ask, when its you, why, I fear? You see, you are a deadly combination, who is always near!
10. I love you, my brother! I know you think I call you a handsome when you hand me some sum! Wish you a very happy birthday, you see, what you think is not totally wrong, dear!
Also Read: Birthday Wishes For Little Brother
Crazy Funny Birthday Wishes For Brother:
1. You never know how annoying it is to see my favorite clothes disappearing from the wardrobe and later finding it in the laundry basket with stains. Happy birthday, brother. Please return my clothes unstained!
2. I sometimes fail to realize how and when you became my best buddy from my biggest and adorable enemy. May we always have fun together, happy birthday to my dear brother.
3. I feel relieved to have you as my love-life adviser and bro-code holder. Thank you for being there for me, my dear brother. Happy birthday to my secret sharer and biggest supporter.
4. You stole mum's attention as soon as you landed at the house. Then you started stealing my favorite pencils and pens, just like a mouse. Now when I see you treasuring our late-night chatting session, I miss your funny expressions. Happy birthday, dear.
5. Hate you for blaming me for every mess you used to make when we were children. But don't worry, I will share all your stories when you will be the father of your little kitten. Happy birthday to the best brother in the world.
Check: Birthday Wishes For Big Brother
Funny Birthday Quotes For Brother:
1. You are the older brother, whom I admire. But when it comes to impressing girls, I become your adviser. Happy birthday to the 26-year-old, for starting a conversation who still searches the internet for icebreakers.
2. As children we used to share our room, and fight over simple stationery items. As adults, we share our secrets and dreams, while fighting for each other. Happy birthday, brother.
3. The way your teasing changed from "you're adopted" to "you failed the driving license exam" shows that you have matured, and I have made myself insured. Happy birthday, bro.
4. Sometimes it takes mum to remind me that you are the elder brother and I am younger. Your pranks and weird jokes never fail to amuse me. Happy birthday to our big baby.
5. You selected me as your protector when you were a baby, my duty is still going on, you see. Happy birthday to you my little brother and happy anniversary to me as your protector
Funny Birthday Wishes for Younger Brother:
1. I get irritated when you reveal my embarrassing moments to my dates. But then I remember you are the one who tries everything to cheer me up after my break-ups. Happy birthday to my Mr. Dependable.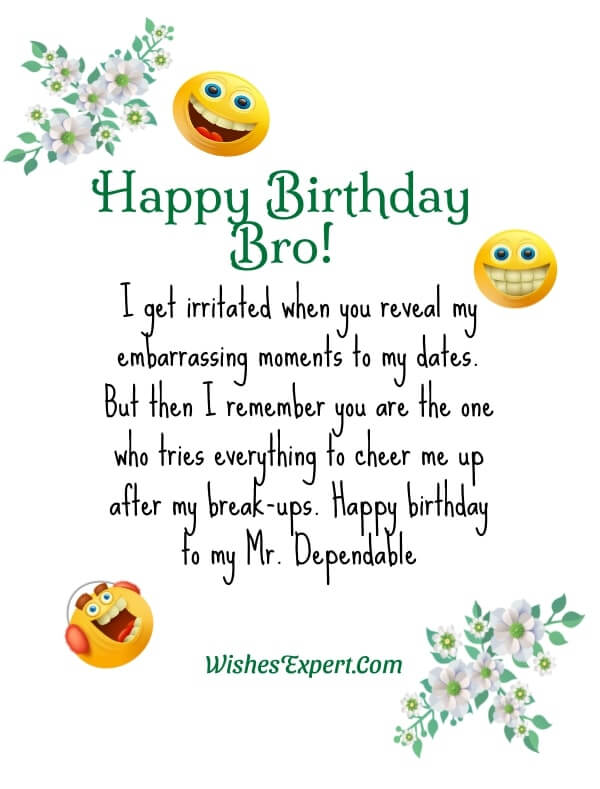 2. Double dates are fun because of your stupid jokes. Your half-burnt efforts of being the master chef humor me, although angers our folks. Happy birthday to my goofy baby brother. Never change dear.
3. If the word clumsy had a face, it would have been you. Every single fragile item at home had to suffer your breaking, surviving only a few. Hope you enjoy another year, breaking none of the mum's favorite vases and dad's sunglasses. Happy birthday, with love and kisses.
4. Dear brother, I wish you a happy birthday, dear. Hope you find the real world more intriguing than Free Fire and PubG. Otherwise, this year you will again need me to save you from a good scolding.
5. You bring puppies home, I take care. You create problems, I solve them, dear. Yet I wish happy birthday to the biggest troublemaker.
When there is a shortage of space and time to express our emotions and feelings, we choose quotations to convey our feelings. We are glad to share the moments of remembrance with some unique feelings to make your younger brother feel special on his birthday. We hope these funny birthday wishes for your brother will surely bring happiness and a smile to his face.