Funny Birthday Wishes For Male Friend: Celebration of birthday is a traditional way of marking the day as an important one. Every individual has their own choice of celebrating a birthday. Birthday is a special day as it allows one to look back at the whole year to experience the good memories and learn from the new events of life. It is no less than a new beginning of another year. All of these are made extraordinary with best and positive wishes on birthday.
We all love to feel special, and being a loving friend, you must be loving to be one. When you are away from your friend, you only want to make him feel special on his birthday. You just need to send a funny message that complements your friend. The words express the best of feelings that one possesses for the other.
A simple message can express your affection, compassion, and warmth for your friend on his birthday. However, things resonate more when they are said on a lighter note. It would make his day and pour goodness into his life. Hence, are some funny birthday wishes for a male friend recommended to you to make his day memorable.
Here are a few funny messages for your male friend to convey your adoration and attachment:
Funny Birthday Wishes for Male Friend:
#1. Bro, you are old enough to correct your errors but not young enough to make some more. Happy Birthday to you! Remember you owe me a thousand bucks that's your due!
#2. You know why I was born before you, because God had a plan to send you too. Imagine how lucky our parents are! Happy Birthday to you, younger brother!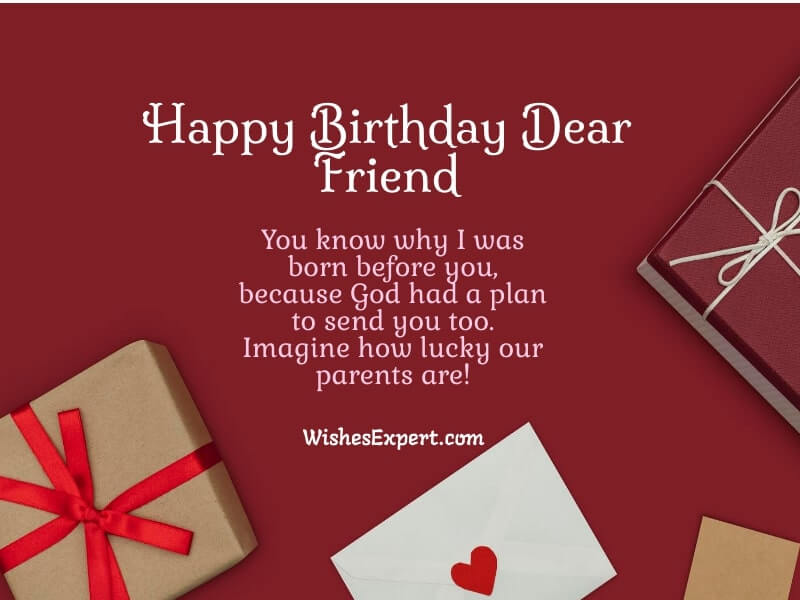 #3. Don't worry about your grey hair dear, you see, you look delicious when served with salt and pepper. Happy growing to my dearest friend-cum-brother!
#4. Happy Birthday to you! There is a place next to a monkey, kept empty for you! Once again, happy birthday to you! Don't forget to visit the zoo, and grove with a hulla-balooh!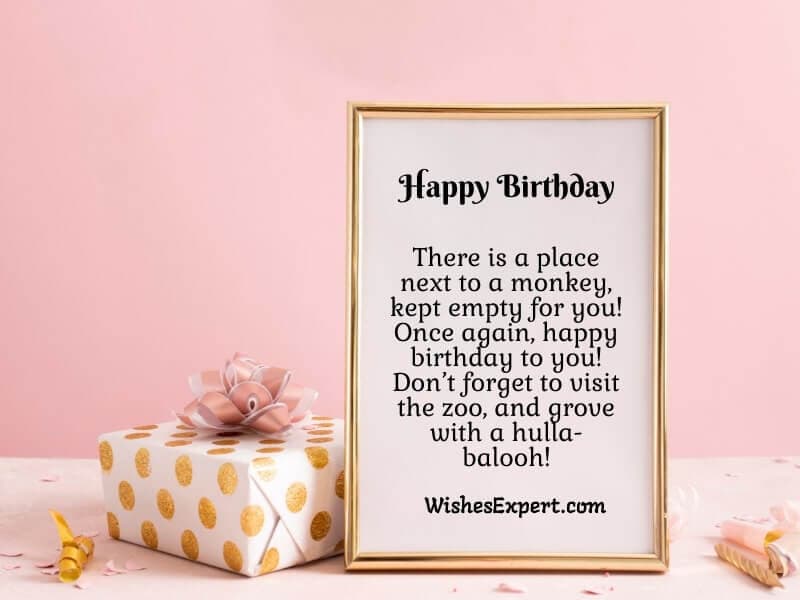 #5.No cakes can weigh more than you, my brother. So, swallow it and add some pounds more without fear! Happy Birthday dear bestie, don't you dare forget my selfie!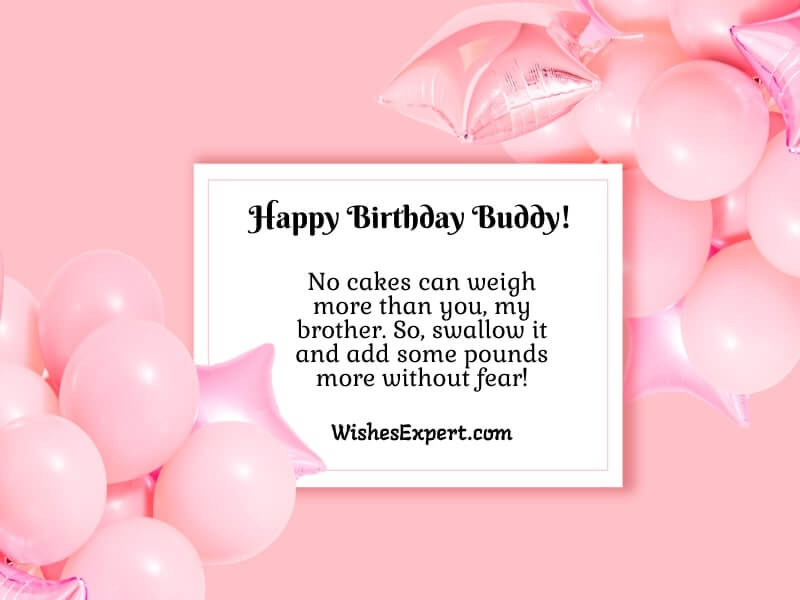 #6. I cry when you cry, I smile when you smile, and when you get scolded, I laugh out loud from a mile. Ha Ha Ha! Keep up your mischief and make me laugh. Happy birthday bestie, how much you pretend, you are not that tough!
#7. Don't worry about your age, as age is just a number. So, to me, you are still younger. All my best wishes for your upcoming birthday. Happy birthday to you, dearie, I have nothing more to say.
#8. I am sending some candles with the cake. Kindly light up the candles with your smile if you don't find the lighter in your left pocket. Happy Birthday to the most wonderful friend of mine, who without break always forgets.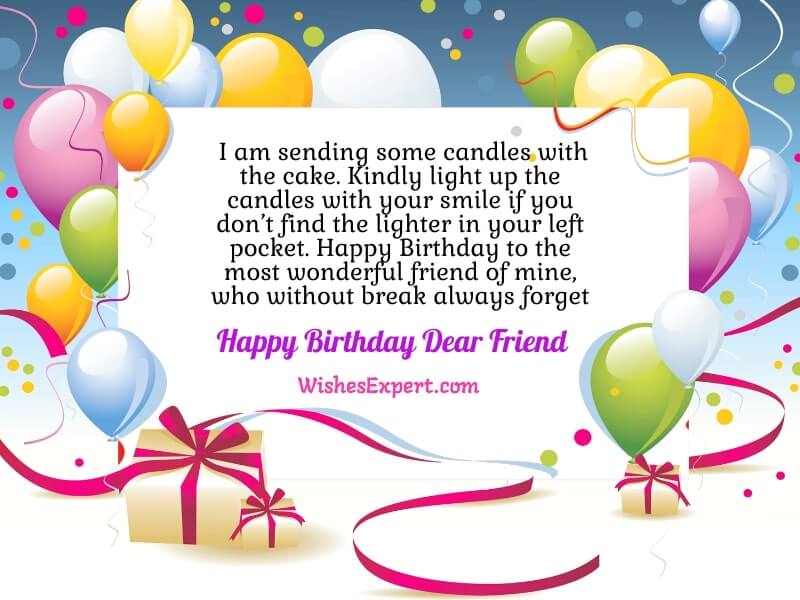 #9. You are so beautiful, talented, loving, sexy and kind. Oops! Sorry, I just sent you a forwarded message, please don't mind. Enough of complimenting myself, I know I am the best. Let me wish, happy Birthday to you, party from midnight till noon without any rest!
#10. Why do you need a gift on your birthday when God has gifted you a sister like me! Happy Birthday to my lucky friend, who always win a gift for free!
Read: Funny Birthday Wishes For Best Friend
Funny Birthday Wishes for Best Male Friends:
1. A friend in need is a friend indeed. Wishing you happy birthday in hopes to get a birthday treat. So, don't celebrate without me else your cheeks will pay the fee.
2. Happy birthday, bro! Hope like the moss, in any situation you grow. Only because it's your birthday, don't run around like a wild deer after gulping down pints of beer.
3. Wishing happy birthday to our angel fair. Don't smile as I speak of the one residing downstairs. Hopefully, from the ladies you get good graces, now that you have removed your braces.
4. Hey, brother from another mother! As I got no choice other. For your birthday present, there is milkshake. Grown up that you are now, don't order a pink cake. Happy birthday!
5. On your birthday, let me start your day with a joke. Oh! But you already have your face for that, you, old oak. Happy birthday! May your hair turn grey, again wish a happy birthday!
Try: Birthday Wishes for Male Friend
Funny Birthday Wishes for Male Best Friend:
1. Wish you a very happy birthday, Arnold Schwarzenegger! Do the world a favor. Don't make us eat anything vegan today. For we love to be fat bulls, dare I say.
2. I reminisce about the days of college. Where our parents hoped we would get some knowledge. But we were just a band of rowdy. Running around till we were sweaty. Do you too remember those happy days on your happy birthday!
3. My palms suddenly started itching today. Then I remembered that it's your birthday! Texts have replaced the Birthday Beats. Wish you happy birthday, may the tunes of happiness play on repeat.
4. You won't be this handsome forever. So, make good use of it else you might get a girl never! On this note, hope you stop to gloat. Happy birthday, bro!
5. Had you not put so much effort on your hair every morning, instead used that into working, you would have been the most successful. Wish you happy birthday, your hair looks beautiful.
Funny Birthday Wishes From Female to Male Friend:
1. Amigo, wish you a very happy birthday. Hope all the pretty girls come your way. All these years I have been your wing-woman. Hopefully, this year we succeed in our mission.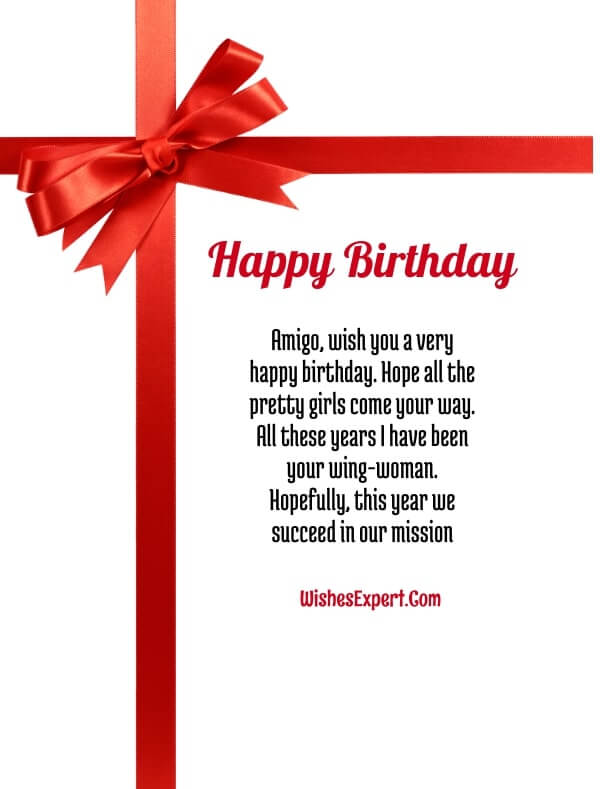 2. Sensei, A very happy birthday to you. I learnt the great art of mockery from you. Unshakeable and brave like your hair after applying gel, may in land of victory you dwell.
3. Happy birthday, bro! Hope you stop stealing my chocolates like a crow. May you marry the daughter of a chocolatier. Don't worry I will keep your secret year after year.
4. Wish you a very happy birthday, cry baby. Never shall I invite you to watch a sad movie. So, beware for your sake. Don't you forget to get my favorite cake.
5. Hope this year with blessings from the divine, I won't be your guinea pig to choose a pick-up line. Happy birthday, Dr Jekyll. May all your personalities have their fill.
Making someone feel special also gives pleasure and satisfaction. The physical presence gets dissolved with a simple message filled with love and fervor. The funny birthday wishes for a male friend would definitely bring happiness to your friend's soul and mind on his birthday.