Funny Birthday Wishes For Sister: A relationship with a sister mainly consists of love but more than often that love takes the form of humor or conflicts. But when it is her birthday, using these funny birthday wishes for sister would be a brilliant idea because it accurately showcases love with a sense of humor. And that is the kind of love you share with your sister.
So without a further share, these birthday wishes to your sister to tease her, get sarcastic with her, be a little mean with her but wish her the best with all love in your heart. These wishes are especially perfect for people who struggle to express their emotional sense of sides, humor always helps with that!
Funny Birthday Wishes For Sister:
#1. Happy birthday, sister. I know you like to keep it real but looking at your age, you should start considering wearing makeup unless you want to get scared by your winkles.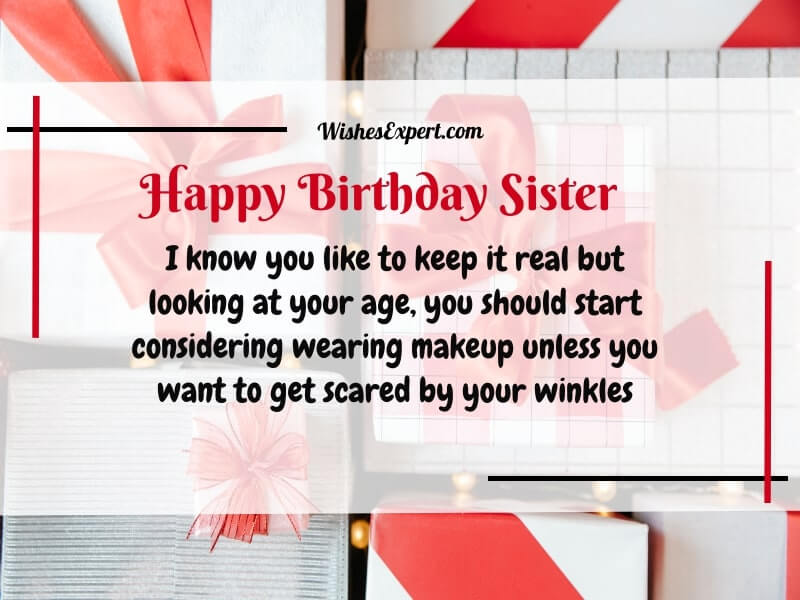 #2. With each of your birthdays, you are growing physically for sure, but mentally? I seriously doubt it. Sis, I am waiting for that magical moment when you start acting like a grown-up, but happy birthday!
#3. Happy birthday, sis! I will let you eat only one piece of your birthday cake because the age you are at and the size of the jeans you wear are concerning to me now.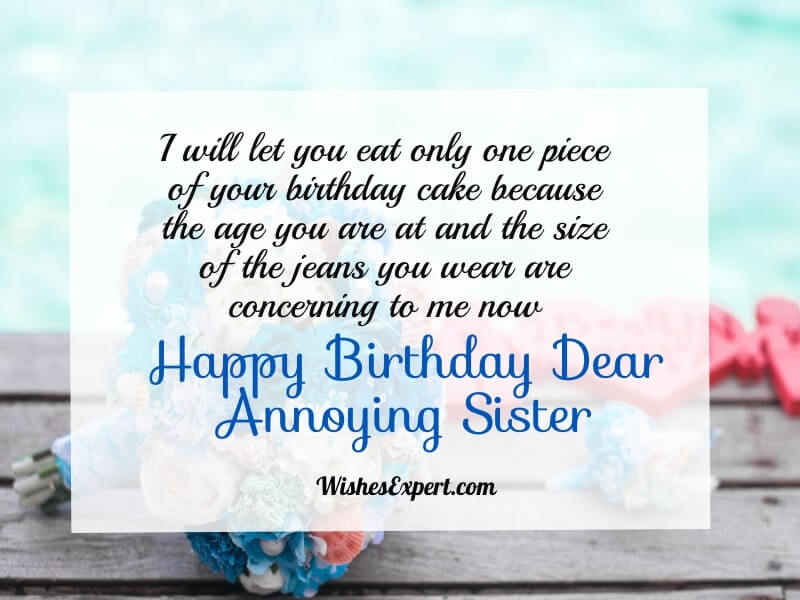 #4. Stylish, smart, pretty, all of this in one woman and God has already blessed you by giving this woman, me as your sister; what else do you need? Nothing, right! Happy birthday, sister!
#5. With increased wrinkles and the inability to remember things, you are surely growing older, but the growth of grey cells stopped years ago, let's on birthday initiate that growth again. Happy birthday, sis!
#6. Happy birthday, sister! Because I care deeply for you, looking at candles on your cake, I will give you an energy drink to blow them off.
#7. Because it is your birthday, sister, I will do the hardest task of taking good pictures of you and making you look better than me! That is my gift to you, happy birthday!
#8. Sister, I know you are an honest person and you hate lying, but now I believe you should start lying about your age, It is seriously the time, but a very happy birthday to you!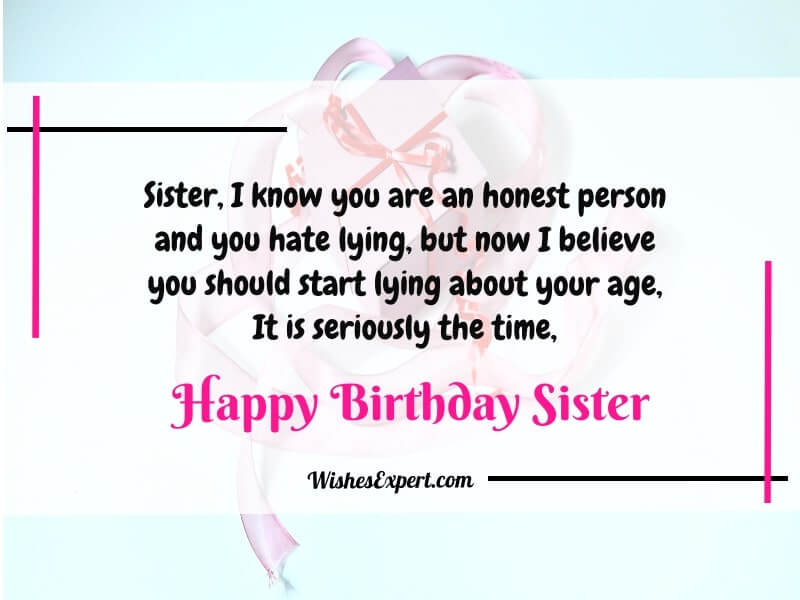 #9. Today our mom had labor pain, she tried so hard to push you out of her womb, all this for what? For you? I think that was too kind of mom, but anyway, happy birthday!
#10. They say everything happens for a reason, but I have not found a significant reason for your very existence, this year do something that can prove the saying right, happy birthday, sister.
Happy Birthday Sister Funny Wishes:
#1. You know you can always brag about me having you as your sister. But what about me? I can't do that! Just kidding, happiest birthday sister, have the ball.
#2. Sister, I would like to say only one thing, avoid cooking and cracking jokes, if you want to see people around you healthy and happy, and then you'll be fine too. Happy birthday!
#3. Happy birthday, sister. Don't worry, we have baked a relatively larger cake this time so you don't get overwhelmed by seeing the number of candles on it.
#4. Happy birthday, sis! Since your childhood, I have been waiting for you to grow up, please surprise me this year by being a grown-up.
#5. Sis, you know I steal clothes from your wardrobe so that you don't stand a chance of wearing them and making fun of yourself, that is how much I care for you! Happy birthday!
Read: Funny Birthday Wishes For Best Friend
Funny Birthday Wishes For Sister Quotes:
#1. Happy birthday, sis. You can always count on me whether you want to look good or act smart; because I know you can't do that on your own!
#2. Being a sister with such a smart and popular girl could get sometimes tough, but I love the way you handle all the stress, I am so proud of you, and happy birthday!
#3. Happy birthday, sis. Because it is your birthday today, I promise you that for the upcoming year we won't play any games involving the brain, so you don't feel bad about yourself.
#4.  Happy birthday! Sis, keep on lying about your age and  I am sure you would have at least one successful date this year.
#5. Happy birthday, sister! With that sarcastic tongue, you aren't going to heaven and I love you so much that by being your partner in crime, I have chosen to not go in heaven too!
Also Read: Birthday Wishes For Sister In Law
Funny Birthday Wishes For Sister on Facebook:
#1. There is Facebook that makes you believe that you are popular and then there is me who makes you believe you are smart solely to make you happy! Have an astonishing year, happy birthday sister.
#2. I know your phone will be loaded with Facebook notifications today, I hope your phone does not get broken by the weight of lies people are going to tell you, good luck, happy birthday, sister.
#3. Happy birthday, sister. People can not escape Facebook reminders but they can your party, regardless it is being your day, they have a right to choose something fun to do.
#4. Happy birthday, sis! If only there existed no Facebook, you would know your fan club is of 3 people only.
#5. Being your sister would be an easy task, only if you would know how to use your brain, but never mind, Happy birthday sis.
Funny Sister Birthday Quotes:
#1. Happy birthday to my sister who takes no time in driving other people nuts and forever to dazzle a single human being.
#2. Happy birthday, sister. I am surely coming to your birthday party, because if I don't, how people will enjoy the party you are throwing?
#3. Age is just a number, but in your case, it tells me that for how long you have been skipping gaining wisdom; and now it feels like high time, sister! Happy birthday!.
#4. Happy birthday, sister. I wish I could tell you like you are getting finer as wine or you are evolving as you are growing. But these are terrible lies and I am not a liar!
#5. Sister, you are my inspiration, you exhibit the exact version that I don't want to be, thank you so much for always bringing clarity to me, and happy birthday!
Funny Birthday Wishes For Sister From Brother:
#1. Being your brother is a tough task, I have to lie about your age, grades, skills, everything! I hope you can turn some of them into truths, happy birthday, sis!
#2. Happy birthday, sister. Each year passing by, I hope to see you as wise woman who knows what she is doing, but ironically, I find you scratching your head weighing down your food options even!
#3. Happiest birthday to my sister who has been surviving life without any talents and skills, her survival is solely food and sarcasm.
#4. First mom gave me birth, that I can understand, then who brainwashed her to have you? But as now you are here, happy birthday, sister!
#5. Happiest birthday, sister. I do love you so much, hence, I promise that at least this year, I'll not play any game with you which involves using the brain, because then you would be fine.
These were all the funny happy birthday messages for sister, which are perfectly fitting to wish your sister with. These wishes are not common nor cliche. If you have a love-hate relationship with your sister, which is the case for most of us, then all you need to do is save these wishes or share them. Humor makes the other person smile, if it is sarcasm, at least you will be smiling, in either case, there will be smile on one of your faces, or who knows on both of yours!