We want to sound decent while wishing someone special, happy birthday and a little touch of humor helps us do the exact. Here are a number of funny birthday wishes for husband that you can have a glance at to send him on his birthday to stand out from the tons of birthday wishes that he is going to receive.
Humor is always easy to remember, plus it always contains a certain level of genuineness that definitely gives the other person an awe-inspiring moment. And at the very least, by sending him these birthday wishes, you are making him smile, or else you are smiling!
Happy Birthday Husband Funny
1. Honey, I do want to ignore the fact that you are aging but your birthday and gray hair simply do not let me but I still love you. Happiest birthday!
2. The love that I have been carrying for you is undeniable, perhaps that is why I tolerate your poor humor so well, just kidding, happy birthday, love.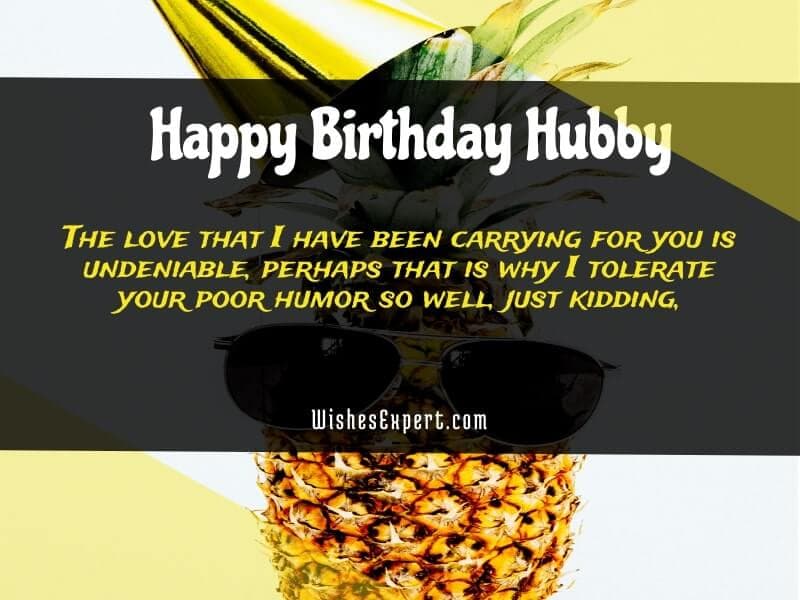 3. Happiest birthday. I know it is next to impossible to not give attention to your wonderful wife, but please today is your day, focus on yourself, I will, too, try to do that!
4. Happy birthday, hubby. Don't worry, I bought flowers for you too, today; I remember it is your birthday, that is why I bought a present for you too! Have a wonderful day.
5. Happy birthday.  I know this one is going to be awesome because this time you have me as your wife; no doubt it would be fabulous!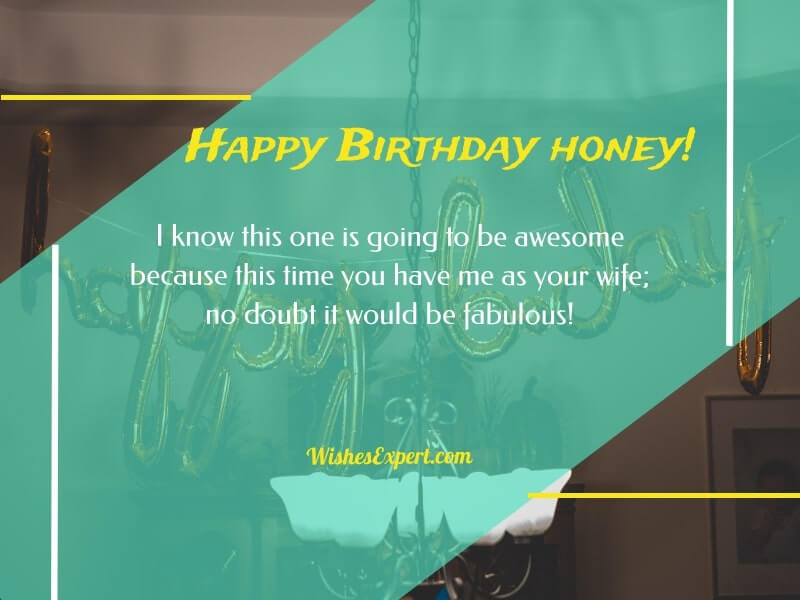 Check: Funny Birthday Wishes For Best Friend
Funny Birthday Wishes For Husband
1. I know being an awesome, funny, and charismatic person is so tough, but I have you. You make it easy for me to be all. Happiest birthday!
2. So what if I thought of you as this brave knight and shining armor and you get scared of spiders, I still love you, Happiest birthday, love.
3. I know I can not stay away from you longer because you won't be able to function properly without me, so cheers to having me, oh and to your day, too,  happiest birthday!
4. God has sent you to me because he knew your life would be miserable without me; just kidding, you know I love you. Happy birthday, sweets.
5. Calm down, I know I look wonderful today but it is your day, show some love to yourself too, honey. Happiest birthday, have the best one!
6. You know you have every reason to celebrate your life, I mean, you have me, but today is your birthday too, so happiest birthday and have fun!
7. Happiest birthday, honey,  have the fine one! I know today is your day, hence I will try to not still your thunder, but I can't stop being me! But I will try!
8. Happy birthday, hub. Wishes expire, I do not, focus on me, and your birthday might be the best one. Just kidding, have fun and have the best one anyways!
9. I can not believe you are getting older without getting any grey cells but many grey hairs, but regardless I am here to cheer you for another year. Happiest birthday!
10. Happiest birthday honey, I am sending you this wonderful book of thousands of jokes. I am sure you are going to love it, this is the best gift I am giving to myself today!
Read: Birthday Wishes For Husband
Funny Birthday Messages For Husband
1. Happiest birthday to my wonderful husband who helps me solve my problems, which mostly, by the way, are created by you, but I love you, happy birthday once again.
2. Time passes by and the world evolves. But you, my love, hold the special talent to be the same. To my special husband, happiest birthday!
3. Your birthday is a great reminder for you to consider growing older while getting older, I hope you take it seriously this time; by the way, happiest birthday, love!
4. I try to take your birthdays seriously, but then I have a look at your face, and then I just can't do it, but I will try, happiest birthday, hubby!
5. Happiest birthday, mate. Please keep in mind that age is just a number, but a number, which tells you that you are no longer that young to party hard and jump on the bed.
Funny Birthday Quotes For Husband
1. It only better gets with age, they say! Surely, you have not seen my husband then, I say. Just kidding, I wish you the best and fun one, happiest birthday, love!
2. Happiest birthday, hon.  You'll receive from me a beautiful song with my terrible voice, a handmade cake with no baking skills, and flowers with a note in childlike handwriting; I hope you love it.
3. May the love we share gets deepen and the wrinkles on your face invisible. Cheers to the years of you growing older and me getting younger. Happy birthday!
4. Happiest birthday love. Cheers to the wisdom you have because you married me. Cheers to the courage I have to make such a brave choice.
5. Happiest birthday, sweets. I want to congratulate you for being this single-mindedly focused, all these years, to only grow older and nothing else.
Check: Happy Belated Birthday Wishes
Funny Birthday Wishes For Hubby
1. Happiest birthday hubby. This birthday I want you to realize some facts one of which is that the more the brain you use, the better it gets, just saying; have a blast, today!
2. I thought to give you the most gorgeous handmade art piece, but then I could not draw myself on a canvas; I am sorry that but happiest birthday to my fabulous hubby.
3. I am going to do my best to let you shine, but then you gotta do some work to help me do that, just kidding, it is absolutely your day only; happiest birthday to my hubby.
4. Happiest birthday hubby. You are best at everything except the things you should actually be at. I wish this year brings the wave of change. Cheers to the hope for your evolvement.
5. Happy birthday, hubby, have a ravishing day! You know I love you so much that sometimes I forget that you are the most annoying person I have ever met!
Also Read: Love Quotes for Husband
1. I know you are busy replying to many, but I wonder what if Facebook does not exist to notify your birthday; you would not have this belief of you being that important; happy birthday hubby!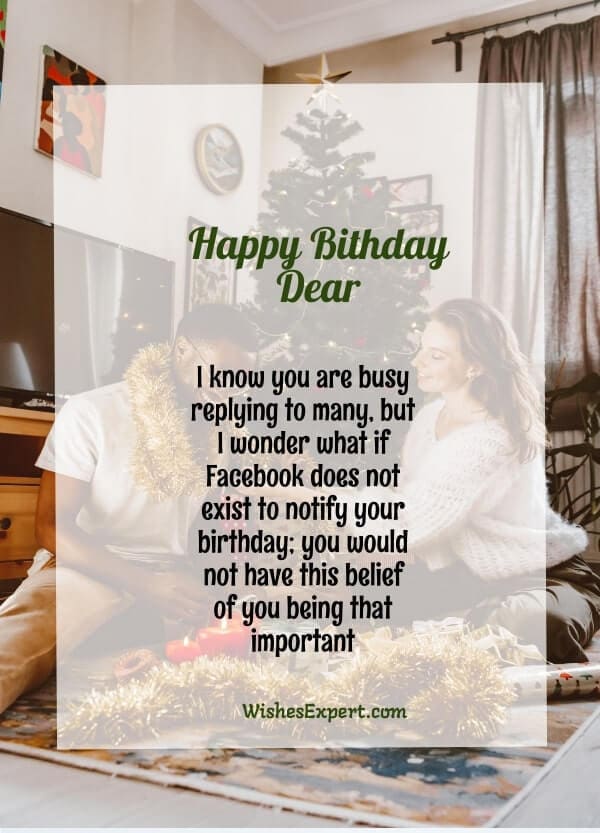 2. A winsome smile, nice posture, delighted good looks; I know how wonderful I look in this picture but it is your birthday, so let's focus on you! Happiest birthday to the love of mine!
3. May this birthday you decide to act like an actual grown-up; because you confuse many, including me, with the way you act and your date of birth; but happy birthday, have the most fun!
4. To the inner critic in you that is always on board with criticism, please let him make friends, and to you, I wish you a magnificent day, happy birthday.
5. Notifications of Facebook and your age, I do not take either of them seriously, Notifications fade away anyways and you don't change anyway! Have a day filled with surprises, happy birthday!
The best communication is the honest one with the only intention of spreading humor. That can never go wrong. Not that it is some kind of a gender thing, but women who use humor always stand out to men. Do you want to hear a bonus point? Your husband loves it when you use humor to communicate, so no matter what you want to say to wish your husband on his birthday, these funny birthday wishes for husband are freeing you from figuring out how!