Sometimes you have got to read some ex-boyfriend quotes to remind yourself of what you loved and lost. Letting go of a person that you once loved with all your heart can be devastating. But that is what will help you choose someone better and deserving to be with you. It might be hard to see someone new immediately, but you will eventually find a genuine connection when you are ready. And trust me, you will be happier than ever.
If you are having a hard time getting over someone you dreamt of your future with, or if you cannot express your true anger, disappointment, and regret, here are some ex-boyfriend quotes to help you.
Ex-Boyfriend Quotes
1. It is sad how two people cannot be together even if the love in between was pure. But I know I deserve someone better than him.
2. If two people are not destined to be together, it won't last no matter how many times you try. I miss him.
3. Sometimes, the person you love dearly is not someone who will love you back the same. Just let him go and move on in life.
4. It is hard to get over someone you have dreamt of spending your life with. But you have to know your worth and find someone deserving.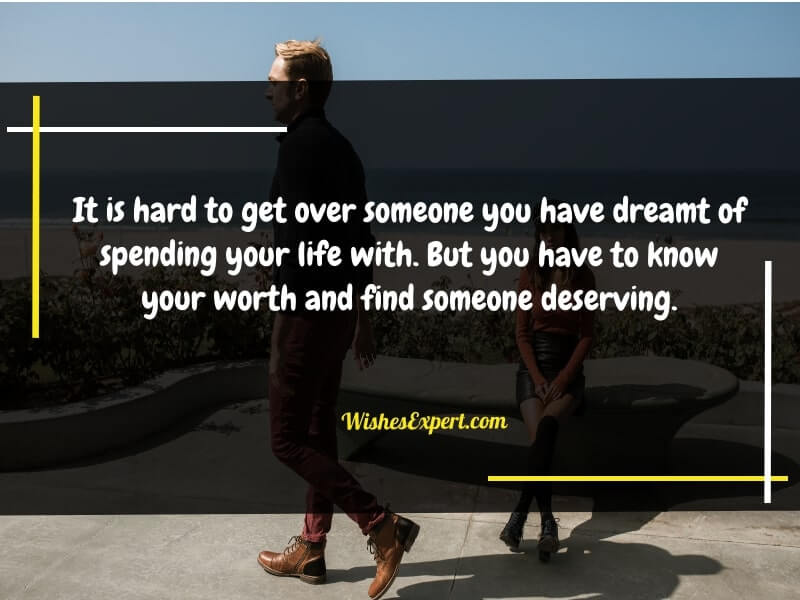 5. You are like an award, ever so beautiful and kind. Someone like him doesn't deserve to be awarded. So put your chin up and say goodbye.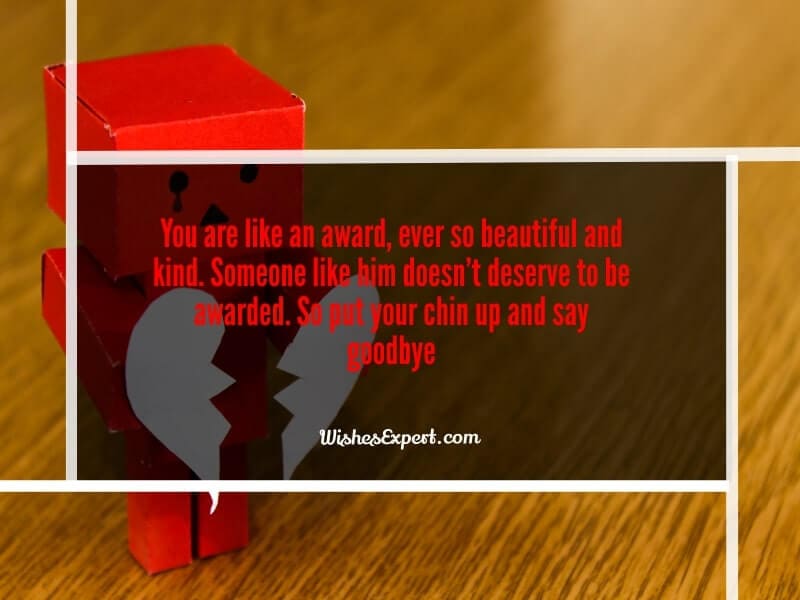 6. If the love between you two was real, destiny will bring him back into your life. Meanwhile, just focus on being better.
7. I saw him yesterday. It broke my heart how he smiled his magical smile, but someone else was the reason behind it. I am still in love with him.
8. Moving on and letting go of that emotional bond might seem the hardest right now. But you will soon realize your freedom.
9. I feel so stupid to have been falling for someone who treated me like an option. I have finally realized that I need to move on.
10. The moment you broke my heart, I knew that you deserve someone just as bad as you. I know I am too good for you.
Read: I Miss My Boyfriend Quotes
Attitude Quotes For Ex-Boyfriend 
1. I thank God for saving me from the wrong partner. My life would be miserable with him. I am happy that I broke up.
2. I hope you shed tears of regret when one day you sit alone and no one is there to cheer you up. You are going to miss me.
3. No one in this world could love you as much as I did. But I no longer care for you. Good luck finding someone new.
4. I hope karma serves you well for all the betrayal that you have made me face. You don't deserve someone as good as me.
5. I cannot believe how you ditched me. But I am disappointed in myself for not having known your true colors. I hope you regret your decision.
Also Read: Love Messages & Quotes For Boyfriend
Quotes For Your Ex-boyfriend
1. You might have been with me for years, but there is no value in the times we have spent together if you don't value me.
2. I never thought that you would hurt me this way. For me, you were always the right person. But you have proven me wrong today.
3. Having someone like you as a life partner is a nightmare anyone would want to wake up from. I hope life teaches you good lessons.
4. Our relationship has ended, but I still wish the best for you. I hope you learn to respect your significant other and appreciate her.
5. Even though your part in my life has been over, I will still recall the memories we have created together because they are special to me.
Check: Good Morning Messages For Boyfriend
Ex-boyfriend Quotes About Moving On
1. I have moved on from you because you no longer serve the qualities that a good relationship needs. I'd rather be happy alone.
2. We need to move on now that we both have different priorities in life. Holding on would only hurt more. I hope you have a good life ahead.
3. I want to start a new chapter of my life alone. I have realized that I cannot move forward being with you. So, let me turn the page now.
4. I feel terrible to say that you need to move on in life without me. The complications in our relationship are not in a condition to be fixed anymore.
5. I have given you enough love that I have run out of it. I cannot give any more as I am tired of being the only giver.
It is not worth it to keep trying to make a relationship alone. Both should equally contribute to it. And when your significant other is not interested in doing so, know that it's time to bid him goodbye and move on. Above are a few ex-boyfriend quotes to help you walk out of his life.