Good Afternoon Blessings Quotes: The afternoon is the junction of a busy morning and a thriving evening. However, sometimes, it seems to skip its beats for a while. The soothing afternoon breeze and cozy warmth set the tone for a comfortable break. The soft afternoon hours may make you miss your dearest ones. You probably think about your loved ones while having the homemade lunch or cuddling up with the comfy blanket.
If you are at your workplace or home, missing the presence of your loved ones, you can send them a small note with an afternoon blessing. It will help you to embrace them with your words and emotions. It is an excellent way to remind them that you think of them every time. An afternoon blessing for a loved one is precious as that can bring a smile to their face. They can be a simple afternoon message or a passionate one to make your lover's heart flutter. Take some time to cheer them up right before the hustle of the evening starts!
Words may fall short while expressing the emotion that you hold, but they may carry your sincerity and adoration for your loved ones. Your afternoon blessings can spread the happiness and warmth of the midday to the heart of your lover. Erase out the physical distance with your lovely words! Here are a few good afternoon blessing quotes to help you find an adorable message for your dear ones –
Good Afternoon Blessings
1. Every afternoon reminds us of this priceless gift called life. I bless you to overcome its struggles and strife and stay healthy and hearty.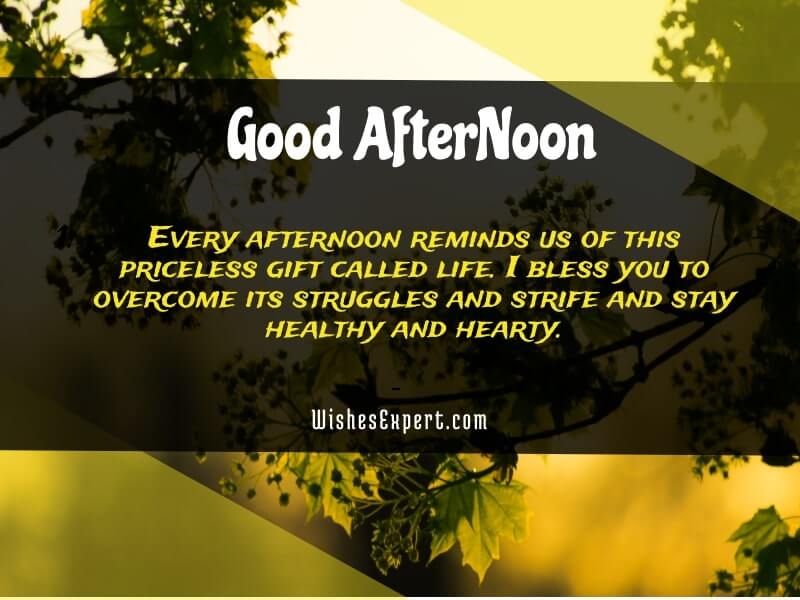 2. It's another bright day to begin with, may you stay strong to fight away all life's filth. May the human in you grow wiser and never wither.
3. Just like light shows up in the afternoon after dark hours of the night, may you always steer through the sorrows with full courage and might.
4. In this journey of life, we might meet many but there may be few like you, who are trustworthy and a friend so true. Be blessed always in the weird world's ways.
5. I am glad to have you by my side, amidst the bumpy life's ride. Thanks for being the cushion for any kind of my life's tension, God blessings will always be there on such a nice person.
6. Are you snuggling with your pillow on the couch? Or, are you already in the dreamland? I hope this afternoon blesses you with the warmth of my embrace.
7. May the golden afternoon glow touch your life until the silver, star-embedded evening dims it to spread its softness. May God bless you with sensitivity, so that you enjoy the comfort of the warm afternoon and its beauty.
8. The midday sun is busy clothing the afternoon sky with its gold and orange hue just like I am always busy thinking about you. May God bless you with all joys soon, hope you enjoy a happy afternoon.
9. The beautiful afternoon seems to have taken a pause. It feels like the evening is running late. Or is it me rushing to get back to the arms of my dearest one?
10. As the busy morning has given up its buzz to succumb to the cozy afternoon, I bless you with sweet and comfortable noon.
Read: good afternoon messages for him
Prayer Good Afternoon Blessings
1. I pray to Almighty up there, to shower blessings on such a wonderful person so rare. May you be victorious in your travel through turmoil and keep your recoil.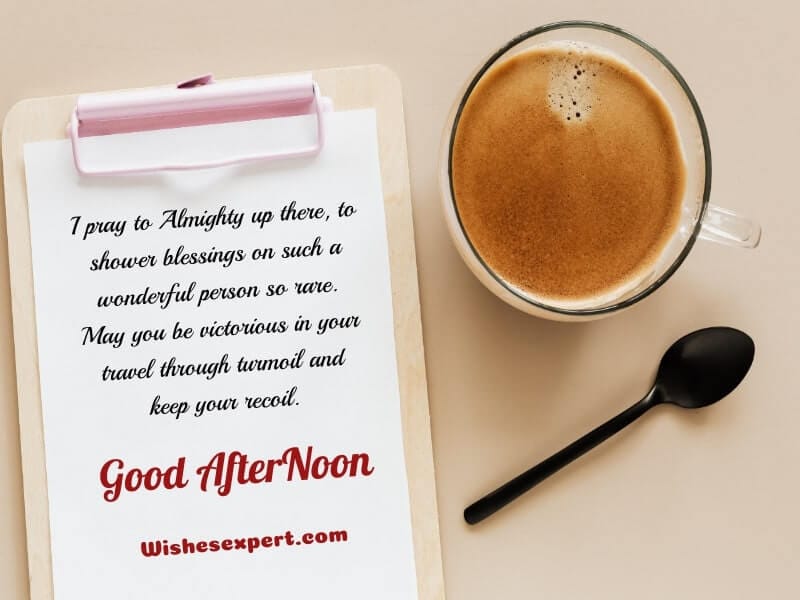 2. The afternoon is that time of the day, when to God, we pray so that you and I can survive through the struggles and stay, come what may!
3. To Lord I will always have this wish for you, to make sure that dangers and destruction can never damage you.
4. I have this fantastic feeling every afternoon, that we both will always make it to the end, with our strength of togetherness and God's blessing.
5. My sincere prayers for your health and happiness will always be there for you, and may you keep exploring life afresh and anew.
Also Read: Good Afternoon Messages For Her
Good Afternoon Blessings With Images
1. Half of the day has already passed, a few more hours to go. The gentle and soothing afternoon breeze reminds me of you. I bless you with some afternoon hues.
2. I hope my good afternoon note brings smiles to your face that are brighter than the sunshine that is currently playing on the leaves of the saplings of your garden.
3. When I have my lunch while admiring the afternoon blooming into the evening, I find it warm and cozy like you are embracing me with all your blessings.
4. I am jealous of the afternoon sun that gets to kiss you with all its tender warmth while I am here yearning for your love and attention.
5. Don't forget to smile while cozily sitting on the couch and enjoying the glitter-drenched afternoon because your smile is my motivation.
Good Afternoon, Blessing Quotes
1. Good afternoon my son, thank you for everything you have done. Our journey is almost at its end; may God bless you with some best and loyal friends.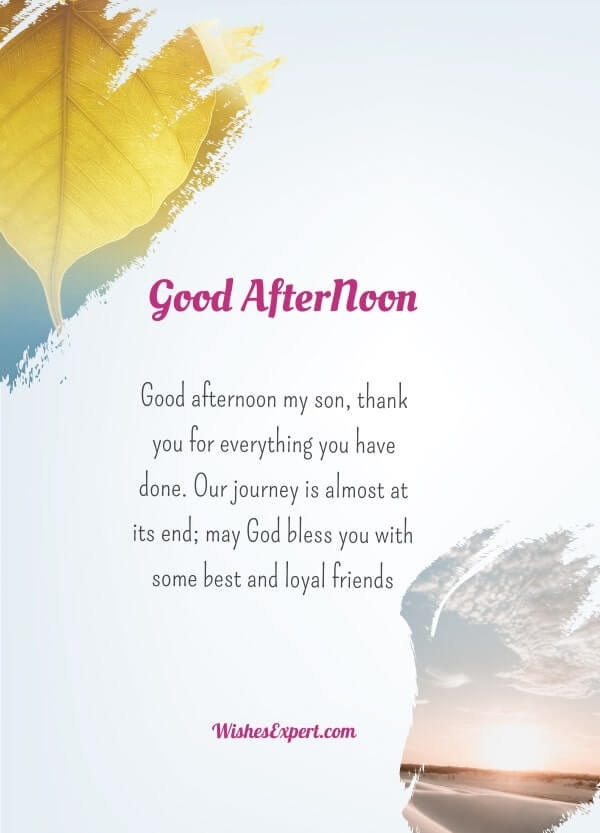 2. Bless is such a word that can be realized with the help of blessings So, let me bless you once more, we will meet again in the afternoon, when the sun will be setting on the shore.
3. Working better is always preferred, but having lunch together, in such a nice afternoon, must be a blessing. God has blessed our afternoon better than before, let's not waste time anymore.
4. Mommy's food is only the best option during my recess session. I know she may not be with me everywhere, but my afternoon lunch break reminds me that her blessing lies here.
5. My mornings are busy, and my afternoons are equally laid back and lazy. On one such lazy afternoon, I wish to play my tune, I promise you, blessings will be enough, I need no boon.
Good Afternoon God Bless You
1. Although you are pretty bold, I know you have a heart of gold. May god bless you with moments of joy, and none should dare to annoy.
2. The misty afternoon brings the news of your achievements, God bless you, dear, may you have more such moments.
3. The afternoon breeze reminds me that now I am all alone, yet I wish God bless you with friends so that you are no more forlorn.
4. Good afternoon, my dear friend, I know our friendship is towards an end. Still, I ask God to bless you, as you have your dream to pursue.
5. The afternoon breeze reminds me of you, my child, the touch that was so soft and mild. God bless you, dear, stay safe and happy, wherever you are.
So, these are a few good afternoon blessing quotes for you. You can send these good afternoon blessing quotes to your loved ones to remind them that you are missing them. Imagine their face being brightened up while reading your afternoon blessings.