You love to go out, or you have friends who are eager for a new journey now and then. We wish you and them good luck on your new adventure. Or, at least, our latest quotes on it will help you to do it.
If you are a globe trotter or know people who are avid explorers, then there is some good luck that we have for you. Having some best wishes with you while venturing on a journey is a great way to begin your trip.
You might feel like wishing someone good luck but can't find the right words to do so. Don't fret over words because we have the best and even some funniest quotes with the right amount of good luck and gaiety that will be perfect for anyone setting out on an adventure.
Good Luck With Your New Adventure
#1. Staying at home seems weirder when you have a ride ready for a new venture. Since you are doing it, my bike rider, I wish you good luck with your new adventure.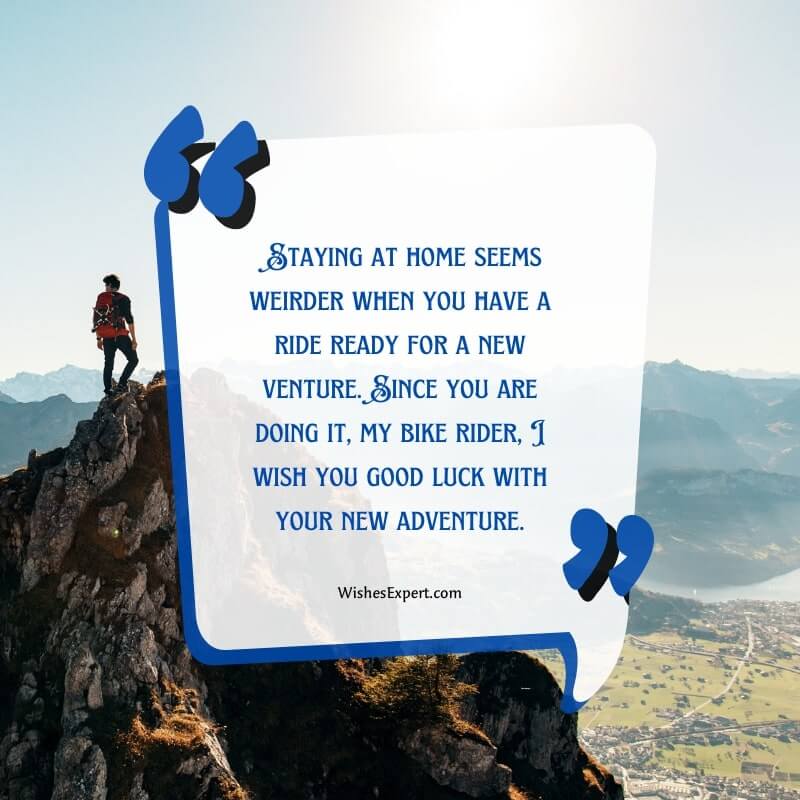 #2. All your life, you had been a backbencher. Now, it is time to spice up life with some adventure. Pick up a hat and find some boots for your adventure while I wish you the best of luck, dear.
#3. Sitting idle isn't your style. It is time to be agile. Stuff your things in your backpack because a new adventure waits for you on the train track. Buddy, I wish you good luck.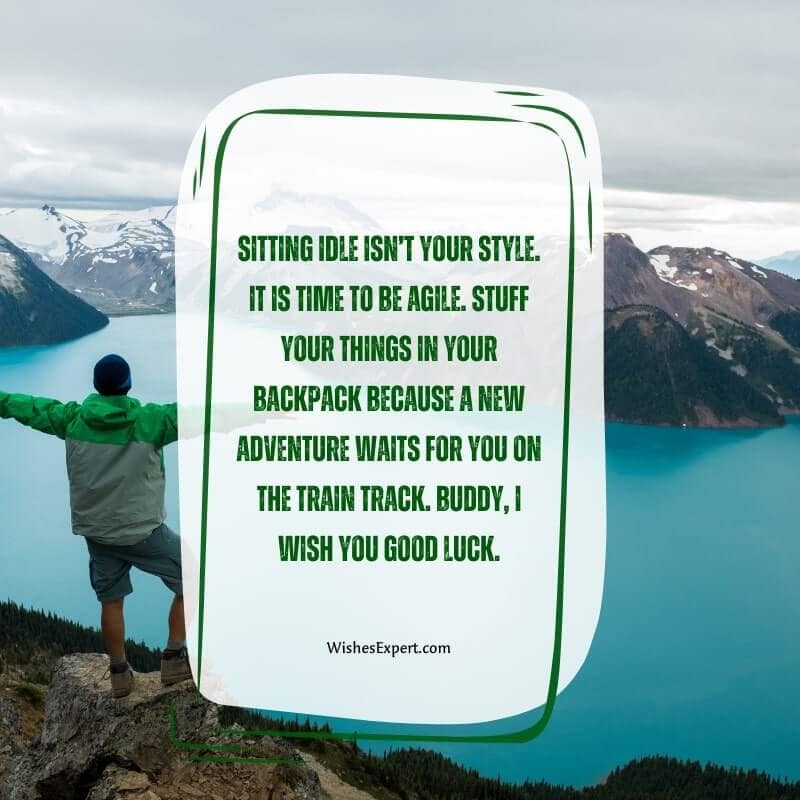 #4. Would you not sail across the water if a boat was ready for you? So, with these good luck wishes, start your new adventure because days are few.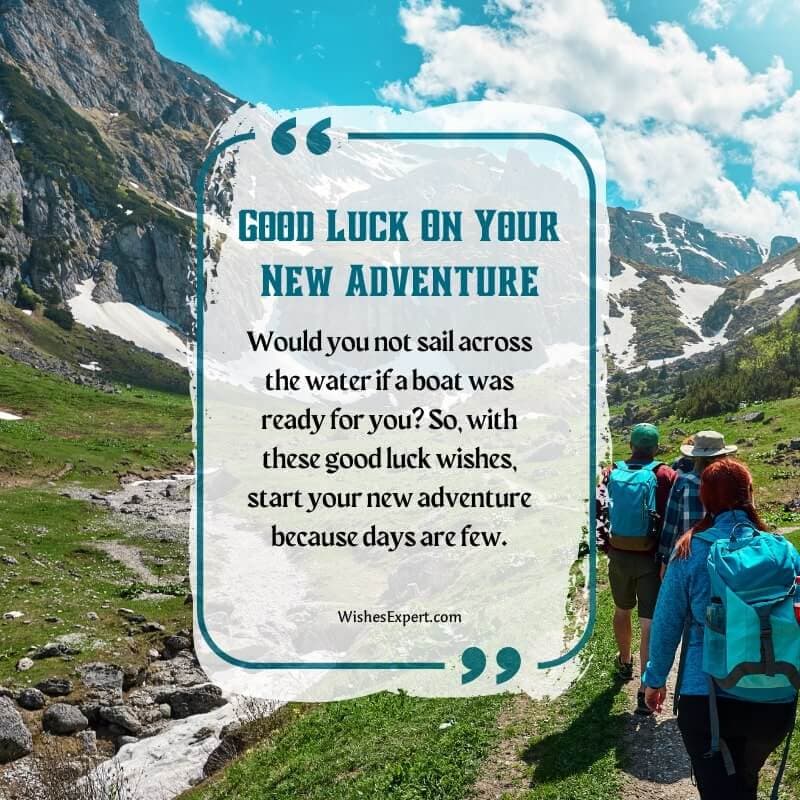 #5. With these good luck wishes, set out for a new adventure picking up old memories and making new ones as you move forward in your venture.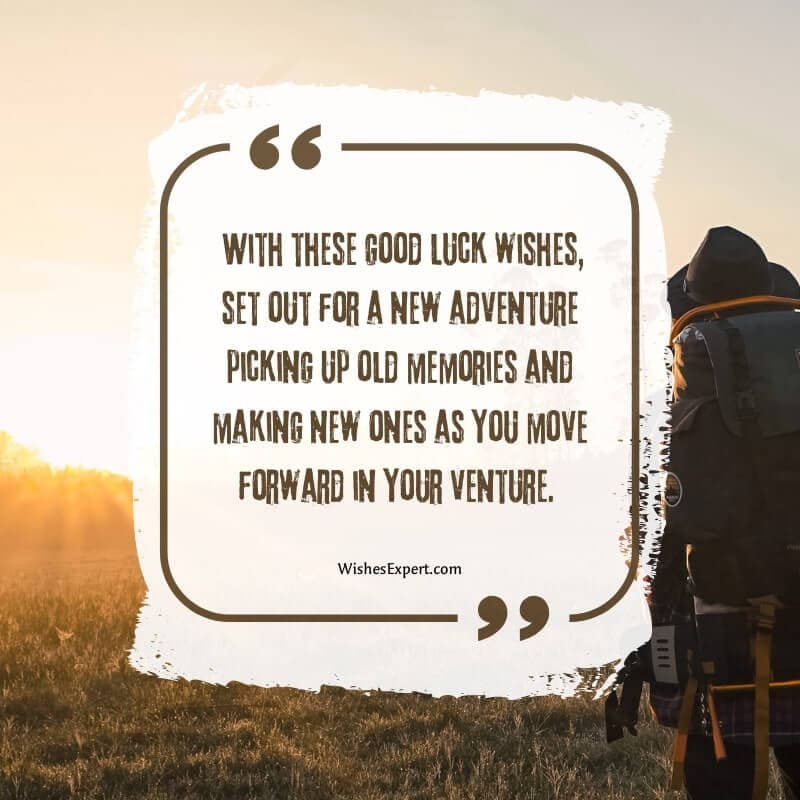 #6. Are you ready to cross the unknown seas to quench your thirst for an unforgettable adventure? A little pot of good luck will complete this adventure.
#7. Life moves forward with journeys and ventures. When it is time for a new adventure, don't forget your keep your good luck close, my dear explorer.
#8. Life has its fair share of misadventures. But don't let it deter you from seeking new ones, my seeker. I wish you good luck with your upcoming, super-enthralling adventure.
#9. Life is a fab journey when you embark on new adventures. With good luck, you shall taste success in this new journey where life holds for you lots of treasure.
#10. Switch on your happy mode as it is time for a new adventure. Don't worry about the mistakes in the past, my sailor. So, this is your good luck charm before you start the journey, dear.
Good Luck Quotes on Your New Journey
#1. As you begin the next chapter of your life, I wish you all the very best. Go and conquer the world with zest. May your new journey be better than the rest.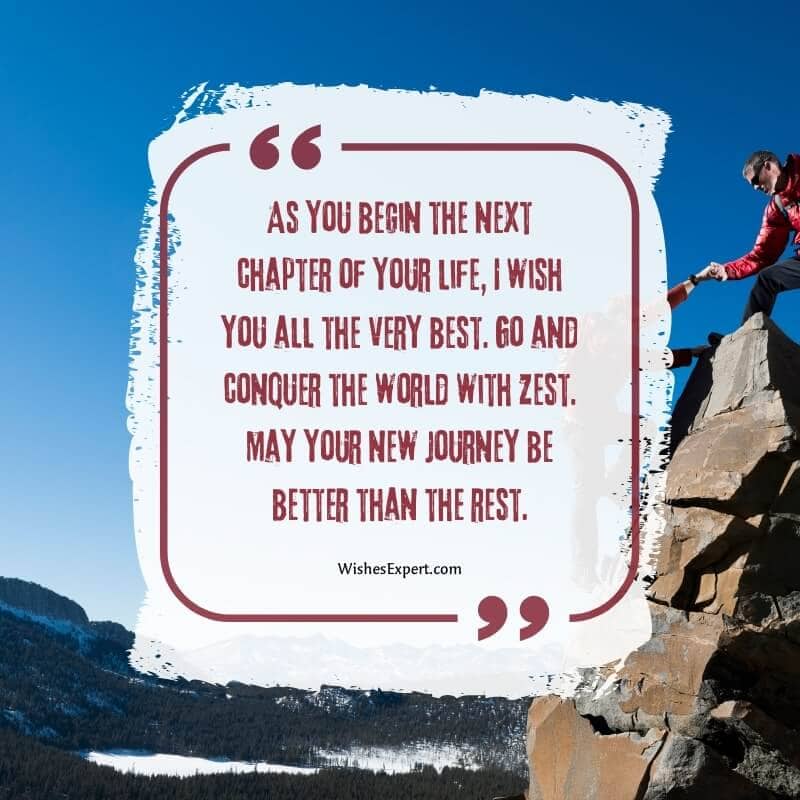 #2. I pray that you get all success in anything you put your mind to, and I wish the best of luck to you. The journey ahead of you will decide whether you will be one among the crowd or stand out like a few.
#3. Let me wish you good luck in all your future endeavors, and I know you will do better than others. There is nothing to fear, so shout out loud and cheers to your new journey, dear!
#4. I pray you'll achieve everything you work towards. Here are my best wishes to you as you look forward. The new journey will not be rosy, for sure. But I know you will beat obstacles with valor.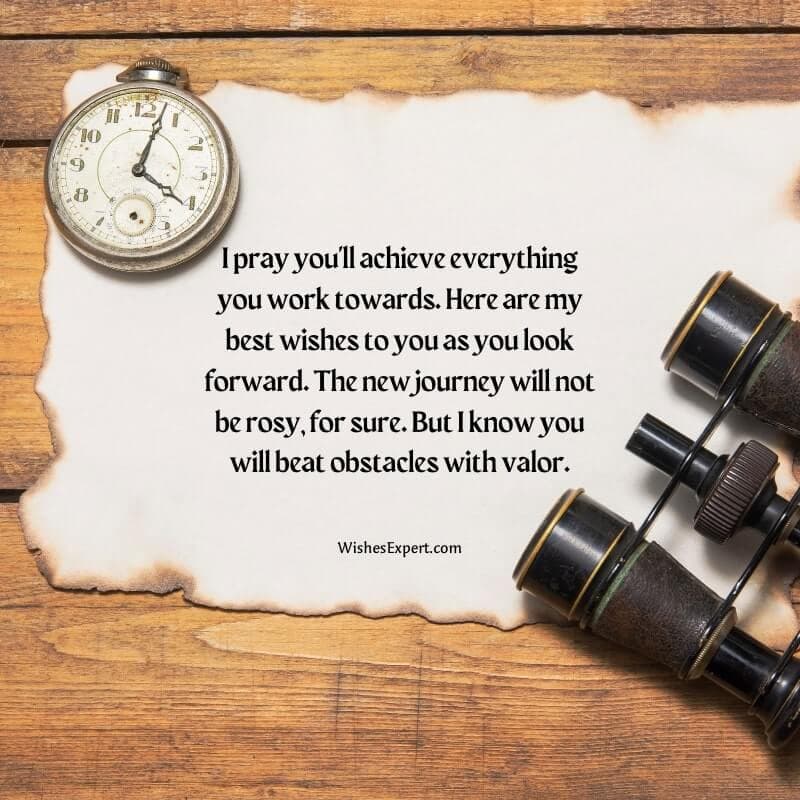 #5. I believe you'll excel at your new venture because you have planned a lot for this new adventure. You are not like others, but you are like a few. I'll be waiting for you, till then, adieu!
#6. Remember, God has made you for something great. I wish you all the happiness in life you get. Hopefully, you will experience new surprises in your next adventure. I wish you good luck in your new life, dear.
#7. Good things always come to people with good hearts. It will be a beautiful journey, sweetheart. Just give it a start. You are your good luck charm, yet I am showering my wishes because you are awesome.
#8. Have patience and faith – don't haste. Time will take care of the rest. Good luck with the daring new adventure. You will taste success because you are a fighter.
#9. You have got all the skills and talent in you. Keep nurturing them as you begin a journey that is brand new. Remember, my good luck wishes will always find you.
#10. Bless you, son, as you dedicate yourself to this wonderful service. Remember, you are born for this. The new adventure in your life will give you more reason to survive.
Good Luck Quotes on Your Next Adventure
#1. Forget everything and stop self-pity. It's high time you turn your dream into reality. Here are my good luck wishes for you, dearie. Without hesitation, start your new journey.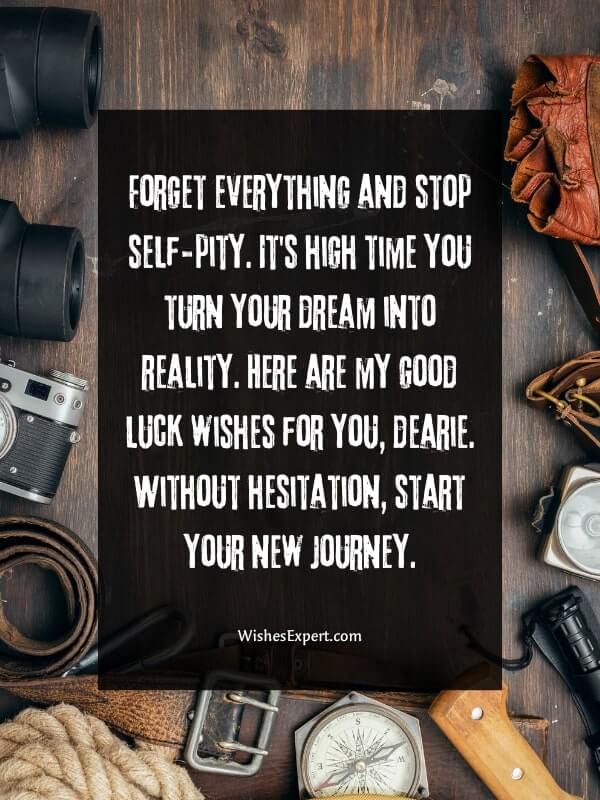 #2. To all of us, you are an inspiration. One day, you will be the pride of the nation. But, before that, here are my good luck wishes for your motivation.
#3. I'm always there, so ask me for any help. Don't forget that the journey of a thousand miles begins with a single step. So, take that step now or never. My good luck, best wishes, and blessings will be with you forever.
#4. Franklin said the mother of good luck is diligence. I believe you will win the world with your intelligence. Only you be patient, and the world will feel your presence.
#5. I have faith and confidence in you that tells me you will win. I believe your future will always shine and help you grin. Take my good wishes and a leap of faith, and promise me you won't be mean.
The thirst to know new lands is an adventure. For that, you need good luck and best wishes. You plan for it, and we have good luck ready for you in the form of heart-warming quotes.
If you wish to send a good luck message to someone, you can select one of our good luck messages. Our quotes are uniquely crafted so that the message you wish to convey is wittily delivered.
So, please don't wait to browse through our collection of good luck on your new adventure quotes. We assure you that you will be delighted to read those.