Happy 10 Year Anniversary: Spending a decade with the love of your life is definitely a milestone. If you are looking for 10 year anniversary quotes to brighten the day of your spouse, then you have landed on the right page. With our collection of 25 creative anniversary quotes that are filled with love and affection, you can rejoice in your love completing a decade.
10 Year Anniversary Quotes
10 years ago, you came into my life as a life partner. I can undoubtedly say, it was the best day of my life. Happy 10 year Anniversary, my love.
I cannot believe it has already been 10 years ago. Every moment with you is nothing less than heaven on earth. Happiest anniversary to you.
Happy 10th anniversary to the love of my life. With each passing year, our love is getting stronger and I hope it continues to blossom forever.
Without you, my life is as dry as a dessert. It has been 10 years of us being together and I cannot thank God enough for this. Happy anniversary, dear wife.
Happy anniversary to the best husband in the world. You are my heaven, a place where my heart feels at home.
We are celebrating a decade of our love that was filled with ups and downs, tears, and laughter. I would never trade this for the world.
Today is the 10th anniversary of our marriage and I can't help but feel nostalgic about the day I walked down the aisle to you. My love has only grown for you since then.
With a partner like you, each day has been nothing less than a blessing. Thank you for a decade of unconditional love. I love you!
10 years of love, care, happiness, and growth with a person like you is like having your personal heaven on earth. Happy anniversary!
Life becomes easy when your best friend is your life partner. Happy 10th Anniversary to the most important person in my life.
Read: Happy Anniversary Sister and Brother In Law
Happy 10th Anniversary
Whatever happens in life happens for a good reason. I believe this because it led me to the love of my life. Happy 10th anniversary.
Spending 10 years with a person like you is a dream coming true! Happy Anniversary, love.
Not one, not two, not five, we have spent 10 years together, sharing all our love and sorrows. You are the life partner I never knew I deserved.
Celebrating a decade of togetherness with you is filling my heart with joy. Hoping for the best future ahead.
You are the reason we have spent 10 years of love and romance. You are my strength, my support, and my biggest motivator. Happy Anniversary!
Hey honey, I love you the most. You are the best thing to ever happen in my life. Thanks for completing me. Happy 10th Anniversary.
Nothing is better than having you by my side no matter what the situation is. Happy 10 years of togetherness.
Finally, we have spent a whole decade together. I can't wait for many more decades to come! Happy 10 year Anniversary.
Thank you for being mine forever and always. Our story is nothing less than a fairytale to me. Happiest 10th Anniversary to the love of my life.
Counting 10 years of marriage, [add number] beautiful children and 1 amazing home. These numbers add up to our beautiful life together.
Try: Best Happy One Month Anniversary Wishes
Happy 10 Year Anniversary
One decade down. Countless more beautiful years to go! Warmest wishes for you on our Anniversary, darling!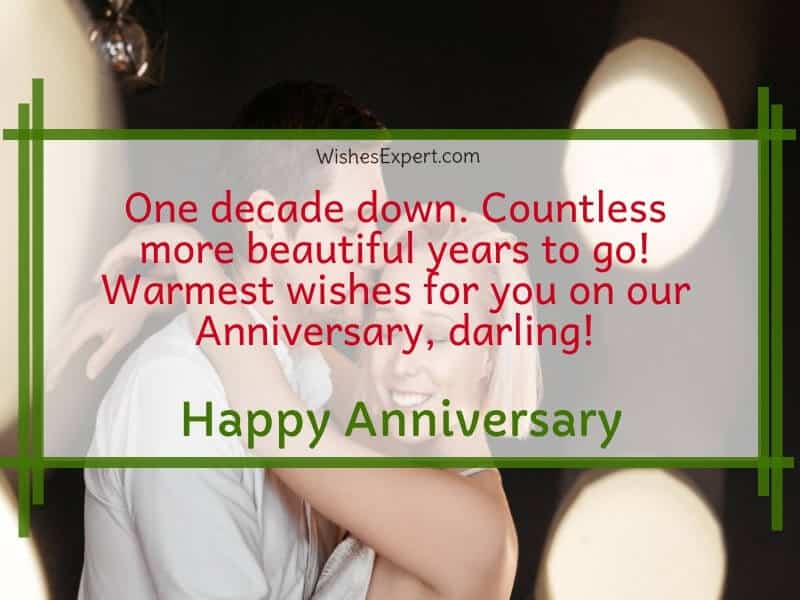 May our love stays as fresh as it was the day we first met. It feels like yesterday that we got married. Happy 10th anniversary to my wife.
Being called your life partner is one of the happiest moments of my life. You have truly filled my life with happiness, care, and support. Happy Anniversary, hubby!
Countless blessings and prayers for the couple on completing a decade with each other. May your love blossom.
Thank you for tolerating my weirdness for 10 whole years! Happy Anniversary, love.