Happy 1 Year Anniversary: Are you wondering how to wish your partner on your first anniversary? Then you must not worry because we have got you covered with amazing word ideas. Sending your love to your partner who has spent a year of their life with you is quite important and we truly understand this. Therefore, we have made sure with our quotes that your wishes do not shy away from expressing the affection you have for your partner in your hearts. So, pick any of the following quotes to wish your partner a happy anniversary and make the occasion a memory for the years to come!
1 Year Anniversary Quotes
Time really does fly as I can't believe that it's already been a year since we got married! You're the best person I've ever come across. Happy 1 year Anniversary.
In the past year, I learned how addicting your company is and I don't mean "addicting" in a bad way because I wouldn't mind staying in your company for a lifetime.
Love wasn't meant for me, so I believed. But then our marriage happened and you changed everything in the last one year. Happy 1st Anniversary, dear.
I realized your importance in my life when you came back home late from work one day and I don't want you to be late for our one-year anniversary celebration.
I've saved the best part of the cake for you and I can't wait for you to come home and get a taste of it. Happy 1 year anniversary, my love!
Read: Happy 5 Year Anniversary Quotes
Happy 1 Year Anniversary
2019 wasn't going great for me but then we got married and you changed everything for good! Happy anniversary, dear.
I tried to be as good as I can with everything there is that could make you happy in the last one year. I'm glad that it worked between us and I would love to keep it this way.
Happy 1 year anniversary, dear. Despite the fact that you know about all my bad habits, you chose to marry me one year back and changed me for good. I love you for everything you've done for me.
I know you like to have fun with water and so for our first wedding anniversary, I've decided to take you to the water park.
You don't get to cook on our first wedding anniversary, sit back and relax and let the best chef in the world take care of the food.
Also Read: Happy 10 Year Anniversary Quotes
Happy One Year Anniversary
I know the last few months have been hard on us but on our first wedding anniversary, I don't want us to fight. So, join me on the terrace and let's watch the stars in peace.
Can't believe I've been with you for a year now. Amazing how you've made such a long duration of time seem so much shorter. I love you, dead.
I'm going to the market to bring you some of the best flowers and I'm gonna make sure they are as fresh as you are even after one year of our marriage.
I would like you to cook me the same sandwich you cooked on the first morning after our wedding just to get nostalgic on this big day. Happy one year anniversary.
I'm thankful to my stars that I crossed paths with you and ended up marrying you. On our first anniversary, I just want to tell you that you mean the world to me.
Try: Anniversary Wishes For Husband
One Year Anniversary Quotes
People think it is impossible to spend a day with me and here you're who spent a year with me and still looking forward to spending a life with me.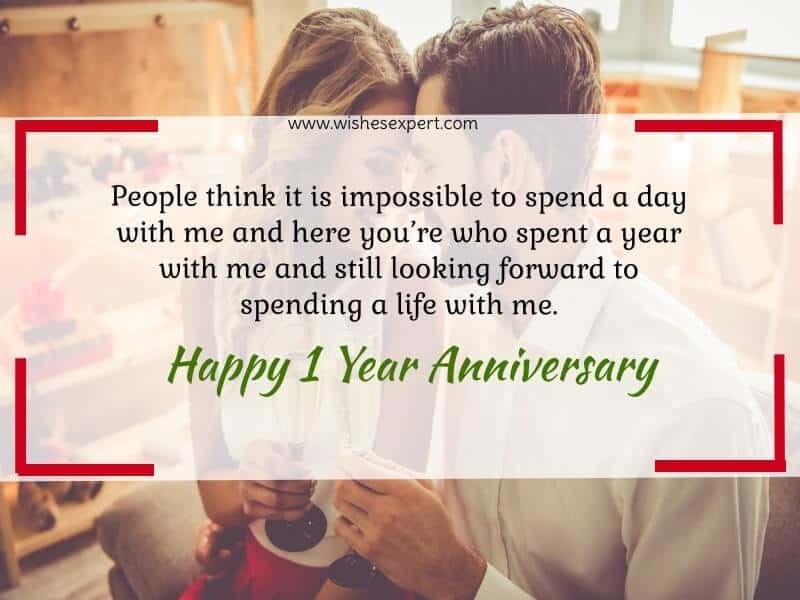 One of the reasons that I'm a good husband is because you're a good wife and we are perfect for each other! Happy first anniversary, dear.
Your dad picked me for you thinking I'm the best for you, but it was you who made me the best version of myself in the last one year.
On this special occasion, I wish to take this moment out of our busy lives and thank you for choosing me as your life partner. Happy anniversary, my dear.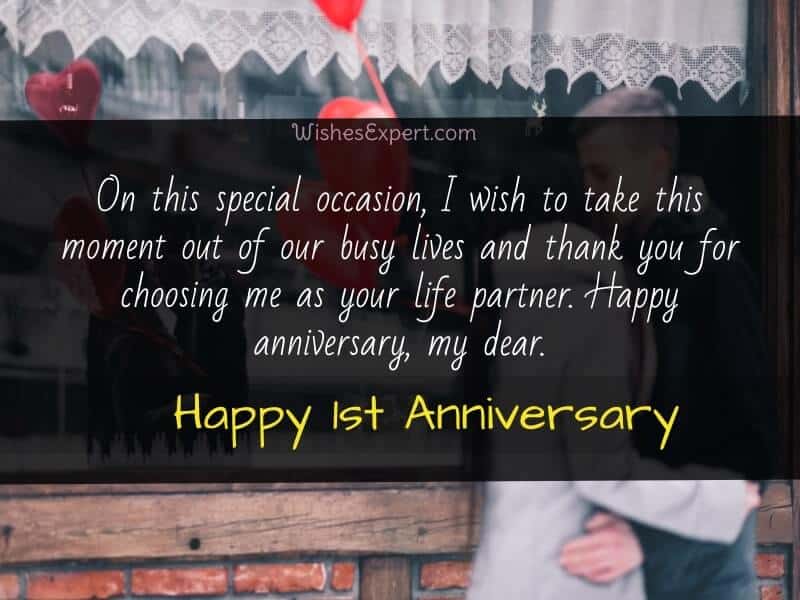 Your mother may be a better cook than you but she can't cook better stories than you and I've enjoyed listening to them for last one year. Happy first anniversary, dear.
Check: Happy Anniversary Wife
1 Year Wedding Anniversary
On our first wedding anniversary, I just want to tell you that I don't know what perfection looks like but I'm sure that it's a mirror image of yours.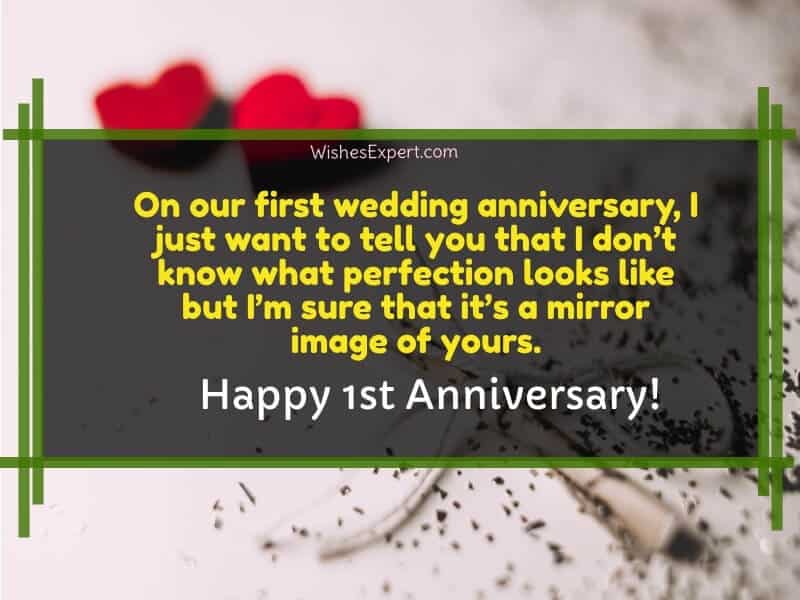 To simply wish you a happy one-year wedding anniversary would've been an injustice. So, I have sent you a surprise which will reach you in about thirty minutes.
Our wedding anniversary is going to be special because it is you who's going to make it special by just being a part of it.
To have you by my side for the last one year and the fact that you're gonna stick around for the coming years as well makes this anniversary a lot better!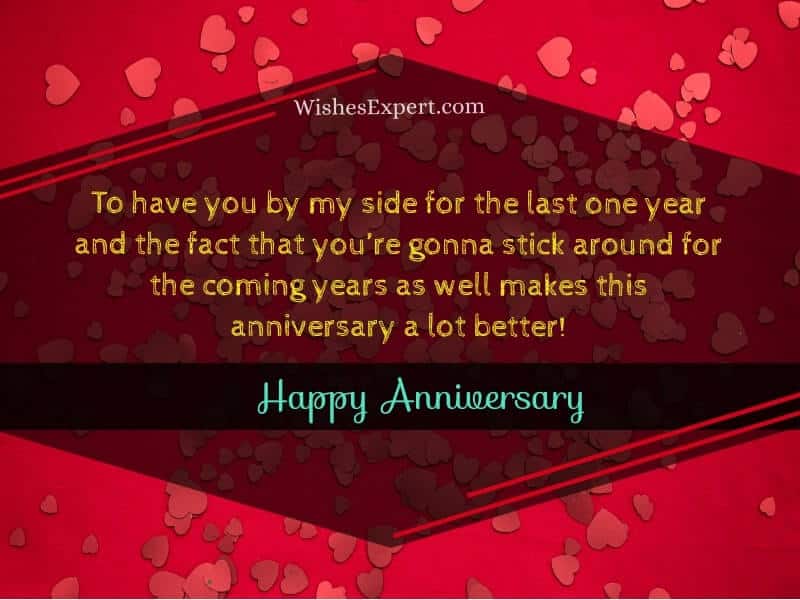 You're the best decision that my father took for me and I'm glad that I didn't oppose our arrange marriage. Happy one-year anniversary, dear.
Take A Look: Happy One Month Anniversary Wishes
One Year Wedding Anniversary
Your favorite color is sky blue and I've brought a dress colored the same for you. Happy one year anniversary, dear.
I'm not really good at expressing my emotions and by now you must be knowing this. But I also want you to know that the year I spent with you was the best year of my life.
I'm falling for you all over again just like I fell for you three hundred and sixty-five times in the first year of our marriage. Happy anniversary, my love.
Your favorite songs would be played all night and it's going to be just us and the sky filled with stars. A simple yet excellent way of celebrating our first marriage anniversary.
The last thing I'd want to hear from you is that you're leaving me for you've become the only thing I care about in just a year. Happy anniversary, dear.