Happy Anniversary Messages And Quotes: Congratulations on having reached this milestone. Shower your other half with love by sending these happy anniversary wishes.
Marriage is a journey made of not only ups and downs but spirals and loopholes. Your wedding anniversary suggests that you two have been doing a good job of keeping it going. You both deserve a pat on the back.
As you go through these wishes, you'll know how unique they're. And when it comes to your lifeline, you need to get your hands on not only the best presents but the best wishes. And we heard you. Keep on scrolling, you'll find what you're looking for. Save the ones you feel resonated with.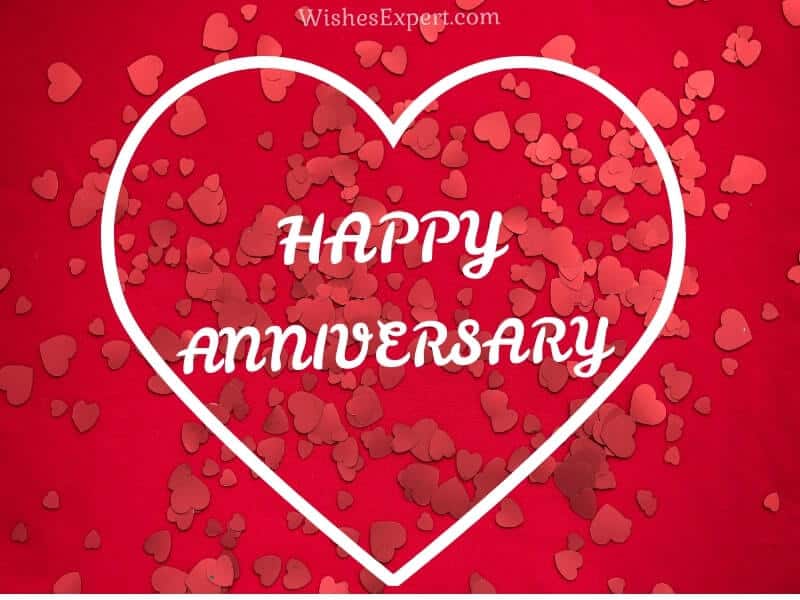 Wedding Anniversary Wishes:
1. I can't be grateful enough to have you as my wife/husband because you've made my life not only easy but euphoric. Happy anniversary to us.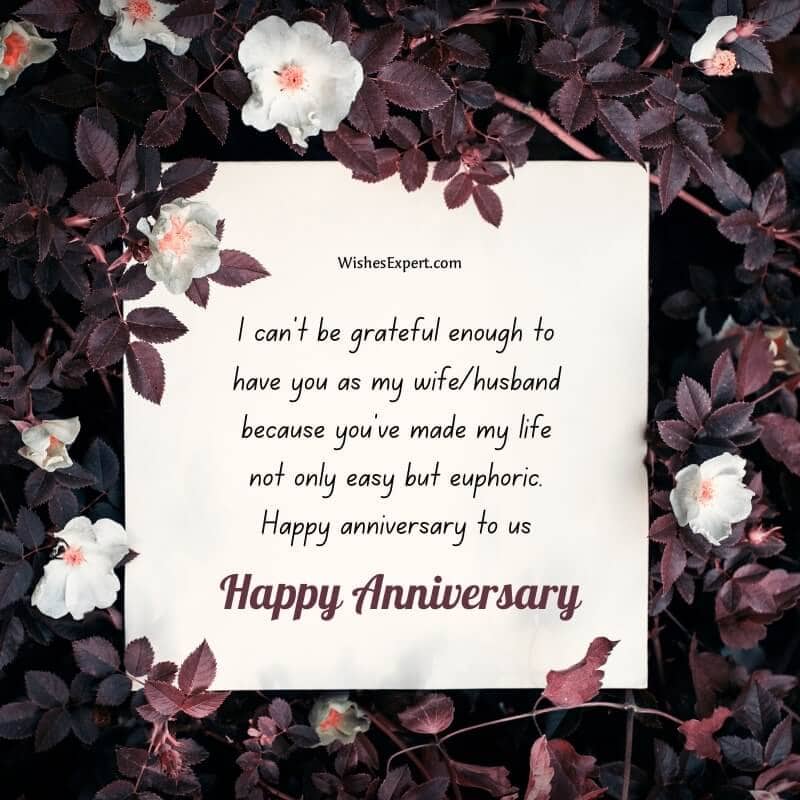 2. It's a celebration of love and we're headed on a journey of forever. I'm lucky that the stars aligned and they send you as my partner to celebrate this life and love with. Happy anniversary.
3. Not only you've made me a better human being but have shaped my life in ways I couldn't otherwise. I'm so grateful to have you in my life honey, happy anniversary. Cheers to us.
4. I'm so proud of myself that I saw husband/wifey material in you before anyone else did and got married to you because I wouldn't have found anyone better. Happy anniversary to us.
5. When I decided to marry you, I knew I was entering the best era of my life. And thank you for genuinely turning my world upside down for the better. Happy anniversary.
6. 10 years of marriage and the dynamics of our relationship have only changed for the better. Forever to go to see our love evolve only. Happy anniversary.
7. I once dreamt about living a beautiful life with you and I'm so glad that we made it a reality and have been living it. This lifetime to go, cheers. Happy anniversary, hon.
8. Cheers to 5 years of togetherness. Today is the day to celebrate our love and take a moment to cherish all the memories we've created so far. Happy anniversary.
9. Happy anniversary, honey. It's been 3 years of our marriage yet even today I feel like I'm dreaming. Life with you has been so magical that I've never come down from cloud 9.
10. It's been 4 years of marriage and still, you put me on a pedestal that I'm not sure if I deserve or not but thank you for making me feel loved every day. Happy anniversary.
11. Happy anniversary, honey. We've completed XX years of marriage and it amazes me how far we've come yet it feels like it was just yesterday that we got married. Happy anniversary, honey.
12. Happy anniversary. The love I get to experience with you is the biggest blessing of my life because it is my major strength. It keeps me going. And I can't thank you enough for it.
13. I married you because I never felt apart from you. I'm so happy and proud of us that all these years we've been able to maintain and cherish that love. Happy anniversary.
14. I never knew if I would be able to do better as a wife/husband but your support and love made it so possible for me to do my best. I love you. Happy anniversary.
15. Marriage is a rollercoaster of emotions and the town of ups and downs. But I got lucky to have married you because you've been making it a happy and smooth ride for me. Happy anniversary.
Happy Anniversary Wishes And Messages
1. May our bond gets stronger with each passing day. I wish to be with you till we are grey and old. May this love never fade away. Happy anniversary.
2. I'm so thankful to God for he chose you as my life partner. You held my hand, and you never let go of it. Happy anniversary.
3. May the love you share become stronger with time, and I wish you a lifetime of happiness and joy. Happy anniversary.
4. May this day bring you countless joy and many more reasons for happiness. May you always grow with each other. Happy anniversary.
5. Happy anniversary! This day marks the beginning of our story, and it's the best day of my life so far. Every day with you is a dream come true.
6. May God always keep us in his blessing and bless us with happiness on our journey. May he make our bond stronger day by day. Happy anniversary.
7. I am really happy to see you guys nailing your married life. You guys look so perfect together. May this always remain the same. Happy anniversary.
8. May you guys always be there for each other like this, and may you guys never stop holding each other's hands. Happy anniversary.
9. The love between us is beyond anything I have ever felt. Today we mark another milestone and another year of togetherness. Happy anniversary.
10. Thank you for being the best partner and always bring the best out of me. Your support is the reason for my success. Happy anniversary.
Read: Wedding Anniversary Wishes For Husband
Happy Anniversary Quotes
1. There is no secret to a successful marriage. Every day with you is magical, and the spark has brought another while year of togetherness. Happy anniversary.
2. Once again, the time has come to celebrate another successful year of togetherness and to cherish all the beautiful moments. Happy anniversary.
3. There is nothing as wonderful as seeing you guys. You guys are the happiest married pair I have ever seen, and we can see the love you guys have for each other in your eyes. Happy anniversary.
4. To the most beautiful person who has given me the most precious memories and such an amazing life, happy anniversary.
5. For the perfect pair out there, I wish you a perfectly happy day filled with love, joy, and happiness. I wish you all the success. Happy anniversary.
6. On your special day, I wish you guys find time to look back at old memories, from where you guys started and where you are now. Happy anniversary.
7. Another successful year of a happy marriage, another big reason to celebrate the great day. Cheers to making it through another year and many more years to come. Happy anniversary.
8. We always knew you guys belonged together. Look at you guys keeping up with married life with such elegance and grace. Happy anniversary.
9. I cannot believe it's already been three years of our marriage. It seems like only yesterday you proposed to me, and now we are celebrating three years of togetherness. Happy anniversary.
10. Sending much love and prayers on the way to the all-time favorite couple. You guys have my heart. I wish you more years of togetherness. Happy anniversary.
Also Read: Happy Anniversary Wishes For Sister and Brother in Law
Happy Wedding Anniversary
A happy wedding anniversary can be made even happier if you know all the right things to do and say. You can do all the right things but sometimes words affect nothing else. We bring you some of the loveliest things you can say to your partner on your anniversary.
1. All my life I have waited for that one person to come into my life, and now that you are here I automatically feel complete. Happy wedding anniversary, love.
2. Life without you would've been dull and boring. Thank you for adding fun, love, and warmth to my life with your existence. Happy wedding anniversary.
3. Today marks another day of us being together and I can thank you enough for making me a part of your life. Happy wedding anniversary.
4. As it is our wedding today, I just want you to know that you are the reason why I wake up happy every morning. Knowing you are next to me is the greatest gift ever. Happy wedding anniversary.
5. Today makes another year of us being together and it still feels like not a day has passed by ever since we met. Happy wedding anniversary, love.
6. Here is to tons of more years of making each other smile, laugh, and showering love on each other. You are the best thing about me. Happy wedding anniversary.
7. On the day of our anniversary, I would like to promise you that I am going to stay by your side forever. Through this life and in all the other ones we have. Happy wedding anniversary.
8. This past year with you felt like a dream. Here is to be the person of each other's dreams for the rest of our lives. Happy wedding anniversary, baby.
9. Thank you for coming into my life and spending all these years with me for it is because of you that I know what true love is. Happy wedding anniversary!
10. Happy wedding anniversary to the one person who has been with me through all my ups and downs and manages to love me more and more every day.
Try: Happy Anniversary Parents
Wedding Anniversary Quotes:
1. Today makes another year of us being together and my heart still beats as fast as it did the first time when I set my eyes on you. You will always be a constant for me. Happy anniversary.
2. Happy anniversary, baby. You are all that I ever needed and you are all that I will ever need. I love you to the moon and back.
3. When people say forever it sort of scares me but whenever I think of forever with you, my heart makes me giddy with happiness. Happy anniversary.
4. All these years have passed, and every day I feel like my love for you keeps growing and growing into something bigger and warmer. Happy anniversary.
5. Thank you for giving me a marriage that has an inspiration for our kids and everyone else around us. Happy anniversary, let's keep rocking this marriage thing.
6. I am so glad I have you in my life for I would have given anything to annoy you for eternity. Thank you for never really getting annoyed. Happy anniversary.
7. This marriage with you feels like a beautiful ride and I don't ever want this journey to come to an end. Happy anniversary to the love of my life.
8. Happy anniversary, baby. You are the one thing that keeps me going every day for the thought of you waiting for me and being there at the end of the day is the greatest pleasure of all.
9. I can go all around the world with you and still feel like I am at home because for me home is wherever you are. Happy anniversary to the most wonderful, kind, and loving partner.
10. Every time I hear you whisper "I love you" my heart does a summersault and I am ready to let my heart do gymnastics for you all my life. Happy anniversary, baby.
Final Wordings:
We hope you got what you were looking for. You can either go with the one or select a few from the above-mentioned happy anniversary wishes and write them in a greeting card with your additional thoughts.
Your other half will surely feel loved and valued once you tell them these affirmations of love. And we know that's your only goal for your wedding anniversary.
You can find more of the wishes and greetings for any occasion or event on our main page. We also suggest you subscribe so that you don't miss out on new and updated wishes.