3 year anniversary
#1. 3 years ago, I said "yes" with lots of hope and let me tell you that you're the best husband in the universe. Our relationship is filled with pure love, honesty, respect, and loyalty. My love, I want to spend my whole life with a wonderful person like you. Happy 3 year anniversary!
#2. To marry you was the finest decision I have ever made. In the past three years, you've made me realize it every second day. Happy 3 year anniversary to us.
#3. Surely, the path of marriage isn't about the petals of roses and the romantic dines. Yet, walking it down with you makes it look like so! Happy 3 year anniversary, babe.
#4. Happy anniversary. You are a catch and a perfect match. You have made past three years the best years of my life. I'm grateful to the compass of love that brought you into my life.
#5. I am glad my heart found the husband material in you. I am also grateful that you saw a wife in me. Without each other, we would have not survived. Happy 3 year anniversary.
#6. Congratulations to us for having made amazeballs moments together. We tried to get the best of time despite the lack of time. Happy 3 year anniversary to us.
#7. Each day with you is springtime. Our love blooms and we grow as a couple. Everything feels lively and lovely when you're with me. Happy 3 year anniversary.
#8. This loop of love we are in can never end. This lifetime isn't enough to showcase our infinite love to each other. But we did it well in the past 3 years. Happy anniversary.
#9. My eyes sparkled with merriment the moment you proposed to me. My heart giggled the moment I said yes. My soul found a home since then! Happy 3 year anniversary, honey.
#10. The seed of love is not enough. It takes commitment and patience to get deeply rooted. Cheers to our committed relationship that we're nurturing with love patiently. Happy 3 year anniversary, love.
Read: Funny Anniversary Quotes
Happy 3 Year Anniversary
It's been three years since our souls tied. The knot of love has only stronger. So strong that we can't be apart in this lifetime. Happy 3 year anniversary, honey.
It's been 3 years since our lives joined and I can proudly say that I'm the luckiest wife in the world. You're a perfect partner, a lovely father and a wonderful human being. Happy anniversary, better half!
We're to be congratulated because we've completed 3 years of our married life! It's wonderful to share my feelings with a lovely person like you. I must say these were the best three years of my life. Love you today and always!
Happy anniversary, darling! There're thousands of reasons to love you but as it's our 3rd wedding anniversary, I want you to know the best 7 reasons. You're loving, caring, loyal, honest, supportive, understanding and of course the most handsome guy.
3 years ago on this day, I married my love which was the best decision of my life. I'm happy because I have you on my side. You love me, care for me and make me feel special always. I love you and I just pray that together we reach the end of our lives. Happy 3 year anniversary!
Congratulations on your 3rd wedding anniversary, beautiful couple! I'm so happy to be a part of this wonderful celebration. May God always keep you together and give you all the happiness you deserve! Love you both!
Happy 3rd anniversary, dear! My heart fills with joy when I see you both together. Many good wishes and blessings for you! Live happily with lots of love!
Congratulations to both of us on our anniversary! Honey, thank you for giving me all the beautiful moments in these 3 years. It's your love and support that make me strong and give me the will to live. I'm incomplete without you. I hope our bond always remains like powerful!
One of the most important days has returned again. Happy 3 year wedding anniversary, my love! I want to thank you for your support, care and making me fall in love with you every moment.
Another year at your side has been completed today. Happy 3rd year anniversary! Your entrance into my life was the best thing that happened to me. Your care and unconditional love made me a better person. I love you!
Try: Happy One Month Anniversary
3rd year anniversary
Happy 3rd year anniversary, the most charming couple in the world! I'm really happy to be a part of your celebration. Always be happy together and I hope this true love never ends. Love you both!
This date is very special because our life started together on this day three years ago. Thanks for choosing me as your partner. You've completed me with your love and always stood up at my side in all good and bad times. I adore you, my love!
It's the day to celebrate another year of our love. Happy 3rd year anniversary! I'm lucky that God has given me the best life companion. You are the best part of my life and I want to love you forever.
Congratulations love birds on your 3rd year anniversary! I'm so grateful to get the opportunity to bless you. May your love be eternal and your life be filled with happiness!
The moment you entered my life, it becomes more colorful. I'm lucky to be able to share a laugh, joys, sorrows and everything with you. Happy third anniversary, sweetheart! Love you today and forever!
Read: Happy Anniversary Mom And Dad
3 year wedding anniversary
Happy anniversary, my beautiful lady! God has united us 3 years ago and blessed our relationship. I'm sure he'll keep our love alive.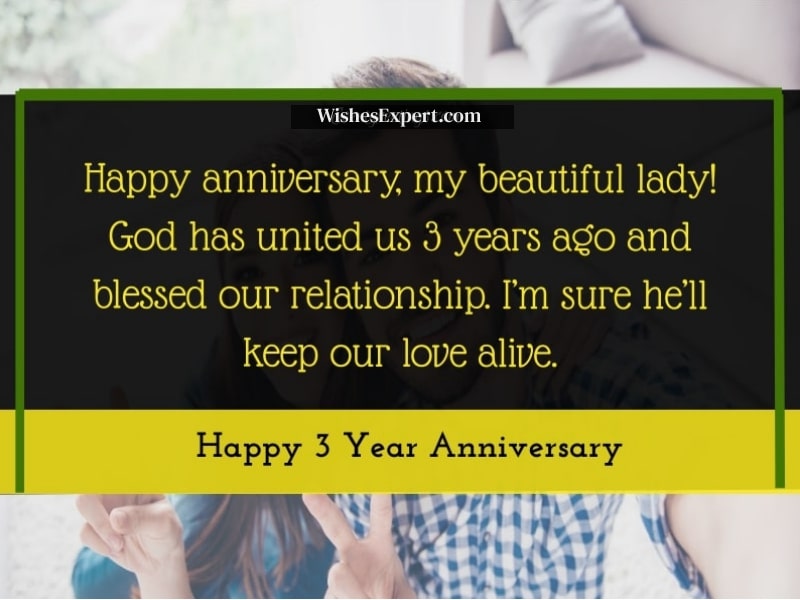 Congratulations darling for three years of togetherness! Our pure love, honesty, and unity are the reason for our successful marriage. Thank you for listening to me, understanding me and loving me with all your heart.
There's nothing more beautiful than having the person you love as a life partner. My man, I just want to stay with you forever because happiness is constant at your side. Happy anniversary, sweetheart!
Today we're celebrating three years of our companionship and I feel so proud to be your wife. You are the man of my dream. I would not be so happy if you weren't with me. I hope our love lasts forever and we never lack happiness.
Three years ago we said yes to each other and I hope and pray that we'll continue to say yes for the rest of our lives. Happy anniversary, the love of my life! May we always are together and our love grows more and more with each passing day!
Read Also: Anniversary Wishes For Friend
3rd year wedding anniversary
Happy anniversary, hubby! Every moment I spend with you is magical. Thanks a lot for holding my hands and for being my companion on the journey of life. May God keep showering his blessings upon us!
My better half, happy 3rd year wedding anniversary! On this special day, I want you to know that I'm so happy to be a part of your life. You're the best partner that anyone wishes to have. Love you a lot!
I can never forget the day of our wedding because it was the happiest day of my life. My love, three years have passed and you didn't break any promises you made on that day. Thanks for giving me the place in your heart. I love you!
We are to be congratulated for completing the magical three years of our wedding. Happy anniversary, my man! It's a wonderful feeling to share my life with you. I hope we can celebrate this beautiful day forever!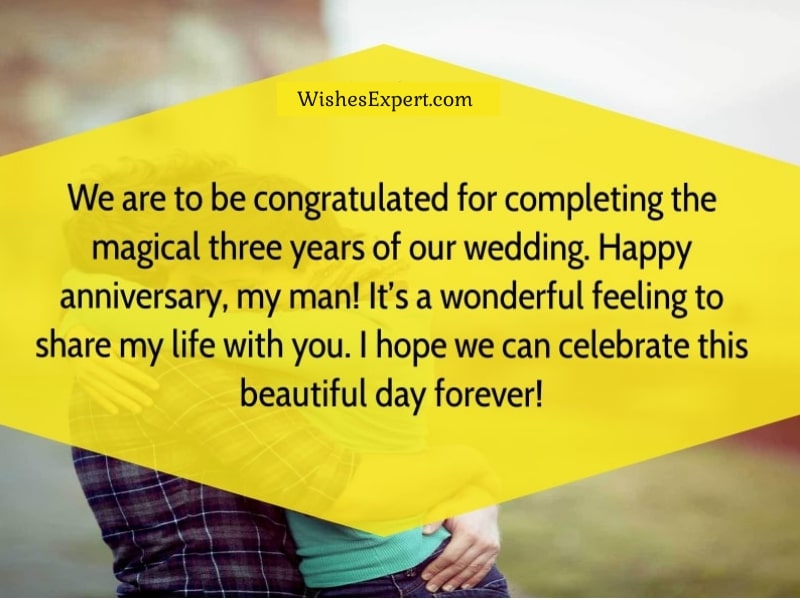 Congratulations to us for 3 years of successful marriage! It is a privilege to be a part of this beautiful relationship. You are everything in my life and I can't leave without you. May our love never be separated!