Have you sent anyone Happy 35th Anniversary Quotes and Wishes? Anniversaries are one of the most special days one could enjoy. To witness the love and commitment between two people is a heavenly experience. However, If the Anniversary is yours that becomes the happiest and most emotional day for you.
Where you remember the time both of you spent together, the hardships you handled and the bond you shared. It is a very good idea to wish your better half your 35th Anniversary in the most special words that tell them how much you value their existence in your life. Here is a list of quotes and wishes you could use.
35

th

Wedding Anniversary
I can't imagine how quickly the days passed. I still remember the day you walked down the aisle, my love. Happy 35th Wedding Anniversary the love of my life.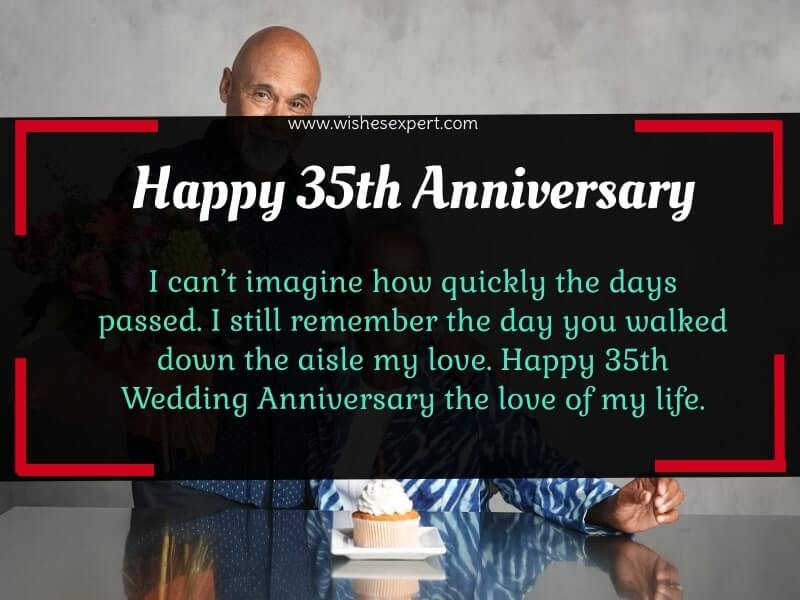 Marrying You was the wisest decision I ever made. I can't Thank you enough for these last 35 years you spent with me helping me through thick and thin. Happy 35th Anniversary.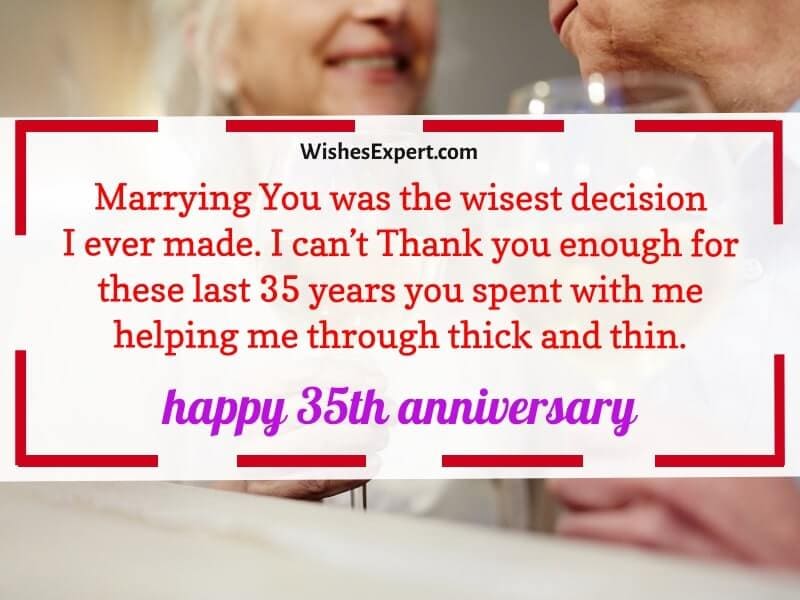 The sight of you makes my heart filled with an immense amount of warmth. This journey with you has been so amazing. Congratulations and Thank You for being a part of my life.
Happy 35th Anniversary to the man who won my heart with his first sight. I cannot imagine my life without you.
I cannot forget the day you choose me as your partner. Many congratulations to you honey for this special day.Happy 35th Anniversary!
Marriage is a promise of love, respect, care, and responsibility between two people. Our marriage has passed through all such trials. Thank you for always standing by my side.
We wish you a very happy and blessed 35th Anniversary. You are such a beautiful and adorable couple who taught us how to stay true to your commitment to find happiness.
35 years of immense happiness, love, devotion and trust. Happy Anniversary to both of you sweethearts.
To the woman who filled me with her love at her first sight. I never found anyone as beautiful as you are. Happy 35th Anniversary Darling.
Read: Amazing 50th Wedding Anniversary Wishes
Happy 35th  Anniversary
I never believed in soul mates until the day I met you. You have been the reason for all my happiness all these years. Happy 35th Anniversary love.
It is so wonderful that you guys pulled through all these 35 years. Happy 35th Anniversary to the most adorable and perfect couple.
If I say you are the prince of my dreams you won't be surprised. We have spent all these years dealing with the best and the worst of each other. Thank you for keeping up with me.
Finding a perfect woman for yourself is something all men want. I was lucky enough to fall in love with you.
On this day of our 35th Wedding Anniversary, I am grateful to you for being the person who always saw the best in me. I am truly blessed by God for having you as my partner.
On the day of our wedding, I could never imagine that we will grow so close to each other to be able to understand what is left unsaid between us. It has been an amazing chapter of my life.
I can't say we've just had wonderful moments together, but I'm glad we've made it through the difficult times. Happy 35th wedding anniversary. I'm happy we've reached this far.
Another year passed, and you still manage to make me smile every morning. Your presence has made me the happiest person alive. Thanks for the 35 years of togetherness.
When I took a chance on us, I knew we'd make it through anything. My love for you has only gotten stronger throughout the years. Happy 35th wedding anniversary.
Also Read: Happy Anniversary Mom And Dad
35thWedding Anniversary Quotes
Happy Anniversary to the most gorgeous, smart, and kind woman that I ever met. My love for you has grown so much that I can live without everything but you.
Before I met you, I thought that marriages and engagements are ephemeral but now after all these 35 years, nobody can be surer than I am that love is eternal.
Thank You for giving me a chance to love you, to enjoy your youth, to watch your wakeup by my side and for allowing me to grow old with you. I am grateful to you for all these 35 years that we spent with each other.
I love you for all the rains we got wet together, for all the rhythms you made me feel, For all the Goodnights and Good Mornings. Happy Anniversary to the man I got married to 35 years ago.
Happy 35th Anniversary! May God blesses us with much more years of life together so we can celebrate our love getting stronger and stronger as time goes by.
Happy 35th Anniversary, life partner. I hope we continue to enjoy life to the fullest and embark on new experiences. Happy 35 Years of togetherness and more to go.
Life is full of miracles, and mine was one meeting you. It's been 35 years since we made our promises to be together, yet it still feels like yesterday.
I cherish every moment we've spent together. These moments are, and always will be extremely valuable. I hope we spend many more wonderful days together. Happy 35th Wedding Anniversary, love.
Check: Romantic Happy Anniversary Husband Wishes
35th Wedding Anniversary Wishes to Couple
I wish a happy wedding anniversary to the best married couple that I know. May the coming years bring you more adventures, love, and memorable moments.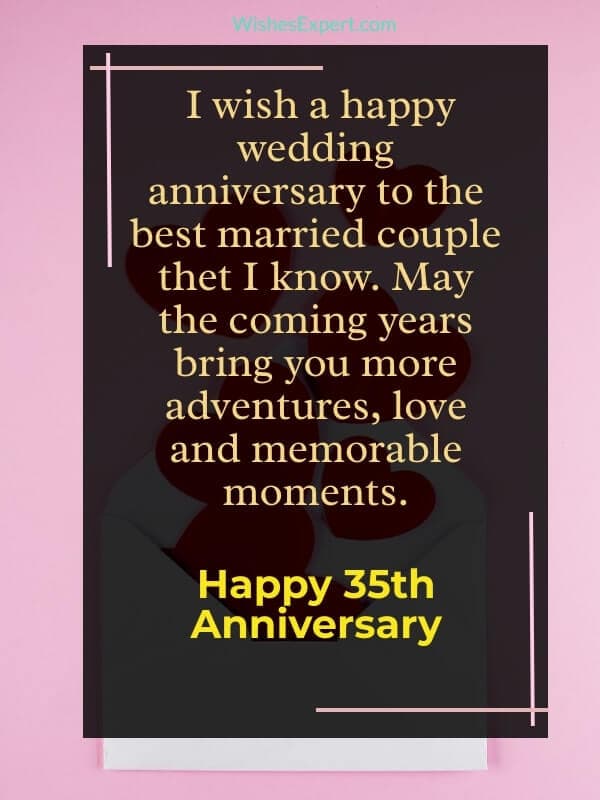 Two Falling in love is common but staying in love is something different. You are the true epitome of love. Happy Anniversary to both of you!
I wish you a happy 35th Wedding Anniversary. You are the sweetest and lovely lovebirds that I know of. Both of you have successfully stood the test of time.
It is so surprising that 35 years have passed of you guys being together. You are still as young and energetic as you were on your wedding day. Happy 35 Years of togetherness and more to go.
Marriage is a beautiful vow between two souls that can connect them so beautifully. You guys are a living example of how God blesses his people.Happy 35th Wedding Anniversary
I understand it's not a great life or a perfect marriage, but I still adore it. I've enjoyed every minute of my 35 years with you. Happy 35th Wedding Anniversary.
We have withstood the true test of time, growing and getting closer together every year, through all good and bad times. Our love made it possible. Happy 35th Wedding Anniversary.
My love, happy 35th wedding anniversary. Thank you for staying with me even when I was at my worst and for all these years of love and wonderful memories.
It's easy to find love, but staying in love with the same person for the rest of one's life is difficult. Thanks for these beautiful memories during these 35 years.