Here are the top 25th wedding anniversary wishes for your reading pleasure. This beautiful journey that two people take together requires a lot of patience but also sacrifice. It is not something that can be easily done by just anybody. Anniversaries may only come once every year, but the anniversary of 25 years of togetherness is a huge milestone that no one should miss. Since you are looking for some beautiful 25th-anniversary wishes, you could consider something filled with so much love and compassion.
Happy 25th Anniversary Wishes
1. You two have always been an inspiration of love and support. I am so glad to witness your journey. Congratulations on your Silver Jubilee! Best wishes!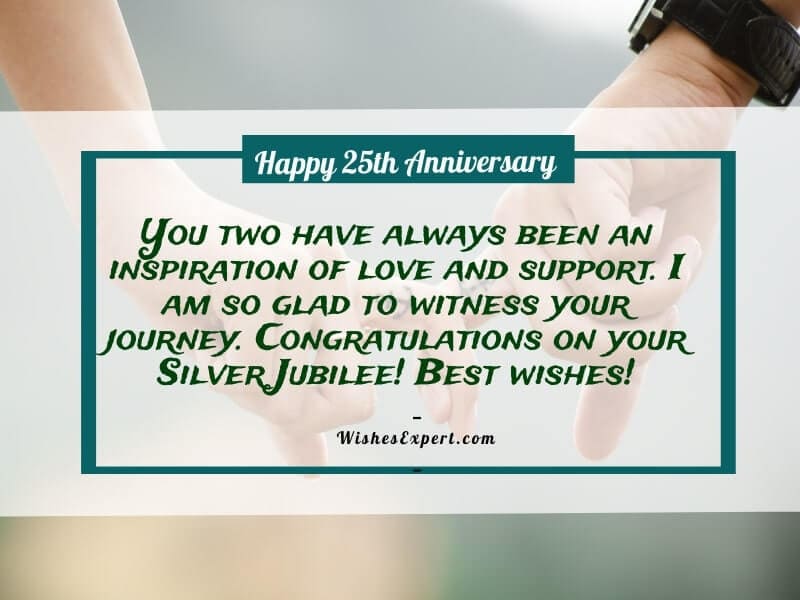 2. Fairy tales do exist, and congratulations on showing that to everyone around you. I wish you all the best wishes for everything life has to offer from now on.
3. These 25 years are nothing less than a romance novel with a happy ending—best wishes to both you and a happy anniversary.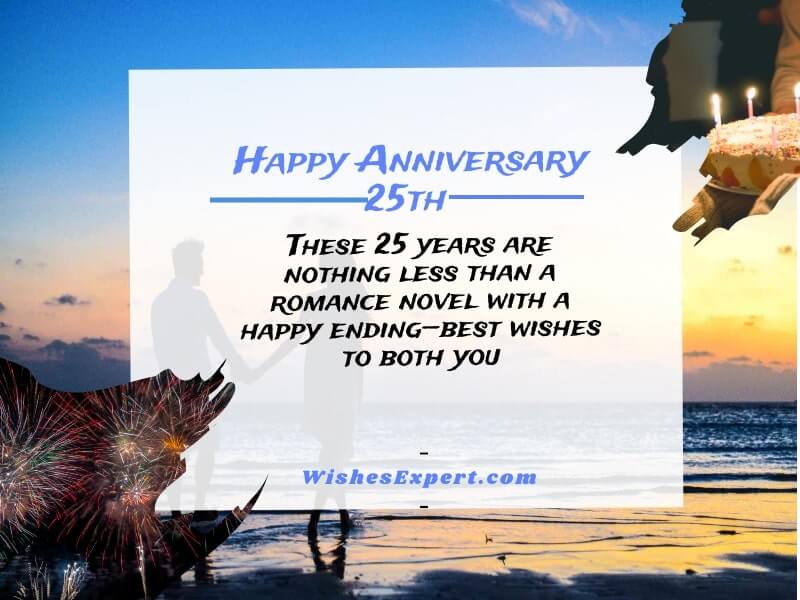 4. Can you believe that you two have now been on this journey for 25 years? You have always brought the best in each other. Cheers to many more!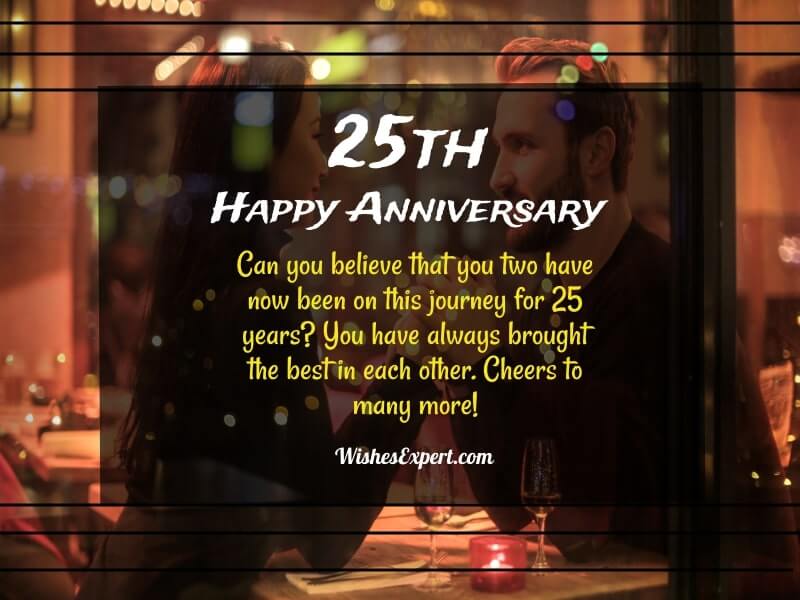 5. Your marriage has now come such a long way. I still remember the day when you both were so shy to talk to each other, and now you are so comfortable and in love with each other. Happy 25th anniversary.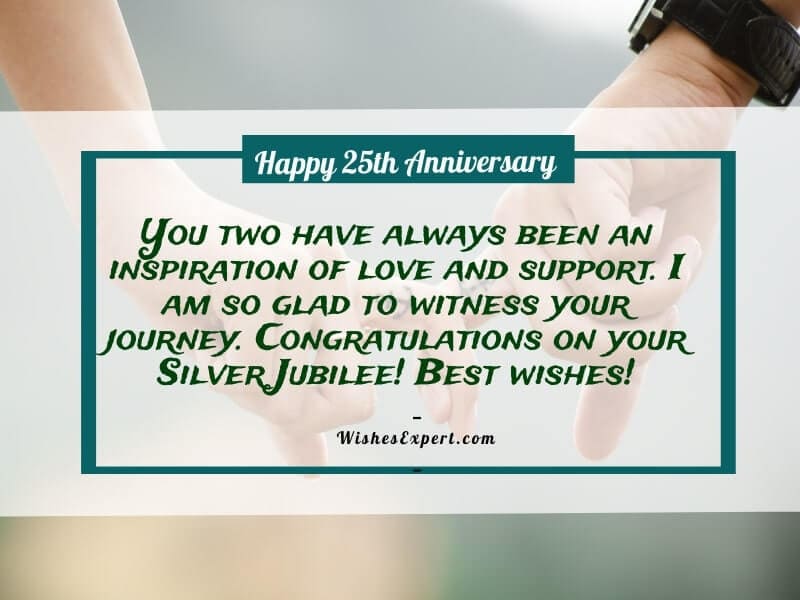 6. You guys made such a perfect story from the age of going to casual dates to taking vows. Congratulations on 25 years of your love journey.
7. Happy 25th anniversary to both of you! I am so glad to witness this story. I will always admire you. Cheers to many more years.
8. Happy 25 years of an amazing journey where you faced whatever life has thrown at you two, holding each other and celebrating each other. Congratulations, both of you!
9. From overcoming every trauma with the power of love and celebrating each other every day, your marriage has come a long way. Congratulations.
10. It was not rosy, but being able to celebrate this day proves that everything you did for each other was worth it. Happy 25 amazing years!
Read: Anniversary Quotes for Her
25th Anniversary Quotes
1. There is absolutely nothing more awesome than celebrating the love that stays forever. It is an honor to witness such love. Congratulations on your 25th anniversary.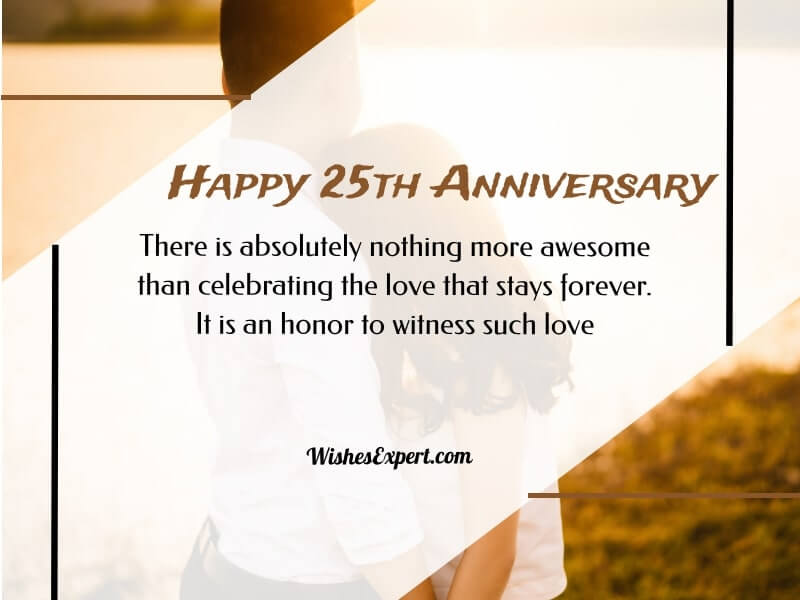 2. Congratulations on being one of the power couples that everyone looks up to. I pray that you prosper and always be in love for the rest of eternity.
3. Happy silver anniversary! There is nothing more beautiful than witnessing love like yours. I wish you all good things in life.
4. Congratulations on nurturing the love you have for each other to this very day. Love like yours is very rare. Happy silver jubilee.
5. Marriages like yours make everyone around them believe in love and the power of love. Cheers to 25 years of rocking marriage. Best wishes!
Happy 25th Anniversary
1. Congratulations on the glorious 25 years of your marriage. The bond that you two share is inspiring and remarkable. I hope you stay blessed always and forever.
2. You have completed my life in a way I never thought was possible. You make me a better person. Happy 25th anniversary, love.
3. You and your partner are an example of how a couple can push through obstacles to build a family. Happy 25th anniversary.
4. My heartiest congrats on your 25th anniversary. Thanks for showing us what love is and making us believe in its power.
5. If there were more couples like you, love would have a better reputation. You taught us how to be patient, and live happily. Happy 25th anniversary.
Also Read: Anniversary Wishes For Daughter And Son In Law
1. I am very grateful to have you as my husband. You are also my best friend, and I am beyond lucky to have my soulmate with me to have and to hold. Happy 25th anniversary.
2. We both have changed so much over the last few years, and we have grown stronger each passing day. My love and respect for you keep on growing. Happy 25th anniversary.
3. After all this time, I can happily say that choosing you was the best decision I could have ever taken. Thank you for giving my life everything it needs. Happy 25th anniversary.
4. I am one of the luckiest wives to get a wonderful husband like you. You are everything I could wish for in a husband. Happy 25th anniversary, love.
5. I want you to know that I love annoying you because you look so cute and innocent, and I will keep going like this in the future too. Happy 25 years of annoying you.
1. Dear wife, thank you for giving me such a loving family and a place to call my home. Without you, this would not be possible. Happy 25th anniversary.
2. Thank you for what you do, the most amazing woman I know. Every day I feel so proud to call you mine. Happy 25th anniversary.
3. 25 years of our life seems to have passed in a blink of an eye. When I look back, it was beautiful all because of you. Happy 25th anniversary.
4. For the past 25 years, I have fallen for you all over again, every single day. You truly are an amazing woman. Happy 25th anniversary, love.
5. Every good thing in my life started from the day you walked into my life. You gifted me this family and our home. Thank you for everything. Happy anniversary.
Remember to send your beautiful blessings and wishes to those celebrating their 25th anniversary. After all, it is such a big milestone that embodies everything they have been through together and all the hardships that they had to face to get here. In the end, it is a testament that everything works out for the best.