Any resilient love is worth celebrating. Use these anniversary wishes for couple to congratulate a couple whose resilience and determination have strengthened their love.
Any relationship that reaches a milestone has gone through its ups and downs, and the anniversary indicates that they've stuck to each other through thick and thin. While it might not have been the most exciting ride, both of them together have tried to make it worth it.
Only true love passes the challenges that life throws. And if any couple close to you is celebrating their anniversary, acknowledge their efforts and appreciate them. Let the couple know that you too believe that their love is worth celebrating.
Anniversary Wishes For The Couple:
#1. Love has tied both of you in this commitment for life, and evidently, you both have been taking care of it very well. Congratulations on that. Happy marriage anniversary.
#2. Resolvement to all the conflicts can occur when two people like you are willing to reach resolutions together to be together. We send more power to you two. Happy anniversary.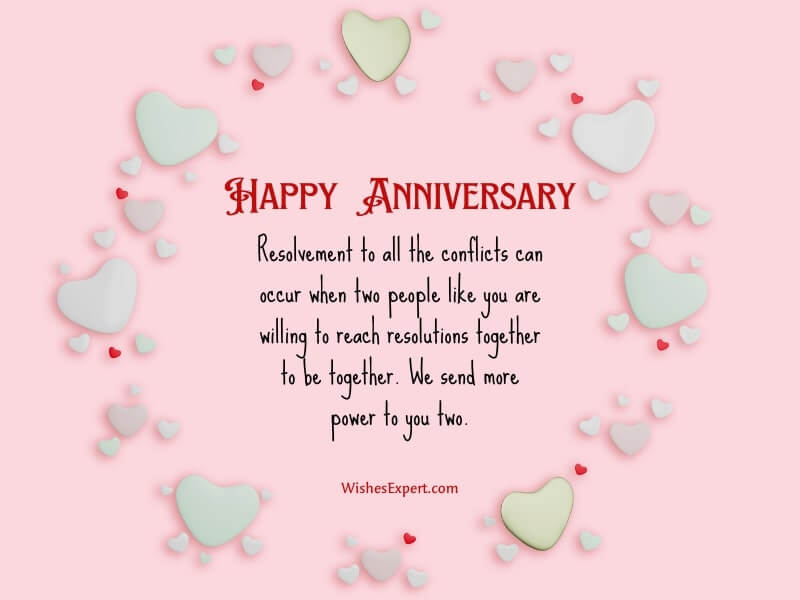 #3. For you two have been keeping the love alive, may God protects your marriage. We hope to celebrate your love for many years to come. Happy anniversary.
#4. Happy anniversary. Spill the beans and let us benefit from your secrets on making marriage work because you two are clearly striking the goal.
#5. We look at you as if you two are a match made in heaven because you both get on like a house on fire. Happy anniversary.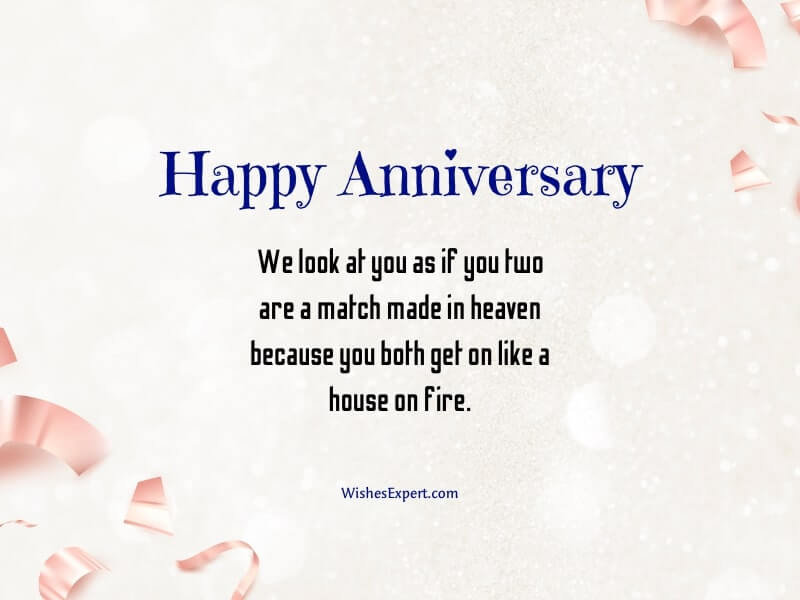 #6. It's been ____ years, yet you two are head over heels for each other, and it only showcases the solid foundation on which you've built this beautiful life together. Congratulations. Happy anniversary.
#7. Never have I ever seen a power couple exhibiting puppy love all the time! But God bless your pair to keep this mystical and magical love alive. Happy anniversary.
#8. Happy anniversary. Since you both have tied the knots with each other, you have been put under the spell of love. And we're so glad that no sorcerer has been able to break this web of love.
#9. It's been ____ years yet you look at her as if she hung the moon. Neither love ages nor fades. We send you more power to continue being a power couple. Happy anniversary.
#10. I hope you realize that luck turned in your favor when you found your main squeeze a long while ago and married her. You're lucky and so is she! Happy anniversary.
Read: Belated Happy Anniversary Wishes
Wedding Anniversary Wishes For Couple:
#1. You two have tied your souls as your love has been sealed for eternity. May you two keep running in this infinite loop of love. Happy wedding anniversary.
#2. Congratulations for making it so far together, and thank you for making us witness what it takes to make a marriage work. Happy wedding anniversary.
#3. To the couple, who took vows to continue their journey to keep their old-fashioned love secured in the modern community; happy wedding anniversary.
#4. We don't recommend a couple watching a TV show or going to therapy, instead, we tell them to meet both of you and see how love grows. On that note, happy wedding anniversary.
#5. You two are made for each other because no other being can put up with the crazy things you do as an individual. To the perfectly crazy couple I know, happy wedding anniversary.
#6. Only the couples like you contribute to not increasing the divorce rate, and we appreciate you for that! Happy wedding anniversary.
#7. Congratulations for making it through rough patches smoothly and on rocky roads calmly. Also, for having found the secret recipe to having harmonious companionship. Happy wedding anniversary.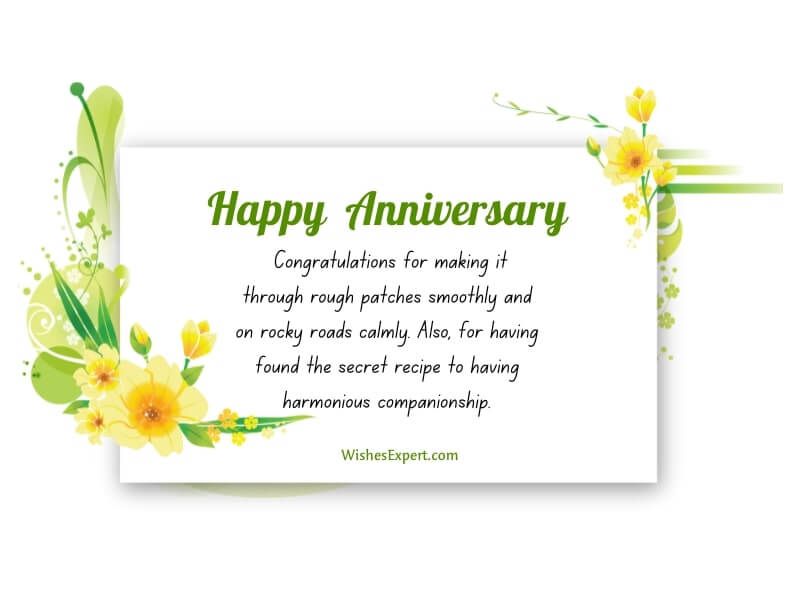 #8. Like a fine wine, you two are only getting better. You two have brought these ingredients into each other's lives that are only making your lives richer. We're so happy to see that. Happy anniversary.
#9. May the divine continue to bless your marriage with security and safety. May you two forever find comfort and warmth with each other. Happy wedding anniversary.
#10. For all you've given to make this relationship work, you two deserve the sweetest fruits of love. For all this time you've been together, you deserve a celebration greater than life. Happy wedding anniversary.
Read More: Thank You Messages for Anniversary Wishes
Special Couple Happy Anniversary:
#1. Happy anniversary. It's a blessing to have someone who's got your back in all thick and thin times of life. Celebrate not only love today but your fortune for being in such a blessed relationship.
#2. Marriage is a constitution where you have to show up every day and put in efforts to follow the vows you took one day and congratulations for coming so far. Happy anniversary.
#3. Happy anniversary! Like the yin and yang, you both complete each other. For all those times, when you have stood up for each other and showed up for love, congratulations.
#4. As we've seen both of you pouring your love into the foundation of your relationship, we can digest the fact of how strong you both are growing as a couple. Happy anniversary.
#5. We're sending you torrents of love to add up to the abundant love your marriage already holds to make it timeless. Happy anniversary.
#6. For you two carry enormous courage and boundless patience, there's no wonder in seeing your marriage blooming with an undying love. Happy anniversary.
#7. Thank you for showing that love isn't perfect but so larger than life that any imperfection that comes with it only counts as a blessing in the sky. Happy anniversary.
#8. Happy anniversary. In the field of love, you two have been walking. The bond you share only sprinkles the seeds of hope for the other flowers of romance that are blooming.
#9. If I'd have a crystal ball to look in for the two of you, maybe I could see the shape of love. When it comes to your marriage, I would only forecast love. Happy anniversary.
#1o. You both have shown how nothing can beat the willingness to stay together amid the storm. And I wish the love that binds you two stays alive forever. Happy anniversary.
Read More: Anniversary Wishes For Sister and Brother in Law
Anniversary Quotes For Couple:
#1. To the love that thrives, flourishes the garden of life, makes the surviving living, cheers. To the couple that has been giving their share to keep that love alive, happy anniversary.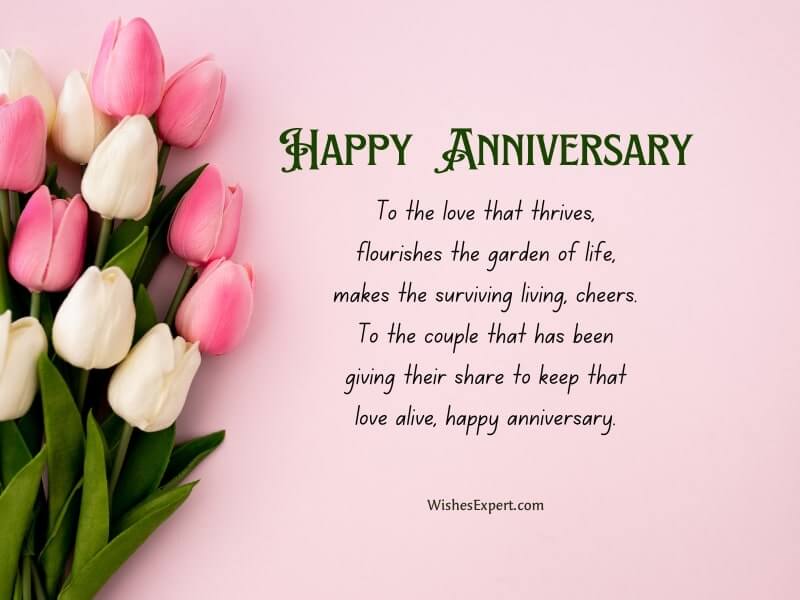 #2. Among the gleaming stars, the love that both of you hold shines brighter. Among all the couples I know, my favorite one shines brighter. Happy anniversary.
#3. Blessings have flourished in your life and love has blossomed to never die. To the love that you two cherish and we can be in awe of, cheers! Happy anniversary.
#4. The union of souls that took place years ago is still making its way through life keeping the love not only alive but young, kudos to you two. Happy anniversary.
#5. Not only love but the willingness of two people to stay together help them stir the wheels of life to the glorious lands. Congratulations on arriving in the most beautiful land. Happy anniversary.
#6. May the love in your life stay constant like π in all the equations. Happy anniversary, celebrate love today a little.
#7. As both of you have these pure hearts and beautiful souls, the love will auto-correct everything that needs to be done to run smoothly in life. We wish you the best and a happy anniversary.
#8. The love never stops brewing. Each day it only grows a little to add up a lot of meaning to life. I wish you luck to keep breathing the love. Happy anniversary.
#9. Only after a lot of subtraction and addition of certain things, the love starts to take its course and you become the carrier. To the couple who has become that carrier, happy anniversary.
#10. Take a bit of time to appreciate each other and steal a few moments from life to showcase your love for each other. Happy anniversary.
Check: Anniversary Wishes For Daughter And Son In Law
Wedding Anniversary Messages For Couple:
#1. May you two keep growing old together from the times of clubbing to the times of going to the park. May you get to experience the best of love in every era. Happy anniversary.
#2. Wishing you both the years ahead filled with passionate love, compassionate moments, and fortunate events. Happy anniversary. Wishing you the best times ahead.
#3. Cheers to the togetherness of _____ years and happiness of the lifetime. Cheers to the undying love and the boundless blessings that are yet to come. Happy anniversary.
#4. We wish you luck with the chapters of life that are still yet to discover. May the universe keep the wrath of this love warm. Happy anniversary.
#5. Cheers to all those moments which created this series of love that you two hold so dearly together. Cheers to the love and togetherness of a lifetime. Happy anniversary.
#6. May the glorious sun never let the clouds of storm take over the skies of your love. May on the blue days, the roots of your relationship sing the songs of love. Happy Anniversary.
#7. For you've found a match for your life who has become your mate for this lifetime, aren't you the luckiest? To the most fortunate couple, happy anniversary.
#8. Tell a tale. If it's your love story, it'll inspire others. If it's about you two, it'll still give love the way to inspire others. You two and love go hand in hand. Happy anniversary.
#9. May the tenderness of your love and loyalty of your relationship never fade. May your souls always come back to each other even in another lifetime. Happy anniversary.
#10. May the outline of your love story only hit the plot twists that bring you two only closer. May this fairytale never end. Happy anniversary.
Some Numbered Anniversary Wishes: Happy 2 month Anniversary, Happy 5 Month Anniversary, Happy 4 Year Anniversary, Happy 60th Anniversary, Happy 10 year Anniversary.
These were all the happy anniversary wishes for a couple you can save for the couple anniversaries that are yet to take place. We promise you that these words of appreciation and love will only make them go aww over your wish. You can combine a few wishes to write them in a greeting card too! If you're looking to wish a couple who has reached a certain milestone, e.g. 5 years, 25 years, then you can find those wishes on our main page.