Happy 60th Anniversary Wishes: For a couple to reach 60 years of marriage is a very rare and special occasion. When two souls are in love spending a lifetime together is the most beautiful gift. Such a rare moment should be celebrated with great zeal and passion .
60 years anniversary is often known as the Diamond Jubilee anniversary which is a milestone very few can achieve. This day should be marked with remembering all the memories from all these past years and getting more wishes and blessings for the upcoming years.
Finding a couple who have been loving each other so good that now they do not even have words to express their needs and desires. Here are a few 60th wedding Anniversary quotes that could be used.
60th Anniversary Wishes For Couple
1. Happy 60th Anniversary, my lovely parents. I wonder how you guys stick around for so long. You taught me to be with my partner through thick and thin. Thank you for that, and happy Anniversary once again.
2. Congratulations, dear granny and grandad. You guys are the epitome of love, respect, and loyalty. We have learned how to keep calm during a situation from you people. I hope that your union continues till your last breath. Happy 60th Anniversary!
3. I think you are a match made in heaven. I feel proud and joyful when I see you two still having the spark and affection. Happy 60th Anniversary, Mom and Dad. We love you.
4. Sweetheart, All these years, I didn't confess that I am what I am because of you. Your love and devotion have made me strong. I love you. Happy 60th Anniversary, my dear wife.
5. How did you guys even stay married for so long!? You people actually grew old together. I salute you for that. Happy 60th Anniversary, dear grandma and grandad. I hope that I can celebrate such a milestone anniversary with my partner as well.
6. I have never seen a lover like you. From the first day we met till today, you have loved me like a fairytale hero. You are my real-life hero, dear husband. I have loved you all my life and promise to love you for the rest. Happy 60th Anniversary!
7. Cheers to our 60th year of married life. I think we are some of God's favorite people. We have the blessing of food, shelter, and each other's company. 60 years with you passed in a blink of an eye. I could never do it to anyone else, dear!
8. I know you guys won't drink and party tonight, but we would. It's a milestone anniversary for you guys. It's not easy and smooth to live 60 long years with someone. You people have made it possible. Happy 60th Anniversary, my lovely grandparent. You guys rock together!
9. Happy Anniversary to the most beautiful and loving couple I know. 60 years is a long time, but you people have made it work through all the odds. Wish you all the love, laughter, and happiness. Happy Anniversary, friends!
10. Happy Anniversary my lovely, lovely parents. I hope and pray that you never leave each other's side until the end of time. You two are amazing together!
11. Seeing you being married for so many years, I realized that a perfect marriage is not only about love but respect and caring too. I hope I can also celebrate such a milestone anniversary with my partner. Happy 60th Anniversary!
12. It's celebration time! Spending 60 long years with the same person is a massive thing, and you guys did it successfully! Cheers to you! Let's open that apple juice bottle and party till 10!
13. Happy 60th Anniversary, my dear husband. Since it is our Diamond Anniversary, A diamond ring will be a fantastic gift. Just saying, darling!
14. On this special day, I just wish we live like this till the end of time. From the day we got married, not a single moment with you was dull. You always made sure I was happy and content. Happy 60th Anniversary to us! I love you, my love.
15. All our wedding anniversaries were special. But this one is even more special as it's our Diamond Anniversary. I want to live as your wife for the rest of my life. Happy 60th Anniversary, love!
Happy 60th Anniversary Wishes
16. Happy 60 years of togetherness to such a beautiful and lovey-dovey couple.Happy 60th Anniversary!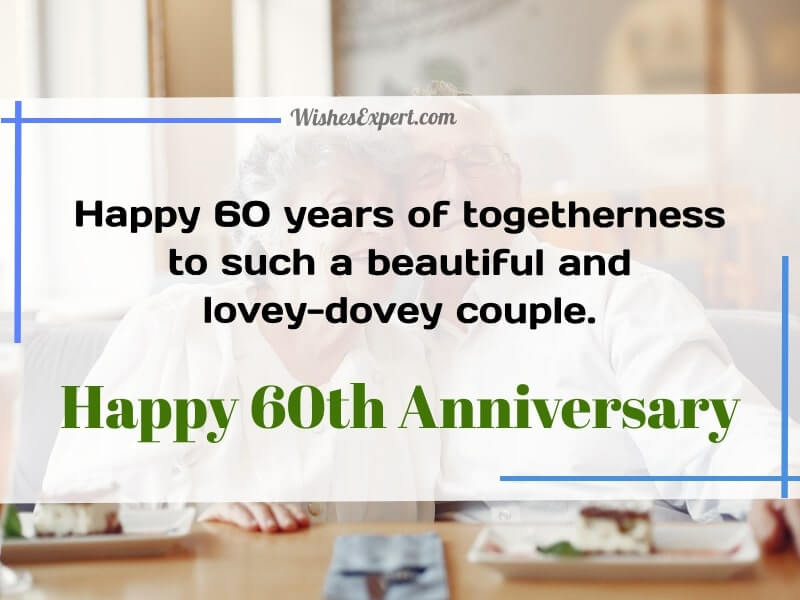 17. Finding such a beautiful ideal of love between two people is such a blessing. Happy 60th Anniversary. Stay healthy Guys!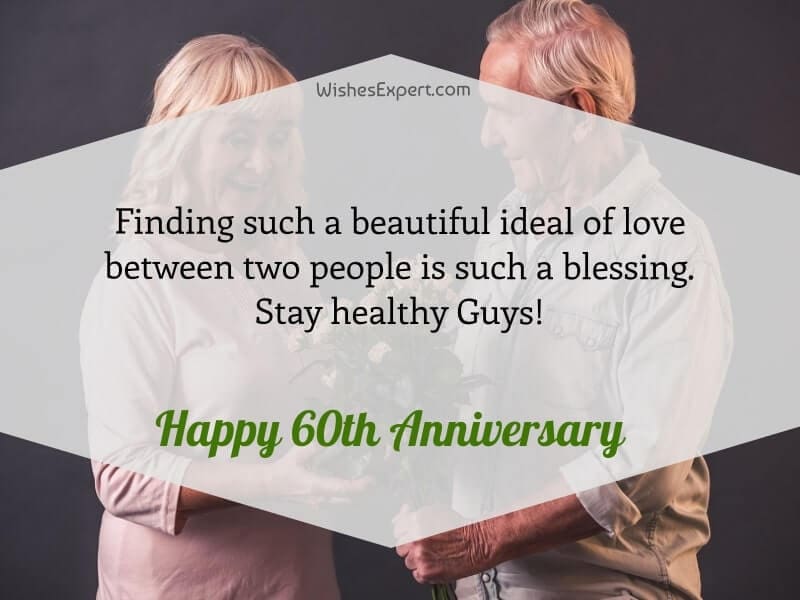 18. Since the first time I met you guys, I have always been inspired May God blesses you with many such celebrations. Happy 60th Anniversary!
19. "I want to grow old with you," lovers desire. No one knows like we know one another, and I am glad for this journey. Happy 60th Anniversary.
20. I know it wasn't all roses and moonlight for the last 60 years. But our support one another through thick and thin made our relationship stronger. Happy Marriage Anniversary.
21. I imagine both of us when I think of what a relationship should be like. Our relationship is so precious and one-of-a-kind. Congratulations on 60 years of wonderful marriage.
22. Only a few people are fortunate enough to experience a love like yours. Congratulations on your 60th wedding anniversary. Your love story is an inspiration to all.
23. Congratulations on your 60 years of marriage. You must be God's favored couple to get this love gift that only a few people receive. You two are very adorable together.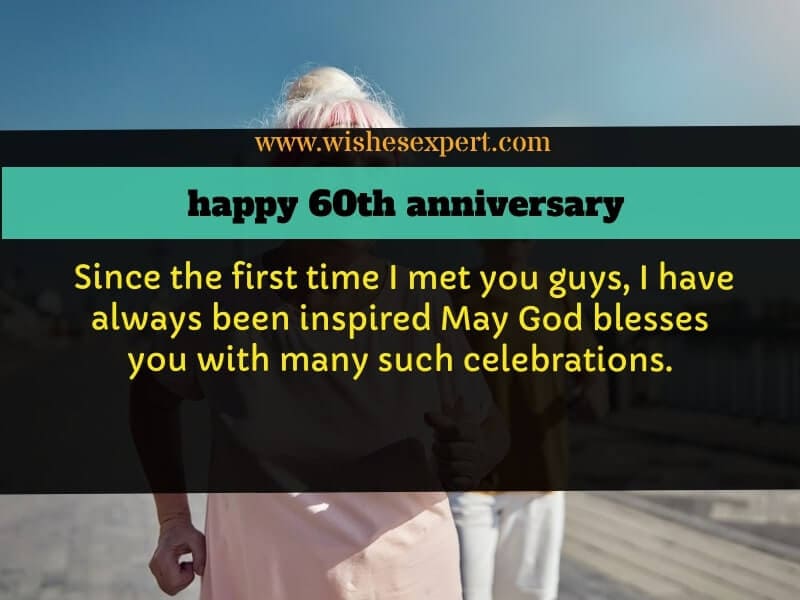 24. In today's world, it is hard to find a real and genuine example of love. You guys sure worked hard on your relationship to keep it strong. Love you!
25. Congratulating you with lots of respect and admiration. Many good wishes to both of you.Happy diamond anniversary!
26. Happy 60th Anniversary! The courage to sustain and cherish a relationship for so long is surely a gift of God. Keep it up!
27. Let us celebrate your diamond anniversary with lots of good wishes and love. Stay healthy and keep loving each other like this.
28. Happy 60th anniversary to the sweetest and most understanding couple I ever knew.
29. In all these years so many things have changed but your love for each other has stayed eternal. Stay happy always.
30. You guys are a perfect example of what marriage is all about. Happy 60th Anniversary!
Check: Anniversary Wishes For Friend
60th Wedding Anniversary
31. 60 years have passed since I first saw you walking down the aisle and you have not changed a bit, Dear. Happy 60 years to us.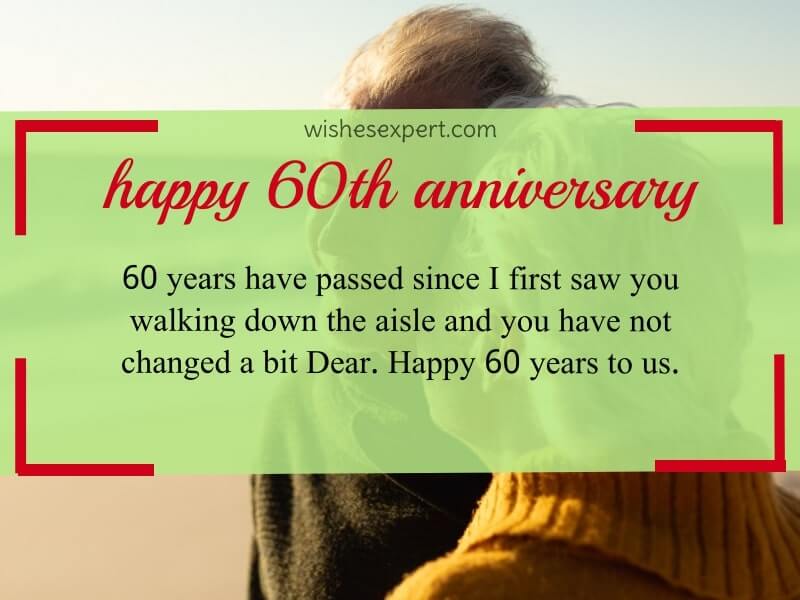 32. When I saw you for the first time no one could have imagined we would be here like this after all these years. Thank you for being with me always.Happy 60th Wedding Anniversary!
32. I could never understand how two souls could be so much compatible until I saw both of you. Happy diamond anniversary!
34. In today's world, every emotion I have seen is temporary but you guys are permanent. Good luck in the coming years.Happy 60th Anniversary!
35. Congratulations to the cutest, sweet and fun couple in all on their 60th wedding anniversary.
Read: Happy 35th Wedding Anniversary
60 Year Anniversary Sayings
36. Seeing how you prioritized each other all these years is so special. Happy 60 year Anniversary.
37. Words are not something that could completely describe the bond both of you share together for 60 year. Congratulations on celebrating such an amazing life.
38. With the right person, it is said that time loses its limits and it seems to be true for both of you. Happy 60th Anniversary!
39. We love to watch the memories of both of you so much and it feels great to be a friend of such extraordinary people.
40. In these years nothing is the same as before but what has remained constant is the spark between your couple. Happy 60 year anniversary.
41. One of the major relationship goals is to grow old together, and you encourage every couple there. You both have unconditional love in your hearts. Happy 60th Marriage Anniversary.
42. Sixty years of togetherness are filled with experiences and beautiful memories. Today is a special day because we are celebrating our 60 years of love. Happy 60th Marriage Anniversary.
43. Congratulations to the lovely couple on your 60th Wedding anniversary. Loyalty and faithfulness are common as they should be these days. It's great that you've set such an excellent example.
44. I'm sure it hasn't been easy these past sixty years. You've been through many difficult moments together because of your love. Congratulations and happy 60th wedding anniversary.
45. When I see you, I always hope to find love as powerful as yours, deep enough to get through any difficulties while never hurting one another. Happy 60th Wedding Anniversary.
Also Read: 50th Wedding Anniversary Wishes
60th Wedding Anniversary Quotes
46. It is so surprising that 60 years have passed. Congratulations guys!
47. Wedding is all about trust and love and you guys have carried it so well. Happy 60th wedding anniversary.
48. You guys have gone through so much together that nothing seems to be a trouble for you. Stay strong and together. Happy diamond anniversary!
49. A lot of hugs and wishes for you guys on this special day of yours. This calls for a big celebration!
50. You guys have redefined the meaning of love and trust. Thank you for teaching us how to cherish a bond between two people.Happy 60th wedding anniversary.
Take A Look: Happy Anniversary Wishes For Sister and Brother in Law
What To Write In Card For 60th Anniversary?
51. Very few are blessed with the kind of love you share. I am honored to be part of your celebration. Happy 60th Anniversary!
52. The faith you guys have in your relationship has kept you going this far. Happy 60th anniversary to the gorgeous woman and most gentlemen I ever came across.
53. The comfort you have with each other that you even enjoy the silence between each other is divine. Happy 60th wedding anniversary.
54. Happy 60th Anniversary mom and dad. I am so grateful to both of you for being together and love you.
55. I am so lucky to have you guys as parents. We have always seen you guys so much in love yet you always gave space to each other. Happy diamond anniversary!
56. I wish you and your partner many more years of togetherness. Your commitment to each other shows what true love is all about. Happy 60th Wedding Anniversary.
57. Your unconditional love, unwavering support, and never-ending adventure have made the relationship last longer. Congratulations on your 60th wedding anniversary.
58. What keeps your relationship alive is how you both look after one other. You both deserve all the happiness and blessings in the world. Happy 60th Wedding Anniversary.
59. Your love makes me search for someone who can keep up with the promises. I will put all effort into my relationship as you both did. Happy 60th Wedding Anniversary.
60. The bond you both share is exceptional. Your relationship depicts a perfect relationship and proves that forever exists. Happy 60th Wedding Anniversary, lovely couple.