Happy 16th Anniversary Wishes: Marriage is a promise for a lifetime made by two individuals. It is a bond of companionship, ripens with love and compassion. Anniversary is such day which transports the couple to the good old memories shared years back. It is a beautiful reminder of the pledge taken to care for your partner. It adds one bag full of memories. Not just that, but it also strengthens the bond.
The journey of marriage can be full of ups and downs, but it is pleasant only when the steps are taken together with love, compassion, honesty, and understanding. So, do you want to make the journey memorable? A simple happy 16th wedding anniversary wish can make it unforgettable and loving. After all, completing sixteen years together needs both passion and dedication. You should salute and celebrate the same. The wishes help you deliver the warmth and adoration you possess for your dear one. 
16th Wedding Anniversary:
#1. Achieving new MILESTONES every year on this day, has been a way of 'HAPPY LIVING' for us achieving the 16th year today. Let's celebrate this day with "NOVELTY," you are not just my better half, but my bestie!
#2. To meet for the first time, To be best friends forever, To fall in love, To fight against the obstacles, likewise, every phase of our relationship for the last Sixteen years was destined and beyond our direct control, dear. The only key for this HAPPINESS is "FORGETTING I AND YOU AND BELIEVING IN THE POWER OF WE" which is TOGETHERNESS.
#3. Being Successful in our Professions was a part of 'DOING WELL.' But achieving SUCCESS TO BE HAPPY in a relationship is an ART OF 'FEELING WELL'. In these Sixteen years, you made me realize the 'FACT OF FEELING WELL,' which indeed resulted in 'THE ART OF STAYING WELL'.
#4. Sixteen years back we both dreamt of an ACCOMPLISHED RELATIONSHIP and made it into a reality. Now it's time to let our Children understand and behold the most important elements of a RELATIONSHIP, what do say wifey?
#5. This auspicious day in our life will come every year, today in this 16th year let's take an Oath to take this from '16 TO FOREVER' and FROM I AND YOU WE WILL BECOME US, TOGETHER'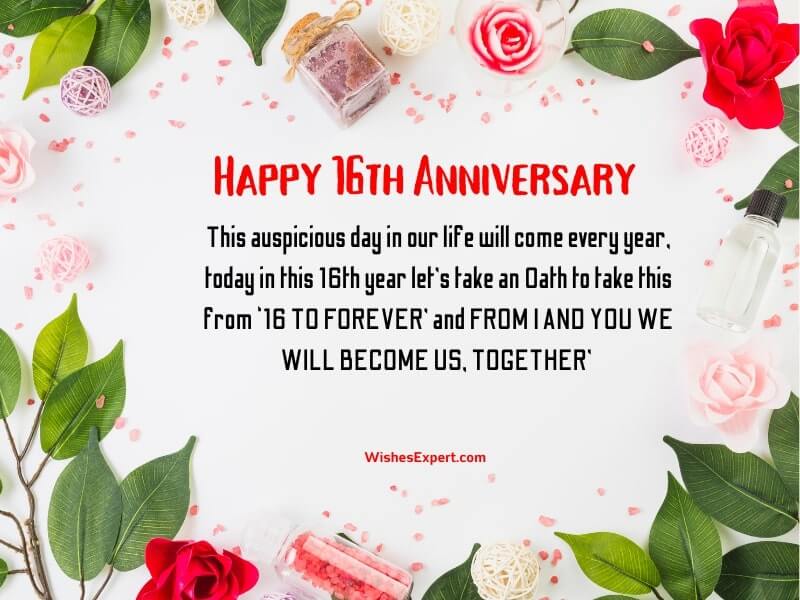 Read: Happy 45th Anniversary Wishes
16th Wedding Anniversary Quotes:
#6. Over the years we both have realized how people changed, things changed, and circumstances changed. But have you noticed what remained unaltered? "Our Feelings for each other." Happy 16 years of Togetherness Love, we will always remain together, forever.
#7. Hey! We are only left with Nine more years to celebrate the 'SILVER JUBILEE.' Let's celebrate the day with Meals and cherish the GOOD MEMORIES. Happy 16th Anniversary dear. May you stay happy forever.
#8. Sixteen years back you were fascinated by Hills and Mountains and I used to prefer Seaside more. But have you realized that we both accepted each other's fascinations, now I prefer the mountains and you, the seashore! Do you know why? It's because, every place we visited, gifted us with the 'BEST MEMORIES OF TOGETHERNESS,' and reasons for us to be shy!
#9. One day we all would get older; we will search for those times that were better. So, I have planned to restart our Happy Life again, by visiting the place we went for the first time together. It's just not because we were rewarded with the best memories over there. It's for rewinding the phases of life we came across and start from the beginning again, as I never want this to get over!
#10. We both laughed, cried, fought, loved each other, Praised each other for the same reason and it was never boring just because we handled everything with 'LOVE.' Thank you for making my life 'Complete and Fulfilled,' you are as pure as a dove!
Read More: Happy 15th Anniversary Wishes
Happy 16th Anniversary:
#1. It has been a pleasure to be with you for more than a decade and a half. All these years were not all smooth but was rough. 16 years up and still my heart beats for you. Yet I never lost hope, as I had by my side my partner in crime, in problems old and new.
#2. While celebrating 16 years of ups and downs and memories to remember, I vow again for being there for you, forever. Thank you once again for all your love and compassion, none had loved me so much with passion.
#3. When life is bland and spice is needed, desperately, I find you to add the flavors of love, passionately. If you are by my side, everything seems to be sunny, happy 16th anniversary honey.
#4. The more we grow, the more our love evolves. With you by my side, my problem resolves. In last 16-years of sharing and caring, you have been just amazing. What more do I say sweeties, happy 16th anniversary, to my dearie!
#5. The quote says Beauty lies in the eyes of the beholder, but for me, you are as beautiful as you have always been, always new, never a day older. Who will say we have walked 16-years together and will continue for the next few years? So, congratulations and a happy 16th anniversary dear, when you are by my side, why do I fear?
Check: Happy 7th Anniversary Wishes
Happy 16th Anniversary Wishes With Images:
#1. I am sorry honey, if I have every let you down, or have become the reason for your frown! I am sorry if for me you have shed tears, or if I have been the reason of your fears. Living with a person like me needs courage, and you have shown that for 16-years without any rage! Congratulations to you and me for completing 16-years of marriage.
#2. Happy 16th anniversary to the person who stands beside me in every upheaval and laughs with me in silly jokes. That's how you make our everyday special, I will love you, at times, more than my folks. The silent walks along the seashore, with you by my side, is something that I adore!
#3. Life becomes more meaningful when you understand and smile at me, it feels like someone has showered heavenly flowers from some enchanted tree. Wish you a happy 16th anniversary, may you have all the reasons to be merry!
#4. Marriages are made in heaven, they say, on every anniversary day. But I believe ours are made on Earth with follies and mirth. But I don't care about that because with your care you have made me fat. Walking sixteen years together may look like a miracle to some, but you we are preparing to say cheers to many more years to come. Happy 16th anniversary, dear, we will be together, forever.
#5. In one lifetime, we have two lives, before and after marriage. My life 16 years 'before marriage' was that of a sage, while the life after it was full of courage. Now that you are getting ready to beat me up dear, I was just kidding, never fear! My life with you has been an exciting and fun-filled journey, thanks for being my love, my honey.
Final Words
Sometimes, more than physical presence, we yearn for a thoughtful message wrapped in closeness and affection. When we run out of words to express ourselves, a simple wish or quote can convey our feelings and goodness. Share a moment of remembrance with some unique and lovely quotes to make your loved one feel more special. Hence, we specially curated these happy 16th wedding anniversary wishes just for you. It will, undoubtedly, bring happiness and a smile to your beloved's soul and mind.