Happy 15 Year Anniversary Wishes: You know that feeling when a couple has passed more than a decade and a half together? They don't look like they are in love. They look like they are at home all the time. It's a beautiful feeling. And these 15 year anniversary quotes cherish the same feeling that you can use to express yourself on your special anniversary.
15 Year Anniversary:
#1. There is no other person in this world with whom I would want to share 15 years of my life. You are the forever I dream of. You are super special and you are the only one I want to spend an eternity with. You keep making me fall and rise in love with you. I can keep doing this everyday. Nobody could do that to me the way you do. Happy 15 years of togetherness, my love.
#2. Your endless love, your unconventional support, and your faith in me has helped me be the man I am today. Without you, we wouldn't have stood here, spending and sharing a beautiful journey today. You are everything to me, the best friend I craved for, the lover I ached for, and the life partner I dreamt of. I am so happy that I found you. Happy 15 years anniversary, my sweetheart.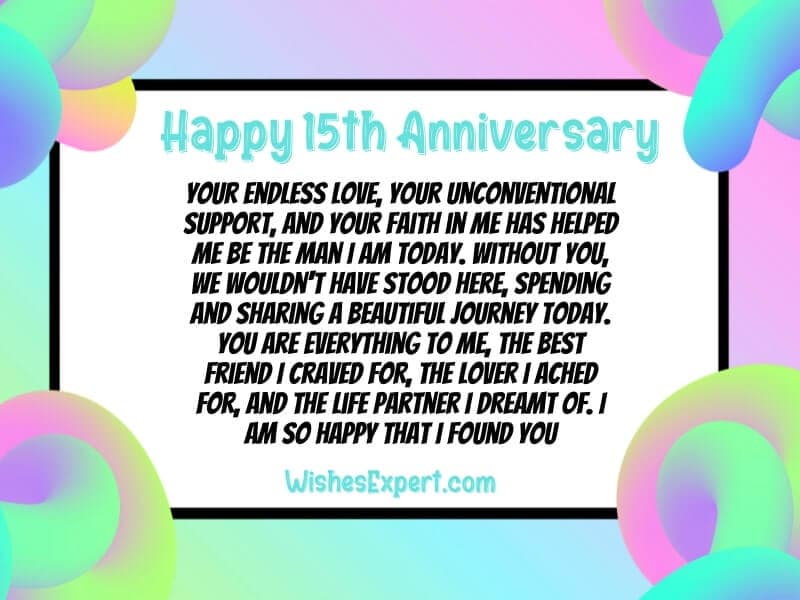 #3. These 15 years have been nothing less than a roller coaster ride. I have grown a lot from the person you wed and so have you. There are stories to tell our grandchildren, stories of us. And none of this would have come true if I didn't have you. This is not the perfect marriage that is idolized through novels. This is a real journey, with obstacles and bumpy roads. But, that's exactly why it's so worth it. That's what makes us the power couple our kids can look up to.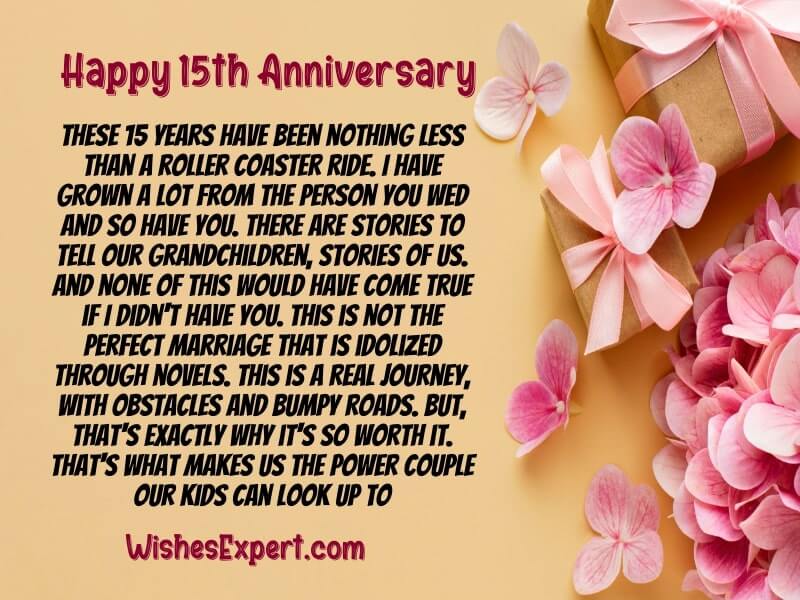 #4. These 15 gorgeous years that you have given me, even with certain ups and downs, I must thank you for them. This is a beautiful journey gifted in a promise. Our vows are still as true as they were the day we wed. And after 15 long years, I'm ready to vow more love to you, more unconditional support to you, more happiness to you. The eternity that I'm planning with you will never go away. Happy 15th anniversary, you beauty.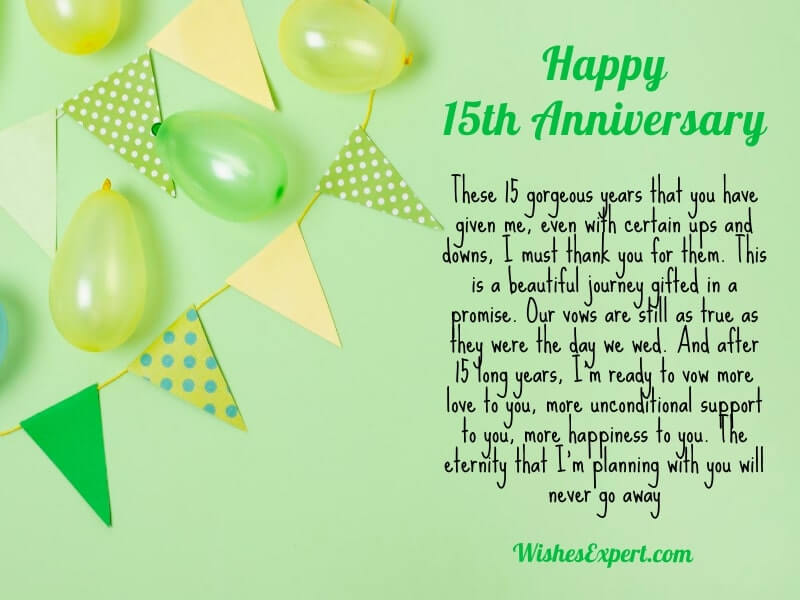 Happy 15th Anniversary Wishes:
#5. There's so much gratitude I feel for everything you did for me in this marriage. I doubt if I would have accomplished anything without your presence in my life. You are the person who made my life shine brighter. You are the person who pushed me to be who I am today.  You are my one and only love and I found you after much struggle. I don't ever want to lose you. Happy 15th anniversary, honey.
#6. This may sound a little silly but I knew you before I even met you. I knew that I wanted someone like you and I was blessed that God heard me and gave me you. Now, all I want is an eternity together. I don't want to part from you. These 15 years were great but I want so much more time with you. On this 15th anniversary, I promise to love you endlessly, to give you everything that I have. That is my one true gift to you.
#7. Every minute that I can spend with you is precious. It gives me the feeling of being the luckiest person ever. I would have missed out on so much if I didn't marry you. Our relationship has a depth that no one can understand. You understand me the best. Happy 15 years of togetherness, my love. I hope we remain happy together forever.
#8. It's a blessing that I get to spend every day with you. You come to my life as sunshine. You make my life more beautiful than ever just by being there for me. You are the rain that fills my life with freshness and beautiful scents. It's not easy to face the realities of life alone. The journey is long and difficult, there is bitterness in every corner, and the regrets of past mistakes can be overwhelming. But, all of these things are bearable if I have you by my side. Happy 15th anniversary, honey.
#9. It's our 15th anniversary and we need to celebrate the life we have spent together. It's been such a thrilling experience to always spend my time with you. Am I being silly for being so much in love even after 15 years of marriage? Maybe. But, I can assure you I am the luckiest silly person to have you in my life. Happy 15 years of marriage.
#10. 15 years is definitely a long way to go and enjoy your life. It has many ups and downs. There are joyous occasions but sad moments too and we have lived them all together. I am glad that even after everything, we are still together, in love with each other. Happy anniversary, honey.
Read: Funny Anniversary Quotes And Wishes
15 Year Wedding Anniversary:
#11. Every year on your wedding anniversary comes by, I feel glad having to see such a couple thrive. Your love can inspire the world. You make the world's most beautiful couple. I hope you keep inspiring us with your love. Happy 15 year wedding anniversary my darlings.
#12. It took enough time to decide what I wanted to gift you for your 15 year wedding anniversary. Love brought you love birds into the same nest as husband and wife. Love gave you a chance to find friendship in each other and true companionship. May the same love provide you the strength to be with each other in all moments, thick and thin. Happy 15 year anniversary to cute lovers.
#13. To the best partners that one can wish for today, happy 15 year anniversary! We wish you all the best for your 15th anniversary wishes. May all your plans come to life and please stay as happy as you are just now. May you get to live all your dreams together and have a happily ever after.
#14. We are celebrating 15 years of compatibility. Do you know how lucky we are to stand here together? I would say very much. If it hasn't been for your endless & unconditional love and support, I don't think that we would have been standing where we are right now. Happy 15th anniversary my love!
#15. It has been so much time since we have been in each other's company. 15 long years! And that's not where we are even stopping! 15 long years have passed since the day you wed me into this beautiful bond, since I said "I do" in front of all our friends and family. My love still remains strong, bold, and true. And you are still mine as always. Thank you, my love.
Some Other Year Anniversary Wishes: Happy 30th Anniversary, Happy 20th Anniversary, Happy 35th Wedding Anniversary
15 Year Anniversary Quotes:
#16. There are not enough words or quotes in this world which can be enough for me to express the joy and the gratitude I feel whenever you are present in my life. We started out, much like all lovers do, with a twinkle in our eyes and a burning passion, but we had a big something extra on our side, i.e. faith. I appreciate you, my love.
#17. I can't tell you how elated I feel to be living with you every single day. It has been a wonderful 15 years and I still feel young in love. Love you honey!
#18. We have so many things that we shared in our first 15 years. Every day in these last fifteen years, I found new reasons to love you, to give you my heart. I wish to give you a lot more love. You have given me the strength and the patience I need. We should celebrate this day. We deserve this beautiful love.
#19. How can I thank you for spending these 15 years with me? You never left my side. You were always there for me like nobody else was. We have traveled a long way as a couple. Our love has taught us lessons, it has helped us understand what true love and care is, and helped us grow together. God really loves us for He brought us together. He allowed me to love you and give you the best of everything I have. I will always be grateful.
#20. 15 years have passed since the day you said, 'I do', but our love has not faded. It has grown stronger than ever and truer than yesterday. God has given us the strength to love each other, to cherish the years that have given our relationship a depth, and the passion to keep the fire in us alive. It has been such an honor to be called your life partner.
Also Try: Happy 25th Anniversary Wishes
Happy 15 Year Anniversary:
#21. Love is humble, polite and self-seeking. Love basks in the glory of the truth and charms its way through sincerity. It protects, trusts, and teaches about faith, hope, and perseverance. Happy 15 year anniversary.
#22. Sharing these many years with you is a blessed statement about the gift of a successful married life. I can feel the rewards of my dedication and my love for you in so many precious moments. May the Lord give us blessings so that we continue in this path of cherishing and loving each other endlessly. Happy 15 years of togetherness.
#23. Whoever I am today is because of you and I am proud of it. You are the main reason for the hopes I have in me. You are the dream I have that I want to live everyday. You are the strength in me that makes me keep going no matter how harsh the journey is. Everyday and every moment that is spent together is a treasure I want to cherish forever. Happy 15 years of this cherished love and marriage.
#24. Marrying you help me understand what true love and care is like. I see you try your best everyday and I want to do the same for you. I am so happy that we are there for each other. I didn't think anyone could survive with me for so long. But, here we are, happy and still in love. It's more than I could ask for. Happy 15th-anniversary sweetheart.
#25. The last 15 years have been the most beautiful I could ever dream of. Everything I had hoped in a marriage, I found it waiting for me. And all that's possible only because I had you holding me warmly. Thank you for such a wonderful life that you gifted me. All those beautiful times that we have lived and the beautiful memories we have created, I can only pray to God to let not these times stop. These are the most precious times of my life. Happy 15th Anniversary, my dearest.