Happy 20th Anniversary Wishes And messages: A 20th anniversary is a milestone just as important as all the achievements you have made throughout your life. It would be best if you enjoyed your 20th anniversary as twice as any other celebration. Your anniversary is the reflection of all the journeys you have traveled together.
Husband and wife support each other and enjoy every happy moment together, and the same applies to their 20th wedding anniversary. Enjoy this beautiful day and wish your partner the perfect wish. Say happy 20th anniversary with these beautiful quotes that are sure to make the couple's day.
Happy 20th Anniversary
Most couples would be bored after living together for so long, but you two just seem to enjoy each other's company so much. I hope that the love only continues to grow and you nurture it every single day. Happy 20th anniversary!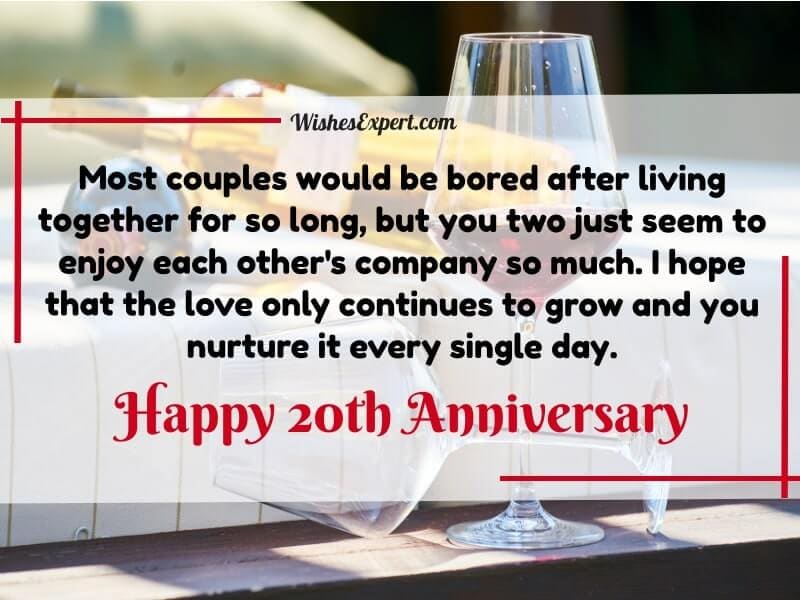 For me, nothing in this world seems to be purer than those amazing twenty years of your relationship. I send you much love and prayers to the all-time favorite couples of mine. Happy 20th anniversary.
As beautiful as the two of you are, may your celebration of love today be just as wonderful. Wishing the two of you a very happy 20th anniversary. Best wishes on this momentous occasion.
Two decades ago, two souls decided to become one, and that was the most beautiful reunion. Happy Anniversary! May you be blessed with happiness, love, and companionship.
I feel so happy to be able to send you my best wishes and congratulate you both on your 20th anniversary. The two of you are perfect for each other.
Relationships are not always about giving and take; it is about sharing and caring, which both of you have always proved! Congratulations to you for adding another year and making new memories. Happy 20th anniversary.
May your love and devotion always inspire everyone who surrounds you. May you be blessed with the best that life has to offer. Congratulations on your 20th anniversary.
Happy 20th Wedding Anniversary
You both have a new definition of love that is entirely based on reality. I am beyond happy to send you my best wishes. Congratulate to you both on your 20th anniversary.
You two were made for each other, and it is an honor to witness your journey. Wishing you a happy 20th anniversary! I hope that your celebration turns out to be as beautiful as your love.
Wishing you both all the happiness and success in the world. Congratulations to you both on your 20th anniversary. You both made others believe that we all have someone out there waiting for us to celebrate love.
The two of you are equally amazing as individual people, but you two are a force to be reckoned with when put together. I hope you get all the best things that marriage can bring to your life. Happy 20th anniversary.
You both have kept walking the path of life holding each other's hand, the view must really be as beautiful as you dreamed of. I hope that the love you two share gets even deeper like the ocean each passing year.
Read: Happy 40th Anniversary Wishes
20th Anniversary Quotes
Happy 20th anniversary to two of my great friends. They are definitely a match made in heaven. I wish you both another awesome year and I hope you will celebrate many many years of togetherness. Your love is an inspiration.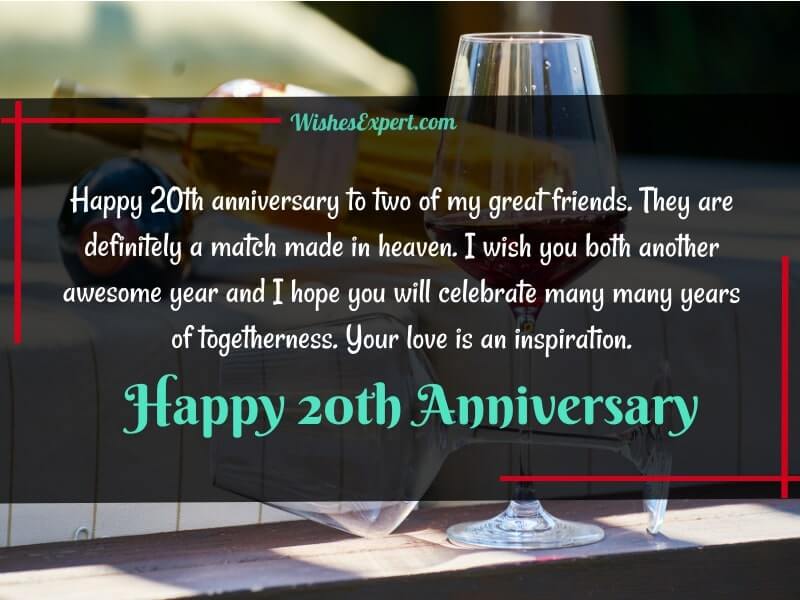 The love that you two share and the beautiful relationship you have is so inspiring and amazing at the same time. I am sending you, and your hubby wishes on your 20th wedding anniversary. Congratulations.
Dear best friend, I hope that you have the most joyful life and every good deed the world has to offer. You simply are the best. I am sending you lovely wishes and warm hugs on your way. Happy 20th anniversary.
I am so lucky to have found the person who loves me for who I am. You make me the happiest. You deserve the world. Happy 20th anniversary to the love of my life!
An anniversary is a time for all the precious moments of the past. Enjoy your special day with all your heart. It is a moment like this that forever stays in our hearts. Happy 20th wedding anniversary.
Happy 20th Anniversary to my favorite people who have made me a part of their family! May the love and care last forever and may you both always be together till the end of time.
Happy 20th Anniversary to an incredibly admirable pair! My dears, you both embody the meaning of love and relationship. I adore you guys a lot. May the special bond always be as strong as today.
Happy Anniversary! You two are everything that anyone could wish for in a relationship. You take care of each other and love each other to bits and pieces. It's so beautiful to see.
Check: Happy 60th Anniversary Wishes
Happy 20th Anniversary Images
To be able to reach 20 years of togetherness is, in fact, a huge accomplishment. I couldn't be any less happy for the both of you. Congratulations on your 20 happy years of marriage.
You two will always be a perfect match for one another. Wishing you all the best for many more years of happily ever after!
Twenty years of happiness. Love has made your bond as strong as a rock. Hoping you have a perfect day and life. Enjoy all the joy life brings on your way.
After all these years, and every good time and the bad you both have gone through. This bond is as strong as ever, thanks to your constant efforts. My congratulations on your 20th anniversary.
20 years is definitely something to be proud of. Happy anniversary! I hope you get lots of love, gifts, and wishes on your special day. Enjoy and have a great day. My best wishes for your anniversary.
Take A Look: Happy Anniversary Mom And Dad
All of the work that we witnessed over these past years was possible due to your undying love for work and hard dedication. Congratulations on your 20th anniversary.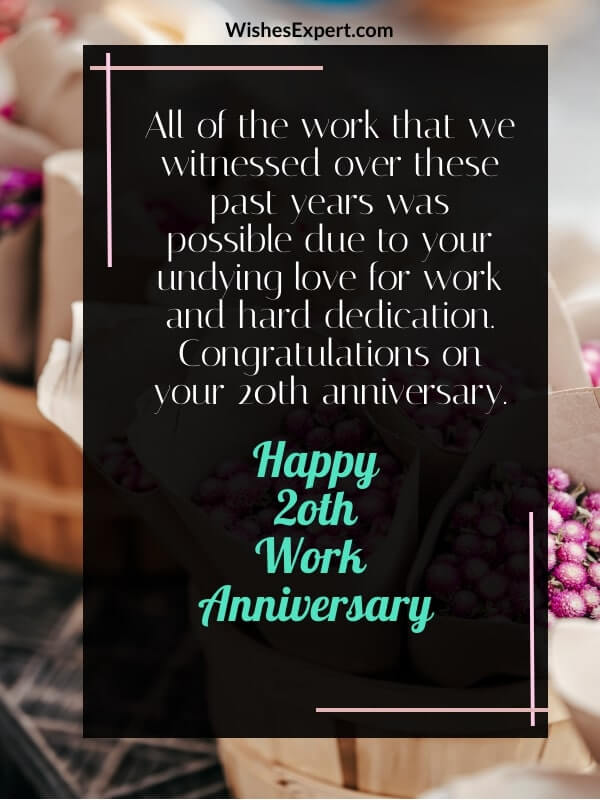 Happy 20 years of work, dear friend. We are so lucky to have been able to work with someone like you. We look forward to work and create new memories with you.
You have turned this workplace into a dream. Thank you, amazing colleague, who had the most incredible sense of humor among all of us. Congratulation on your 20th work anniversary!
Happy 20th work anniversary. Time flies fast, but I can assure you that you are going to stay for a long while. It has been an absolute pleasure working with you.
It was truly a miracle to have someone like you on our team. May God bless you with all the success at every place you work! Happy work anniversary!
On your 20th working anniversary, we all want to appreciate you and your hard work. You were loved and respected. You made the workplace a better place. We want to thank you for everything. Congrats on your 20 years.
You always made your work stand out. All these years for years have finally paid off. Happy 20th work anniversary to you. Thank you for working for us all these years with such great passion.
All these years of hard work truly show your potential more than your wrinkly face, and that grey-turned hair. Happy 20th work anniversary.
Over the past years, you have never failed to prove your worth. We are proud of you! You and your work will always be admired. Happy 20th work anniversary. Enjoy your day to the fullest.
You are the reason why I love pushing myself to work my ass off. Thank you for motivating me and making the workplace full of adventure. I look forward to so many more years with you. Congratulations dear!