Happy 2 month anniversary wishes are the sweetest form of expressing your love towards your loved ones. If you are not sure as to what you should do on this special day, writing a beautiful wish can be a wholesome way of surprising your partner. Anniversaries are a beautiful reminder that you two found each other and found love and affection with it so it is important that you celebrate this day well.
Wishing your partner should be the first thing that you do and a happy 2 month anniversary wish can do that easily. So, scroll down to find a list of fifteen beautifully written anniversary wishes that you can use on your 2 month anniversary:
Happy 2 Month Anniversary
1. My love, you are a dream come true for me and I cannot fully express how much I love you. I feel so lucky to have finally found you. Happy 2 month anniversary.
2. Happy 2 month anniversary to my favorite person. The extent of love that I have in my heart for you is immeasurable. I hope we remain the same, loving couple for ever and ever.
3. You are the bright sun in my life that took out the darkness and filled my life with the light of love. I love you more than you can imagine. Happiest 2 month anniversary.
4. Dearest, you are the best thing that has ever happened to me and I cannot thank you enough for coming into my life. Wishing you a very happy 2 month anniversary.
5. My precious, you are a beautiful person, inside out and I cannot help myself but stare in awe at you because you are wonderful. Happy 2 month anniversary.
Read: Wedding Anniversary Wishes for Wife
2 Month Anniversary
6. My dear, I consider myself to be one of the luckiest people in this world because you are with me. On our 2 month anniversary, I hope you remain the beautiful person that you are.
7. I cannot thank God enough for sending you into my life and I wish that we remain together for all the days to come. Sending lots of love on our 2 month anniversary.
8. You are such a kind, and compassionate person that I always find myself in absolute awe when I look at you. Wishing you a happy 2 month anniversary, husband.
9. Though we are far from each other right now, on our 2 month anniversary, I want to send you all my love and pray that we can be together soon! I love you.
10. I cannot imagine what my life would have looked like if you weren't there with me. It is our 2 month anniversary and I am so happy that I could cry rivers right now. Please stay the same, love.
Other Month Anniversary: 3 Month Anniversary, Best 6 Month Anniversary Wishes, Happy 12 Month Anniversary
Happy 2 Months
11. Dearest, I hope you are enjoying good life and finding all the happiness this world has to offer. I am so happy to have you in my life. Happy 2 months!
12. Happy 2 months to the best person in the entire universe! You have no idea how much I love you and I hope our love can be eternal.
13. I am writing this wish with the widest smile on my face because I am so happy that you are with me. Happy 2 months my love, I love you loads!
14.  Loving you has been the best thing that I did for myself and I am so thrilled to think of spending my whole life with you. Happy 2 months, my dear.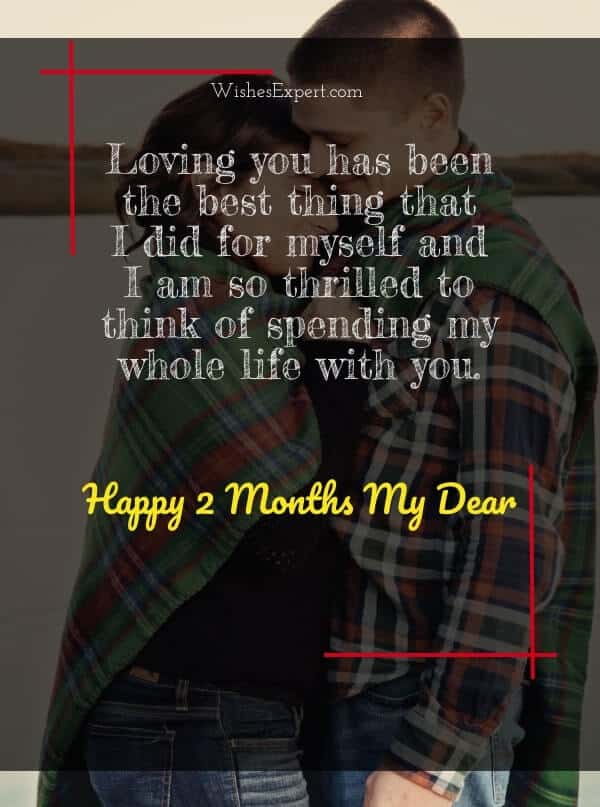 15. To the most beautiful person, I wish that you get all the happiness that you deserve and that you enjoy your life as much as you want. Happy 2 months!