Celebrating a happy 7th anniversary is a way of giving your marriage a priority in life for 7 long years. It means that your marriage means a lot to you and you still love your partner very much. And why not? It's rare to find someone amazing that you can share all your life with. Everything that a relationship goes through needs to be cherished and celebrated. This is why we have come up with some really beautiful quotes to help you express your love to your partner on your 7th wedding anniversary. Let your partner know how much they mean to you through these words.
Happy 7th Anniversary
Congratulations to the beautiful couple on their 7th wedding anniversary. May the happiness in your marriage bloom further and your relationship becomes synonymous to love and friendship. Keep inspiring love!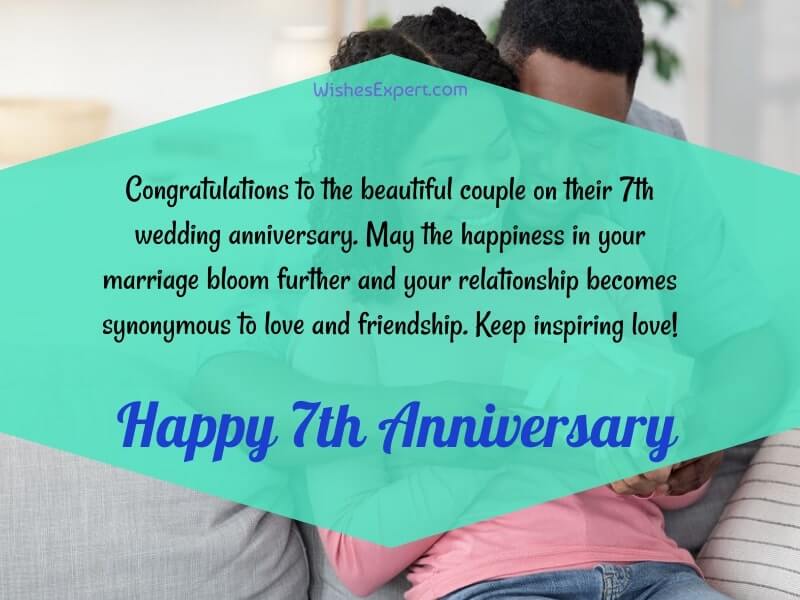 The day is quite special because you have completed seven glorious years in this marriage. Happy 7th anniversary to the beautiful love birds. I hope you never stop falling in love with each other.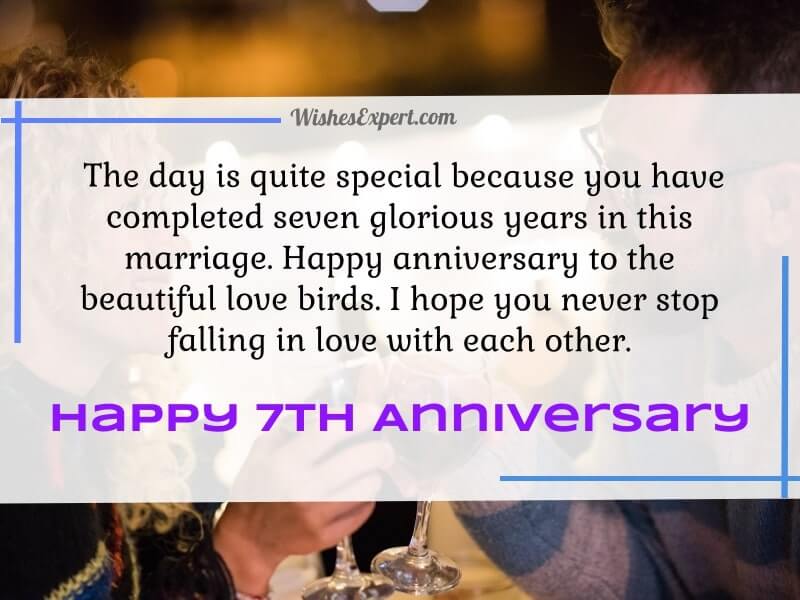 Congratulations on 7 years of togetherness. Seven years ago today you tied the knot and now you are blessed with a beautiful family. Thank you for teaching us all what true love is.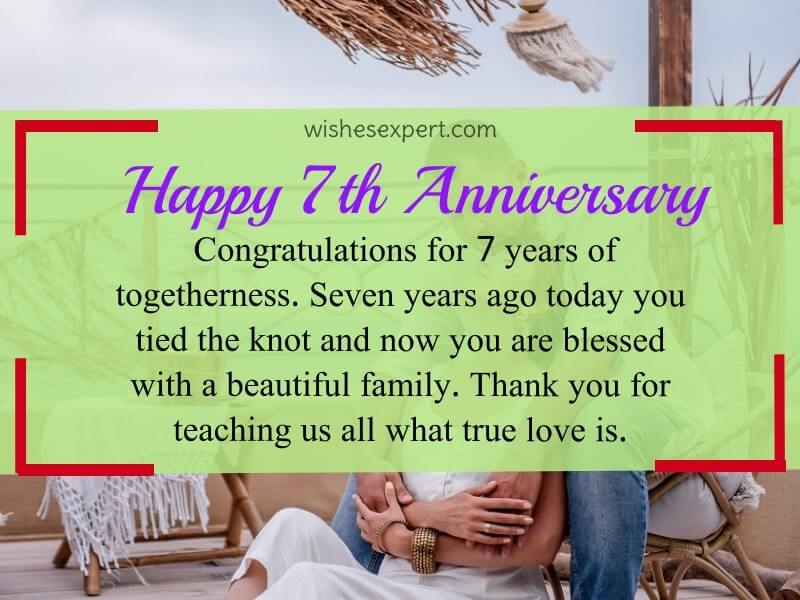 Happy 7th wedding anniversary to the happy couple. I have known you for a long time and I know the struggles you have been through both individually and together. It's truly inspirational.
Happy anniversary to this beautiful couple who has been together through the thick and the thin. May your bond forever go stronger and may the love between you two never end.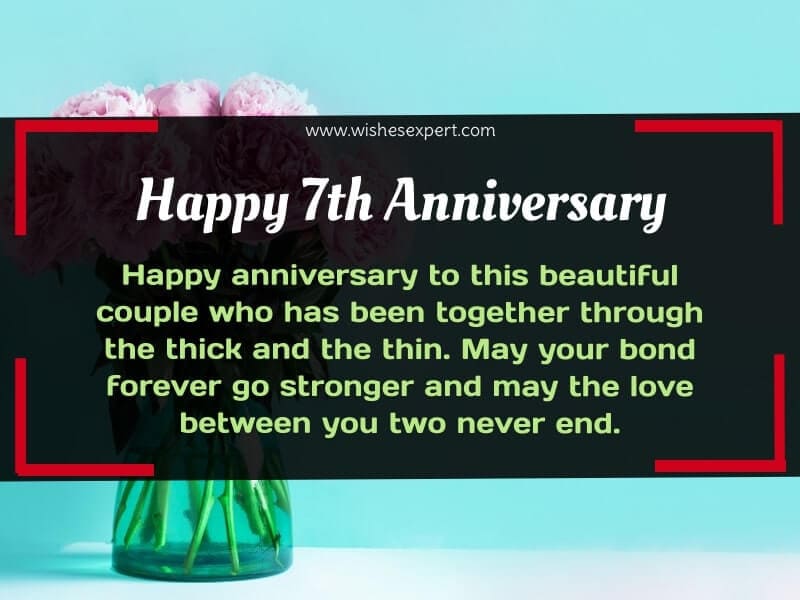 Read: Romantic Happy Anniversary Husband Wishes
7 Year Anniversary
Thank you for letting me know what true love is and what happiness is. I am grateful that God made you my soulmate. Happy 7th anniversary, my beautiful.
We are still going strong after 7 years. No obstacle could break us apart because we love each other so much. Here's to many more years to come. Happy anniversary.
It's like I met you only yesterday. The feelings are the same yet stronger. I still feel butterflies whenever I see you. Happy 7 years of marriage, love.
I didn't know that you were all I ever needed and now that I do, I can't think of living otherwise. I hope you feel the same. Happy 7 year anniversary, baby.
I know we have been through our share of problems but that has only made our bond stronger. I love and respect you even more today. Happy 7th anniversary, my love.
Check: Wedding Anniversary Wishes for Wife
7 Year Anniversary Quotes
Despite all the odds, we got married and that was just the beginning of a beautiful journey. We are here 7 years later, happy, and still in love. Happy 7 year anniversary!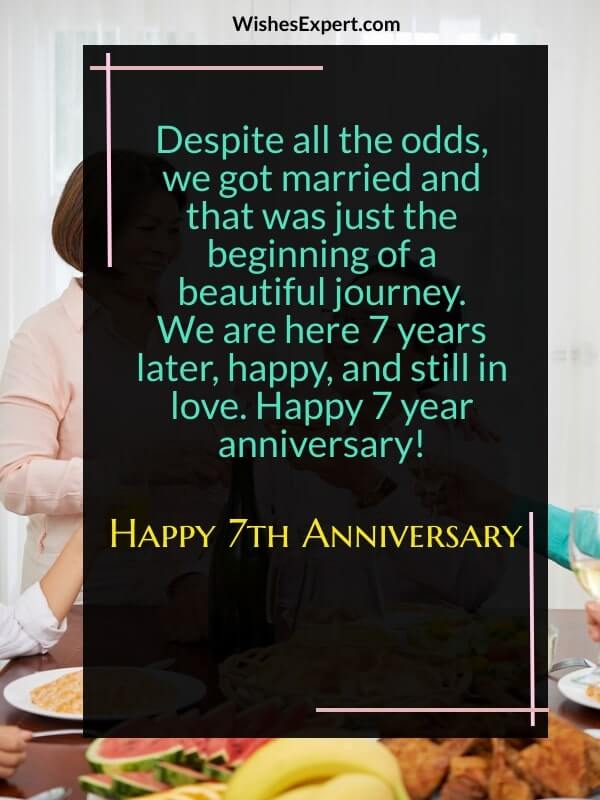 They said we would never make it but look at us now! We are here, happily married to each other and finding greater things about love. Happy 7 year anniversary.
Seven years have passed by in this marriage and I'm still amazed that I could find someone so amazing like you. Thank you for completing me. Happy 7 year anniversary!
These glorious 7 years have been the best I ever lived in my life, all thanks to you. I owe you my happiness, my love. Happy 7 year anniversary to us!
You are the one and only. We make such a great team and these 7 years have been proof of it. I hope I can fill your life with more happiness and joy. Happy anniversary!
Take A Look: Happy Anniversary Wishes For Sister and Brother in Law
Happy 7 Year Anniversary
I know I can be a difficult partner at times and I can annoy you a lot. But you have loved me through everything that I put you through and I love you for that. I am the luckiest person in the world. Happy 7 year anniversary!
Happy 7 year anniversary, darling. Even after all these years, you still take my breath away whenever I wake up next to you. Here's to an eternity together!
7 years ago fate tied us into a knot and now we are a small but beautiful family. You showed me heaven on Earth and I will always be grateful to you. Happy anniversary.
Hey, beautiful! Happy 7 year anniversary! Isn't this amazing that 7 years of happiness has brought us even closer than ever? I love every bit of you! Stay beautiful!
Honey, you are my soulmate and I am lucky that I could live my dream of staying married to you. You made me realize the power of love. I love you. Happy 7 year anniversary!
Flowers and dreams are important. But more important are the words you speak on your 7 year anniversary. These words hopefully helped you in expressing your emotions the right way. Hopefully, the receivers understood how truly well you wish for them.