40 years of wedding means 40 complete years of commitment, love, trust and sacrifices. It is a big achievement in any relationship. So, either it is your own 40th Anniversary or of some loved one it is a special occasion that calls for a big celebration. The 40th celebration should include family and friends who help the couple remember all the beautiful moments they spent together, all the hardships they went through together and the role they played in each other's success. These Happy 40th Anniversary quotes are a beautiful and admirable way of celebrating the long journey.
Happy 40th Anniversary
1. A happy 40th Anniversary to the cutest and most attractive couple.
2. It's my first time seeing two people so much in love with each other yet is so different. You are a true inspiration. Happy 40th Anniversary.
3. Relationships are like a roller coaster. It might be up or down. There will be sad moments, but the joyous moments will make it all worthwhile. Happy 40th Wedding Anniversary.
4. Forty years of togetherness have been full of ups and downs. To this wonderful couple, I wish you both a 40th marriage anniversary. Keep growing old and stronger together.
5. A day to commemorate 40 years of marriage is a special occasion. It shows that your love is genuine to keep you together despite challenges and misunderstandings. Happy Wedding Anniversary.
6. Your love inspires me to believe that real affections may still exist in a world filled with deception. 40 Years of Togetherness is a proud moment. Happy 40th Wedding Anniversary.
7. You are a couple that had nothing but pure love in their hearts for one another. It's wonderful to see the strength of love. Congratulations on your 40th wedding anniversary.
8. A very happy 40th Anniversary to the woman of my heart. You have absolutely been the perfect one for me, Darling!
9. When I met you 40 years back, I could never imagine that I would be so madly in love with you sweetheart.
10. Remembering the day, we walked as a couple was the happiest day of my life and for all these 40 years, I have cherished each moment I spent with you. My love is for you forever.
11. It is said that love grows old after all these years but you guys still carry the spark. May God blesses you with many such beautiful years. Happy 40th Anniversary lovebirds.
12. Congratulations Guys for 40 years of togetherness. You are an ever-green couple.
13. To the couple who taught me how two different individuals can be so perfect for each other. Happy 40 years of marriage Mom and Dad.
14. We are so happy to be part of your celebration of Ruby Anniversary. May the coming years bring more charm and beauty to your bond.
Read: Happy 60th Anniversary Wishes
Happy 40th Anniversary Wishes with Images
15. It's hard to believe that it has been 40 years since you proposed to Mom. We are blessed to have you guys as our parents. Love you both.Happy Anniversary!
16. 40 years back when I saw you, I could not believe how can someone be so attractive and smart. Marrying you was the best thing I ever did sweetheart. Happy 40th Anniversary!
17. It has been 40 years when I saw you both taking your vows and I must say you kept them so well. Happy 40th Anniversary Sweethearts.
18. For people who don't believe in marriage you guys are a perfect example. Stay blessed. Happy 40th Anniversary!
19. In all these 40 years you have made me such a better person Darling. You are a perfect better half.
20. In this world of temporary pleasures, your relationship is a permanent inspiration. Happy 40th Wedding Anniversary!
Try: Anniversary Quotes for Him
40th Wedding Anniversary  
21. Congratulations to both of you on celebrating the Ruby Anniversary of your marriage.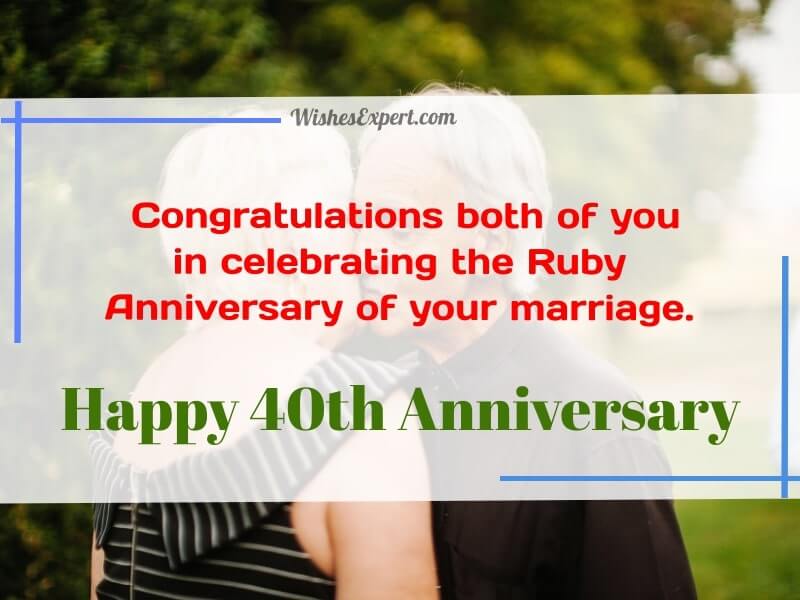 22. You have successfully defeated all the challenges of time. Wishing you a Happy 40th Anniversary.
23. Nothing is more beautiful than two people growing old together. Stay Happy in the future.
24. A perfect 40th anniversary to the perfect couple.
25. It has been such an amazing and breathtaking journey with you, love. I would not trade a moment of these years for anything. Happy 40th Anniversary!
26. For all these years you have proved yourself as a heaven-made couple. God has been very grateful to you guys.
27. Happy 40th wedding anniversary. I wonder what it takes to have a marriage like yours. Is it the unwavering love and support or the overwhelming desire to stay together forever?
28. Love takes a great deal of patience and sacrifice. You are both fighters for overcoming all challenges that came your way on your love journey. Happy 40th wedding anniversary!
29. It feels great to be with someone with whom you are deeply in love. You're fortunate to have each other. Congratulations on your 40th wedding anniversary.
30. Finding somebody with whom you are compatible is like climbing a mountain. You can only get to the top with patience, hard work, and dedication. Congratulations on your 40th Anniversary.
Read: Golden Anniversary Wishes
Ruby Wedding Anniversary
31. Meeting the one you love and spending the rest of your life with them is bliss. You are fortunate to have such luck. Congratulations on your 40th wedding anniversary.
32. 40 years is a long time for love. You have successfully stood the test of time.
33. When you are with the person who is for you, every day feels like an occasion. Bless you guys. Happy 40th Anniversary!
34. I might have been a prince of my life but it is you who have made me a king. Love you, Darling.
35. Having you by my side has been my biggest success. Nothing seems to be important other than watching you smile. Happy Ruby Anniversary!
36. Nothing is more attractive than two people who recognize each other's thoughts and emotions without saying anything. Happy 40th Anniversary Dear.
37. To celebrate love even a century is less let alone some beautiful 40 years. Congratulation on your Ruby Anniversary Dad.
38. There is nothing better than finding your soulmate and spending the rest of your life with them. I am so grateful to you for treating me like a Queen. Happy 40th Anniversary Husband.
39. All these years we have seen you nurture and care for each other. Thank You for showing us what love is all about.Happy 40th Anniversary!
40. Marriage is an amazing bond between two people. You guys are the embodiment of love. Happy Ruby Anniversary.
Take A Look: Anniversary Wishes For Friend
40 Year Wedding Anniversary
41. I want to congratulate both of you on completing 40 years of celebrating your love for each other. May you get many such years till your last breath.
42. A man can achieve anything in this world if he has a perfect woman supporting him. You are two people made for each other.
43. We have been blessed by God to have parents like you who are so respectful to each other. Happy 40 Year Wedding Anniversary Mom and Dad.
44. Even for all these years waking by your side and seeing you smile makes me go crazy. Love you my 40 years wedded Husband.
45. Never in these 40 years have I regret falling in love with you. For me, you are still my 40 years back crush whom I used to admire more than anything.
46. Knowing how much you've grown in love must have been incredible. Congratulations on your 40th wedding anniversary. I hope you continue to make each other happy forever.
47. Congratulations on 40 years of togetherness. Only in movies can one find a love tale like yours. Your love is one-of-a-kind. I wish you happiness with each other.
48. I wish you both a happy 40th anniversary. You both are overjoyed completing 40 years of your lives with your loved ones. The happiness in your eyes speaks it all.
49. Congratulations on 40 years of celebrating love with one another. Happy anniversary to the adorable couple, adored by everybody. You've proven what genuine love is.
50. Congratulations on 40 years of love, dedication, and happiness. Your love makes me envious, and it makes me want to find my soul partner as well. Happy 40th Wedding Anniversary.
Conclusion
Falling in love with anyone is something we all go through but there are few who keep up with that love and they become an inspiration for everyone around them. To make such a special couple feel extraordinarily special on their 40th Anniversary you can use some cute and lovely quotes written on any card, letter, gift, or message. Such gestures show our loved ones how important they are to us.