Thank You Messages for Anniversary Wishes: Are you looking for the best words to say thank you for anniversary wishes to everyone who wished you on your special day? When you share a moment of love with your partner and celebrate togetherness, some people make it more special with their lovely wishes and gifts. It shows that such people genuinely wish the best for you and your partner.
They make time to write some sweet words and think of some thoughtful gifts. And it's your responsibility to appreciate them. So, why not take a few moments to write them back a few words of appreciation? It would make them feel special just like they did to you. Here are some thank you for anniversary wishes to get you started.
Thank You For Anniversary Wishes:
1. Anniversary is a special occasion, but you people attending it makes it more special. Thank you for your warm presence.
2. Thank you for such beautiful anniversary wishes. It honestly made us feel so loved. Your wishes were highly appreciated.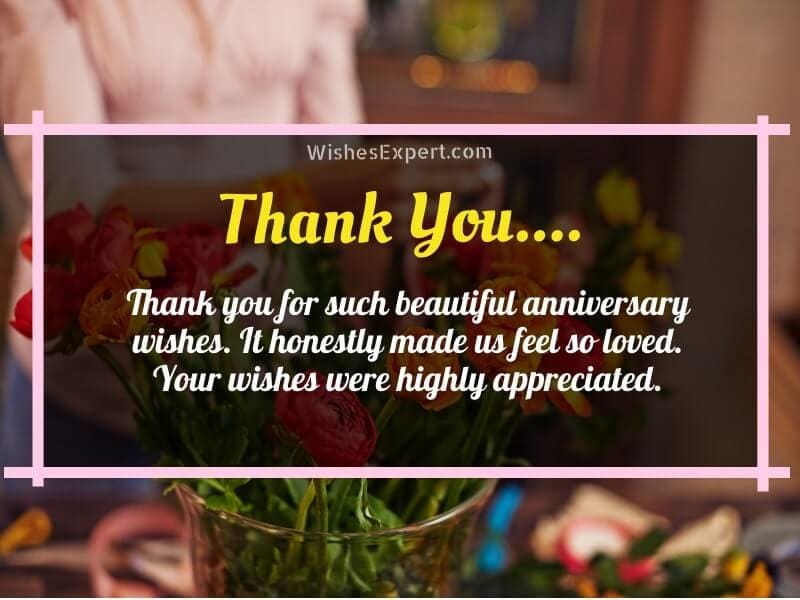 3. We couldn't ask for anything more special than your presence in our cherished moment. Thank you for being here.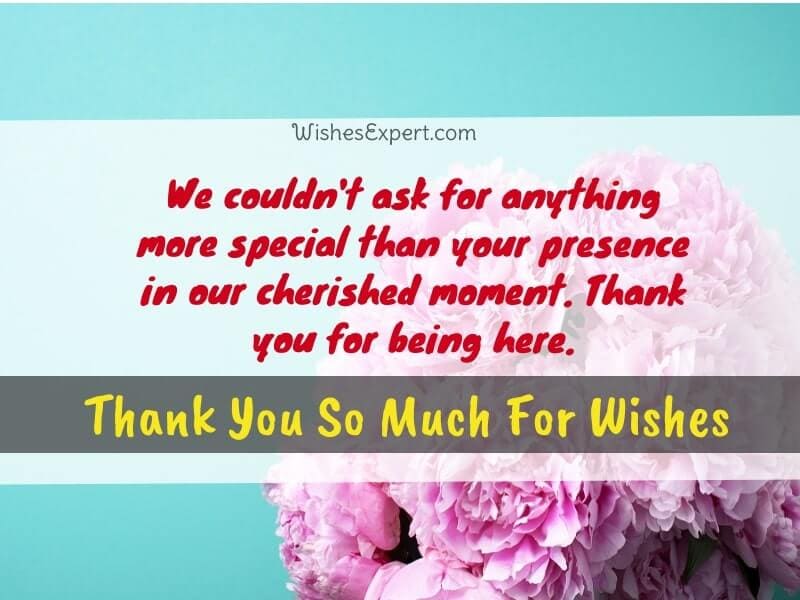 4. Thank you for always being there in our happiness. We are glad that we get to share this feeling with such lovely people.
5. We feel blessed to have each other but what makes it remarkable is the people supporting our little journey of love. Thank you.
6. Having such cheerful people around to be there with us on our special day is truly a blessing. Thank you for attending our anniversary.
7. All the anniversary wishes we received were overwhelming. I have never felt such joy before. Thank you so much.
8. It was a surprise to realize that a lot of people remember our special day along with us. Thank you for all the warm anniversary wishes.
9. No thank you will be able to describe our gratitude towards all the people who joined us on this special occasion. We love you.
10. Your sweet wishes made our anniversary even more impressive than it was. Thank you for all the love and supportive words.
Read: Thank You Messages for Husband
Thanks For The Anniversary Wishes:
11. It was an honor to have you here with us at our special moment. Thank you for taking out some time to wish us your sweet words.
12. Our celebration would be incomplete without you. Thank you for all the anniversary words. It made our hearts flutter with happiness.
13. All the warm anniversary wishes and gifts will always be close to our hearts. It made us feel so loved and appreciated. Thank you.
14. Please accept my heartiest thank you for your time with us on our special day. You were all an excellent company.
15. Thank you for being so thoughtful with your wishes. The kind words have helped us go on and be together forever.
Also Read: Thank You Quotes for Friends
Thank You Message For Anniversary Wishes:
16. Our anniversary celebration became grand, and it is all because of you. Your presence and wishes were all very fabulous. Thank you.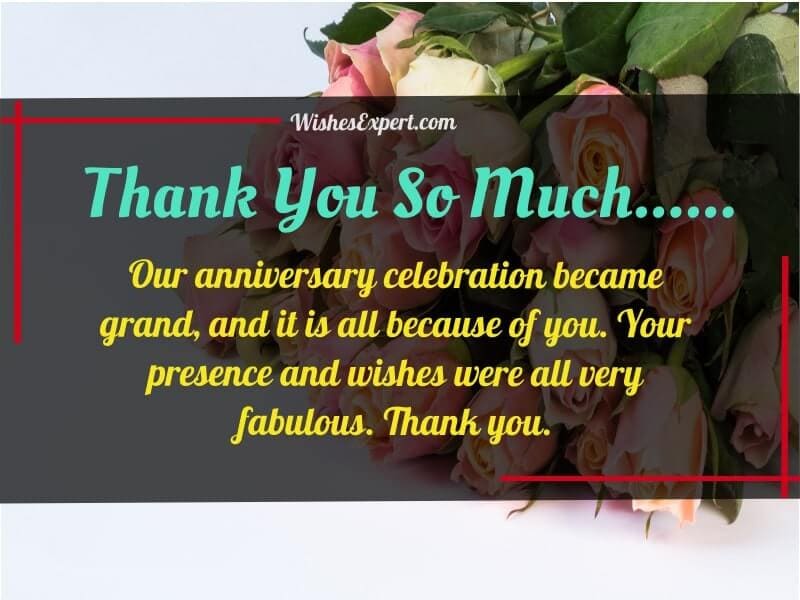 17. Another year of one togetherness and another year to celebrate work, you guys. Thank you for giving us immense love on our day.
18. I can't find the right words to thank all the guests present on our anniversary. Without you, the celebration was not possible. Thank you.
19. Thank you for your precious time and sweet wishes. It's overwhelming to get to see all of our family together. We love you.
20. Anniversary is just a reason to celebrate; the real joy comes when we get to see and hear from our lovely guests. Thank you for your presence.
Read More: Thank You Messages For An Unexpected Gift
Anniversary Thank You:
21. It was overwhelming to see all the anniversary messages as I opened my eyes in the morning today. Thank you for taking the time to wish me.
22. I couldn't believe how you've put your creativity and uniqueness into our gifts and wishes. I am touched. Thank you all.
23. The effort you guys have put in to make us feel special on this special occasion is highly appreciated. Thank you for the lovely wishes.
24. It feels great to have such a loving and supporting family and friends. You all have made this celebration a great success. Thank you.
25. We would like to thank you all for the amazing wishes and gifts which made our anniversary even more amazing. We love you.