Friendship Anniversary Wishes And Messages: Friendship is something beyond words to express. Have you ever had a best friend with whom you share the most amazing days? If yes, here are some of the best friendship anniversary wishes and quotes to send or write to your best friend.
Be it school friend, college, or your friend from your hometown. Everyone holds a special place in your heart. But often, we are too shy to convey our feelings to them. So, here are some friendship anniversary wishes for you. Send them these on those days when you two first met. When your friend receives it, they will not just be surprised but pleased too because they possibly won't even imagine you remember that day. So, why not surprise them a bit with the quotes below?
Friendship Anniversary Wishes:
#1. Having you as my best friend is one of the best things that has ever happened in my entire life. Thank you for being through all my ups and downs. I love you, pal with your smiles and frowns.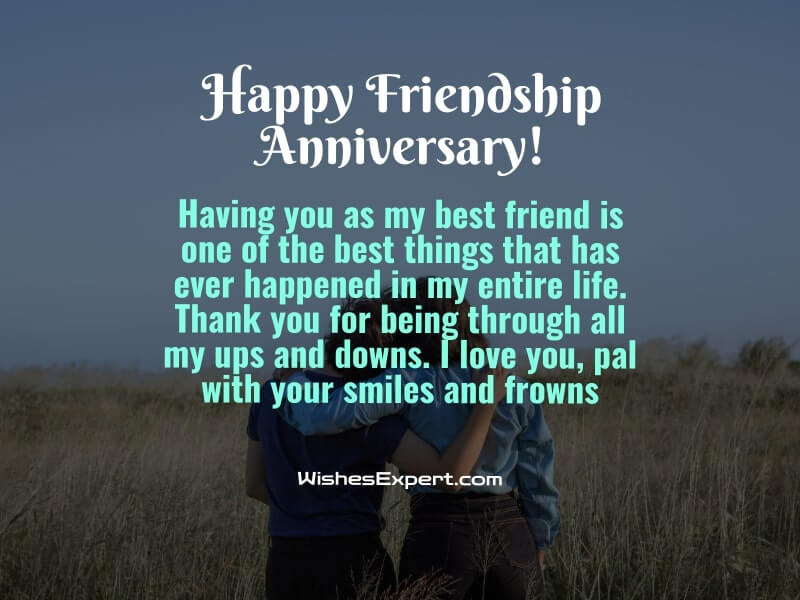 #2. A best friend is a part of your family, people say. But my best friend is my family. Thank you for having my back every single day. I know you hate formalities yet I thank you for that on our anniversary, day! Happy happy friendship anniversary from me to you.
#3. Do you remember how we became friends? I can remember everything vividly, from starting till the end. The day, the incident, the love we share, the amount of care we have for each other. Every single thing about our friendship makes it so cute and unforgettable. Wish you a happy friendship anniversary, for being such a big trouble!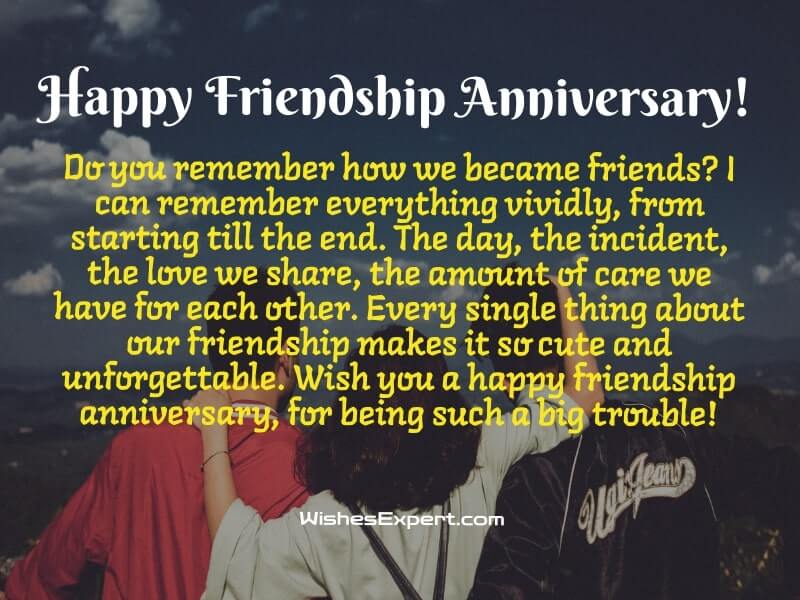 #4. When I first met you, I never thought you would mean so much to me. I swear I had no idea we would cross these amazing 10 years of friendship together. Thanks for being there. Love you so much, dear.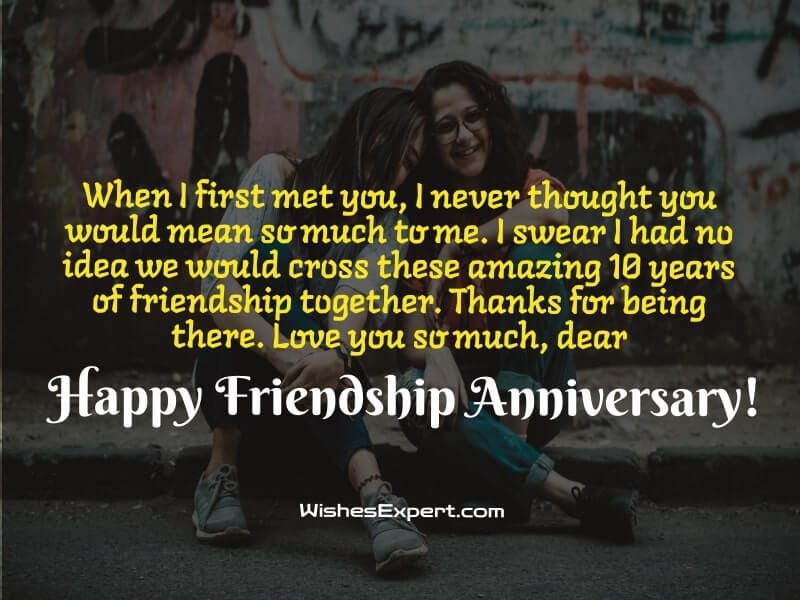 #5. Being a friend, you understood me. Being a well-wisher, you taught me. Being a best friend, you have been a shadow to me. Thank you for everything that you have done for me. Happy friendship anniversary to my best friend, busy-bee!
#6. Who said friendship anniversaries are not cute and memorable as love? Though every day spent with you has been the best, there is one day that's always better than the rest. The day we became friends and promised to be there for each other till the end. Today is the day, when I wish you a happy friend anniversary as I have nothing more to say!
#7. Meeting you was one of the greatest things that have happened to me. I had no idea you would be that ONE best friend who would be there with me as a big banyan tree. Thanks for supporting me.
#8. Wishing my dear friend, a very happy friendship anniversary. Today was the day, 8 years back, we met in a hurry. We were meant to stay together as each other's shoulder to rely on, FOREVER. Happy friendship anniversary bro, we will always stay together!
#9. If there were a milestone every time, I realized you were the best, I would have crossed like a million of them. Thank you is not enough for all that you have done for me, because you are a rare gem. Many can say that they like you girl, but all I will say is I love you, pal.
#10. Happy friendship anniversary to my sweetest amazon friend. Without you, I could never imagine what life would be like you are a god send. I don't even want to, my cute, little DODO!
Read: Wedding Anniversary Wishes For Friend
Happy Friendaversary Quotes:
#11. I never thought we would come this far in our journeys. Happy friendaversary, my best friend, we have always been the best ever monkeys. Wishing you all happiness in your life, man, I will always be your best ever fan.
#12. Friendaversary is something I gladly celebrate because I'm really proud of you mate. Looking forward to many more years of togetherness. Let's create many memories together and cherish them with happiness.
#13. Happy friendaversary to my bro, my pal, my best friend, and everything. I'm sorry if I've ever hurt you, in any way and thank you for all those little things. I promise to be your best friend forever.
#14. If friendship had a definition, it is definitely you. Thanks for standing behind me. I love you girl. You can always count on me, anytime, and anywhere. Because that is how much you mean to me. Happy friendaversary!
#15. I have always prayed for a best friend to stay in my life forever. I never really thought you would be the ONE who will always be there. Thanks for being a blessing in my life. Happy friendaversary, I want a friend like you in my afterlife!
Check: Funny Anniversary Quotes And Wishes
Friendship Anniversary Caption:
#16. Anniversaries are not just for couples. It's for those friends who will always be there for you when you are in trouble!
#17. You have no idea how much you mean to me. Thanks for being my best friend, with you I always feel free. Happy friendship anniversary!
#18. When people said friendships are temporary, deep down I know agreeing to all, all the time is not necessary. I know we are bros and pals till the end. Happy friendship anniversary my brother, my best friend.
#19. Hey mate! Let's Celebrate! It's our friendship anniversary! Yay! 5 years together we are, sometimes, sad, and mostly merry, happy friendship anniversary!
#20. Friendships are beyond words to even express. You are not someone whom I need words to impress.
Friendship Anniversary Wishes For Best Friend:
#21. Dear best friend, thank you for making me smile even on the hardest days. Imagining a life without you means imagining life without bright and beautiful sun rays.
#22. If having a boon in life makes you super happy, then I am. Thanks for being the greatest boon in my life, you are my fam! Without you, life is unloved! Happy friendship anniversary with whom I never feel judged.
#23. Happy friendship anniversary to the greatest friend I've ever had. Thank you is not enough for standing behind me in the days happy and sad. I promise to always stay by your side. Love you man, you are my pride!
#24. When I first met you, I had this feeling that this friendship is definitely going to last for many years. Here we are, celebrating our eleventh friendship anniversary, you see, I was not wrong dear!
#25. Friendships are cute yet rare. Thanks for being my backbone all these years. I have no words to express how grateful I am to have you in my life. Without you, how would I survive!
Friendship Anniversary Wishes For Bestie:
#26. Wishing my best friend every chance of happiness. Words fade when I start realizing how much we cherish our craziness. So, happy friendship anniversary to my best friend, with whom I am always in trend!
#27. Cheers to all the fun we've had in the last sixteen years. Yes, you were right childhood friends stay forever. Thanks for always being there for me whenever I need you. You are like the soft morning dews.
#28. There is nothing as important as you are to me. Always, you stuck by my side, be it my midnight tantrums or my shopping spree. Happy friendship anniversary!
#29. All these years, I have never had anything to worry about. Because you were there with me, whenever I was in doubt. I know you'll be there by my side forever and always. Happy friendship anniversary to my bestie, you never help me feel helpless!
#30. Though there are so many friends in my life, you are always irreplaceable. Thank you for understanding me, you are the only one who knows I am gullible. I will keep loving you more than you do. Happy friendship anniversary to you!
Friendship anniversary quotes and messages:
#31. All I could tell right now is I'm so happy and blessed to have you. Right from kindergarten, we have always got each other's back, no matter what we do. When people ask how it is even possible to stay stuck for all these years, I just smile. Happy friendship anniversary to the man always in style!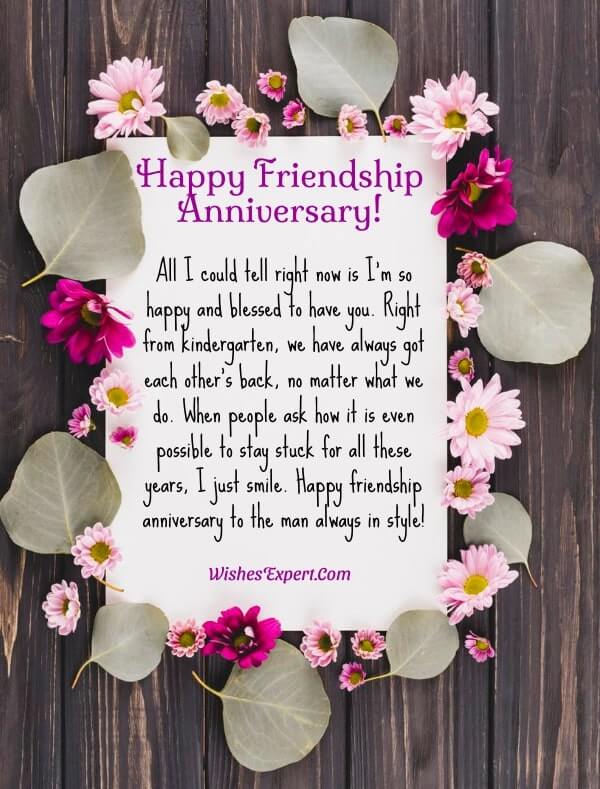 #32. Cheers to marking another year as our friendship anniversary in our life's beautiful dairies. We will give much more lesson to these selfish societies! So, let's celebrate our happy friendship anniversary mate!
#33. I'm grateful and lucky to have you in my life, dear friend. Though I'm not as expressive as you are, every word I say is true till the end. Happy friendship anniversary boy, wish you good health, just enjoy!
#34. You are always like a brother to me. A family to depend easily. Thanks for this amazing feeling and friendship. Happy friendship anniversary to our lifelong comradeship!
#35. I will never forget how you were with me in my toughest times. Happy friendship anniversary to my partner in crimes!
Friendships are the best things in the world, right? If you've got a gem, never let them go. You have the world's best friend, right? Cheers to all your friendship anniversaries! If you think it's time to celebrate your friendship anniversary, pick out your favorite friendship anniversary wishes and surprise your best friend with them!