Happy Birthday Wishes For Old Man: Birthday wishes are not only about wishing another person to spend their birthday with joy. It is another way to remind them how much they mean to you. How much you cherish them. Your life's old man can be your father or grandfather, but both held your hand and taught you to take baby steps in the real world. They contribute to your growth and insight into the world.
They are the great teachers who silently fill your life with blessing and affection. So, wish them a happy birthday with these happy birthday old man quotes. You can also add your idea to these quotes. So, let's have a look at them!
Happy Birthday, Old Man
1. You taught me how to walk when my steps were wobbly and now you clutch me when you lose balance suddenly. I feel proud to be your support, old man. Happy birthday to you, my all-time fan.
2. Every year you are proving age is just a number and aging is a mindset. Happy birthday to my old man who will always be a child at heart, you will become younger as older as you get.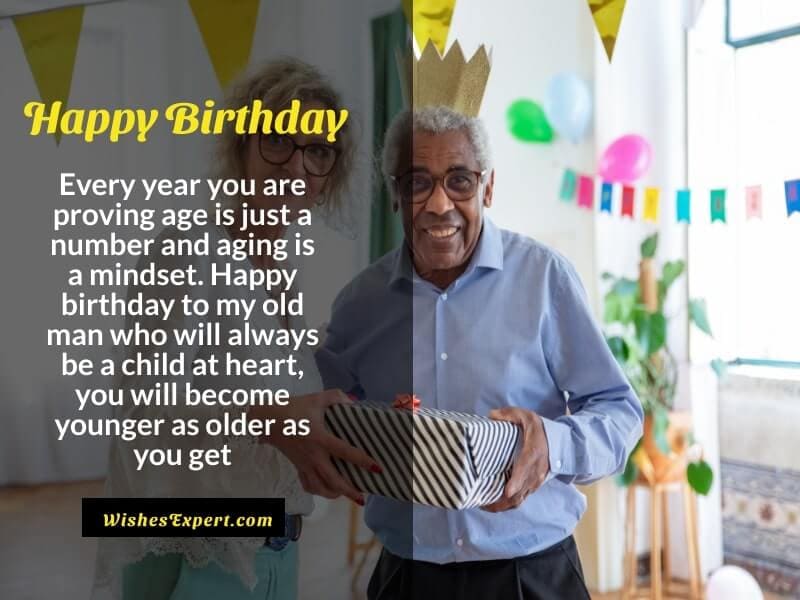 3. Thank you, old man for making me realize that you and I make the best team in pulling pranks on mum. Warmest happy birthday wishes for my partner in crime, thank you for staying numb.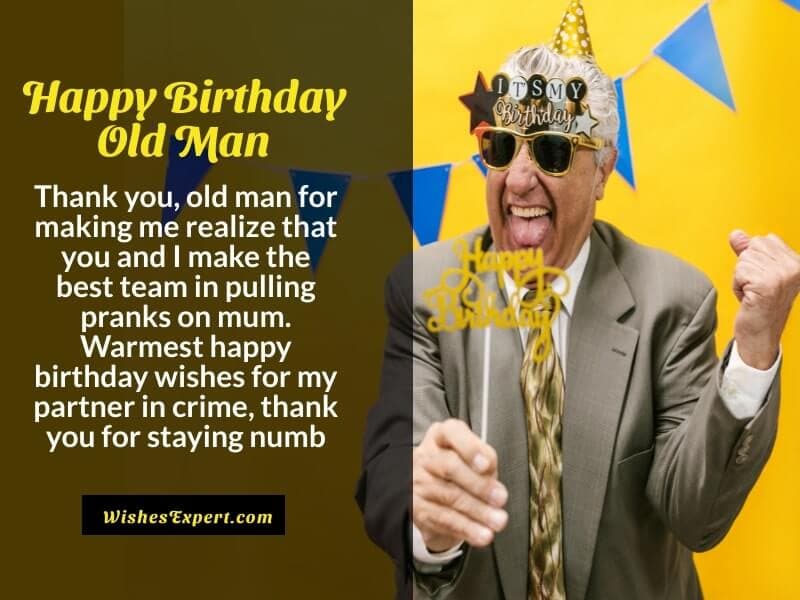 4. Instead of burdening me with your decisions, you taught me to choose my station. Happy Birthday to the old man there, whom I thank every day for being the best father.
5. Hey old man, stop sneaking out and eating ice cream from shops, because your sugar level never drops. Instead, open the refrigerator and eat the sugar-free ones. Happy birthday old man, with love from your disobedient son!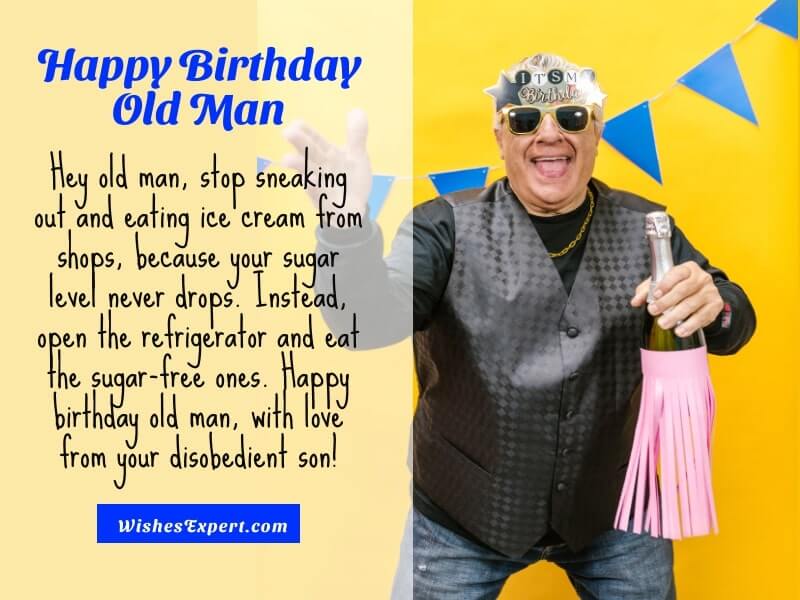 6. Sometimes it feels overwhelming to see you changing over the years. However, one thing never changes—the affection your eyes hold for me, forever. Happy birthday to you, old man, I promise we will stay together.
7. I know you are the Santa who used to put gifts in my socks, and you look like one now. Happy birthday old man and I wish my Santa a healthy year ahead, I will always take care of you that's my vow.
8. Just like old days you fight for the last bit of desserts during dinner. Happy birthday to you, old man. Stay healthy so that we can continue our fight on that last piece, grandpa dear.
9. I can never really thank you for shaping my mind and heart to face the world readily with a smile. Happy birthday to you, old man and thank you for always being there for me in these thousand miles.
10. Happy birthday old man! Hope your joint pain gets better, so that we can head out to spend another "adventurous" year to experience the world together.
Read: Birthday Wishes For Dad
Birthday Wishes for Old Man
1. Happy Birthday, Oldie. I wish you a life full of peace and joy for you are my best partner in a Selfie. May you get stronger and enjoy your life like no other has ever. Wish you a year full of celebration and victories, stay happy forever.
2. I am delighted to be there on your birthday. Your interesting life inspires so many and has influenced my life in a big way. May you attain the wisdom of life, all my love I am sending for you, and chocolates for your wife.
3. A man like you deserve all praises from us. You are a man of honor and accolades and we feel very grateful to have you here among the mass. Happy Birthday, our best old man out there, with love from your granddaughter here.
4. May your birthday be full of joy. I wish you to stay active and healthy for the rest of your beautiful life, my boy. Your maturity and valuable advice have helped me take the right path in life. Thanks a ton, from me you deserve a high-five!
5. You are a wonderful man and I have every right to wish you a happy birthday. May god give your soul the courage to liberate yourself from the sensory pleasures of life and live life your way. Have a great birthday, oldie!
Read More: Happy Birthday Wishes for Pastor
Old Man Birthday
1. I still remember those profound life lessons you gave me, which helped me grab the right path in life. Thank you for being such a sweetheart, and being my side. Life is unimaginable without you. I wish you a birthday full of joy and happiness, who says you are old, when I look at you, you are always brand-new!
2. Words cannot be enough to describe how much you mean to me. You are the lamp of my life, and my banyan tree. You are no less than a father to me. Enjoy your birthday well, my dear oldie.
3. You are priceless, and I have never met someone so special like you in my life. You are the inspiration that allow me to live life king size every day. Have a splendid birthday!
4. Your treasure of experience has helped me in so many ways. You are one gem of a person; I adore each day. May my Special man have the best birthday.
5. You are old and gold. You are getting younger year-after-year. Have a blissful day and enjoy your birthday to the fullest dear. Send me the cakes as you do on your every birthday, please do remember.
Check: 55+ Sweet Birthday Wishes for Aunt
Happy Birthday Old Man Funny Quotes
1. I chose the gift after a lot of thinking. Ask me about the price on the bill I have attached it with the gift just in case you can't see it properly. Happiest birthday oldie, carry on being miserly.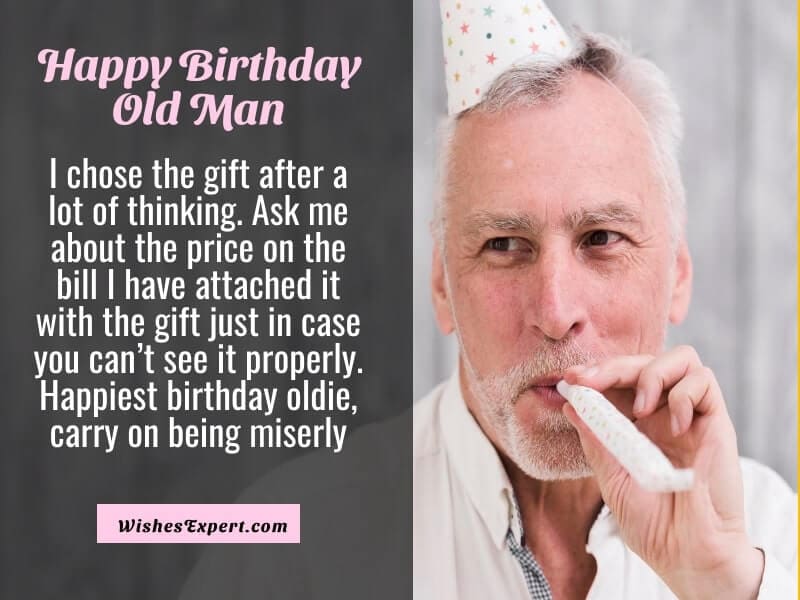 2. Don't act like a baby anymore struggling to walk and eat. At least grow up from this birthday to do the things on your own and stand on your feet. Happy birthday to the most enthusiastic old guy, you can live without scolding me just give it a try.
3. We got tired of just fixing the candles on the cake for your birthday. Imagining how you would struggle, while blowing it on the D-day. So, we made it easy for you to blow it up. Happy birthday to you, dear old man, fill till the brim, your cup.
4. Let's celebrate this birthday with utmost fun before you start getting memory loss in the coming years and question who we are, out of fear. Happy birthday to you, big old man. I promise, this is the last time, I will never again ask for your van!
5. We would like to see you smile and laugh your stomach off just right before your remaining teeth fall off. So, enjoy this birthday like never before, and try to control your coughs.
6. I would like to hear from you one day, on the experience of how the dinosaur era was when you were a child. Happy birthday to the youngest old man alive.
7. With you getting older every year please don't think you're in the place to give advice. Don't forget you are still afraid of mice. Happy birthday, dear oldie, you are cutie pie and a Goldie.
8. I know it's your birthday, but it's okay if enjoy the party sitting on your couch without struggling to get up and crying "ouch." You've grown too old for this you old guy, and happy birthday to you, never say goodbye. 
9. I'm so weak in mathematics that I can't calculate the number of candles to buy for your birthday. Happy birthday to you, old man, considered a living fossil, but living life your way by enjoying every day.
10. The only good thing about the fact that you're growing old every year is that you are older than me. It's a benefit for us to look young compared to you, you see. Happy birthday to the old man, who in all-weather switch-on the fan.
Your old man looks forward to making lovely memories with you and hence your birthday wish for them can be utterly precious. Your sincere wish for their health and happiness can be their favorite gift. You can add the memories that you have made with them to your birthday wishes. A birthday wishes maybe a few words, but they hold your expression of thankfulness and joy. Make their birthday memorable with these happy birthday old man quotes.