Some plain texts that disguise as well wishes for surgery do not exactly count as wishes. Your wishes for someone who is about to have surgery must have something in them that could add strength to their mind in the trying times. So, you have to be wise and careful while penning a wish for someone close to you who is about to undergo a medical procedure. Our quotes can make the job easier for you and we assure you that your wishes would sound more reassuring and relaxing when they're received by the person who's having the surgery.
Well Wishes for Surgery
Life may seem unfair and unjust but times like these are exactly what would make you stronger. I wish you good health and it'll be okay.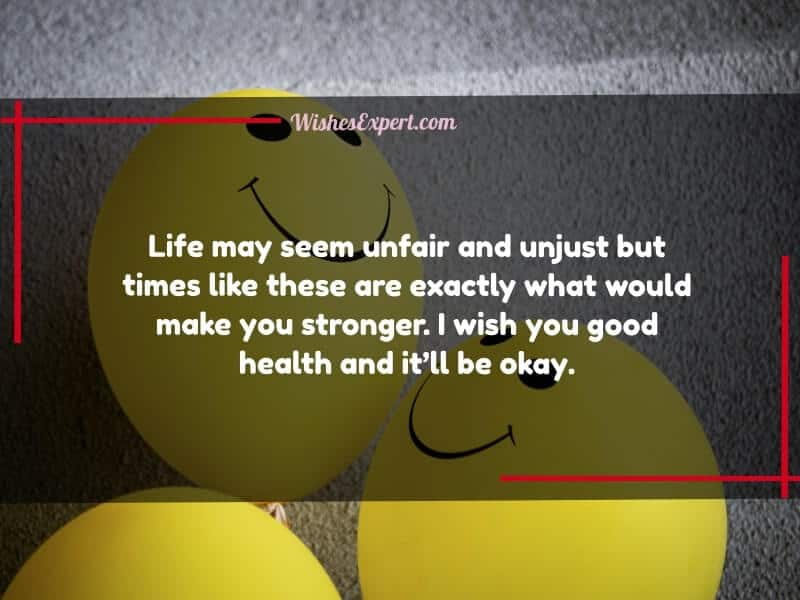 You've been a little nervous about everything in your life but this surgery is something you've been sure of and I'm glad you're having it. Stay strong!
Some would tell you how horrible life gets after a medical procedure but you must know that different people understand a story in different ways. So, hang tight and get well soon.
I'm not going to make a big deal out of this because I know you're gonna survive it like a champion.
My uncle had the same surgery and he's kicking it at 65, so you shouldn't be worried because things will definitely get better after this.
I wish my only friend a healthy recovery and an even healthier life ahead. Don't worry about the operation, it's only going to make things better for you.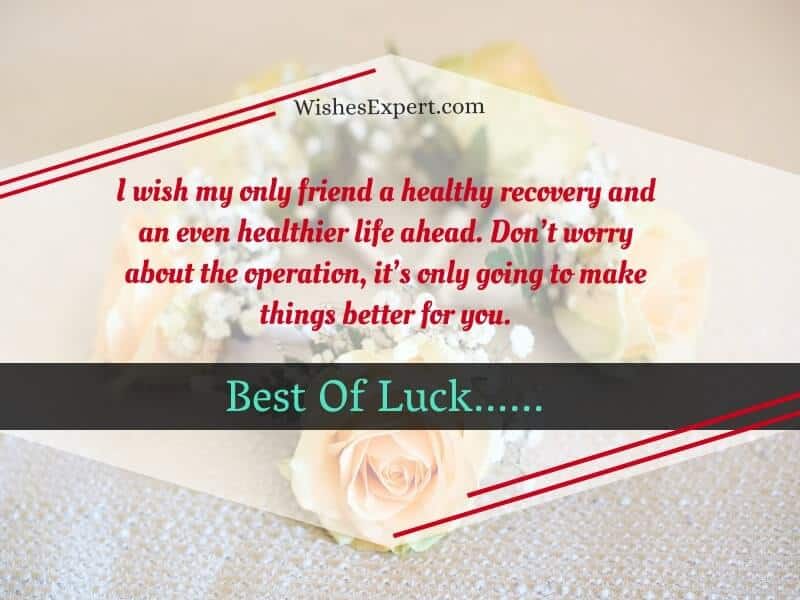 If you feel like giving up during the surgery, remember your favorite hero from that silly comic book you read. That guy survived a nuke and I'm pretty sure that you can survive nothing less.
Surgeries aren't meant to scare you or make you feel weak. Remember, you would've stayed weak if you had decided against having the surgery. So, be cool about it and get well soon!
I cannot wait for you to come back and have a look at what I've done to your cubicle at work. You're going to love it. Have a safe surgery and get back to work soon.
Lots of love and care from your parents and friends have helped you reach this far, now don't be scared about the surgery for it's gonna make you a better person. Go for it, champ!
Read: Thank You For Your Hospitality
Good Luck with Surgery
Everyone at home find themselves thinking about you whenever they don't have anything to do. I wish you good luck with the surgery, brother.
Good luck with your surgery, dad. You're the strongest person I've ever known and I know you're going to fight your way out of this just like you do out of a boring Monday.
More than you or anyone in your friend circle, it's your wife who's worried about your surgery the most but she won't express it because she wants you both to stay strong.
I'm not a man of a lot of words and I don't know how to express my concern for you but I want you to get well soon. I wish you good luck with your surgery and a faster recovery.
Dear friend, I know this must be tough for you. But I also know that you're gonna fight it like a boss and come out of it stronger and better. Good luck on your surgery, mate.
Read Also: Good Luck On Your Test Wishes
Words for Someone Having Surgery
I've undergone the same surgery and let me tell you that it is only hard till you think it's hard. Believe in the good hands that would work on you in the OT and everything will be alright.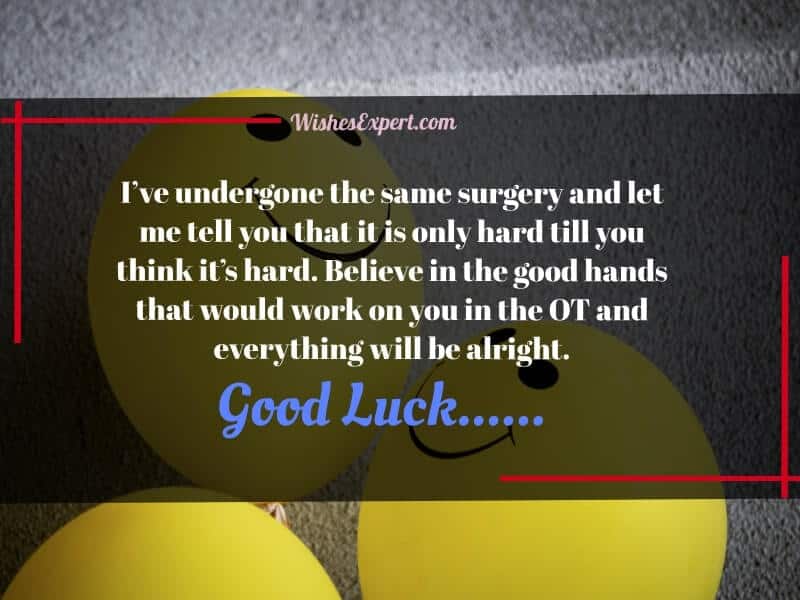 Your family was waiting for you to walk on your own legs for a long time and this surgery will put an end to their wait.
I've had so many surgeries in my life that I almost feel like a cyborg, but don't worry, each surgery made me feel better about my body and yours shall do the same.
Make friends with the staff that would help you after the surgery so you don't get bored after the operation is over.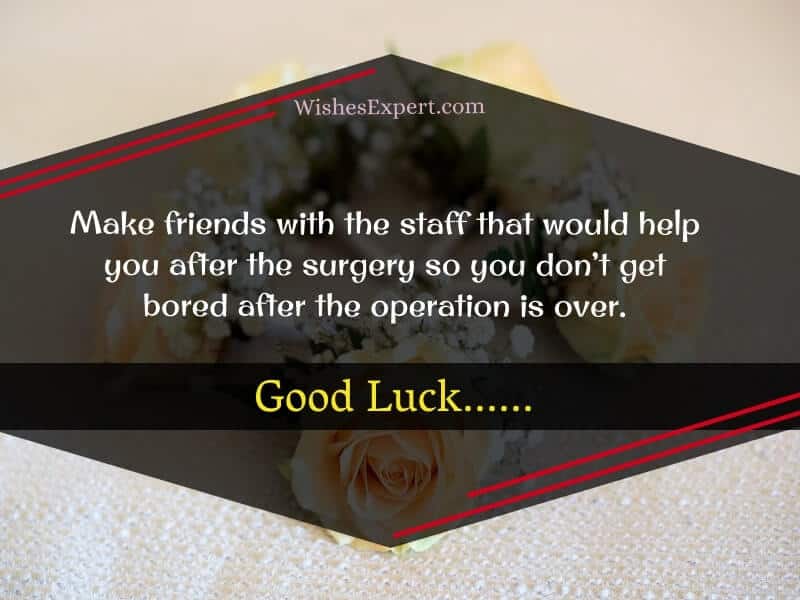 Now that you've decided to go for the surgery, do not let anything shake you. It's gonna make you a better, fitted and healthier person.
Read: I Love You Mom Quotes
What to Say to Someone Having Surgery
Don't let the opinion of society stop you from having that hair transplant surgery, it's you who's going to look better after it.
You, my friend, are a man with a big heart and the surgery you're about to have is going to make your heart fitter. My best wishes are with you. God bless you, pal.
Your decision to have this surgery quietly is as good as your decision to have it openly. More than your fitness, nothing matters to me.
You'll get the life support in the form of doctors while undergoing the surgery and you'll get the love and support in the form of your wife after the surgery. Love you, champ!
You've been good at so many things since school and I know you'd be good with the doctors too. Don't be nervous before the surgery as it won't leave a good impression on the doctors.