Birthday wishes for cats are a unique idea that you can use to express love to your cat. Owing a cat as a pet nowadays is pretty well-known. Humans who tend to get a pet are generally very fond of them, so celebrating their birthdays is trendy.
We know that the little fluff balls do not have the comprehension powers of humans to understand what we want to portray via our birthday wishes, but as it is said, it's the thought that counts. You can wish a heartfelt birthday to your cat, and even though it won't really understand you, it will still be satisfied.
So, hopefully, wishing your cat a happy birthday doesn't sound so weird anymore.
Happy Birthday Cat Wishes
#1. You came into my life with loads of happiness. I sincerely wish that you have enough fish for the rest of your days. Happy birthday, kitty. I love you a lot, sweetie.
#2. Even though it feels like my windpipe is clogged with your fur, I'd still not want to live a day without hearing you purr. Be lazy, and have a wonderful birthday, lovey.
#3. I found love as soon as I looked into your pretty cat eyes, but the only thing that concerns you is the fish size. Happy birthday, and wait for the big surprise.
#4. I promise to be there with you whenever you need me, and there is nowhere else I would ever want to be. Happy birthday to the most precious thing to me.
#5. You are the most important cause of my happiness, even though you spend your day in a sour mood and grumpiness. Happy birthday my grumpy, old lady.
#6. I hope you stop fighting with other cats over nothing. Whenever I see you, you are bickering. Happiest birthday to my moody fur baby. I love you loads, buddy.
#7. Congratulations for spending another year throwing hissy fits and temper tantrums. I hope you will learn to live without belly rubs, head pats, and your mums. You are my baby. I wish you a happy birthday to Miss lazy.
#8. I cannot imagine living a single day without you. I hope you are planning on living with me forever too. Have the best birthday ever, my dearest kitty cat, and remember, mum loves you.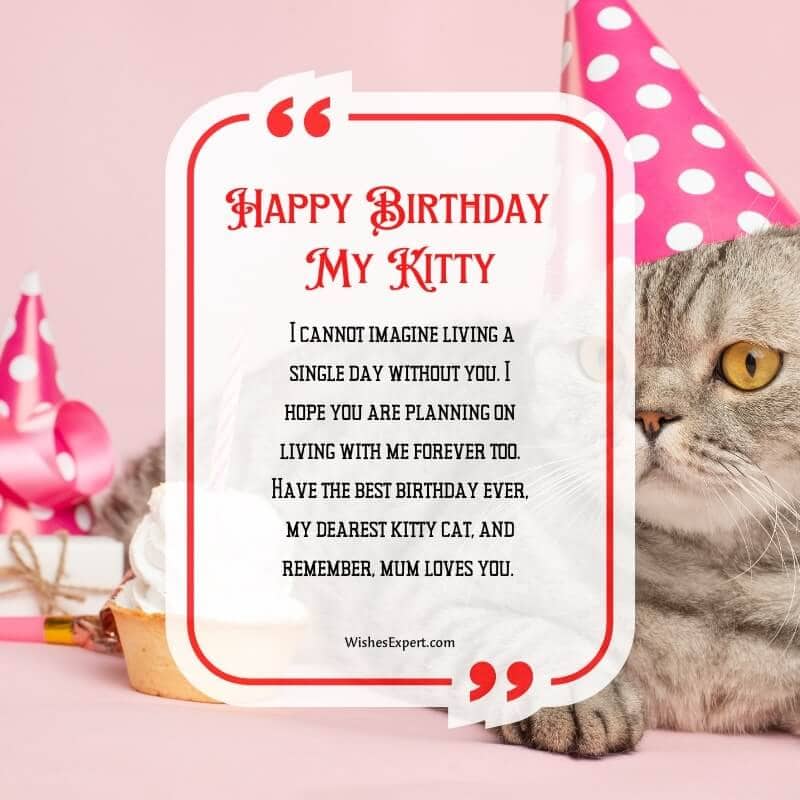 #9. On this special day I have a wish for you. I hope you are always loved, and all your cat dreams of eating treats may come true. Happy birthday to you.
#10. Happiest birthday to my precious little baby. I am so glad that you came to me. Time flies very fast, you see. Now, you are already turning three.
Read: Happy Birthday Wishes For Dog
Happy Birthday Wishes for Your Cat
#1. I hope you live a hundred cat years with lots of love, and may you get all the milk you deserve. Have a beautiful happy birthday, baby, and today, I have loads of fish in reserve.
#2. Happy birthday kitty, I hope you get to eat lots of delicious food, or maybe some toys will be too good. I wish you long, healthy life and an energetic mood.
#3. I know, all you want for your birthday are yummy treats, some cookies and maybe some sweets. Happiest birthday, dearie. I hope you get to spend the day very happily.
#4. Stop being grumpy if not given food to eat. You need to have patience and take the birthday seat. I am sure you will have a purr-fect birthday, and enjoy every bit.
#5. I know giving you birthday gifts is of no use, but just for today, your chewing habit will be excused. Not wishing you will be a crime. So, happiest birthday to the prettiest kitty of all time.
Funny Birthday Wishes for Cat
#1. Happy birthday to my furry little one with whom I have the most fun. Although things become undone when you tend to run around the house to have fun.
#2. On this day, kitty with your little paws, you walked into my life, and then my life became a constant jive. It has been an absolute joy ride with your playful tail by my side.
#3. I never had a bad day as you have some furry ways to put a smile on my face, anyway, at every moment of every day. Thus, I feel glad to wish you a happy birthday.
#4. No matter how bad I feel, I don't need any pill. I know I will survive because I have you by my side. Happy birthday, little kitty, my cutie pie.
#5. My dear little kitty, who is now a year old, has a heart of gold. I hope he stays with me till I am old and cranky. Happy birthday to my dearest kitty.
Cute Happy Birthday Wishes for Cats with images
#1. My cute kitty is gay only when I agree to play with him throughout the day, and nothing I say makes him go away. Happy birthday to my playful kitty.
#2. Though I try to shake you off, you won't stop until I close my desktop. You are ready to gleefully hop. Happy birthday to my playful kitty, my sweetie.
#3. With padded paws, you silently creep up on my desktop, and with your imploring eyes, you tell me to stop, and if I don't, you start to mope. Happy birthday my nagging kitty and a big slob.
#4. The world is beautiful because you chase me with your furry tail, and if it hadn't been for you, I wouldn't have been to sail through life's difficulties, even after numerous fails.
#5. I don't know how my life was before I met you, but I know it is better because of you. You make me think about me & you. Happy birthday, little furry, and I like your mew.
Captions for Cats Birthday
#1. Your four little paws mended my heart. Now every day feels like a new start.
#2. Your furry tail gets a mind of its own when your mews turn into moans.
#3. Playing catch is your favorite sport, but you will never be a spoilsport.
#4. I hold my laptop with you in my lap, and you get angry if I don't stop and have a nap.
#5. Your mewing is music when you are happy but becomes angry when your day goes crappy.
#6. My online meetings are incomplete without your paws on the keyboard and your tail not letting me get bored.
#7. Happy birthday to my cutie pie, kitty. You are nothing less than witty with all its nitty-gritty.
#8. I try to avoid you, but your furry appearance makes it impossible to do so with you.
#9. You are pawsome, and so my life is awesome. Happy birthday, my dear kitty, and your birthday will be all fishy.
#10. Your moving ears and mewing mouth say one thing, "Time to go out without a further shout!"
Conclusion:
Birthday wishes for cats can be anything from cat jokes to some serious ones where the fur parents want to wish their cats from the bottom of their hearts. Your fur babies give you immense joy and love in your day-to-day life. It is not a big deal to wish them a happy birthday on the special day they were born and came into your life.
Some funny, quirky one-liners can do the work, which will be amusing. Moreover, it will also show your love for them as you kept them and their birthday in your mind.