To that little boy covered in the fur, cheers. These happy birthday baby boy wishes are quirky and fun. We know that while your little one might not be able to understand what you're saying, you want to wish him in the best manner possible. You wish to shower him with all your love and blessings. Hence, we've come up with these wishes to not let you get caught up on the web with countless hours of scrolling.
However, if you still wish to capture your emotions and thoughts for him, you can write the wishes that sound perfect to you, in the greeting cards. Or you can record yourself wishing him these wishes. Meanwhile, we wish you happy scrolling.
Happy Birthday Wishes For Baby Boy:
1. Till you're in your cocoon, you're not only going to be nurtured by me but a little bit spoiled too. Happy birthday my baby boy.
2. I'm so proud to have you as you cause no drama and only eat and sleep. You're totally on your dad and I'm already so proud of you. Happy birthday, baby boy.
3. Your cries keep me awake at the night but your chuckles make my day. You're a cry baby but the sweetest boy in the world. I love you, and happy birthday!
4. With the love and care, I nurture you to see you grow into a being you can be proud of and I can be delighted to have raised. Happy birthday, baby boy.
5. You're that one tiny naughty being who we allow to mess our worlds and make it upside down totally because you're the one who has made it beautiful. Happy birthday, baby boy.
6. Like a cool breeze, you've warmed up our hearts. Like an angel, you've made our world only heaven. Happy birthday, baby boy.
7. The rhythm of life has only gotten better and our life has only been cohesive since you've entered into our lives. To the baby boy, who has brought utter joy into our lives, happy birthday.
8. To the baby boy whose eyes are filled with deep desires that are only waiting to be fulfilled, happiest birthday.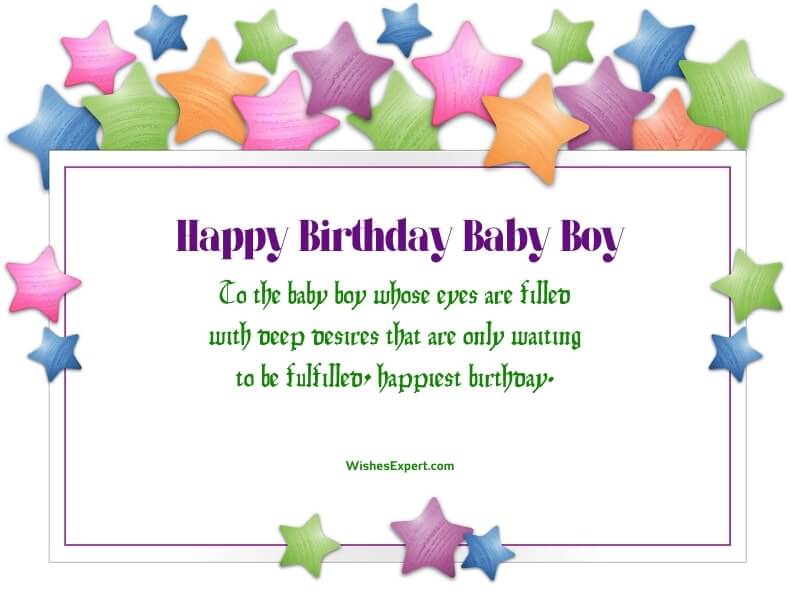 9. As my baby boy is in his transformative phase to be a boy now, not today but every day is worth a celebration. Happy birthday, boy.
10. Happy birthday baby boy. When those tiny feet take their baby steps, my heart skips a beat. I gasp with utter happiness when those tiny fingers hold me. Please don't grow.
Read: Happy 1st Birthday Wishes
Birthday Wishes For Baby Boy:
11. Happy birthday, baby boy. That winsome smile makes everyone go awe when they look at you but when they say, "he has your smile," they make my day.
12. As today is my baby's birthday, he's getting treats, cuddles, and more bedtime stories. Happy birthday, honey. We'll make it the best one for you.
13. We've filmed your first baby walk, your cries, and the moments of joy, and we can't wait for you to see it but for today happy birthday my baby boy!
14. Happy birthday, baby boy. You're my little champ who has brought bundles of happiness into our lives and without you, we wouldn't be waking up to these brighter days every day.
15. Happy birthday, baby boy. The walls of this home never had this echo of the waves of laughter before you. We can't be more thankful to God for having brought you to us.
Read More: Birthday Wishes For Baby Girl
Little Boy Happy Birthday Wishes:
16. We've celebrated each day since you came into our lives but today we'll celebrate it a little more as today is your day. Happy birthday, boy.
17. For what you've given us, we've nothing but love to give you as our love and care for you can only equal the value you've brought with you.  Happy birthday, boy.
18. While putting you back to sleep is the most daunting task we do, seeing you sleep is the most wholesome thing we've ever seen, so we have nothing to complain about. Happy birthday, little boy.
19. Like the blooming flowers in the valley, you make this little home a cozy, beautiful place to live in. Happy birthday my little boy.
20. Happy birthday my little boy. You're weaving your dreams, but you've already made our dream a reality. To our little handsome, you've made us and our lives better just by being.
Check: Happy Birthday Wishes For Kids
Birthday Wishes For Little Boy From Mother:
#21. Baby, you've already earned your two biggest fans, and we'll always be as you truly are our champ. Happiest birthday to our gem, our little boy.
#22. Baby boy, you've given a hard time to my uterus, however, you compensated for it the day you were born, which was today. Happy birthday.
#23. Happiest birthday, our little boy.  I'm not surprised by your good looks as you've got your mother's cute genes but then how are you not a cry baby?
#24. To our baby boy who is, later in life, going to create some controversies that we won't be able to solve, happy birthday.
#25. Happy birthday. Till we can keep you under our safety net of warmth, we'll. But when it comes to setting you free in the world, we'll do that too. We'll do anything good for you.
Take A Look: Birthday Wishes And Messages For Little Sister
Birthday Wishes For Little Boy:
#26. Happiest birthday, little boy. Soon my baby boy will be grown and won't ask me to tuck him in. While I miss it, I can't wait to see you turning into a big boy.
#27. Baby as you're living a tax-free and rent-free life, you're living a good life. And we're only trying to make it better each day but today, best as it's your day. Happy birthday.
#28. Soon your baby feet will walk into the little world and forget to crawl. Soon you'll turn into a big boy and I no longer would have sleepless nights. To my little boy, happy birthday.
#29. To my little boy, happy birthday. I can't wait to listen to all the superhero stories you'll be crushing over. I can't wait to see my little champ turn into his dad.
#30. Since you've come into life, you've brought this ripple effect of joy that we're too grateful for. Happy birthday to our little boy.
While your baby boy might not understand your words, translating your emotions into words will bring you contentment. To make it better, you can write a letter along with these wishes to your baby boy that he can read later in his life. To not throw you off the chart of emotions, we have maintained the balance by adding humor to these birthday wishes for baby boy. And we hope you'll appreciate it. There's, however, more to our page. If you haven't discovered it yet, our main page is all yours to scroll.