It's always a blessing to watch a little one grow older. Happy 5th birthday is an emotional moment but also a joyous one to know that they are ready to gain more wisdom. So, you want to celebrate your little one's 5th birthday. How about starting to let them know how special they are and how much they mean to you? Messages are a wonderful way of passing this to your 5 year old kid. Send or read these beautiful birthday messages for the special munchkin on their 5th birthday. Let them know that you are with them always and that there's cake and a party.
Happy 5th Birthday Wishes
It's your 5th birthday and I am so happy to wish you a very warm and joyful birthday. We all love you so much and we hope that you get the best of everything in life.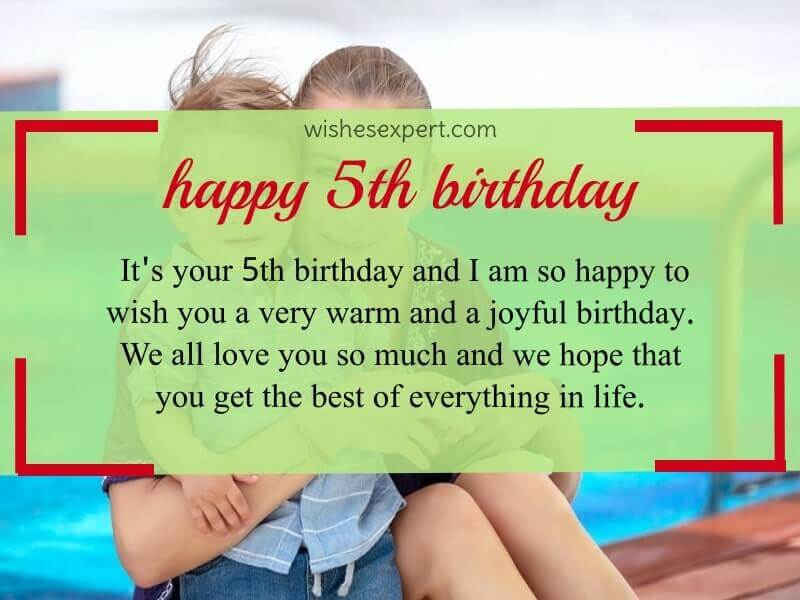 To the cutest kid I know, I hope you look back in the future to this birthday and remember it fondly. Happy 5th birthday, kid. We are blessed to have you in our lives.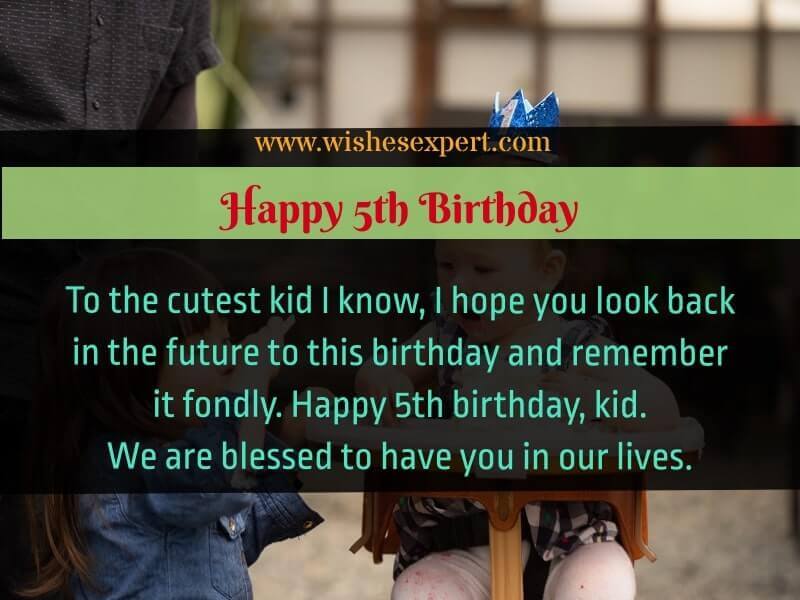 I have known you for 5 long years and I can tell you that with each passing day, watching you grow, gives me a lot of happiness. I love you so much. Happy birthday, kid.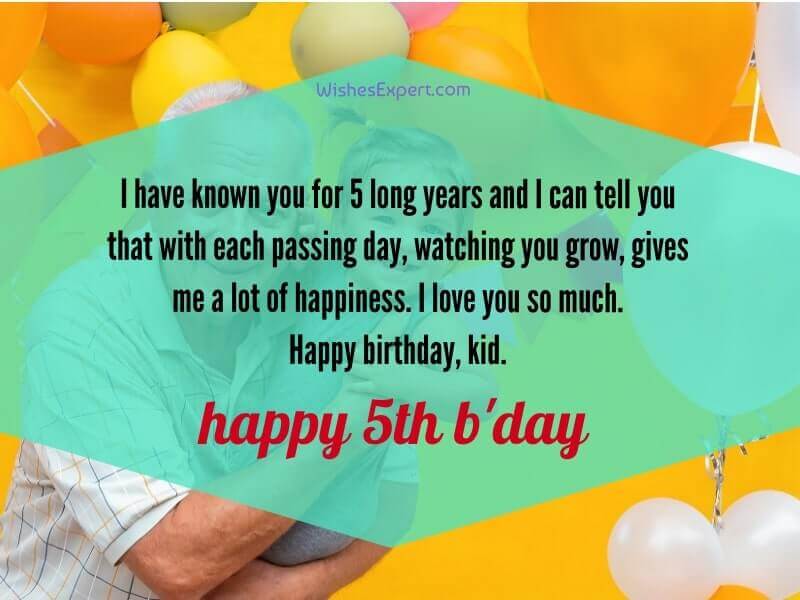 Happy 5th birthday. May your birthday be royal and your life be full of beautiful things. You deserve the best of everything and you deserve all our love. It's such a joy to have you around.
Seems like a lovely day today and why not! After all, it's your birthday. I hope you get a lot of beautiful presents and cake to eat. This is your special day. Have a beautiful 5th day, sweetie!
Whatever that you wish for, I hope you get it all on your fifth birthday. I hope all your dreams come true and you get the most colorful gifts. Here's a wish to have the most awesome birthday.
Happy 5th birthday, my sweetest kid. You have grown taller and stronger. You are ready to face the world some more. You are going to grow more and make us prouder. Happy birthday!
It's your fifth birthday and you have been the cutest troublemaker in my life. Be ready to enjoy the day with lots of toys, balloons, and of course, your favorite cake! I love you.
My cutest angel, your 5th birthday here and I am so glad to be a part of it. You still make my heart flutter with your cute giggles. You take my stress away and make my day better. Happy birthday!
It has been 5 years that you have entered our world and have made it beautiful with your presence. I love you the most my little wonder.
Take A Look: Birthday Wishes For Kids
Birthday Wishes For 5 Year Old
Wow! I can't believe 5 years have passed so fast! You have grown bigger and smarter. Cheers to growing older and learning more. Happy birthday, munchkin.
On your birthday, all the superheroes have come to wish you the warmest wishes through this card. Save it and remember, always have a good heart and be kind to everyone!
We have gathered everything for your birthday. Cake, candles, gifts, and balloons. Blow your candles, cut the cake, explore the gift, and have a merry birthday!
I remember when I was five and the world was big and beautiful. I hope yours comes out to be even more beautiful and dazzling. Happy birthday, my precious kid.
Hey, look who has become extra sweet and extra good-looking on their fifth birthday! It's you, pumpkin! And I can already see what a wonderful person you're growing to be!
Also Read: Short Birthday Wishes
Happy 5th Birthday Son
Happy 5th birthday to the most happy-go-lucky kid I know. You have been a very good boy and your father couldn't have been more proud of you. Thank you for being my son!
We have had you for 5 amazing years and you have brought such unimaginable happiness to our lives. Let's make your birthday very special. I love you, son.
There are 5 things you need to remember on your 5th birthday: to be kind, to believe in yourself, to study well, to play well, and to be happy. Happy birthday, son.
I can't believe my sweet, cuddly boy, the apple of my eye is already five years old. You have been the most beautiful gift to us from God. Happy birthday, my son and my heart.
Look at my baby boy! He's all grown-up. I want you to dance and enjoy today because today is a big day. Party with your friends, eat cake, and thank the Lord! Happy birthday, son.
Check: Birthday Wishes For Granddaughter
Happy 5th Birthday Grandson
Happy 5th birthday to my sweetest grandson. You have been the happiest kid around and I hope your day becomes a whole package of joy. I am sending you love and cookies.
My beautiful grandson, it makes me so proud to watch you grow every day. I will remain to be your best grandma (grandpa). I love you so much. Happy birthday.
Happy birthday to the coolest grandson anyone could have. You are 5 years old and you are a strong boy now. So, have fun and enjoy the day.
You have no idea how happy I am today to celebrate my little munchkin's fifth birthday. You have been making me happy since the day you were born. Happy birthday, grandson.
We should have named you CutiePie because you are the sweetest boy God blessed us with. Happy 5th birthday, my favorite grandson. Enjoy the day and live happily.
Happy 5th Birthday Wishes for Girl
Happy 5th birthday to our little princess who has the heart of an Angel and the spirit of a warrior. You have a very bright future ahead of you. So, make sure you work hard and stay happy.
Cheers to my little angel. Your 5th birthday is going to be as glamorous as yours. You have an entire life to be happy. So, enjoy and dance with all the joy.
Happy birthday, my princess. At 5 years old, you are already more mature for your age. I love how you're growing up to be and I am so proud of you. Stay happy!
As you turn 5 today, let me remind you that you are unique in your own ways and you shouldn't change for anyone. Please keep surprising us with your beautiful mind. Happy birthday.
Five years ago, today, you were born and gave us the happiest moments of our lives. We always wanted a baby girl like you and we are blessed that God heard us. Lots of love to you. Happy birthday.