Birthdays are marked as very special days of our lives. In the past, people only remembered a few birthdays but now as birthday celebrations have become a trend everyone gets to know. Everyone wants that they get treated with love and care on their special day. We like to feel special since it is the day of our lives that marks our importance in the hearts of our family and friends. If there is a girl around you, she could be a relative or a friend. You could use these special happy birthday girl quotes to wish them on their birthday.
Birthday Wishes for Girl :
1. Wishing you a very Happy birthday, girl. May your beautiful face always stays smiling.
2. Of all the girls I know you are the smartest. It's so great to know you. Happy Birthday.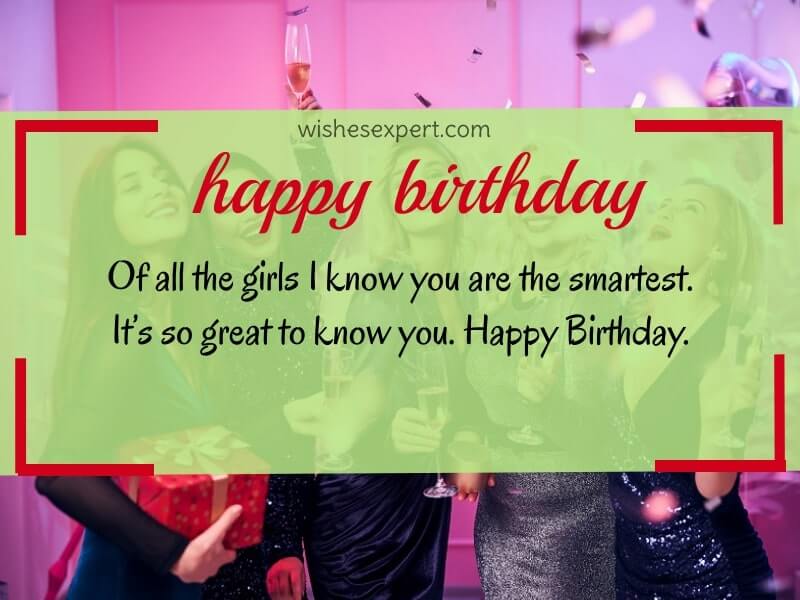 3. When I saw you for the first time, I never knew we would become such close friends. I Thank God for making me meet you. Happy birthday to the most beautiful girl ever.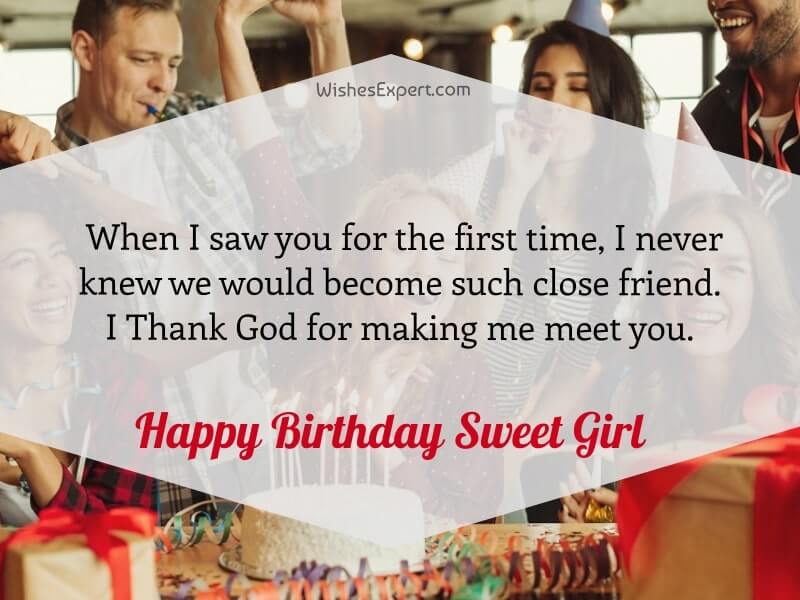 4. May all the coming years bring you a lot of love, smiles, and success. Happy Birthday, girl.
5. A birthday wish for you: May you receive everything you ask for, find whatever you seek, and have your wishes fulfilled on your birthday. Happy birthday, dearest.
6. May the happiness that you have spread in the past return to you on your birthday. I wish you an extremely cheerful birthday! Keep smiling and be blessed.
7. I wish you have another exciting year ahead of you. Celebrate your birthday with splendor. "Have a wonderful and fun-filled birthday, sweetheart!"
8. May you be blessed with all of life's greatest pleasures and unending delight. You are a gift to the world, and you deserve the best. Happiest Birthday, my love.
9. You are such a beautiful young girl. I wish to see you grow into a successful and gorgeous lady. Stay blessed and happy Birthday!
10. This day is so special just because it is your Birthday sweety. You always make our hearts warm with your manners. Stay blessed baby.
11. I am blessed to have a friend like you. I am sure that is the sweetest and most innocent soul that I ever came across. Love you, Darling.happy Birthday!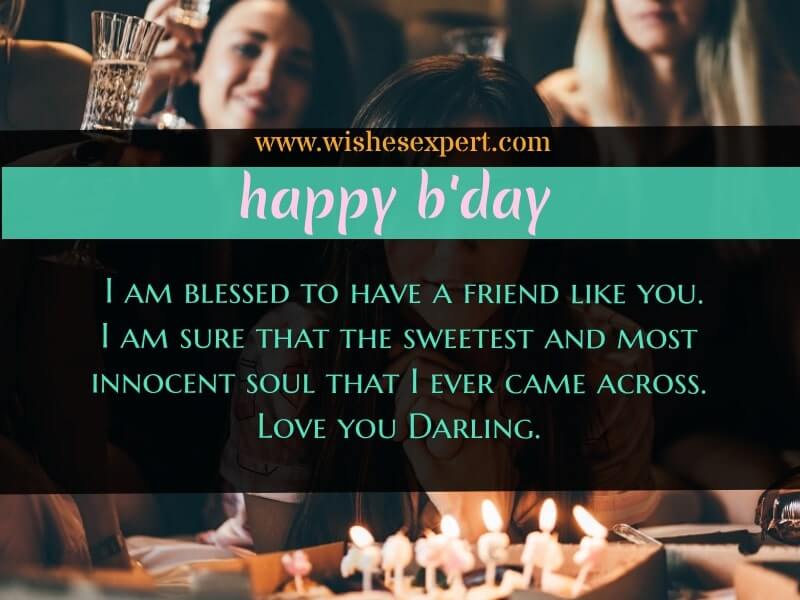 12. A very special Birthday to the very special girl. Just watching you smile makes us so proud. Enjoy an amazing birthday sweetheart.
13. To the girl with the face of beauty and the heart of an angel. I wish you to stay healthy and happy life with all your smiles. Happy Birthday!
14. Beauty with a brain is a rare combination that you are blessed with. Celebrate your Birthday with lots of kisses and hugs.
Read: Birthday Wishes For Someone Special
Happy Birthday, Girl :
15. You sure are growing up too fast sweety. May you get to celebrate many such beautiful Birthdays. Happy Birthday, Cutie.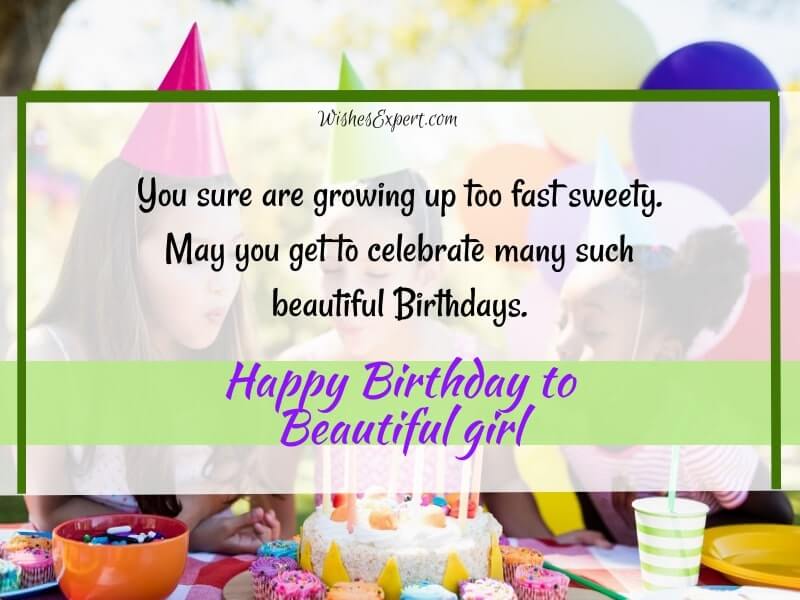 16. Wishing a Happy Birthday to the most confident and cool girl ever. You are an ideal to follow for inspiration.
17. Watching you all timid and shy makes you so adorable. May the future bring a lot of happiness to you. Happy birthday dear sweet girl.
18. Give me a big and beautiful smile Senorita. You sure are lucky even for being loved by so many people. Happy Birthday, Dear!
19. From the day I became your friend my life has been much more positive and happier. You are such a gem girl. Happy Birthday.
20. Be happy for it's your day. May you receive the best gifts of the world. Happy birthday to the most cutest girl in the world.
21. We have not talked so much ever but every little conversation I made with you made me feel how precious our connection is. Enjoy a merry Birthday.
22. Just knowing you make us so happy I can imagine how special your parents must feel. Stay young sweety. Happy Birthday!
23. You are so much like chocolate, so sweet, smooth and warm. Always stay like this and never doubt yourself. Happy Birthday, cute girl.
24. Such a talented girl you are yet so down to earth. May you always get a lot of support and appreciation. Happy Birthday, Dear.
Also Read: Happy 18th Birthday Wishes
Female Birthday Wishes:
25. Count not the years but the years that you have lived. I wish you a good future and may you get the best, always. Best wishes on your special day.
26. Sending you smiles, love, happiness and blessings on your auspicious day. Have a great day and a beautiful birthday! May God give you whatever you ask for.
27. Here's wishing you a day filled with wonderful surprises! May all your heart desires get fulfilled on this day. Best wishes on your birthday!
28. On this lovely day, I wish you all of life's joys! Happy birthday! Have a grand celebration on your day. Surprises are on their way!
29. I'm sending you a birthday wish filled with all of my love. Have a wonderful year ahead filled with joy, blessings, and love. Happy Birthday beautiful.
30. Sorry, I am not with you right now. But, sending you wishes and a lot of love on your special day! Happy Birthday Beautiful.
31. A very happy Birthday to the most hard-working woman I know. Stay active love.
32. Of all the people in this world, you are such a gentle and kind person. Enjoy 100's such birthday's sweetheart. Many happy returns of the day.
33. With these Birthday wishes I am sending you a lot of smiles and hugs girl. Keep glowing like a star. Happy Birthday, Cutie.
34. If it was possible to take the stars from the sky You deserved to get millions of them, girl. Happy Birthday my honeybee.
35. Your confidence and charm often leave me in surprise. You are meant to dream big gorgeous. Happy birthday to the most beautiful girl!
Check: Happy Birthday Beautiful Friend Wishes
Birthday Girl Quotes:
36. Happy Birthday, sweety. May you get lots of chocolates on your Birthday as they are your favorite.
37. Hoping that this special day makes all your desires come true. Stay strong Sweetheart. Happy Birthday!
38. Your puppy face is so cute and irresistible that it is hard not to do what you want. Happy Birthday cutie pie!
39. There are many beautiful faces in this world but nothing can be compared to the attraction you have my girl. Happy Birthday.
40. Come on blow out all the candles and make a wish and I will pray that your wish comes true. Happy birthday dear sweet girl.
Try: Birthday Wishes For Girlfriend
Happy Birthday Girl Images:
41. Celebrating the day, we were blessed with such a sweet soul. Happy Birthday my sugar candy!
42. You may not be a genius but you sure are intelligent than many. Wishing you lots of success on your Birthday. Happy birthday cute girl.
43. With each day your face is growing more beautiful and so is your heart. Happy Birthday!
44. Wishing you many years of happiness, success and health Darling. Happy Birthday, Girl!
45. You are the light of every party and gathering. Stay blooming and never change sweet Birthday girl. Happy Birthday.
Funny Birthday Wishes for Girl:
46. To the girl who never tells her real age Happy Birthday.
47. As the days pass by the length of your heels are increasing so are your layers of foundation. Just Joking Birthday girl.
48. You are not wise but I guess the world can handle another dumb one. Have a lovely Birthday.
49. Trust me we all love you with all our hearts even though we need to rethink. Happy Birthday my love.
50. I guess no one here knows your true age. Don't worry I am not telling anyone.
51. I wish you a birthday filled with sunshine, happiness, love, and laughter! On your wonderful day, I wish you all the best. Happy Birthday, dear!
52. Another year, another struggle. However, you must constantly remember to smile and have a positive attitude in life, and everything will be great. Greetings on your birthday! Happy Birthday, gorgeous!
53. On your birthday, I wish you the strength to pursue at least one more goal, fulfill at least one more dream, and brighten the lives of at least one more person.
54. May your birthday be filled with joyful hours and memorable memories that you will cherish for a long time. Happy birthday, sweetheart!
55. Soon, you will begin a new journey of your life, and I wish you all the success you deserve in this journey. Best wishes on your special day.
Conclusion:
Birthday wishes can be anything but if you use something that shows your emotions and appreciation and also make the person feel important then that is the best gift you could gift them. These Birthday wishes for girls are some cute and lovely quotes that you can use on your cards, letters, messages and gifts to make your loved ones feel loved.