Happy Birthday to a Special Person: The birthday of a special person can make you feel things on another level. It's obvious that you would want to do things for them that make them know how special they are. And why not? Birthdays are the days these special people were born to be in your lives. It's the day they deserve to know what they mean to you.
We understand that you may not always be the best at words. This is why we have brought to you beautiful quotes that you can use to express your way. Use these birthday wishes for your special someone.
Happy Birthday to a Special Person
1. Today is a very special day marked by the birthday of one of the kindest, most compassionate, and loveliest souls I have had the fortune of knowing. Happy birthday, you! I am super blessed to get the chance to share this special day with you and I wouldn't have it any other way. You know I love you a lot. May God give you all the happiness in multiple folds.
2. Happy Birthday to the person who has made my life wonderful. You have taught to live and love selflessly. I am yet to meet a person as cool as you. I want you to keep smiling forever. I want you to stay happy and receive all the love in this world.
3. Someone as special as you deserve the best birthday wishes ever. It's your birthday and we definitely need to celebrate it. For now, here's a simple birthday wish to this extraordinarily magnificent and incredible human being.
4. The most important person in my life is celebrating their birthday today, and I just want to share with you my love with this special message on your birthday. Happy birthday to you my sweetheart! I'm sending all my love your way! Today is a special day to celebrate your presence in our lives.
5. You have been the Angel in my life that has guided me through the toughest times. Thank you for being the guidance I needed. You have become my strength and I don't want to leave you. I wish wholeheartedly all of the happiness that the world has to give. I wish you insurmountable success in life and true friendship.
6. You are that someone special who has enriched my life with endless happiness. This is why I am taking a moment to wish you on the special day when you were born. There is so much that I need to tell you, like how you are the most genuine person I have ever met, and that you are the most wonderful blessing God could bestow upon me. I would never want to take you for granted. Happy birthday. Sending all my love with these wishes.
7. You know you mean the world to me and beyond. I cannot miss your birthday for the world. I have no materialistic gifts to express how important you are to me. I don't have words to express how much I appreciate that you are here. You bring out the difference in my life that I need to stay happy. In your simple ways, you become sunshine lighting up lives. Have the very best birthday!
8. Count this day as the most special day. This has been one of your best birthdays ever. And throughout this time, I want to see nothing but your happiness. I want to see you smile and I want you to feel special. Packed in this message, are my best wishes and all my love. May you be infinitely happy. Happy birthday!!
9. Wishing a magnificent birthday to somebody extraordinary! All of these wonderful wishes are what you deserve. There's so much beauty in this world that I want you to have. I want your life to be full of happiness and lovely people. Your special day must be celebrated especially. I am sending you my best birthday wishes.
10. Happy Birthday to somebody as special as you who has held the biggest part of my heart. You come to me as a morning sunshine ray and make my day way brighter. Everything seems to be happy and joyful around you because you know how to make people happy. Thank you for being the most incredible person I could come across. Thank you for standing up with me whenever I need you to. Have an eternally happy life.
Check: Birthday Wishes For Husband
Birthday Wishes for Someone Special
11. Happy birthday to the most incredible human walking on earth. I want the best enjoyment for you today because you totally deserve it. You have given me the best times I could have and helped me understand what true friendship is. I know you are far away right now but I still can feel your presence. Have a lovely day with your loved ones!
12. You are a very special person who deserves the whole world's happiness. You and I have a lot of fun together. You're incredible, honest, and a person of a pure heart. The way you love inspires me. I hope you are always surrounded by the best of people who can love you just the same way. Happy birthday, my dearest. Live long and prosper.
13. A birthday is special because you get to celebrate the day that person was born. You acknowledge their birth because without it they wouldn't have been in your life. I want to celebrate the same with you on your birthday. I want your birthday to be joyous because you spread happiness and love endlessly. Make the most out of everything and don't forget to remember me.
14. Happy birthday, my lovely friend. My only wish for your birthday is that you get to enjoy and love life. May all your dreams and fantasies come true. May you be surrounded by all kinds of beauty and happiness. May prosperity never stop reaching you. I hope your road to success never stops and you keep making me proud. Happy birthday dear!
15. The most awaited day has come. I hope this year of your life brings all the good feelings for you. Today is a very special day to let you know how special you are. You are born this day and I am grateful for it. You fill my life with so much happiness and I want to do the same for you. I hope all your dreams come true and this becomes the year you remember all your life.
Read: Best Birthday Wishes for Wife
Happy Birthday to Someone Special
16. I am taking every moment to acknowledge that it was a very special day when you were born. I want to appreciate your presence in my otherwise dull life. Your beautiful heart has made me love you more. You are the proof that goodness still survives in this world. You have all of my admiration and respect.
17. In our journey of life, we get to meet thousands of people but only a few of them can take a special place in our hearts. You are that special person. I cannot have enough words to let you know how special you mean to me. I am just happy that I get to celebrate another birthday with you. Stay healthy, stay happy, and stay blessed.
18. Nobody in this world can mean as much as you mean to me. This is why it's such a special day for me. I hope on your birthday you get to celebrate great moments of love. I hope this special day is full of joy, fun, and happiness. Happy birthday, once again. Live long and prosper.
19. Happy Birthday to the person who has always been the sunshine in my life. You make me feel wholesome and peaceful. Today, I wish whatever you desire will be laid in front of you. I hope all your dreams find their way to you. I know there is some distance between us but that doesn't mean our bond is weak. I wish you a very warm birthday, one that is full of happiness and love, and I hope I can be there for you on your next birthday.
20. How do you wish a person who is already a blessing to you? You are God's gift to me and I want to thank Him on this birthday. I hope your birthday brings you everything good that you desired. Your birthday is no less than a holy day for me. It's the day for me to connect to God so that I can thank Him for sending you into my life. I really cannot imagine a single day without you.
21. Can I ever thank God enough for sending such an amazing person into my life? Thank you for always having me and always trusting me. Thank you for believing in our friendship. I hope your birthday brings just as much love as you bring to my life. May God help you overcome all the obstacles in the path of your dreams. Have a beautiful day.
22. I pray for you on your birthday. I want you to feel the sunshine that you are. I want you to feel the light that you spread in our lives. I want you to feel the love of God everyday. I want you to know that there are so many of us who will be there for you every time you need. Happy Birthday.
23. Hey, you. Happy birthday! I know I promise that I would be there for you on this birthday and here I am. I hope I can make this day 10 times more special because that's what you deserve. This is a new chapter in your life opening up and I want to celebrate it with all my heart. Know that, even though things are changing, you will still have me.
24. Thank you for being my favorite company at every party and every step of life. Thank you for being a part of all the crazy things that I do. Thank you for understanding me like nobody else. Thank you for making my day special even when they are dull. Happy birthday. I hope I can help you in your life the same way.
25. I am so thrilled to be a part of your birthday. I want to have this moment with you to let you know that you are really special. I don't know what happens in the future. But, I know I have the present with you today and I am wrapping it up with my best wishes. Happy birthday.
Also Read: Birthday Wishes For Girlfriend
Special Birthday Wishes
26. Birthday is the most special day of life. You can see how far you have come from where you started. You can see that there is progress in your life. I want you to make a wish. I want you to wish that you never stop being who you were, that you will love yourself more, and will care less about what others have to say about you. You are a brilliant person.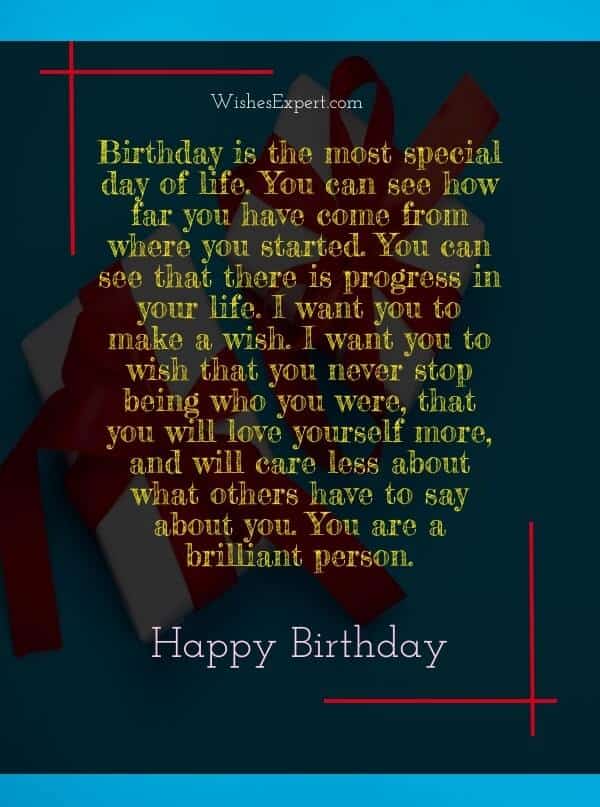 27. I don't really wish everyone a warm birthday wish. It's just special once you get that from me. And you are the most special. So, I am sending not just my wishes but also my prayers. I want to fill your heart with my love. I don't ever want to see you cry or be hurt. Happiness is all I wish for you.
28. There's so much on your birthday that I want to give. I want to give you endless amounts of love, I want to give you happiness and chocolates, and I want you to know that you are there for me as much as I am there for you. It's a special day, so do celebrate it with all your love. Happy birthday.
29. I am sending my best wishes to you. Even though I am unable to send this wish in person, know that I am praying for you. I want you to have a warm birthday. I want you to feel the love that I have for you. Happy Birthday.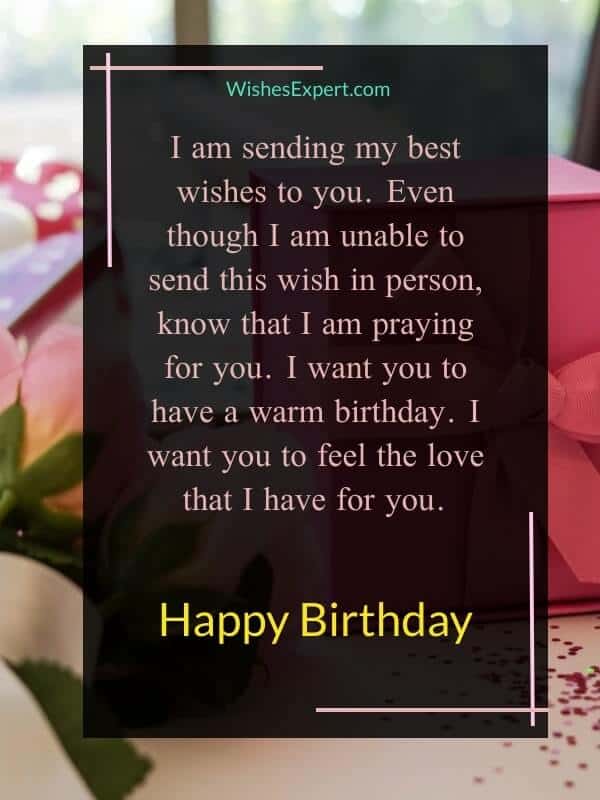 30. I wish on your birthday that you get a genie who can grant you all the things you desire. Dear, I can always help you complete all of your wishes. I hope I can make you happy and can be the friend that you see in me. I want to be the person you want me to be. Your importance in life is irreplaceable. Have a beautiful birthday.