Birthday Wishes for Uncle: An uncle in your life can be your father figure, a friend to you, or even the big bro that you have always cherished to have. And like any birthday, your Uncle's birthday is special and close to your heart.
Is your uncle's birthday approaching soon? Are you still wondering what to say to your uncle that would make him feel special and important on his day? Well, we have got the perfect sets of birthday wishes for uncle so that you can give him your heartiest wishes. Use these happy birthday uncle quotes to send him lots of love and well wishes.
Birthday Messages for Uncle:
#1. I am thankful to God for sending such a friendly uncle like you into my life. I wish you a happy birthday as I confess you will be my inspiration as long as I survive!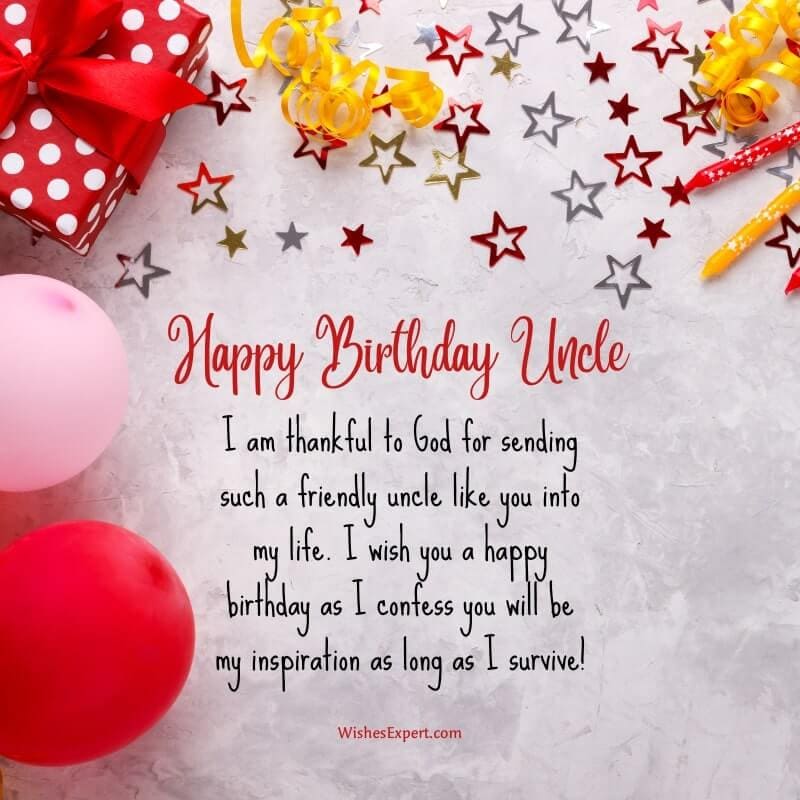 #2. My dearest uncle, I hope all of your dreams come true. Deep down, from my heart, I wish many happy returns of the day to you.
#3. You are the most loving, wonderful, and fascinating man, and like you, I have seen only a few. Let you enjoy a happy birthday and a splendid day, with love from your nephew.
#4. I wish the happiest birthday to the trendsetter and future innovator. Your presence has made my life a thousand times better, and I hope you live your life with immense love and care.
#5. I wish a happy birthday to my dear uncle, a lovely human being. I hope you have an exciting evening with happiness, passion, love, and everything. For all that you do for others, you deserve all the lovely things!
#6. May God grant all your wishes today! Let me wish a happy birthday to the sturdiest man I have ever met on my way. I know it will be an eventful day!
#7. I know how much love is there in those caring eyes. All I hope, this time, you have an amazing birthday filled with a surprise!
#8. To the most handsome, strong, and bright man I know. Happy birthday, dear uncle, and all I pray is that you continue to grow. Never worry about the future, and go with the flow.
#9. Life gave you all tough shots. You managed to smile while you fought. Happy birthday to the wanderlust I know! May this year also gives you a reason to glow.
#10. May all your dreams come true and life becomes as you expect it to be. On your birthday, my dearest uncle, I wish you love and strength from me.
Happy Birthday Uncle:
#11. I have always learned from you that no matter how difficult life becomes, we should never stop moving ahead. Happy birthday to you, uncle. I hope you move to further success in life.
#12. Happy Birthday to my favorite Uncle. I hope you live a long life and cherish all the happiness that comes along with it, starting from the party tonight.
#13. Happy Birthday Uncle. Wishing you the warmest and the brightest birthday. You have been a wonderful part of our family and I can't think of anything that can replace that bond.
#14. Hello, Uncle. Today's your birthday and I take it upon me to wish you a grand and happy birthday. I hope on this birthday you get what you wish for.
#15. My dearest Uncle, you have been a prominent presence in my life. Happy birthday to you, for this was the day you were born to be a blessing for us.
#16. Uncle, I have always seen you as my father and I look at you as the guidance every child needs. Happy birthday to you. I hope you stay happy forever.
#17. There are many things a birthday can bring along with it: happiness, togetherness, warmth and positive vibes. I hope you have the best of all.
#18. Each year I wish you on your birthday and let you know how much I love you, uncle. You were there as a father-figure whenever I needed you. Thank you so much.
#19. It's your birthday!!! Happy birthday, uncle. This is a very beautiful day to enjoy all that life has to offer. Have a beautiful birthday ahead.
#20. Happy birthday to the most unique person I know. Uncle, you have always gone beyond the normal and carved new paths for us. Thank you for such amazing things.
Read: Birthday Wishes for Father In Law
Birthday Wishes for Uncle:
#21. Happy birthday to you, uncle. We found another awesome reason to celebrate your amazing existence. Let's enjoy the day and make the most out of it.
#22. On this birthday of yours, uncle, I pray that you get to live a long stress-free and a happy life. You deserve all the happiness. Happy birthday, once again.
#23. Happy birthday, uncle. You have been a great friend to me apart from being just an uncle. You have taught me so many things in life. I am so lucky to have you.
#24. Here's the warmest birthday wish to the most amazing uncle in the world. You have always treated me as your son/daughter and I will forever be grateful for that.
#25. Being your nephew is amazing because I get to spend the coolest time with you. You have inspired me to become a better person. Happy birthday, uncle.
#26. I am pretty sure all of those motivational talks of yours have played a huge role in shaping my life for better. Happy birthday, uncle. Today, I will celebrate your existence.
#27. Happy birthday to my awesome uncle. Today is all about you. It's a special day and I hope you know how special you are to all of us.
#28. Words will never be enough to describe how much respect and love I hold for you, Uncle. So, here's a tiny birthday wish to let you know how much you mean to all of us.
#29. Happy birthday uncle. I hope this special day gives you the most wonderful feelings and fills your time with joy. I hope you have a very bright day today.
#30. To the coolest man in this world, happy birthday uncle. You are the best buddy I could ever have and I am totally excited about making this day even more special for you.
Read Also: Birthday Wishes For Coworker
Happy Birthday Uncle Wishes With Images:
#31. Not all heroes wear capes. You are a hero to me, uncle. You have inspired me and made me realize that I want to be a man like you. Happy birthday to you.
#32. Happy birthday to my handsome uncle. At your age, you still look amazing. Keep up with your vibrant spirit and stay happy always.
#33. Dear, uncle. Happy birthday. On this day, I am taking a moment to thank you for caring for us when nobody else did. Thank you for being the nicest and the most jovial guy we know.
#34. Dear uncle, I hope you never stop getting success in life. We are so proud of you. Happy birthday and lots of love from all of us.
#35. There are very few people who know how much you worked hard to gain the successful position you are in today. Today's the day to celebrate your inspiring existence. Happy birthday, uncle.
Try: Birthday Wishes for Son in Law
Funny Birthday Wishes For Uncle:
#36. My dearest uncle here's a very fun and happy birthday wish. I have always felt immense respect for you and I adore you for everything you do. I hope you have a wonderful birthday.
#37. Dearest uncle, happy birthday to you. I hope you prosper both in health and wealth. You have been an amazingly funny person and I hope you continue to be so.
#38. I hope everyone finds an uncle as cool as I did. I have so much fun with you. Thank you so much for everything. Happy birthday to you.
#39. Dear uncle, your impact on our lives is pretty strong. Your philosophy of living life to the fullest has always inspired us to listen to our hearts. We hope you never stop inspiring people.
#40. No family get-together is complete without your sense of humor. Uncle, we are so glad that it's your birthday. This definitely calls for big family celebrations.
Final Sayings:
The bond you share with your uncle is always special. It is all about love and care. A birthday is a special event in everyone's life and birthday wishes are reminders of how much you value someone's existence on earth. Everyone, no matter how independent a life they lead, at the end of the day, is human and loves to be loved and cared for, and your one single yet heart-warming wish can make their day.
If you want to send birthday wishes in a unique style to your uncle, who is always there for you as a friend, philosopher, and guide, send them the 'happy birthday uncle quotes' mentioned to express how much you love him and value his presence in your life.