Doesn't it just feel like it was just yesterday when your baby girl was born? Or you got to hold your niece in our hands for the very first time? Babies grow up fast. While it can make parents a bit teary-eyed, little girls look forward to celebrating their birthdays in the best way possible with the love of their family.
If your little girl is growing up and her birthday is just around the corner, then we are going to help you wish her in the most heartfelt way possible, instead of just Happy Birthday, baby girl", which will brighten up her day.
Heart Touching Birthday Wishes for Baby Girl:
1. I still remember the day when you appeared in my life like a bundle of joy. Happy birthday baby girl and you look adorable as a toy. Hope the Lord fulfills all the wishes of my little angel. I hope you have my passion for travel.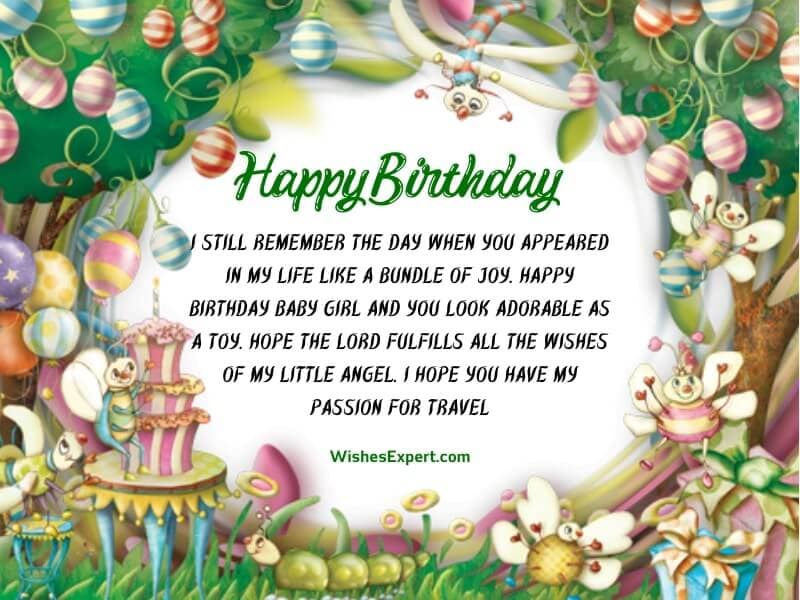 2. Your presence in my life is like the biggest blessing. Your smile warms my heart, and I feel lucky to call you my daughter, darling. You look adorable as you twirl. Happy birthday to my baby girl.
3. Your giggles and tiny footsteps are the best music I hear after coming home from work. I seek solace from you when life sucks. Lots of love to my baby girl. Happy birthday, doll.
4. I would love to give you the most precious thing I have on your birthday. But unfortunately, I cannot because you are the most valuable thing to me, and I know you will always stay. Baby girl, wishing you a happy birthday.
5. The day you called me Mom for the first time, my heart melted in a euphoric feeling. I am thankful to God to have you in my life, darling. Happy birthday baby girl and you look adorable while speaking.
6. My stress vanishes with my angel cuddles and kisses. Thank you for being my happiness. Happy birthday, baby girl, and thank you for taking away all my weariness.
7. Seeing you growing up in front of my eyes is such a merry feeling that my words might fail to explain. I wish you bloom like the prettiest flower and stand tall to all kinds of pain. Baby girl, happy birthday to you again.
8. Happy birthday my partner in crime. Your naughty ideas keep our household buzzing every time. Let's pull more pranks on mum and make her yell. Papa loves you, my baby girl, and wishes that in every field, you excel.
9. Your eyes hold my stars more than the entire galaxy. Your laughs have more tunes that anyone can fancy. You are my little angel who makes my days dazzle with her presence. Baby girl, enjoy your birthday with zero silence.
10. You may not have a crown on your head but remember, you are my little princess. Happy birthday baby girl and you look adorable even while making a mess.
Read: Happy Birthday Little Sister
Happy Birthday Baby Girl:
11. 5 years ago you came into our lives and changed it forever. You have brightened up our days and made us proud in ways I can describe. Happy birthday my baby girl. We hope you have countless more birthdays with people you love.
12. Happy birthday to our cute baby girl. Mommy and Daddy are so grateful to have you in our life. May you have many more.
13. Happiest Birthday to the little angel in our lives. You are truly sent from the heavens to make our lives cheerful and more meaningful.
14. I wish you all the happiness in the world. Nothing is more precious than a big smile on your cute little face. Happy Birthday, my baby.
15. Warmest and sincerest wishes to the cutest baby girl I have ever seen. You have filled joy in our lives. Long live, honey. I love you to the moon and back.
16. Happy birthday, little princess. May your days be filled with magic, happiness, and a dash of glitter.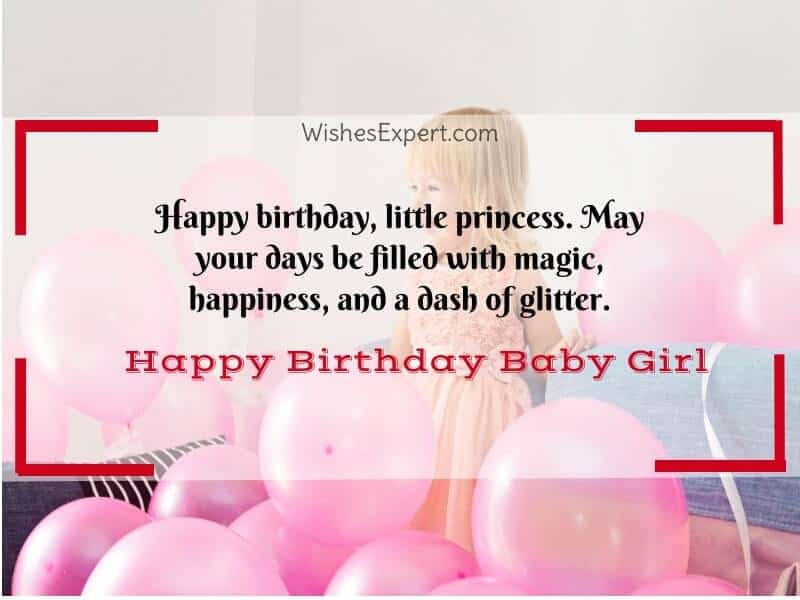 17. Countless hugs and kisses for my baby girl. You are the light of our life and the reason behind our genuine smiles. May you live a long, happy, and healthy life.
18. Happy Birthday, baby. Wishing you a safe, prosperous, healthy, and joyous life. You deserve everything best in this world!
19. I can't believe you are growing up so fast. It was just yesterday when you came into this world. I wish you all the best in life. Happy birthday, my princess.
20. Happiest birthday to the cutest daughter of the luckiest mother. Holding you for the very first time was the best day of my life. Since then I have never seen a day that you can't brighten up with your beautiful smile.
Read: Happy 2nd Birthday Wishes For Boy And Girl
Happy Birthday Little Girl:
21.You are a sweet little gift from God who has filled our lives with peace. I never knew someone could make our life beautiful. Happy Birthday, our little girl.
Happy Birthday, my little bundle of joy. May you conquer the world like you have conquered our hearts. Wish you all the best in life.
I can't believe my little girl has turned [Add number] this year. You have grown up so fast. Happy birthday my little angel. You will always be a little girl to your Mommy/Daddy.
Today you have completed [Add number] with us and trust me those years have been the best of our whole life. Happy birthday, baby.
Sending countless blessings and sincere wishes your way. Your aunt loves you. Can't wait to hold you in my arms again.
Happy birthday, Princess. No matter how much you grow up, your dad will always be there for you and protect you because you will forever be my little girl.
You are a reminder of how beautiful and joyful my life is because of you. Happy birthday sweet little girl.
Each year you are growing cuter and making us fall more and more in love with you. You are a pure angel. Happy birthday, my baby girl.
I hope you read this when you grow up and realize how immensely proud we are of you since day one. You deserve the best things in the world. Happy Birthday!
Hey little girl, thanks for adding sheer joy and sweetness to our lives. You are the best thing that has happened to us. Happy Birthday. May you have many more.
Take A Look: Happy Birthday Wishes For Kids
Birthday Wishes For Little Girl:
Happiest Birthday to the sweetest little girl in my life. I cannot imagine a day without you ever. You deserve the very best in this world and you will find me beside you every time you need it.
I wish you nothing but happiness, contentment, and prosperity in life. May you grow up into an ambitious and loving young woman. Happy birthday, baby.
I can't explain how excited I am about your birthday. Can't wait to see you growing up so beautifully. I love you so much, my little girl. Happy Birthday.
With such a small size, you have a generous and big heart. You have filled our lives with joy and I can't thank you enough for that. Happy Birthday, little angel.
God surely made you with special love and care that you have passed on to us. Every moment with you is just beautiful. Happy Birthday.
Also Read: Birthday Wishes For Daughter In Law
Happy Birthday, My Baby Girl:
Happy Birthday to my baby girl. You are a gift sent from God to make us smile brighter every single day.
May everyone you meet shower you with love, sincerity, and positivity. Happy Birthday to my cute little girl. I love you.
Happy [Add number] Birthday, my little princess. May you have a long, successful, happy, and beautiful life. God bless you!
I pray that your smile grows bigger as you grow older and never fades away. Your smile keeps our life shining. Happy birthday to my beautiful baby girl.
Thank you for making the luckiest us the luckiest parents in the world. It is nothing less than a blessing to have you around every moment of our lives.