Baby Boy Announcement: If you are looking for the best baby boy announcement? Your search is officially over, as we have curated some of the best quotes to let the world know of your big announcement.
God has blessed you with a little life and it's your time to celebrate it now. If you're scratching your head as to how to pass on this good news to others, don't, because we've come up with these baby boy announcement messages that you can send to your family and friends to let them know that your home will soon be filled with little giggles and loud cries.
Let the others know how your 9-month-labour was so worth it if you're the mother of the baby boy or else how do you feel as taking care of your cranky, angry, and moody wife is now over? Share this good news with well-written messages.
Baby Boy Birth Announcement Text Messages
1. And it's blue. Our boy has come up into this world to lighten up our hearts. The moment is precious and we wish to celebrate it with precious beings like you; please come.
2. The pain this little boy gave was all worth it when I first held him in my arms and I felt as if my life was now about to change for the better.
3. Guess who came into this world by breaking my back? But now as this little boy is here, I feel like I would've given up so much more if required to bring him here.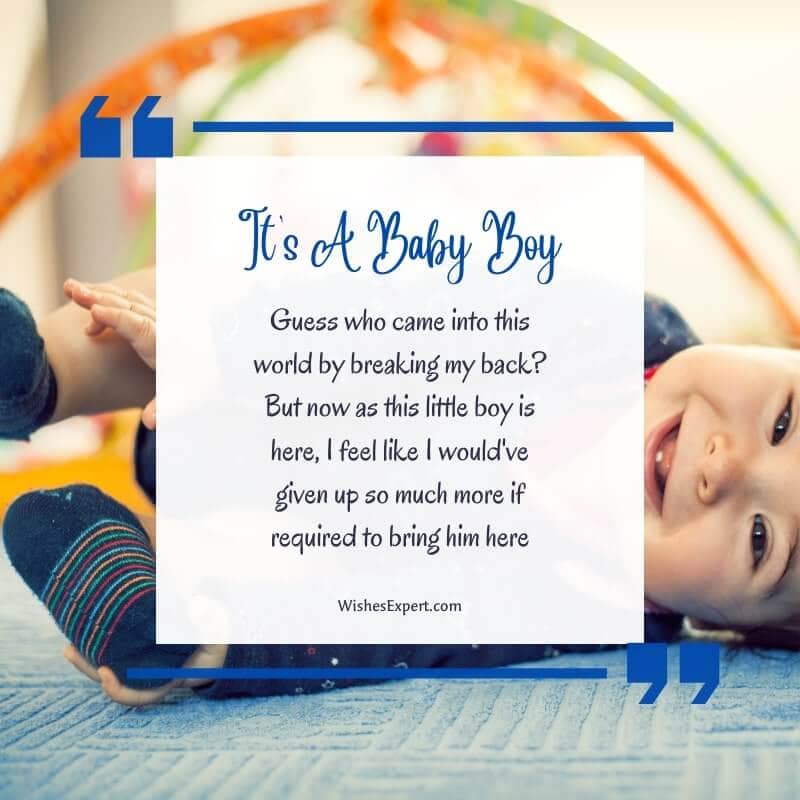 4. Blues will fade away now as this baby boy has come into our lives, we would be on the uphill for a few years and he would have all our dates on the calendar.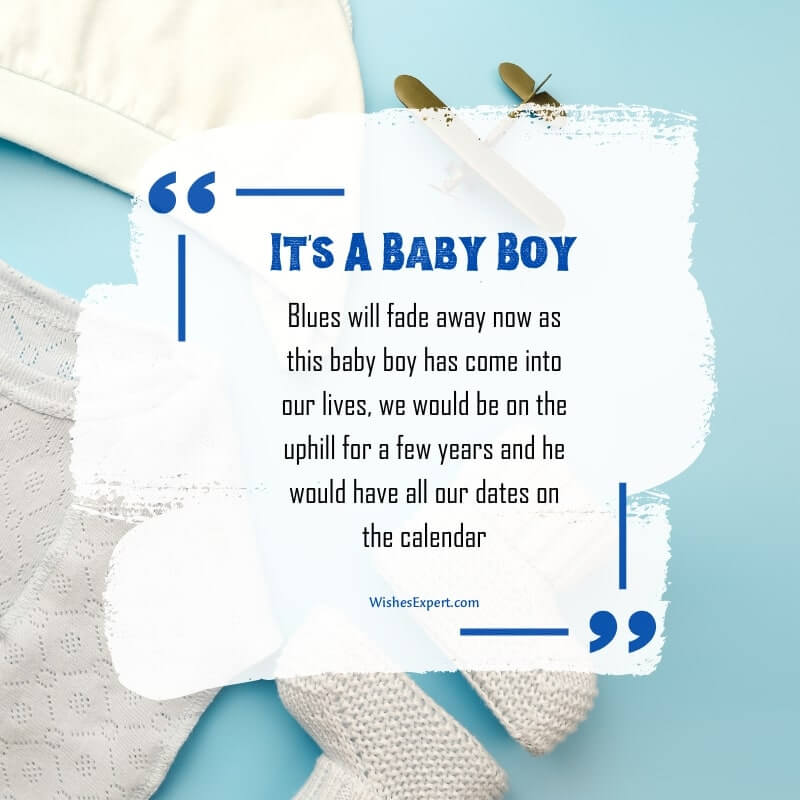 5. (His father's name) always wanted a baby boy and now he has one, I might now be babysitting two beings at the same time, wish me luck.
6. The birth of this baby boy has made us realise that we were never running out of time, and that divine timing was always at play.
7. In a few years, remote cars will be flying around in our household. I'll be seeing sketches of superheroes everywhere. Come, visit us to see our little boy before he turns into a little monster.
8. We're thrilled and emotional to tell you that we've expanded our family to three now and that for the years to come, you'll have to come to our baby boy's birthday parties without any miss.
9. A little cheetah has come out of my belly after having me lose all my bladder control and everything is stretching out from everywhere on my body but it was a beautiful experience.
10. He has come out of my belly finally to give me a break from all the nauseous afternoons. We're happy. But I'm aware of the fact that from now onwards I'll rarely have peaceful mornings.
Baby Boy Announcement
Oh my god!!! We cannot keep calm. We are having a baby boy! Look out, everybody! A little angel is coming soon.
I guess we are trying to tell you that we'll be losing a lot of sleep in the next few months? Because we're having a baby boy!
Ten little fingers and ten little toes are currently being manufactured in mommy's belly! A baby boy is coming!
After all our years of togetherness, we are so happy to let you know that a baby boy is joining us soon.
We have been a family for quite some time, and now it is time for a little someone to come share our love! A baby boy is on the way.
Our family of two is now going to become a family of three! That's right. We are having a baby boy!
A little bundle of joy has decided to join us and become a part of our lives! We are pregnant and expecting a baby boy!
The greatest joy in the world is holding your baby for the first time, and guess what? We'll be holding our baby boy soon!
We have decided to bring a tiny human to life so that he can be loved and cherished by all of you! Prepare yourselves!
I hope you are prepared to love a little person with everything you have!! That's right. A little baby boy is on the way.
Check: Pregnancy Congratulations Wishes And Messages
Baby Boy Birth Announcement
We are so excited to let all of you know that we have given birth to the most handsome baby boy in the world!
Everyone thinks their baby boy is the best, and none of them are wrong! Please come say hello to our baby son.
Hear hear!! My beautiful wife has given birth to a beautiful baby boy! Both mommy and son are fine and currently resting.
I did not know love until I held my baby boy for the first time in my hands. Now he has my heart and my soul.
This is the happiest day of my life!!! We have just brought to life a beautiful baby boy and would love for you to join in our celebration.
These were all the baby boy announcement messages that you need to save. Save as many as you can because you might as well send everyone different messages. This is a gift you've received from the divine and we hope that its light and love stay with you to be a big, happy family. Cherish this moment and take as many pictures as you can and then you can even use these messages as your IG posts' captions. Lastly, sending our warm congratulations to you.
Read More: Gender Reveal Captions