If you're in search of messages that you can send to her to tell her to take care of herself simply because you love her then the below-mentioned take care messages for girlfriend are just for you. Affirm your love in ten thousand different ways and never ever let any instances make you forget to remind her that how precious she is and how much she means to you!
Nothing speaks louder than action but sometimes words speak a ton when actions can't be taken simply because you're at work or at a long distance. In such scenarios, words indeed do a lot of work. Once you hit the send button, you can thank us later.
Heart Touching Caring Messages For Girlfriend
#1. You matter the most to me hence please take extra care of yourself and your health. I'll keep on checking on you to see whether you're doing so or not!
#2. Keep a daily track of your mental, physical, and spiritual well-being. Only sound health and choices can give you peace and happiness, not even me. Hence, take extra care of yourself.
#3. Sadly, taking care of your health is a task you need to be in charge of. I'll be there to help you but in the end, you'll learn to take care of yourself.
#4. I'll be at your doorstep on one call. I'll be there to provide you with everything you might require, whether it's emotional support or gifts, but please take care of yourself and your health.
#5. When everything around you seems overwhelming, take a breather. When you feel exhausted, take a nap. No matter what's happening around you, if things get tough, don't forget to take care of yourself.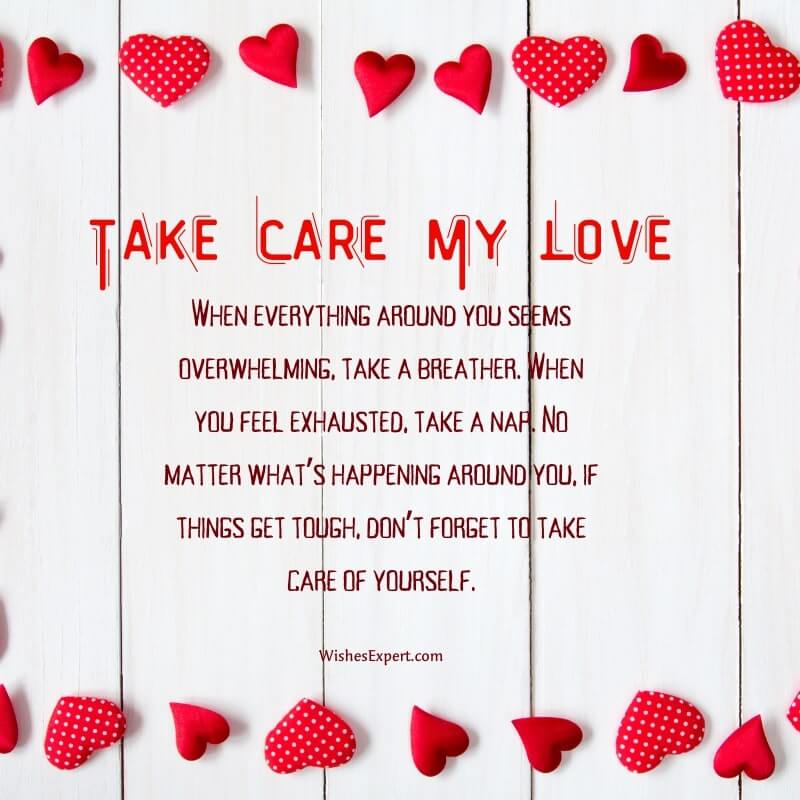 #6. You're there for everyone else but don't forget to show up for yourself. Fill your own cup full first and also let others pour in love. Take care, hon.
#7. You're the most important being in my life and taking care of you is my pleasure. However, one needs to learn to take care of themselves. I want you to look out for yourself too.
#8. Sometimes, when I look at you, I think to myself that I love her so much that I want to take care of this woman in every way possible and if you allow me, I'll.
#9. You're so gentle with others but harder on yourself. I want you to look at yourself from my perspective, fall in love with yourself, and then allow yourself to be demanding love and care.
#10. Say goodbye to tiresome days. You're so precious to be living a dull life. Allow me to show you the rainbows, treat you like a queen, and take care of you like a daddy.
Read: Love Messages And Texts For Girlfriend
Short Caring Quotes For Her
#1. Never overthink when it comes to us. Don't ever doubt my love for you. I care for you more than you think.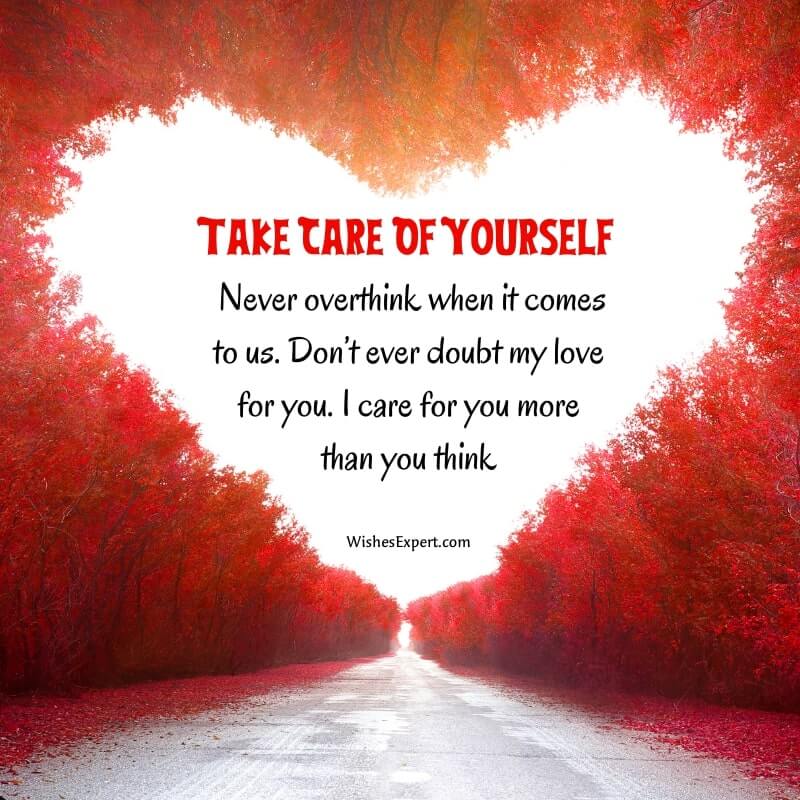 #2. Honey, I hope I'm on your speed dial because I love to be there for you whenever you need me.
#3. This is a gentle reminder that you can count on me for anything.
#4. I can never run out of love for you. You'll be my priority forever.
#5. I'm trying to be that nurturing and caring boyfriend for you that no one else can be.
Read More: Good Morning Messages for Girlfriend
Take Care Wishes For Girlfriend
#1. Hearing that you're sick makes my day loom. I'll be there soon to take care of you but till then you have to do that for yourself.
#2. Whether it's a gloomy day or a sunny one, as long as you're having a good one, I can find my silver lining. You truly are my source of happiness. Take care.
#3. I'm fortunate enough to have you, to whom I can go as soon as my day ends. As much as I look forward to being nurtured by you, I love to take care of you.
#4. Don't skip your meals. Don't forget to stay hydrated. Take deep breaths and do your yoga. Don't forget to take care of yourself in every way possible.
#5. Honey, prioritise yourself and everything that makes you happy. Count me in or out but I want you to have as much self-care time as you need to feel good about yourself.
Also Read: Cute Things to Say to Your Girlfriend to Express Love
Take Care of Yourself Message for Girlfriend
#1. Did you see the clock? It's time to take care of yourself. It's time to pamper yourself and have a low-key time with yourself. I hope you let that sink in.
#2. I hope you took your medicines today. I wish I was there to take care of you but sadly I'm not so till I come there, be a good caretaker of yourself, okay?
#3. Take your vitamins and don't forget to have your "me time". Remember whatever the day is, taking care of yourself should be your biggest priority.
#4. I've ordered your favourite food. It'll be delivered soon. I thought this would turn your bad day into the best one. Take care. And let me know how the food was.
#5. I wish I could make your day better by simply being there for you but soon I'll be there. But till then take care.
#6. Your well-being holds the utmost significance to me. I want you to reserve your energy for your tasks and yourself and not give it away to doing something for everyone else.
#7. Your happiness is my priority and yours should be too. No one and nothing is more precious than you and your health. Take care.
Also Read: You Complete Me Quotes
These were the take care messages for her that we hope you liked and found some messages that you couldn't resist but save. Remind her that you love her and care for her regardless of anything. Tell her to take care of herself when you can't. Make her giggle and feel lovey-dovey by sending her these messages and you can then tell us later how it goes.
Don't forget to subscribe if you haven't already to get the updated wishes and greetings delivered to your mail.