You Complete Me Quotes: It is said that the romantic relationship between couples is made in heaven. If you think your better half is someone special you don't want to lose, remind them what they mean to you with 'you complete me' quotes. When you share space with a new person in your life after your parents and family, that person needs to be loving and caring and embrace not only you. But also your life.
With that person's presence, you feel there is a shoulder to place your head when you need to. Looking at those eyes, you can feel what's already read in your mind. True, the road of love is not all smooth. There are trials and tribulations like other relations as well. Yet, it's a connection of mutual understanding, faithfulness, camaraderie, and a bit of sacrifice for each other that makes it all the more beautiful.
'You Complete Me' Quotes:
#1. Remember, our first kiss? It is something that, every day, I miss. Dear, come home soon and hug me under the moon. Don't you feel with you, my heartbeat? After all, it's with you, as you make me complete.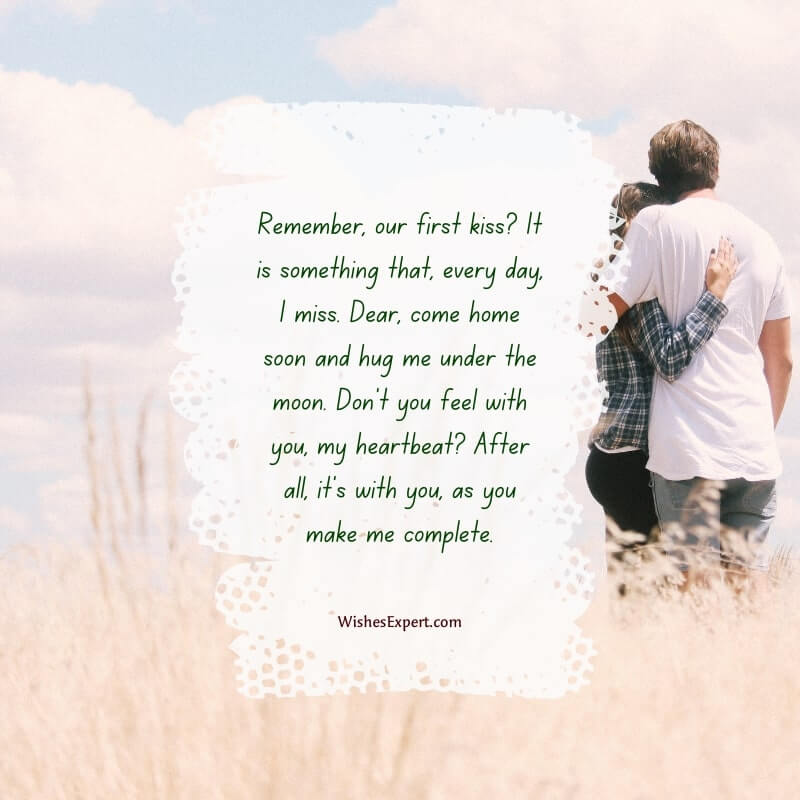 #2. Never had I come across anyone as friendly as you. How you became my best friend, I still have no clue. Work at the gym and get strong. You complete me, and I wish you happiness lifelong.
#3. Whenever I stare at you, I am thankful to God for giving me such a wonderful person in life. Each day, I love you more, my beautiful wife! You complete me, so without you, I cannot survive.
#4. With you by my side, each day feels like a new adventure. You are my sweet companion, as lovely as a flower! You complete me, and you are my better behalf, dear!
#5. Darling, you don't let me miss my baby's father. I wish we could spend this life together. You complete me, and the proof is our beautiful daughter. Our baby has brought us more color.
Read: You Deserve The World's Sayings
You Complete Me Saying:
#1. Starting from sharing books and class notes, we have come a long way together. Your company has made my life delightful and fair. With our hearts, we share a pillow now. I wonder, time flies so quickly, but how?
#2. As days passed, we became each other's biggest supporters. We share problems and try to make our life better. Now you know why they say we complete each other.
#3. I feel so lucky that you are here. What else to say, but I love you, dear! You have my heart because without you I am incomplete, dear.
#4. You stand by me, hold my hands strong on my bad days. Your love and care wane the darkness and make them luminous like sun rays. You complete me with your lovely ways.
#5. You are a fellow who understands me and fills my life with treasure. Darling, your love is as comforting as mother nature. Your heart completes mine with immense care.
Read More: I Am So Lucky To Have You Quotes
Romantic You Complete Me Quotes:
#1. I don't think love happens at first sight. Only liking happens, which makes you excited. We are not two bodies but one soul, dear dove. Because we have transformed our friendship into pure love.
#2. Life is for living, and love is forgiving. Friendship makes life beautiful. Love makes it faithful. Thank you for being my friend for life, for completing me, and for helping me survive.
#3. I am grateful to have you in my life. You cannot cut my heart with a knife. Because within me lies your heart. You complete me, and I complete you, sweetheart.
#4. You make me cry and then cry yourself, and it is pure devotion. You make me complete with all your emotion. Your love means pure admiration.
#5. If you ask me how many times, I think about you. My answer will be the number of times I blink my eyes without any clue. You complete me and my love is what you will always see.
Check: Paragraphs For Your Crush
Cute You Complete Me Quotes For Him:
#1. I don't want a life like heaven because I have got you with, I am love stricken. I don't want to dream anymore because I have achieved you as my goal and now, we are a team.
#2. Don't waste your time finding a true lover. I found my love when, you, I rediscover. You complete my life, by making my life so beautiful, dear.
#3. You complete me, and we complete our relationship. Everyone becomes a poet when in love because most of the happiness in our life comes from love in partnership.
#4. Let us float through sailing our love boat. Let us live together in an unknown land where there will be no one against love to vote. You have stolen your heart with your innocence. You complete me with your presence.
#5. You are my golden sun, my east sky's bright radiation. I do not know why I like you so much in every situation. You complete me with your love and admiration.
You Complete Me Quotes For Her:
#1. Life is going through an irritating chapter. Still, I am turning the page, thinking you will be there with me in the next chapter. After all, you are completing me and always will be there.
#2. I know you are in my destiny because you are completing me, believe it or not. Thus, yes, you were there, are there, and will always be there in my heart, no matter what.
#3. Love is while walking alone on the road, you find your soulmate. I am lucky to have you in my life, who completes me and gives me a reason to celebrate.
#4. When I say I love you, it is not because you have become a habit in my life. I say it to make you aware that you complete me and my life.
#5. Thank you for making me feel the true essence of love. I am the luckiest person because you complete and keep me, all above.
The memory of the first meeting between you and your partner is something that you still cherish. From the first date at the cafe to the day when your partner leaves the beloved city to pursue her dream seems just yesterday. It is a tough time when the person we love stays far. We can't see them, but we can feel their presence in our life. In such situations, we can write to them. Celebrate each day as valentine's day to showcase your love and express your feelings with 'you complete me' quotes.