Cute "take care messages for boyfriend" can be a stepping stone towards an even more splendid relationship that you already have. Mentioning some of the fun things you do together and promising him to do precisely those things again once he is all right can be one of the greatest shows of support during this trying time.
The messages should be funny as well as enthusiastic to show him that you are always with him even if you are not there beside him physically all the time. These messages will remind him that you are always thinking of him no matter where each of you is. The goal is to show love when he most needs it, and it can be the perfect gesture.
Cute Take Care Texts For Boyfriend
#1. You know it takes two people to have bickering matches late at night, so you must get well soon to return to our entertaining fights.
#2. It isn't as fun to eat pizza and laze around as it used to be. I don't want pizza now, even if someone offers it for free. Get well soon, and take care of yourself from eve to noon.
#3. Are you just lazy so that you don't have to go to work and can sleep because I miss you so much that I'm ready to flip? Take care of yourself while enjoying life sip-by-sip.
#4. I don't feel good without my morning cuddles. I wish I could be part of your comfort bundle. I am waiting for you to recover as fast as possible. Take care, dearie, and I love you, sweetie.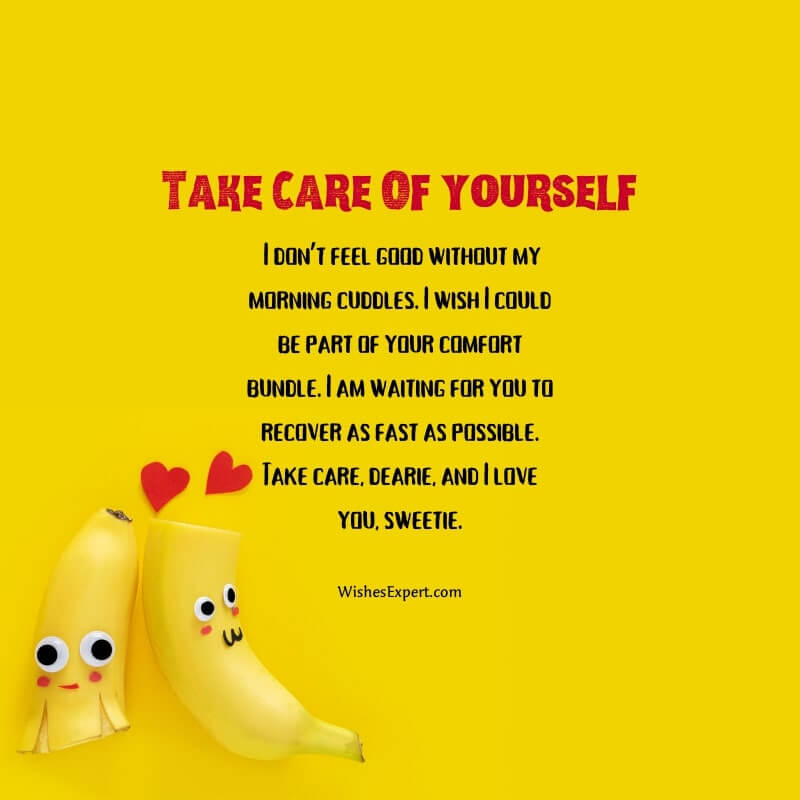 #5. It has been a long time since we have been on a proper date. Without you, I do not feel great. Rest well, take care, and get well soon because I have enough tales to tell.
#6. I hope my messages find you in good health. I hate that I cannot be with you when you need me by your side for strength. Get well soon, and then we will have fun at noon.
#7. I know I'm not a great cook but I hope you enjoyed my little bear muffins, and the sandwiches with all the tasty stuffing. Get well soon my dear, and don't forget to take care.
#8. I'm always praying that you will get back on your feet very soon, but until then, I'll sit with you and watch our favorite cartoon. Have patience and strength, and take fantastic care of your health.
#9. I know my presence is the best medicine you can ever have, dear. You still need to take care of yourself, I fear. Stop being a menace and recover soon without losing patience.
#10. I promise to spend most of my time with you. But for that, you should get well in a day or a few. Get well soon, dear, and don't dare to forget to take care.
Related: Love Messages & Quotes For Boyfriend
Short Caring Quotes For Him
#1. Dear, love yourself so much that everything else falls in line. Life will be fine. Loving yourself is necessary to get things done in this world, dear. So, self-care is the best way to take care.
#2. Dear, I know what you have gone through, but now it's time to breathe and let go. At this moment, it is natural to feel low. But that doesn't mean you won't take care to feel better.
#3. I'm lucky to have a partner like you, and whenever things go wrong, I'll care for you. Our wills are the gardeners of our garden. Together we will lessen every single burden.
#4. Accept yourself, continue to love yourself, and keep moving forward like you are the king of the town. Fly, and give up whatever weighs you down. Take care, and nurture yourself to feel better.
#5. Be who you are and say how you feel because the person who minds doesn't matter, and the person who matters will never mind. Take care of your health, and your health will be kind.
Read: Get Well Soon Messages For Boyfriend
Take Care Wishes For Boyfriend
#1. Darling, I want to tell you that don't sacrifice yourself too much. No one will care for you if they know you are so soft, and this trait of you will take from you so much. Take care of yourself, dear, because no one else will ever bother.
#2. Dear, I know how much you love me and everyone out there. But you should know that loving oneself is the beginning of a journey of a lifelong romance, so you should know to take care.
#3. Honey, after several disasters, you have recovered and discovered something that nourishes your soul and brings you joy. I'll ask you now to care enough about yourself, and make room for it, my Boy!
#4. Being solitary is the core of the art of loving. It also demands self-caring. If we can be happy alone, we will be content with others, too, without compromising.
#5. Keeping good company, reading good books, and appreciating good things will help to cultivate your body and soul. Take care and remain straightforward in life, which will help you achieve your goal.
Read More: Good Morning Messages For Boyfriend
Take Care Of Yourself Message For Boyfriend
#1. You know no one can live without breathing fresh air, and you are that fresh air of breath in my life. Take care, most handsome alive.
#2. I feel immense pleasure to be with you. I look forward to spending more and more quality time with you. You are my only true king. Take good care of yourself without sacrificing.
#3. My reasons behind loving you this much are endless. You are a wonderful person, and I am lucky to have you in my life filled with sadness. Take care, my love, and stay positive all above.
#4. After my parents, you have been the best support in my life. I can't imagine for a second living without you be precise. Stay well, dear boyfriend, and showering you with lots of love to mend.
#5. I pray to God to bless the love of my life with good health. I hope you have a good day filled with wealth. Caring is the sweetest way to show love to take better care of yourself. Remember, I love you more than I love myself.
#6. I am always by your side, and you will always find me there when you need me because you are the best achievement of my life in every degree. Take care and stay happy, dear.
#7. Do not be angry, and rest properly. Your smile is the cause of my happiness, honestly. So, take care and keep smiling, and stay with me forever, my king.
Check: Cute Things to Say to Your Boyfriend
Funny Take Care Messages For Boyfriend
#1. Listen, you need to take good care of yourself because it is hard for me to find another boyfriend like you. I am just kidding to be true. Do eat and sleep well and gain weight few.
#2. Remember to take care of your health, or the doctors will do it for you. I know you will love watching the beautiful nurses there but remember you should take bitter medicines too. So, I don't want that you go to the hospital at this age to be true.
#3. My grandfather has more stamina than you. And after meeting you, he has only one piece of advice for you, take proper care of yourself, and please don't argue.
#4. I know you are naturally handsome. But do take care of yourself unless you want me to think it is all makeup, just like you always say to me, dumb. Jokes apart, stay well, my love.
#5. You are handsome, but your internal specification says you are lazy. So, grade your system to automatic self-care, baby. I love you madly and feel you should take care of yourself genuinely.
Read More: You Complete Me Quotes
Nobody needs to feel love more than a sick person does, and sending "take care messages for your boyfriend" even while you are with him is not very bad.
Nothing can affect a person more than words. It can show him that you care about him. Make references from the classics where we see lovers writing letters to each other to show love, but the messages would undoubtedly suffice in this era. Maybe your heartfelt and utmost sincere words would help him recover faster than any medicine that can be bought with money.