We're sorry to hear that your dad has gotten sick. To wish him a speedy recovery, you can have a look at these get-well-soon messages for dad and we promise that you'll find something meaningful. If he is too sick in bed, these messages from you will lighten up his heart, and give him strength. Hearing from his daughter would make things a lot better for him; especially the messages filled with optimism and hope.
We hope and pray that your dad's health becomes sound again. Words of encouragement and seeds of hope are the tools that help any patient first and then the medicines. So, without any future, send the messages with your remarks to your dad.
Get Well Soon Wishes for Dad
#1. Dad, I hate to see you in pain. I wish there were a magic remedy that'd make you well at this moment, but sadly, none exists. Have patience, you'll be as fit as before.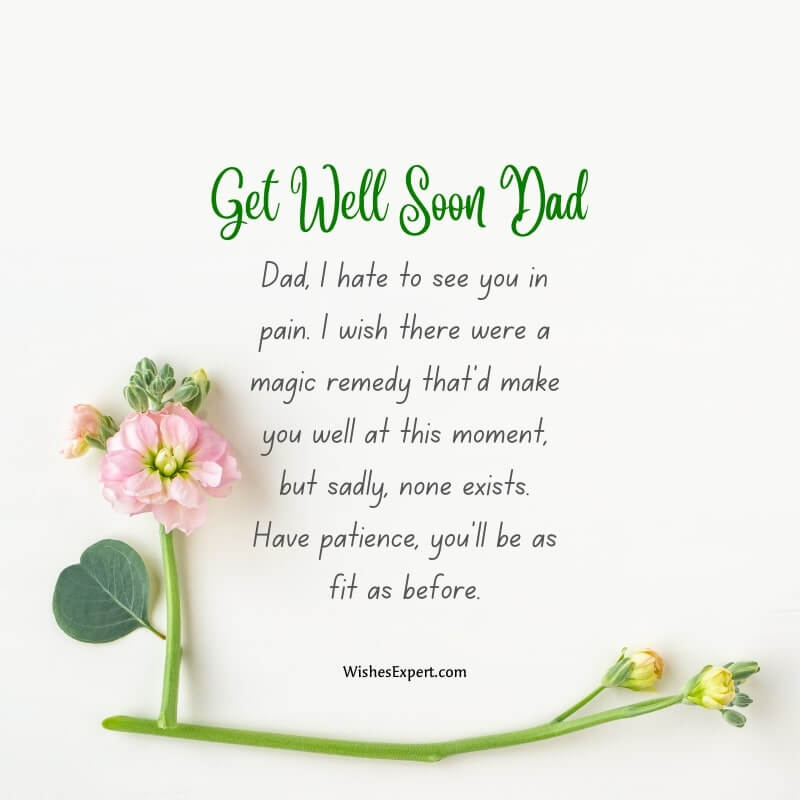 #2. Get well soon, dad. You're the strongest person I know. You have the inner strength to defeat any illness. Give it a little time, you'll be more than fine.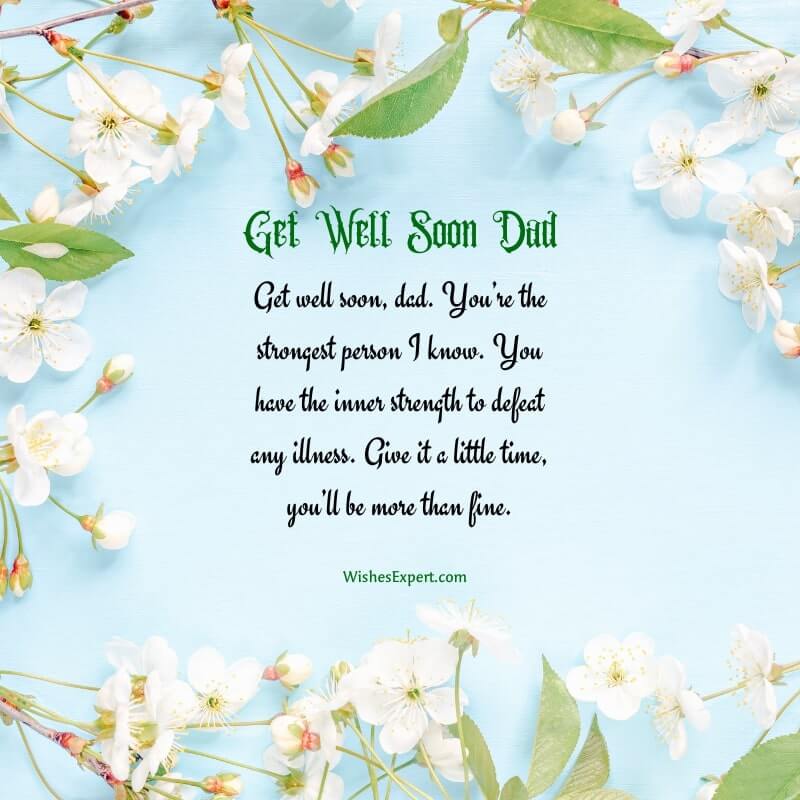 #3. This is Universe's sign for you to rest and rejuvenate. Give your body time to recover and heal and you'll get well soon.
#4. Dad, take bed rest to get well soon. Work can wait but your health cannot. Listen to everything that doctor says, he is now in charge of your body for five days.
#5. Lay down in bed. Take your medicines on time. Eat clean food. Relax your mind and sleep tight. If you wish to go back to work then you can't escape doing anything of these.
Read: Powerful Prayers for Good Luck
Speedy Recovery Wishes For Father
#1. Only when one is ill, does time not fly. Hence, to make it easy-peasy for you, I pray for a speedy recovery for you, dad, so that in no time, you can feel fit again.
#2. I wish and pray for the life span of the bacteria in your body to be of microseconds so that you can have a speedy recovery and feel fresh and alive soon.
#3. Dad, your tracksuit is waiting for you to wear and take it to the hikes. And I'm waiting for my dad to feel energised again. I'm praying for your speedy recovery, dad.
#4. Hopefully, I'll soon see my dad taking long walks and baking on Sundays. I wish you a speedy recovery, dad. Get well sooner.
#5. To the loveliest being I know, I want to remind you that you're the strongest. Your immune system will kick these germs out of your system in no time just hang in there.
Check: Keep Smiling Quotes
Get Well Soon Daddy Quotes
#1. As long as you've not loosened the charge of your mind, no illness can make its home in your body. Keep your optimism alive and you'll get well soon.
#2. Get well soon daddy. You're my gem and when you're not shining bright, I can't too! Say goodbye to illness sooner and welcome sound health.
#3. Get well soon daddy. You'll soon find yourself in the fields of the sun. You'll soon meet the healthy version of yourself again and annoy me with your enthusiasm about life. You'll be fine soon.
#4. May you get well soon daddy and start walking 10,000 steps in a day. You'll be doing as fine as you were before. You'll be ticking boxes off your to-do lists soon, don't worry.
#5. In the ray of light, may you heal sooner and recover faster. Under the bright stars, may you rejuvenate and rest better! Get well soon, daddy.
Read More: Get Well Soon Wishes For Mother
Get Well Soon Wishes for Dad From Daughter
#1. Dad, I'm sending you lots of hugs to help you feel warm and love to let you know that you're not alone in this. Get well soon.
#2. I hope each day brings you closer to you getting better and better and then soon you'll be back to being normal and feeling healthy. Get well soon, dad.
#3. May your mind, body, and heart align sooner and you gain balance to regain strength. You'll feel good soon, dad.
#4. May the sun renew your hope in the divine and yourself each morning and the moon bring peaceful and relaxing nights. That's how you'll get well soon, dad.
Get Well Soon Wishes for Dad From Son
#1. I'm your little champ and you're the male lead in my life. I'm praying that you recover sooner and come back home faster. I can't wait to have our football matches.
#2. Dad, you got this. You're the man I look up to because you have immense inner strength and hold the power like no other. You'll get well soon!
#3. The strongest men are the gentle ones. This is the time to be gentle with yourself, be patient with your recovery, and you got this.
#4. I'm here for every kind of support you need, dad. Together, we've got this. This is your battle but I'm here to help you fight it. You'll be fine, dad.
We hope that by now you've sent your regard to your dad and perhaps also appreciate the get well soon messages for dad that we handed you. A get well soon message would perhaps be the only text that he'd be looking out for. Receiving these endearing messages from you will make him feel a lot better.
However, don't forget to check out our main page on which you can find tons of wishes and quotes on any topic you can name. We hope to meet you there.