Get well soon messages for the mother can be the perfect way to show her that you're worried about her and want her to recover as early as possible if you live far away from her and cannot visit her often. You can send her loving messages with gifts to let her know that even when away from her, you never stop thinking about her because she is the most vital person in your life.
Mothers are the best way in the Universe to tell us that someone will love, cherish, support, and take care of us unconditionally. It is only acceptable if we do the same thing for this precious person and reminds her how important she is.
Get Well Soon Wishes For Mother
#1. I hate that I cannot be with you when you need me the most and can't feed you my cooking, about which I boast. Please hurry and get well soon. I am not used to seeing you sick, as it happens once in a blue moon.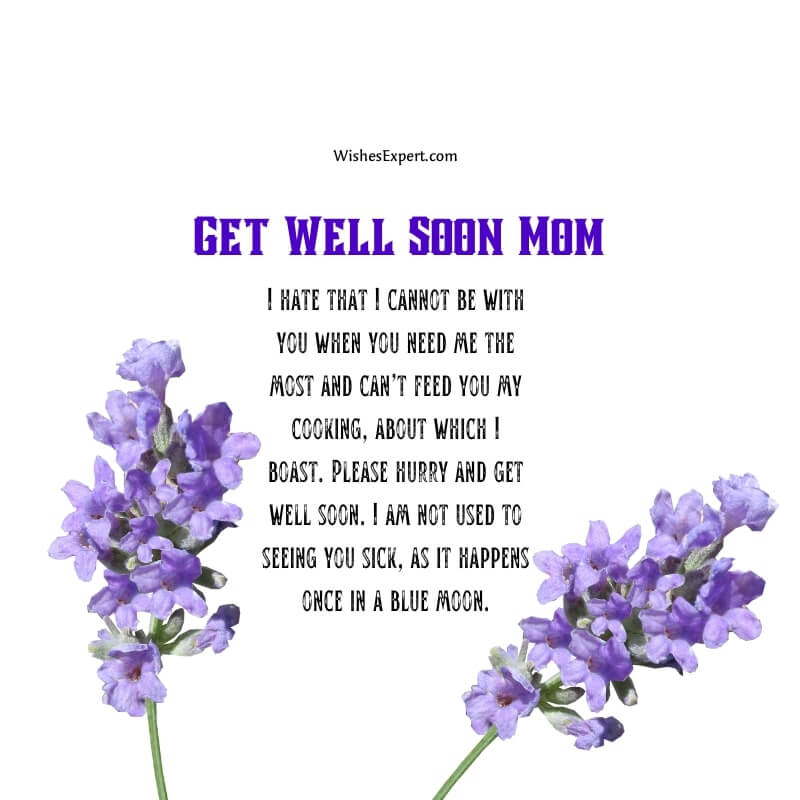 #2. I want to stay right beside you when you are feeling so unwell. I will visit you as soon as possible without fail. Get better fast, mum or your boy will lose his charm and not look handsome.
#3. I feel barefoot while staying so far away from you, and now the feelings have worsened, and more worries are plaguing my mind, which is new. Get well soon, and don't forget your stew.
#4. I hope you are eating healthy and taking your prescribed medicines properly. I can't express with words how I miss you so dearly. Be safe, mama, because I'm worried, seriously.
#5. I hope father is taking care of you all the time because not doing so after what you have done for us would be a crime. Take care, mamma, and I will soon be by your side.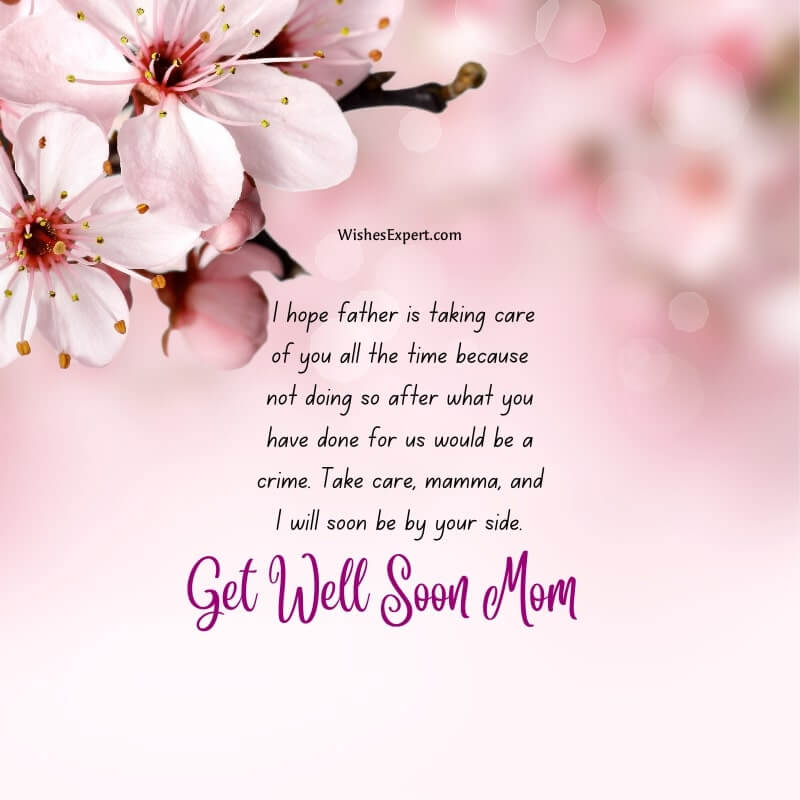 Read: Get Well Soon Messages For Dad
Speedy Recovery Wishes For Mother
#1. I know you are not well. It has me worried because, without you, my world is as dark as hell. I wish for a speedy recovery, my cutie, my dearie.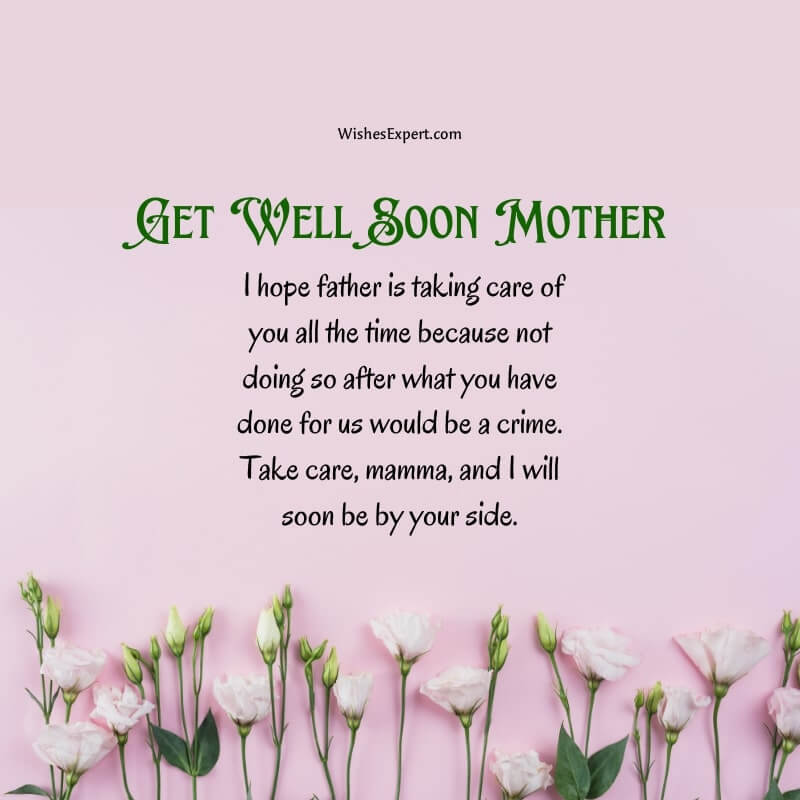 #2. I promise I'll make your favorite dishes and take care of all the chores, but you need to get better so I can eat your cooking again, and that, too, five-course.
#3. You don't have to worry about anything and focus on getting better. I'll work hard to keep everything okay and not make you worry about any matter.
#4. Get out of bed faster so that we can go on vacation. It can be to a forest, a beach, or a beautiful hill station.
#5. I know it is very stressful when you are physically not well, but you are one of the strongest people I know, so you better not fail. Get well soon, and together we will see the full moon.
Check More: Get Well Soon Wishes For Boyfriend
Get Well Soon Mother Quotes
#1. Mother, I am surprised to see your courage even in this challenging time. I must tell you I miss my partner in crime. You are a brave soul. Maa, come back soon and help me achieve my goal.
#2. Mother, you taught me how to close my eyes and think about the blessings of your life. You make me calm whenever I'm in strife. Now that you are sick, I pray to the Lord, send me back, my dear mother, and this is the only wish of mine to God.
#3. You are the bravest person I have ever seen, my lovely queen. Mother, I will not let you lose this battle. I know how much strength you have, and never make it brittle.
#4. Mom, no one is there to fight with me now, and I feel so lonely. Get well soon, mother, and I pray for your quick recovery.
#5. I know you miss getting a stomach ache because of laughing at my stupidity. Get well soon, my best friend, my mother, because your child misses you so badly.
Read More: 75+ Best Get Well Soon Wishes And Messages
Get Well Soon Wishes For Mother From Daughter
#1. Mother, every day, I miss having you around. There is such positivity in your presence and sound. Don't worry because soon you will feel healthy, and I will no longer feel sorry. Your daughter is praying for your speedy recovery.
#2. Mom, I eagerly wait to see you stronger and healthier than before. There are so many things in this beautiful world that we will explore.
#3. Mother, I've seen how you overcame struggles in your life with a smile. Together we will have to walk another mile.
#4. Mom, I have a lot to achieve in my life, which I can't get without you. Get well soon, and come back home because you are one in a few. Please help me make my dreams come true.
Get Well Soon Wishes For Mother From Son
#1. Mother, though you are not at home, you are always in my thoughts. You will surely overcome things and stay strong, you are the only one whom I got.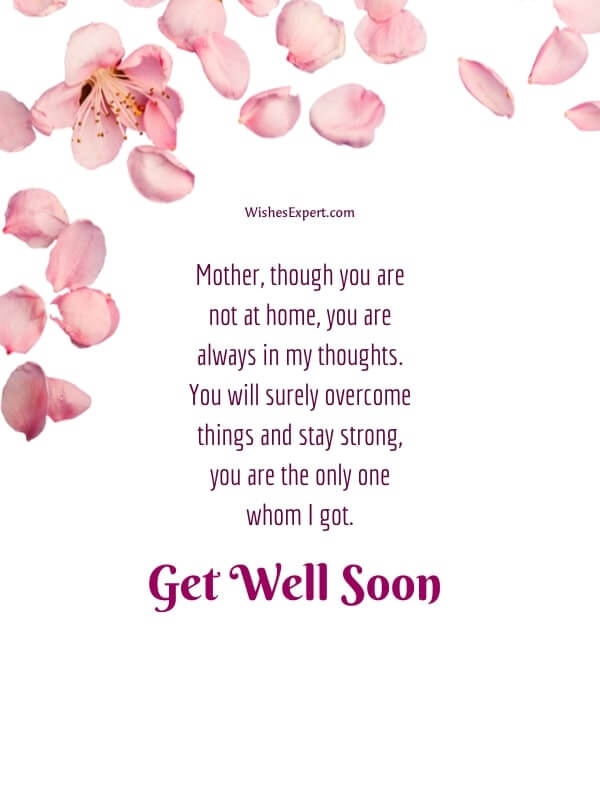 #2. You fought all the problems of your life and came out stronger. I know that you will fight your illness and get better.
#3. Fight the disease and return soon because your son is helpless without you, and my feelings for you are genuine and true.
#4. Mother, you are my fighter, and no surgery can keep you down. Fight the bad days and be healthy soon because you are the queen without the crown.
The messages you will send need to be heartfelt yet funny so that you can lighten up the mood and not stress her more. So, these get-well-soon messages for mothers should be equally sincere and quirky. Remember that she needs solemn and heartfelt appreciation because she feels lonely without her child beside her to take care of her. Mothers are very understanding, so she'll know that you want to be with her at any cost, but it never hurts to express your trust and feelings via some beautiful words of love and respect.