Miss You Mom Quotes And Messages: Have you been lately missing your mom and having trouble finding ways to put it in words and say I miss you, mom? This article will help you find the phrases that will avail you to define and express your emotions in the best manner!
As a Mother is a source of unconditional love and care, we seek ways to getting touch with her always. The emotions must be heavy when we have lost our mother. In those times, giving words to your feelings might be a dense task to do but it is something that will help you get the weight off your chest!  Here are effective phrases that might help you give depth to your emotions!
Miss You Mom:
#1. The moments I cherished with my mother are still fresh. When I start to miss my mom,  it feels like turning pages in an album, I open the doors of memories and get lost there!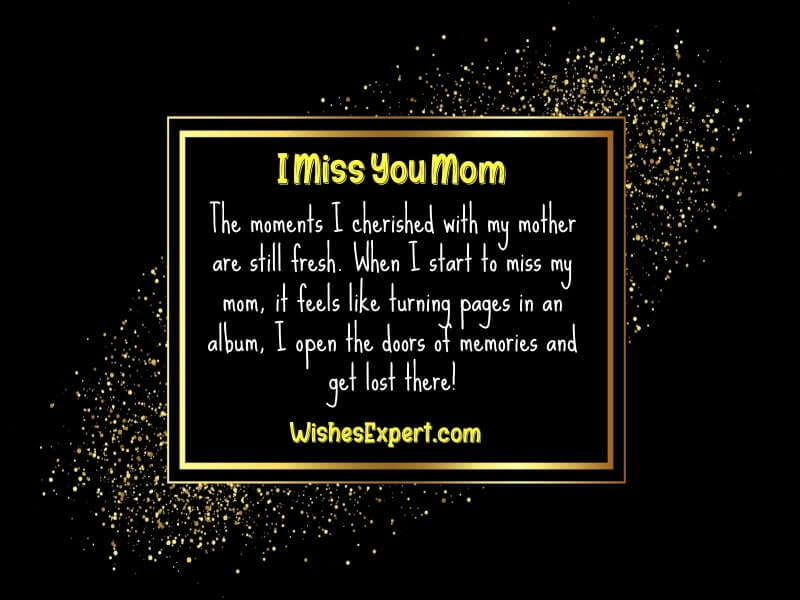 #2. The pain is weighing heavy on my chest, the memories have been saddening, the moments of not having you beside me are more drowning me, mom! I miss you!
#3. In my memory land, mom, you hold this notable space. You will never leave that place, and I will never let you go, too. I will keep missing you.
#4. The pain gets unbearable when I find myself missing my mom. It is inexplicable how much I miss her. The helplessness of me not being able to bring her back is crippling.
#5. To feel and live with the absence of motherly love is the torment I have faced. There is no way to fill her absence. I  still keep missing her.
#6. I wish those last moments I had with you would last a bit longer, and I wish I could hold the time then to stay there forever. I miss you, mom, so much!
#7. I feel the pain in my bones and ache in my heart when I find myself missing mom. I have got to know that the loss of a mother is anguishing.
#8. Mom, you were the most adorable and loving person in my life. You will always hold a special space in my heart. My mind can never forget you. I miss you all the time.
#9. Mother, flashes of memories I had with you keep reminding me that you are no longer with me, keep reminding me that I have lost the unconditional love, keep making me miss you every day.
#10. Mom, You are not here, but my mind rehearses often scenes when you were right beside me. When I could see and talk to you. Illusions seem real when I am missing you.
Read: Miss You Friend Messages
I Miss My Mom:
#11. The love that my mother has for me is incomparable to anyone's, the compassion that she holds for everyone is unbelievable, the sweetness she has is unmatched. The moments I miss mom are countless.
#12. When I could not believe in myself, my mom does. When I could not hold myself together, my mom can! When I could not find courage, she becomes my strength. I miss her so much.
#13. No matter in which corner of the world I decide to live, my mother's tender love and delicious food are impossible to find! I miss her food. I miss her love. I miss my mom.
#14. Is it the certainty of not having you and having memories of you with me that makes me miss you more, mom? I don't know what it is but I can not bear any either.
#15. Mom, your absence reminds the warmth your presence had, it reminds me of the love I was fortunate to have, and of you! I miss you!
Miss You Mom Quotes:
#16. If I could put a hold on time, jump into the Memory land, and bring back my mom in the presence, I would make her seat and tell her that how much I miss her!
#17. My mother's smile was the most soothing, the innocence of her soul was apparent on her face, her love for me was evident. Throbbing the moments and days are when I miss my mom!
#18. I wish I could climb the ladder to the moon and bring you back on the earth because I can not bear to miss you anymore, mom!
#19. The grief is not going anywhere, the memories are here to stay, the life is taking its course, it all would be a bit easy to take if you were here mom. I miss you!
#20. Whining over my mother's death. I feel sobbing in my chest and the grief in my bone. I am missing my mom so much with my heart cracked open.
Take A Look: I Miss You Dad Quotes
I Miss You Mom Quotes From Daughter:
#21. The food does not taste the same, mom. The home doesn't feel the same. Home and I are a mess without you. The only fixing we need is you. I miss you!
#22. The bond I had with my mother was inexplicable. The telepathy we had was spectacular. The chatter we used to have was so fun. I miss her every day.
#23. Mom, when you died, I lost the most meaningful relationships I had. The part of my world shattered. But the memories are still alive and I keep missing you.
#24. My mom used to guide me, taught me how to stay stronger, made me realize the value of morals. She taught me everything except how to survive without her.
#25. Mom, the grieving heart shredded a lot of tears missing you! I wish you to be here. I wish I could bring you back to rejoice bond we shared.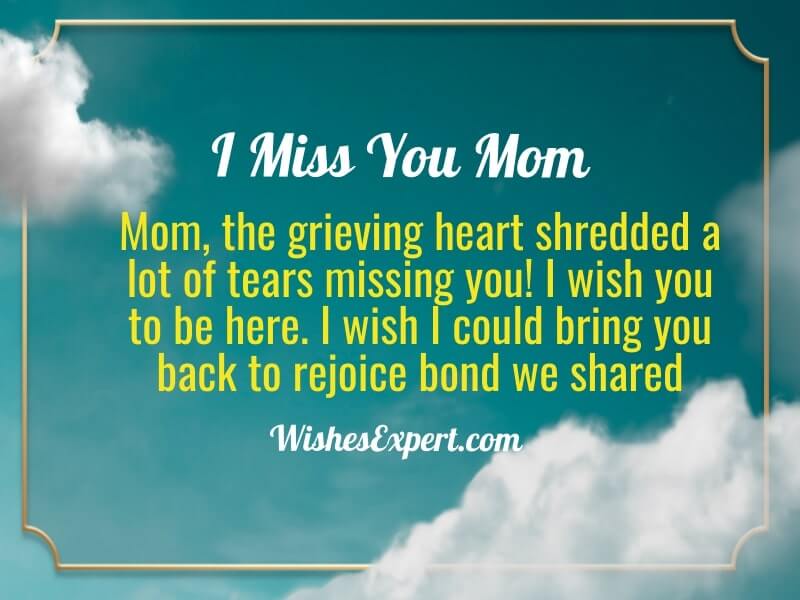 #26. Mom, when you were here, the rooms were so vibrant, the home felt alive. Without you, the heart of the home and a part of me is missing. I miss you!
#27. I could not recall the moments I had with my mom. Whenever I do, the tears shred, and I start missing her more. I could not rejoice moments I had with her, I keep on missing her.
#28. The memories with my mom could not fade away. The love I had for her could not fade away. Days pass by but I could not stop missing her.
#29. The moments I had with my mom were so precious. As the flashes revisit me, I smile with a teardrop and say, "I miss you, mom."
#30. Mom, I wish from there you would see how much I am caught in this deep-rooted pain and sorrow! I wish you could see how much I miss you!
Check: I Miss You Quotes For Her
Miss You Mom In Heaven:
#31. I wish there would exist a sacred place in heaven where I could meet you every time I miss you and feel the energy of your presence! I miss you, mom.
#32. To my mother in heaven, I never knew I would be this miserable without you. I never knew I would be craving a few moments with you so much! I miss you more than ever!
#33. May I grant the permission of God to meet you in heaven! The despair has left me woeful, I need a moment in silence to be with you, mom. I miss you!
#34. I can not hold my tears when the series of flashbacks start to remind me that I, no longer, have you, mom! I wish from heaven you could see how much I miss you!
#35. Mom, can you hear my voice from where you are right now? I have been calling you out without missing a day hoping that you will call me out, too! I am missing you, mom!
Also Read: Funny I Miss You Messages
Missing Mom Quotes:
#36. The love and care that my mother had for me were heavenly. It is heart-wrenching that the same care I grew up with, I could not give to mom. I am missing mom massively.
#37. My mom was my backbone. I could rely on her when I could not on myself. I feel paralyzed now as I have lost her. I need her! I miss her!
#38. Those were happy days when my mom would call me for no reason. Dreadful is these days when I have been telling her a million times that I miss her, yet she utters nothing!
#39. Mom, I miss you so much! You still exist in the giggles of this home, in the memories, in the heart of this home, and ours, we all miss you.
#40. The grief is awful. The pain is unbearable. Mom, your absence is terrifying. If I could hold you a bit longer, I would keep it forever. I miss you, mom!
Missing Mom On Her Birthday:
#41. The day would pass slower, the heart might skip a beat in weeping, a reel of the memories will be rolling, I'll be missing my mom a lot! Today is my birthday!
#42. It is my birthday. It is so mournful that my mom will not be here to shower all the love and blessings as you do always. I am already missing her.
#43. It is unbelievable that I am going to cut the cake without you, that it is my birthday and you are not with me, that I could not receive your wishes. Mom, I miss you!
#44. This is my first birthday without you, mom. I am clueless. I am blue. I do not wish to blow candles. I want you to be here to wish me! I miss you!
#45. Today I am flooded with emotions and my mind with memories of mom! My birthday can never be complete and I will never be fulfilled without her presence. I miss my mom!
While nothing can make a mother's loss bearable or less traumatic or gut-wrenching, emotions need an output to keep you away from the negative consequences of not doing the same!  Missing your mom is legitimately normal and natural. Let your emotions flow.
These "Miss You Mom" quotes were not intended to make you feel more miserable but to make you able to give a definition to your emotions and lose a tight grip over your emotions to feel at peace, to be at ease with them.