Love You Messages and Text for Sister: The bond between two sisters or brother and sister is made in heaven. If you think your sister is special, remind them what they mean to you with I Love You Messages for sister.
Every time the 'me' turns into 'we' and you have your sister in it, know that things will be spicy. Without their presence, you might miss that one person who teases you and make fun of you. They make your life tasty with harmless pranks. Even though most sibling bonds start with fighting and arguments, those moments probably make their love for each-other time-tasted. Tell them how much you love them, and celebrate this unique bonding and love you have for your sister. Send these I love you messages to your sister to tell them what they mean to you.
I Love You Sister:
#1. Life without you would have been boring. But my nights could have been less sleepless without all that snoring. Love you, sis. I'm glad you're here with me to give me peace.
#2. We have stuck together from the moment I was born, but I've still not seen anyone who is this stubborn. Always be who you are, and I'll always love you and take care.
#3. You took care of me like a mother, but no matter what, you have a rotten sense of humor. You're the best sister of all. Love you, sister, as you are special.
#4. I fell in love with you as soon as you took your first breath, and I'll stand by you, till I take my last breath. When I first saw you, I gave you a kiss. I said I love you, baby sis.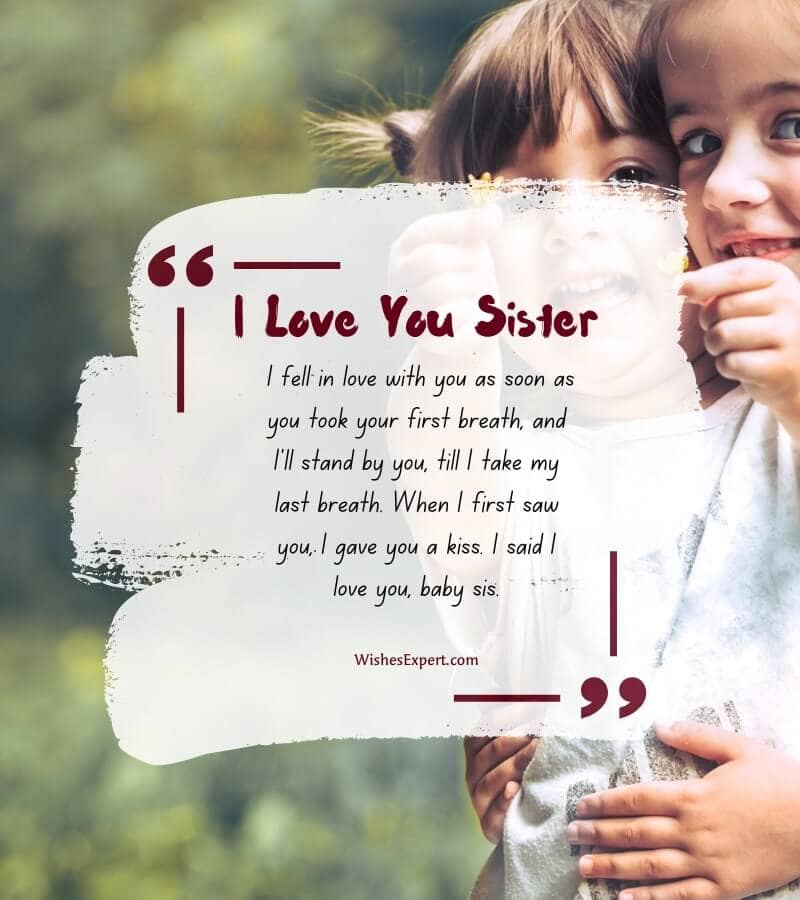 #5. Even though our fights were a regular thing, you are still the most beautiful blessing. Always keep smiling that beautiful smile of yours. You will find me, sis, in the life course.
#6. You are the brightest star in my sky, and I hope your angel wings will one day help you to fly. Live your dreams exactly the way you want. Remember, sissy, you are brilliant.
#7. You have always been my idol in life. You are a good person, a good mother, a good daughter, and a good wife. I'm very proud of you. Sissy, I love you.
#8. I've never seen anyone as strong as you. How you manage everything by yourself, I still have no clue. My respect and love for you will never go away. Sister, I hope you enjoy each day.
#9. Even if we start living on the opposite ends of the earth, I know our bond will still have too much worth. You mean a lot to me. Dear sister, when I am with you, I am always tension-free.
#10. The more I see you, the more I admire your love and patience. I cannot fathom how you never have any grievance. Big Sis, I love you for what you are, miss.
Read: Soul Sister Quotes
I Love You, Sister Quotes
#1. I couldn't be more grateful to God to have you as my sister. Each morning shows me how lucky I am to have you as my rock, dear. Thus, giving me enough reason to love you, little sister.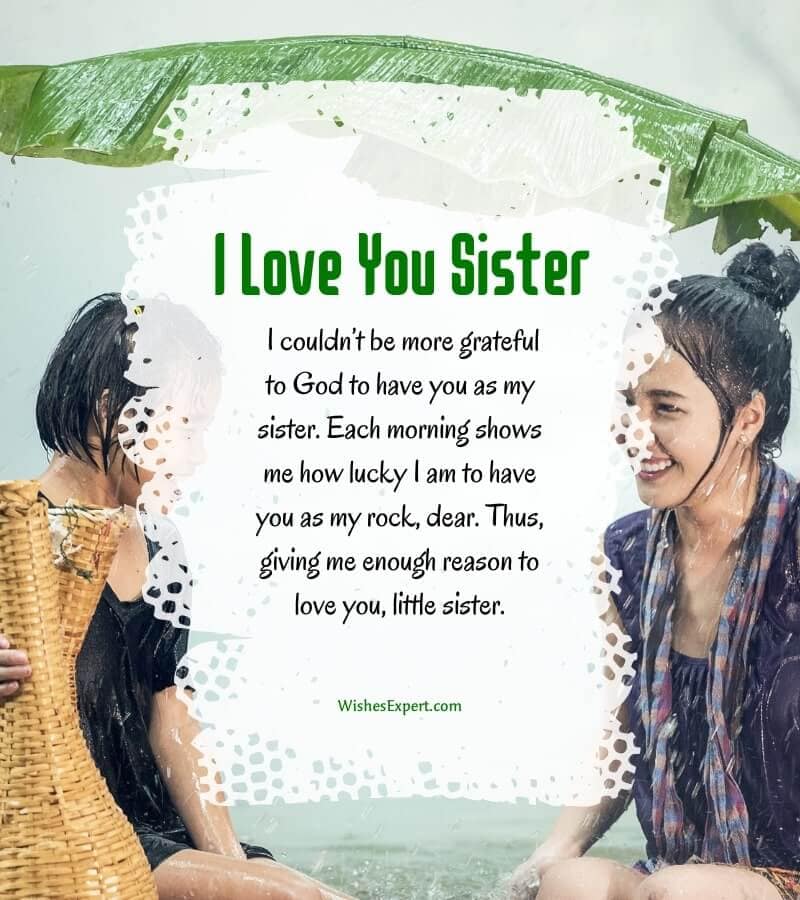 #2. With you by my side, each day feels like a great adventure that will unfold gradually. You are my beloved sister, whom I love unconditionally.
#3. As your life begins, you shall get the opportunity to play your cards. Play well and fair to win all hearts. Hear and remember everything I said to you, my dear loving sister.
#4. Sharing my toys, to books, we have come a long way together. Your companionship has made my life beautiful and fair. So, let me shower you with lots of love and care, my dear sister.
#5. You are a bright little girl with brown eyes. I promise to be by your side through all lows and highs. I cannot hold my love for you dear as I love you infinitely, my dear sister.
Read More: Sibling Love Quotes
Beautiful Words for My Sister
#1. We grew up to be each other's biggest supporters. Now, we are closer. Our conversations range from gossip to makeup glitters. I am thankful to you, sister.
#2. I think of those old days that remind me of how caring a sister I have got. Now that you stay miles apart, I miss you, and it pains me a lot. Every moment with you is bliss, do take care, sis.
#3. Even after every different argument between you and me, we are each other's mirror. These days your care and scoldings draw me closer and make me love you, sister.
#4. My friends call me lucky as I have a second mother to shower me with love. Here is a message to tell you that I love you more than anything below and above.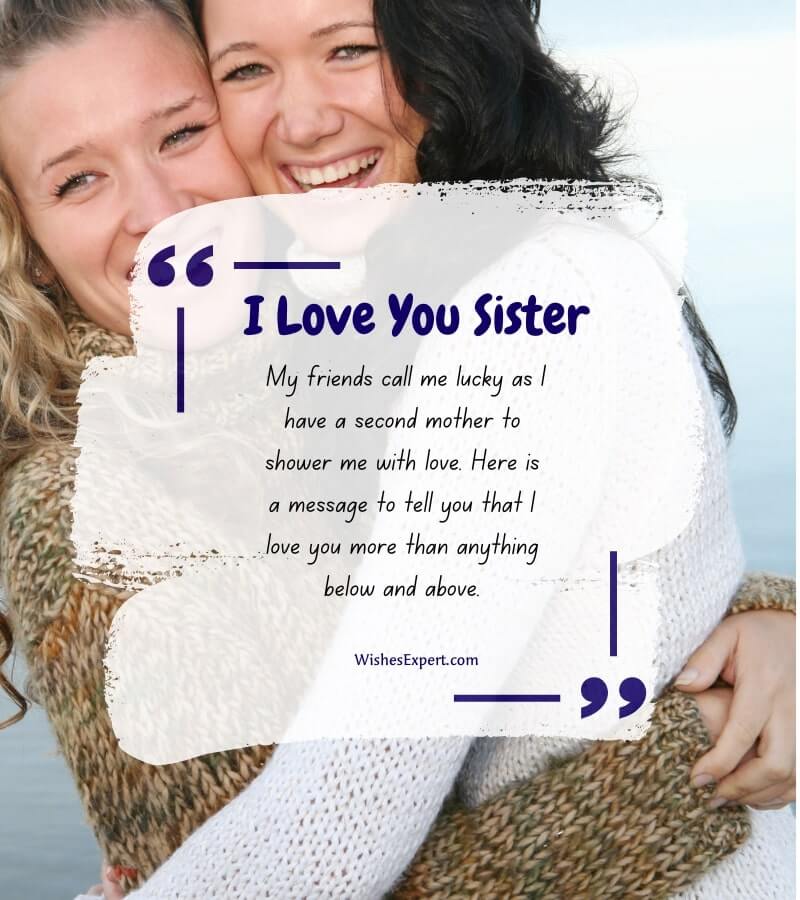 #5. You are the color that shines like a rainbow when I have bad days. Your smile and care fade those shades of darkness and make them bright like sun rays.
#6. You always inspire me to be better. The world has different reasons to be inspired by you, but I remember your love that cannot be expressed with any letter. Sister, you are the giver. But, today, I want you to be the receiver.
#7. We started as arch-enemies and eventually became soulmates, dear. That's how we curved our journey from months to years. Now it is your comforting words that take away my fears. Thank you for being there and loving me like this. I love you too, sis.
#8. The little girl who used to love tearing my books and breaking my toys as a child is now a keeper of my heart. I cannot express the warmth her hugs radiate every time I get hurt.
#9. Sometimes infinity seems like a small unit to describe what your presence in my life means to me. Your love and care for me are more comforting than the sky studded with stars or the sun-bathed sea.
#10. The best and most supportive sister award will always go to you. Only a few people I can call special, and you are one of the few.
Check: Sweet Birthday Wishes For Sister
Love You, Sister, Quotes
#1. I love you, sister, because there is nothing more comforting than sitting by you, telling all the anxiety and pain I feel. Your crazy ideas and soothing words work better than any pill.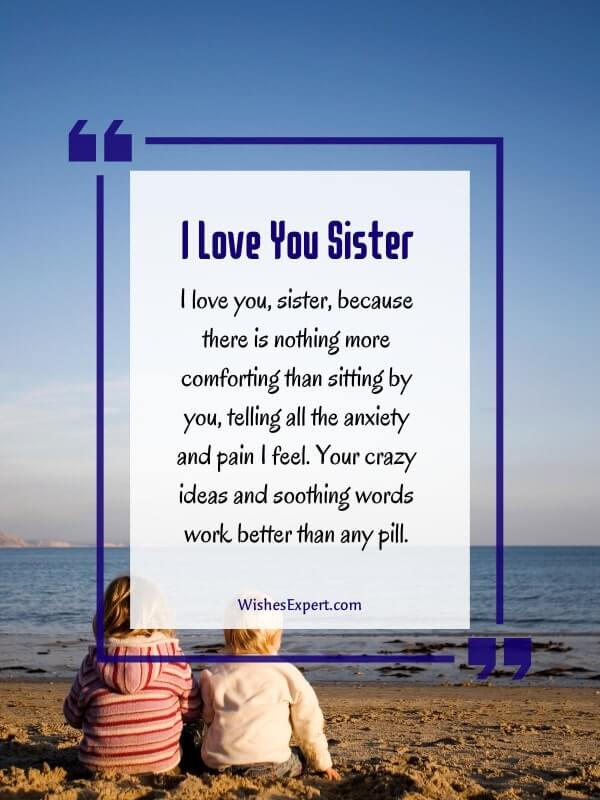 #2. Since day one, we have always been each other's partners in crime. As teachers and parents say, we are two different lines of a poem in rhyme.
#3. I am thankful to have a sister, and I love you, dear. At least, now, I can show you the fragile me. Now, I have someone who will always stay by me.
#4. Though you still scold me like a dumb child without a brain, your love and care remind me that I am a sapling that needs you like rain. I love you, sister, and whenever you need me, I will always be there.
#5. My friends bullied me when you taught me to face them with courage. You are like my superwoman, who never fails to protect me from emotional damage. I love you, sister, for teaching me to be savage.
Read Again: Birthday Wishes For Baby Sister
What to Say to a Loving Sister?
#1. There is no way I can express your love through words. Those supports, care, love, and guidance deserve all the best sister awards. Thank you for being my fab supporting sister, showering love forever.
#2. Here is a reminder of the days we used to fight and get scolded as children. Years passed, and now you are my best friend, and with love, we have created our beautiful garden.
#3. The days I tear up all alone, my head wants a shoulder where I can lean. You are the one to make me realize what love and care mean. My loving glam sister, I always admire you, dear.
#4. Our choices were different as kids, and it is different to date. But despite that, our love for each other has no due date. Lots of love for my little sister, my best mate.
#5. The argument of who is most loved by parents dissolved years ago. Now, you are a secret sharer to whom I can tell everything in a go. Thank you for being there for me when I feel like a big zero.
Conclusion:
The memories of growing up with your sister are treasures that you cherish. Those fights, playtimes, teasing, pulling pranks on mom, and being each other's partner-in-crime have given you a best friend and possibly a soulmate. You may have an elder sister with responsibility and authority or a younger sister with loads of prank ideas. In both ways, your bonding is special. Your relationship with your sister is not only limited to love and care but includes teases and arguments. Celebrate your lovely bond with your soulmate by birth and send them these endearing I Love You Messages for sisters.