Love Messages For Him: Love needs its daily nourishment as a plant needs, and in the busy lives that we live, it is more than easy to forget to do that. Here are the love messages for him that you can send him to not only make him smile but to give your daily dose of nourishment to your love relationship with him!
While it is easy to not put in the effort daily to improve your love; it is certainly something you should avoid doing if you want a happy and healthy relationship. If communication is key, then communicating your love should be your priority. To make it easy for you, we've created these messages for him; so quickly save them.
Love Messages For Him
1. How do you take my breath away and your thoughts breathe life into me at the same time, how do you do that? Are you magic or magic?
2. Let the stars sing a  symphony tonight and let us dance under the moonlight. Look me into eyes and take me to another world. I can't wait to meet you and have a magical night.
3. I only can see the treasure in your eyes, I only know the depth of my love for you, and you only know the way to my heart. I love you.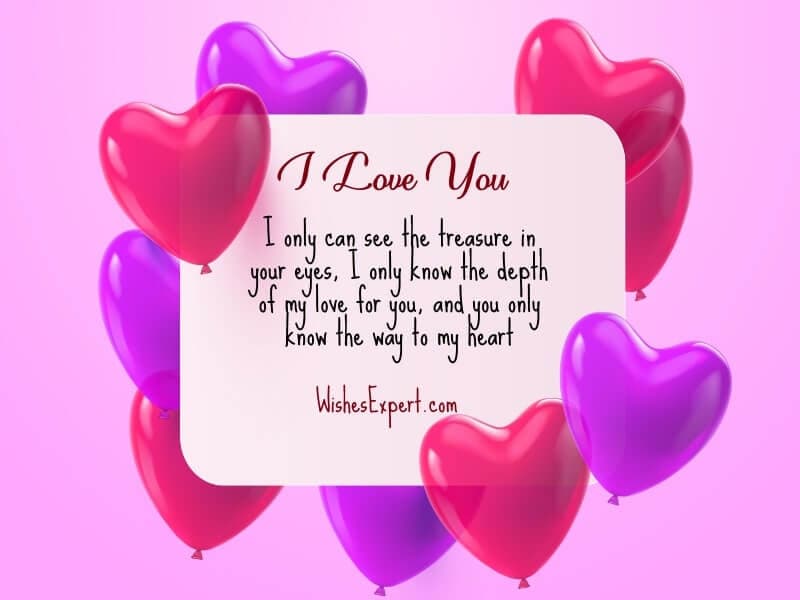 4. My love for you is deeper than the depth of the ocean, larger than the sky, as pure as a child's smile; if you let me, I'll show you it's much more than you know.
5. The way you make my heart giggle is the way I define love. The way we stand by each other unshakable is the way I define a couple. Thank you for helping me define love.
6. I am not great at showing my love but know that I Love you deeply and care for you greatly. There is nothing and no one that I put before you!
7. For you have kept me in your heart, I won't free you from the cage of my thoughts and the beats of my heart; now you too are forever caught there.
8. The pull I feel towards you is so strong that I have convinced myself that our souls have got attached and now we can not be separated.
9. You must know that I love you infinite and knowing that I have infinite ways to show you how much I love you, I worry about nothing; love you.
10. You are sweeter than the cookies and candies I eat; You know you are my perfect caramel dressing to the pie of my life that makes it delicious.
Read: Love Paragraphs For Him
Deep Love Messages For Him:
1. Our souls have knotted the ties before we can, they already have made vows and I want you to know that we are now inseparable.
2. Listen to my heartbeats closely and you will hear a song that my heart sings, it's for you and only you! I love you.
3. I am in my paradise when I am with you.
The world starts to fade when I am with you.
I am my favorite person when I am with you. I love you that deeply.
4. Dive deep in the ocean of my love to find the depth, you could spend ages yet you won't be any closer to the bottom of it, that's how much I love you.
5. The birds sing and flowers dance when we are together. Honey, the sky plays a melody when our souls dance to the rhythm of love. That is how I feel when we are together.
6. I can go through the whole dictionary but no word can do justice to my feelings, nothing can describe my love for you; the only way to know it is to feel it.
7. I mask my pain with a smile, but you catch it, I lie to you about how I feel, yet you get it; how do you love me so much to know me more than myself!
8. I have kept your heart in a safe place, my love is guarding it, I will not let it get hurt and my love will never let it get cold. Trust me, it is safe with me.
9. Let your soul snuggle in the comfort of my love, let it know that I am always there to take care of it, to nourish it, and to keep it closer to me.
10. Delete the fear and insert the trust. Know that we can heal our wounds and rise together. Hold my hand and let our love skyrocket to the world of happiness.
I Love You Messages For Him
We all know how magical these three words are but if you like to tell him why and how you love him, you've come to the right place. These I love you messages for him will make you sound so enticing while expressing your love.
1. I may be bad at expressing but my heart is not, it never forgets to beat for you, it cherishes you every day; it makes me say that I love you in moments of silence.
2. Our souls are in so much harmony that I never feel distant from you; I love you so much that even when you are miles away, my soul still feels your presence every time.
3. You are like that extra sprinkle of ice cream or maybe the icing on the cake, but without you, the joy in my life would be missing; I love you.
4. How am I lost when I am with you yet I find myself when I am with you! You are my home and my route to escape. I love you.
5. My heart is your kingdom and you rule it, in case if you forgot, I am reminding you today! I love you, babe.
6. Let me be your alchemist to turn your pain into joy, your tears into a smile, your hurt into healing; because I love you so much!
7. My soul will follow the footsteps of your soul whether you climb the highest cliff or dive deep in the ocean, it can never leave you alone; that is how much I love you!
8. One thing I can promise is that every day I will love you to the fullest and yet I will never run out of love for you!
9. If I say my world revolves around you, it would be a lie; because you are my world; love you, babe!
10. I love you infinitely because you are a human being who is acting as oxygen for my soul, keeping it alive.
Read: Cute Things to Say to Your Boyfriend
Love Messages For Him From The Heart
1. The day we met, the seed of love was planted and since then it only grew stronger and stronger with roots getting thicker and thicker, and I am too head over heels about it.
2. Our chemistry is so strong that if we ever get to perform the experiment of love in a lab, we would set it on fire, hence our entry into a chemistry lab should be forbidden.
3. You are my sun and I am like a sunflower, I will follow you everywhere you go, honey, your light is what keeps me alive!
4. I am clueless about the good deeds I might have done to have found you as my partner, but you are truly a blessing that happened to me for which I am deeply grateful!
5. Thank you for making me show how beautiful it feels to be in love and how much depth it carries; without you, I would have never understood and felt the love!
6. How are you so much more than what I had on my checklist? How are you defining a miracle to me?
7. Maybe I am God's favorite child because he has blessed me with the most beautiful love with an angel like you!
8. You have rejoiced my soul and reset my life by loving me the way you do; thank you for breathing life into me when no one could!
9. You should know that we both are superheroes and our superpower is undying love. Cheers to us and our dynamic love!
10. You helped me tick a major task on my bucket list which was to fall in love with a man like you forever!
Love Text Messages For Him
1. I thought to let you know that you are always mentioned in my journal either in my to-do list or gratitude list.
2. You are the backbone of the jovial life I am living right now and the only way I can thank you is by loving you a bit more every day!
3. Our love is stronger to sail through any tides yet tender similar to puppy love, cheers to the peculiar bond we have and the pair we make.
4. Honey, our souls are wrapped up tightly in love to ever fall apart. All we have to do is keep on dancing to the rhythm of love.
5. Hang in tightly, honey, we are on a bumpy ride of love with a few bumps on the road, but you hang in tightly to me, and we will ride smoothly regardless of the trail.
Short Love Messages For Him
1. My mind whispers your name and there, my heart skips a beat.
2. Your lips tell a story that my soul is always keen to hear.
3. You're that last piece of cake that I can't share.
4. Update: I love you more now.
5. Reading your thoughts and scanning your soul is my favorite task to do.
6. Your love makes me feel like I am in Paris.
7. I am totally hooked on you.
8. You are my favorite form of escapism.
9. I feel home and heaven both with you.
10. Charisma and perfectionism suit you well!
Read More: I'm So Lucky To Have You Quotes
Sweet Love Message For Him
1. For you have given me countless sweet memories, I promise, I will not forget to come in your dreams to make them sweeter; love you.
2. Each picture is perfect for me if it has me and you in it, every moment is complete if it is spent with you; 'cause I am whole when I am with you!
3. I can not afford to not have you meet every single day, because I can not afford to miss something divine that happens to me when I meet you!
4. I am so glad that I listened to that tiny little voice that told me that he could be the one when I met you because you are the one!
5. Your initials are my favorite letters and your birth date is my lucky number, anything that is connected to you is connected to me, because duh! We are soulmates, aren't we?
Romantic Love Messages For Him
1. The light with which you brighten up my life can't be compared to the light lit by thousands of candles.
2. The way you look at me is the way I look at the moon and that makes me fall for you a little extra every day.
3. The love that we share feels so divine that if I could, I'd like to thank fate for letting you be mine!
4. Whenever I see you, my mind stops working and my heart starts racing every time, telling me here comes your man, your soulmate.
5. I'm good at math and I did try to calculate every scenario in which our relationship couldn't work out and it's a pleasure to let you know that there exists none.
Most Touching Love Messages For Him
1. Everything and everyone gets blurred out when I'm with you and my heart ultra focus on you only and you become my center of attention.
2. You put me in my place and fixed my soul like bob the builder and I owe you nothing but my whole life for that; love you!
3. TIll the time you are by my side, I know everything will fall into its place because you don't only help me find my best version but the best solutions to every trouble.
4. If you ever feel like life is falling apart, babe, know that I got you. If you ever feel low, honey, know that I am always there to cheer you up. Love, I'm here forever.
5. You are poetry that touched my soul and now like my favorite book in the closet, I am going to keep you the closest.
Good Morning Love Message For Him
To have a good morning means to have a good day. If you are willing to sprinkle some romance into your day then send these good morning love messages for him to your boyfriend or husband; 'cause caffeine and a little love reminder are needed to make a morning good.
1. May you shine so bright today and everyone puts you on a pedestal, 'cause then both of our days will be made! Good morning, love!
2. Today, I woke up with a little deeper adoration and a slightly raised bar of passion for the same man whom I am going to love a little more today; good morning!
3. Let this morning bring you all you wish and need to pass your day with a smile on your face and in your heart; for I want you to have the best day, good morning!
4. Good morning! I wish you were here snuggling and cuddling me, then it would a perfectly beautiful morning; I wish you were here to not let me wake up!
5. Good morning, honey. I wish I was there to serve you your breakfast in bed and do everything to make your morning; to make my prince charming feel like a king!
6. Good morning, babe. Dare I say, your sound of breath would be more soothing than this cool breeze, your hug would be more warming than the sun; everything would be better if you were here.
7. I wish you a day filled with ecstasy and high spirits to get the best of the day, love you, and good morning.
8. The morning beauty at its peak and yet I am not able to adore it; because adoring it makes me want you to be here more, but I wish to see you soon; good morning.
9. I have sent the parcels of hugs and a bucket of handful kisses to make your morning good; I hope you like them! Good morning, have a smashing day.
10. Good morning, babe; I hope you had a good night's sleep, and now I want you to send me your picture because I want to start my day adoring the alluring charm you carry!
Before the day takes its course and makes our lives busy, it is necessary to have a morning by yourself and your close ones; but these love messages for him will help you to feel close to him even when you are not. If he can't see you first in the morning, make sure he sees your text; to make him feel special, loved, and cared for.
Love messages hold the key to strengthening your relationship because he will reckon that you love him so much so that greeting him is the most important task on your to-do list.