Having a sibling is a blessing. You've been gifted with a companion who will never leave your life and walk with you on this journey forever. These sibling love quotes will help you express your gratitude or love to your sibling in personal chat or on social media. Siblings are those people who you didn't choose because they're tied to you for lifetimes. And that can be the reason that they never leave your side.
Siblings don't have to develop love, it's been there since they were born. They only nourish it or explore it. Put that love for your sibling in words. Actually, we've done it already, you just share it.
Quotes About Siblings
#1. On the deserted island or in the middle of the deep blues, you need a sibling. Siblings can make you survive anything whether due to their love or the frustration they can cause.
#2. Siblings' love is undeniable and they demonstrate it each day without knowing, even in their ruthless arguments and damaging fights.
#3. The lovers' love and the siblings' love stand on the same mark on the scale of unconditional love, only how they show differs.
#4. Siblings' wars demonstrate the way they'll attack you if you say the same thing to any of them they say to each other all the time.
#5. No one knows you better than your sibling, they know what can push your buttons as well as what can make you run in life like a horse with blinds.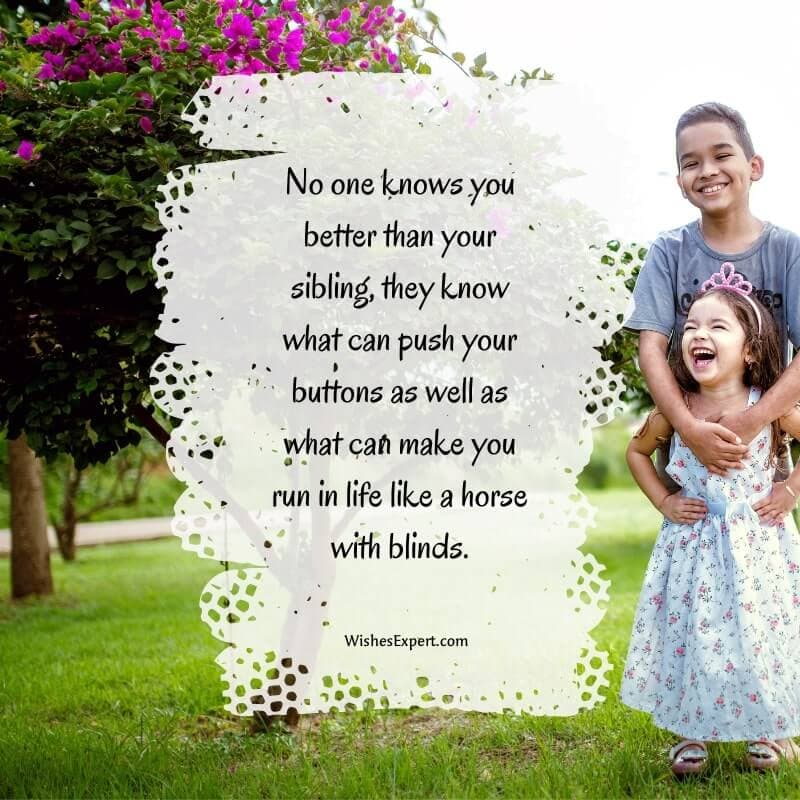 Read: Love You Quotes For Brother
Emotional Sibling Love Quotes
#1. Siblings remind us of where we come from when we get lost. They're the ones who are tied to us so much that we can never fall off their radar of love and care.
#2. Siblings will get on your last nerve but also will be the ones to stand by you when no one does.
#3. Siblings will always hold a space for you, amid the chaos of their lives. Mostly to argue but sometimes to showcase their care but in each case, they wish to stay close to you only.
#4. Siblings are precious beings because they will never lie to you. They prefer to throw you off with the truth always. And hence they're always on your team.
#5. Don't ever dream of having no siblings. They're the ones who make your lives less dull and more fun, a bit dramatic and chaotic but also a bit peaceful.
Also Read: I Love You Messages for Sister
Funny Sibling Quotes
#1. You need the siblings to add a flare drama. Sometimes, it's fun to be a part of it and sometimes it makes you question your parent's decision to have another child.
#2. Only with siblings, life can be a roller coaster. Without them, it would be smooth sailing but God didn't prefer for you to have a perfect life.
#3. Why do siblings think that their words and actions hurt us? Their existence is enough to hurt us every day.
#4. The lack of sensibility in siblings can be annoying sometimes but then it prevents you from getting caught up doing illegal things.
#5. They say that put down everything that weighs you down! But how can I do that with my sibling? How can I cut the cords of blood?
Sibling Bonding Quotes
#1. Not only your bond with your sibling is of the blood but the thousands of memories of childhood and immeasurable emotions, and it's hence one of a kind.
#2. You can go camping, or marry a man(woman), or else move to another country, but no one can know you the way your brother(/sister) knows.
#3. Many people come and go from your life. Relationships break. But siblings are going to stay with you forever, that bond is unbreakable.
#4. Siblings remind you of your childhood, stay through thick and thin with you and help you to see and build the future, that's why they're special.
#5. If you have siblings, you've been blessed to witness and live the relationship that is built on unreal trust, genuine love, and deep care.
Sibling Quotes for Brother and Sister
#1. A bond between a brother and a sister is so buoyant to witness as it's full of ridiculous fights yet consists of the most harmonious love.
#2. If a girl(/boy) has a brother(/sister), she(/he) has the source of limitless cheer that will keep on giving her(/him) the boost to move forward in life; always.
#3. They might wrestle and blame everything on the other person but they'll be battling against you as the one if you step against any of them; that's how a brother and sister operate.
#4. They love too much yet are afraid to be vulnerable.
They care deeply yet fail to show it.
But they'll have each other's back always,
hence the relationship between a brother and sister is valuable.
#5. They see the shadows of one another and hear the screams of one another in silence. They might surface the telepathy with arguments but brother and sister love each other like no other.
Quotes About Sibling Sisters
#1. Sister is that best friend who might spill the truth in its bitter form when needed the most, but also gives you the sweetest hugs with deep care when needed the most.
#2. Your sister is your only forever best friend. She'll always be by your side to fix your mascara and heart.
#3. The most remarkable thing about a sister-sister relationship is that they both face the turmoils of insecurities together and yet always wish the best for the other.
#4. The irony of a sister-sister relationship is that they could be rivals of each other but they're also the best cheerleaders for one another.
#5. The bursts of envy get vanished every once in a while because of their unconditional love for each other, they're sisters; they hold the strongest feminine bond.
Quotes About Sibling Brothers
#1. They both hold each other in the highest regard and one's battle is always of another one. They're called brothers.
#2. Brothers stand tall together. They win together.
They never run alone but move forward together.
They never disregard one another.
Their will is stronger when combined together.
They climb mountains and dive deep oceans together.
#3. Your brother might become your crime-in-partner and then, then nothing, he stays that forever. He's there to be your best friend forever.
#4. All brothers have only one bro-code and that's to stand by one another no matter what, and they follow the rule the most rigorously throughout their life.
#5. They can be vulnerable with each other but also crack the best jokes together. They don't fight with each other but for one another. They're brothers, they always have the best time together.
From all the above-mentioned sibling love quotes, go with the ones that hit you the most or that resonate with you or your dynamics with your sibling. If you truly wish to hit the home of your sibling, then you can take a quote, and write your personalized message along it. This way, your sibling/s can see the love and care that's deep beneath the surface.
You can head to our main page to go through other wishes/greetings for various occasions or scenarios.