When was the last time you told your brother that you loved him? Probably, it wouldn't be so recent. If that's the case, these I love you messages for brother will help you. And hey, we're not calling you out, we're just reminding you to remind the people you love that you love them plenty.
While only "I love you, brother," would be enough for this kind of conversation to take place, these messages will lay that comfortable ground to convey the deep emotions with more ease. Take a break from engaging yourself in an argument daily with your brother and for now send these messages to shower your brother with heartfelt emotions.
I Love You Brother
#1. Regardless of all the times when we turn our home into a fighting ring, I always hope for the best for you, and I want you to know that I love you brother.
#2. I love you brother. You're the worst critic I have in my life but the only person who humbles me down and I know you don't mean everything you say, right?
#3. I believe the love we share is precious. With all the facade that we do, people might only see the tip of the iceberg, but it's so much deeper than that. I love you, brother.
#4. Our sister-brother love is so overwhelming that I believe the pinches of sarcasm and tons of fights are needed to balance it out, but never forget how much I love you brother.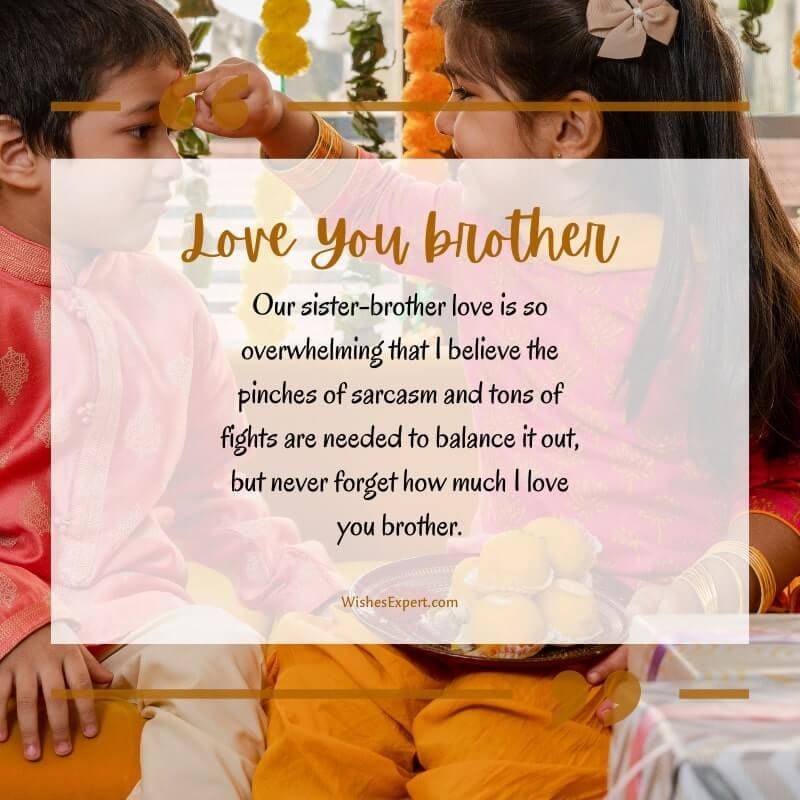 #5. Even though you're the being who makes life so much more difficult for me, I prefer to only live it with you. I love you brother.
#6. I love you brother. We all mirror each other but you and I are made of the same substance and have the same DNA, how can we both blame each for being this insane?
#7. Sometimes, I think about all the love you bring to the table and the care you do but never showcase, and then I realize how blessed I'm to have you, I love you brother.
#8. I see through all the moments of conflicts between us and all I see is love that's so deep and built on a solid foundation. I love you, brother.
#9. As long as I can see that caring and nurturing brother behind all the layers of a sarcastic and insanely annoying man, I'll love you, brother. Don't push it though!
#10. Living with you is an impossible task that I don't get enough credit for but then being my brother might be a nerve-wracking task too! And for doing it so well, I love you, brother.
Read: Loss of a Brother Quotes
I Love You Brother Quotes
#1. To the nutter, who should be known for being a clumsy drunk, insanely forgetful, slightly sarcastic, but also substantially, the best brother, I love you.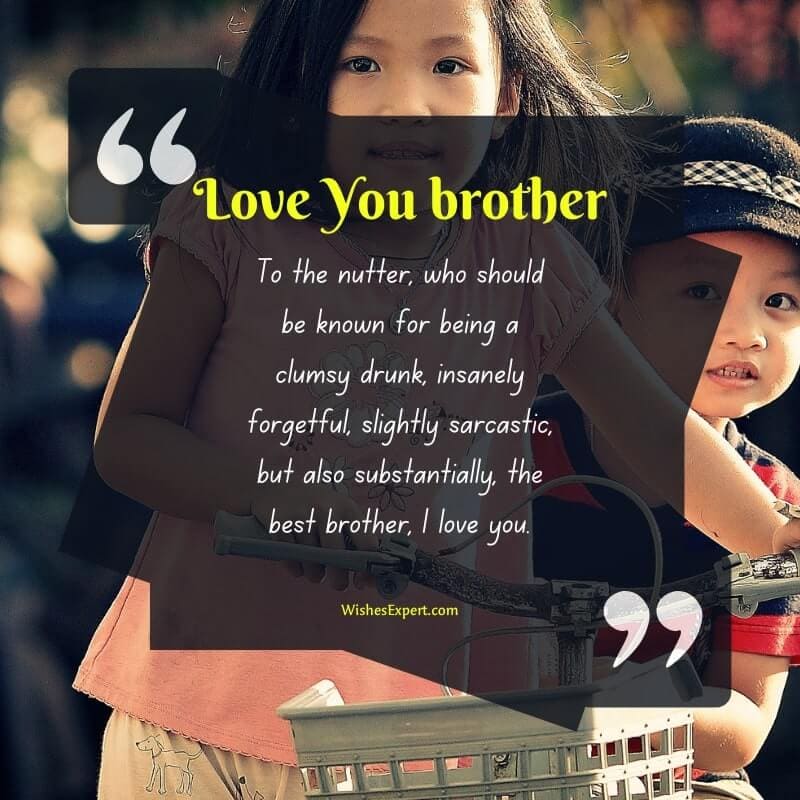 #2. We drive each other crazy but without each other, our lives would be plain and dull. Without you, mine would be more peaceful but still, I love you, brother.
#3. I love you brother because you're more honest to me than I'm to myself. I thank you for being a traveler of life with me with your most honest version.
#4. Like history, you don't lie and like the maths, you get on my last nerves. Apart from making me learn lessons, you always stand by, and for that, I love you brother.
#5. We might argue absurdly but because the telepathy we have is unbeatable in every shape and form, we're going to make our way through life just by being silly. I love you brother.
Read Also: Funny Birthday Wishes for Brother
Love You Messages for Brother
#1. You're a 10. That's the lie I'm willing to tell to all my girlfriends because you're my brother and I don't want to see you die single. Love you.
#2. You're one of those people who make living on this floating giant rock easy. The time spent with you makes life less miserable and I love you for that.
#3. When God made you, he poured in a bucket of humor for which I'm grateful and a drop of intelligence for which I'll forever be in a battle with him but regardless, I love you.
#4. The depth of the love of a brother-sister relationship might not be apparent but it's the relationship that unleashes the layers of love like no other and hence I love you brother.
#5. You're one of those beings who make fun of me gazillion times but you're also a being who can never tolerate any kind of bad-mouthing against me and I love you for that.
Check: Good Morning Wishes For Brother
I Love My Brother Quotes
#1. If you take time to peel off the layers of our relationship, you'll see we both treasure love, mostly in the form of quarrels; hence I love my brother.
#2. You can always find us having quarrels or running into circles of joy, but you'll never find the one without the other, that's why we're an untouchable pair of a brother-sister. I love my brother.
#3. Blow me once with a lie and my brother will catch it before I do. You can fight me but my brother will enter the battlefield before I do. And I love my brother.
#4. Together we're that powerhouse that can charge up any drained room. We may fight like clowns but at the end of the day, together we light up any dull place. Hence, I love my brother.
#5. I love my brother and our dynamics because we might be the most mischievous beings you'll ever meet but I promise you that this heaven-sent duo will make you wish to have a brother/sister.
Read: Sibling Love Quotes
These were all the I love you messages for brother that you need to send him as soon as you finish reading this. Why? Because he's the being who loves you the most on this planet and showcasing your love and appreciation will only deepen the relationship. And it might give both of you to share this place in the time where you can showcase your gratitude to the universe for having made both of you each other's siblings.
If your brother is having his birthday, wish him these wishes.