Say good morning to your brother with these below-mentioned good morning brother wishes. Whether you genuinely wish to greet him nicely or kindly let him know to not spoil your day then you've come to the right place.
Considering the dynamic of the relationship of a brother and a sister, and that of a brother and a brother, most of these wishes do touch the tone of sarcasm and are a bit edgy. However, you would find sweet good morning wishes too for your brother.
Not often do we wish our siblings good mornings nowadays. Hence, whether it's an edgy good morning message or a sweet one, to have sent and received one speaks volumes of love only.
Good Morning Wishes And Messages For Brother:
#1. Good morning, brother. I hope that you have a good day which doesn't include wandering around me so that I can have a good day too.
#2. I woke up to a bright, sunny morning. To keep it sunny, please stay miles away from me. Thank you and good morning.
#3. Good morning, brother. My horoscope says that I'm going to have a fun and carefree day. Hence, I expect you to stay out of the radar of my existence, thank you.
#4. I'm grateful to have woken up to this beautiful morning and have a brother like you who I know has my back forever. Good morning, brother.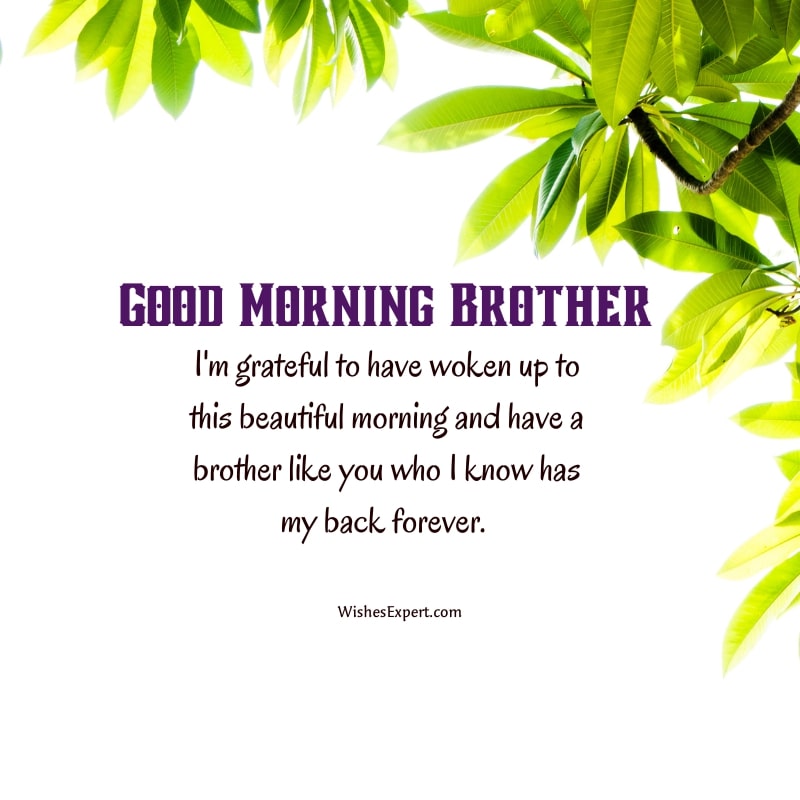 #5. Good morning, brother. The only task you have to do today is to live your life to the fullest and not blow MY day off. Easy, right?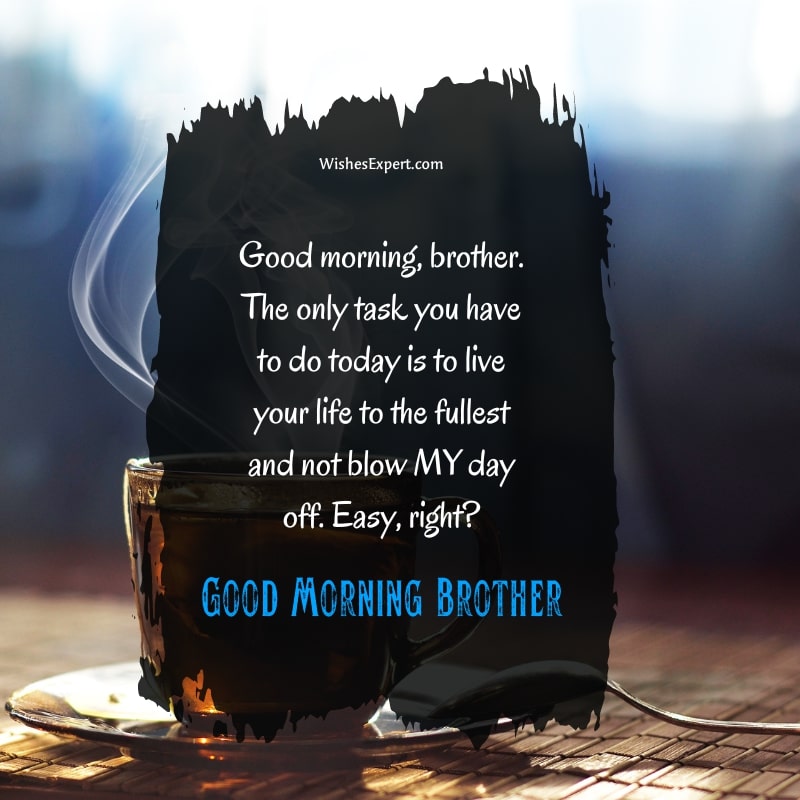 #6. Morning! Because you're a troublemaker and that can't be changed for eternity, I can wish you all the good luck to get out of the troubles that you're going to create today.
#7. Good morning. Brother, just don't act like yourself and then the chances of you having a good day are higher.
Read: Good Morning Messages for Dad
#8. Good morning, brother. It's a new day. There is a renewed energy in the air. But when I look at you, all the hope for a bright day goes into vain.
#9. Be bold. Be assertive. Be anything but not yourself because that can cause troubles we're not ready to handle. On that note, good morning brother.
#10. Good morning, brother. Only if you would not speak your mind and do whatever you feel like doing, the world today for me would be a better place.
#11. I'm aware of all the chaos and turmoil you can create but can you hold yourself a bit back today and let me have a good day? Thank you, and good morning, brother.
#12. How can the world be against me? When I have a brother who does their job! To the brother, I didn't ask for, good morning!
#13. Good morning, Brother. Kindly, go and chase yourself because all I'm hoping to do today is stop by and smell the roses, but if you'd be around, it'll wither the flowers.
#14. Good morning, Brother. I woke up and looked at the sky and smiled at the beaming sun. And then I looked at you and the disappointment shoved off the spirit of joy!
Read More: Good Morning Family Quotes And Wishes
#15. To the brother, from whom I can't expect anything good, make yourself comfortable at home and don't come to college today to let me have one good day! Good morning!
#16. The bundles of hope are knocking at your door. Get up and welcome them with an open heart for I wish you to have a day filled with giggles and happy gummies. Good morning, brother.
#17. Regardless of how much you get on my nerves, I would not trade you for anyone else. Good morning, brother. Have a great day.
#18. Birds are chirping, flowers are budding, the sun is winking and I wish you to have a buzzing day. Good morning, brother.
#19. Good morning, brother. I wish you a day filled with surprises that sweep you off your feet and moments that leave your heart racing.
#20. Good morning, brother. You can go jump in the lake or jump off the cliff. As long as you're out of my sight, I'll be alright.
#21. Good morning, brother. Know that God has privileged you by giving you a sister like me or else who would have the patience and determination to live with a sloth like you? Please be grateful.
#22. To my brother whose spirit animal is perhaps a panda or a snake, and whose skill set includes causing chaos, good morning.
#23. To my brother, who makes the worst decisions and takes the wrong turns, I wish you luck because you need it the most. Good morning.
#24. Each day I fall in love with each creation of the creator and then I realise we share the same genes and then I doubt God the most! But good morning, brother.
#25. Good morning, brother. The dawn has come with new horizons for you to travel to and find the happy place that you can call home. Get up and go for it!
So, these were all the good morning brother wishes that we've come up with. If you like them, please let us know. We wish you to have a good day ahead and hope that you've already saved some of these or perhaps all of them.
You could visit our main page where you can find wishes and quotes for almost any occasion or scenario.