Good Morning Messages for Dad: Whether you wish to greet your father a good morning or are clueless about how to reply to his good morning wishes then here are the good morning wishes for dad that you can choose from. Let's be honest, you love your dad but not so much the outdated morning wishes he sends you every day. But because you love him and wish to reply pleasantly, these are the wishes you can send him.
Other than making his morning with some high-vibrational words and energies, these wishes might give him a moment of enlightenment about what kind of good morning wishes my daughter would like to receive. Hence, go with these ones.
Good Morning Dad
#1. Good morning dad, I'm sending you all the optimism you might be in need of to get out of bed and run the errands as a 25 year would.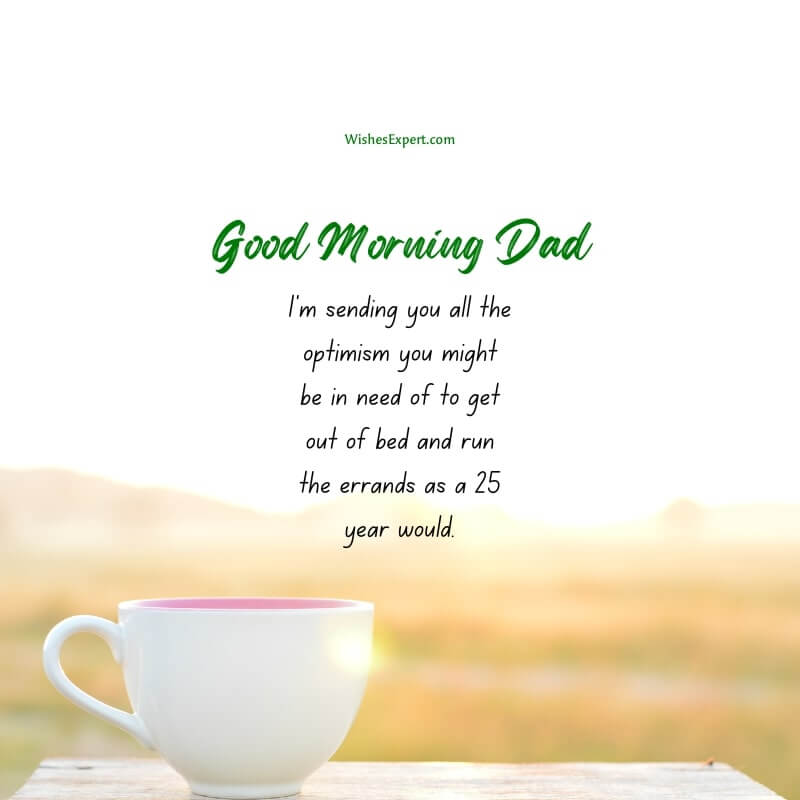 #2. Because I rely on your wise cells and phone calls, wake up and prep yourself to be my wonder-man, good morning dad.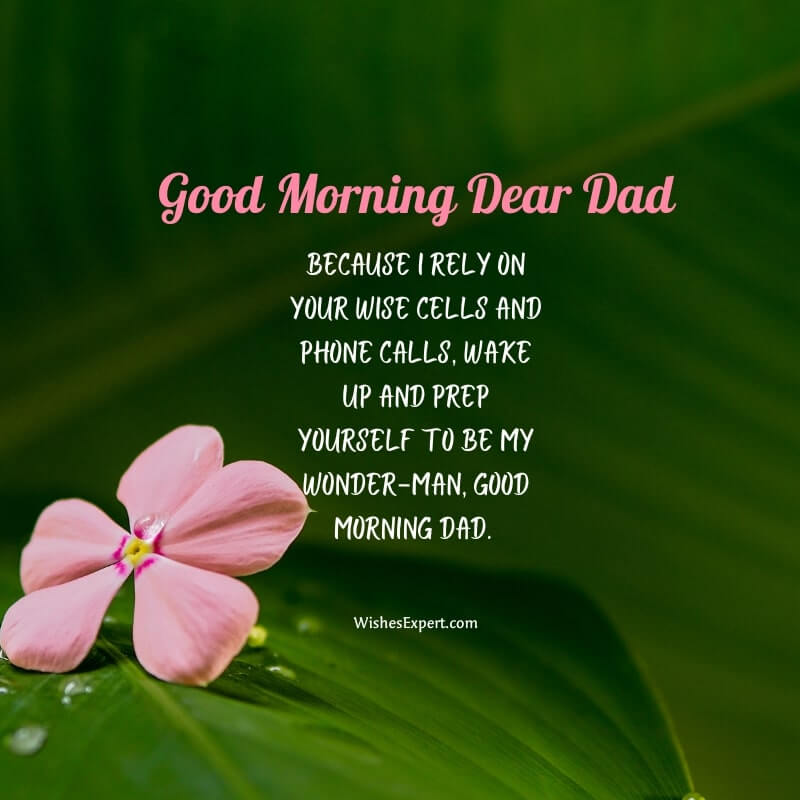 #3. Good morning, dad. I wish you a day filled with a stream of happiness to take over all the misery of yesterday.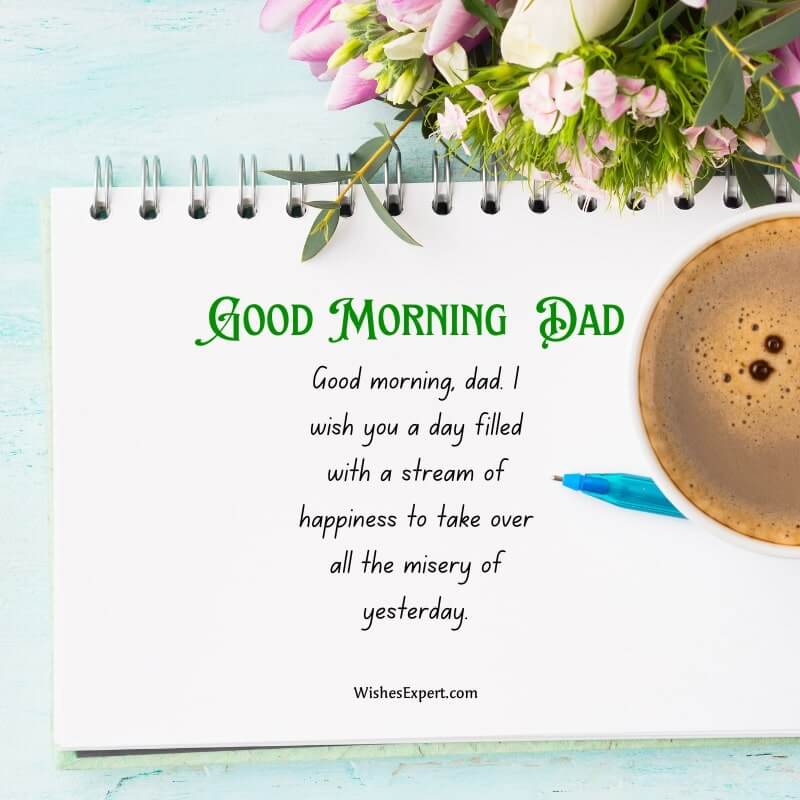 #4. Who needs social media influencers when I've got my dad to be my inspiration and guide whenever I stumble along the path? Thank you for always being with me, good morning.
#5. I hope you get to have a day that can allow you to have some time to yourself for everyone needs to recharge and rejuvenate. Good morning.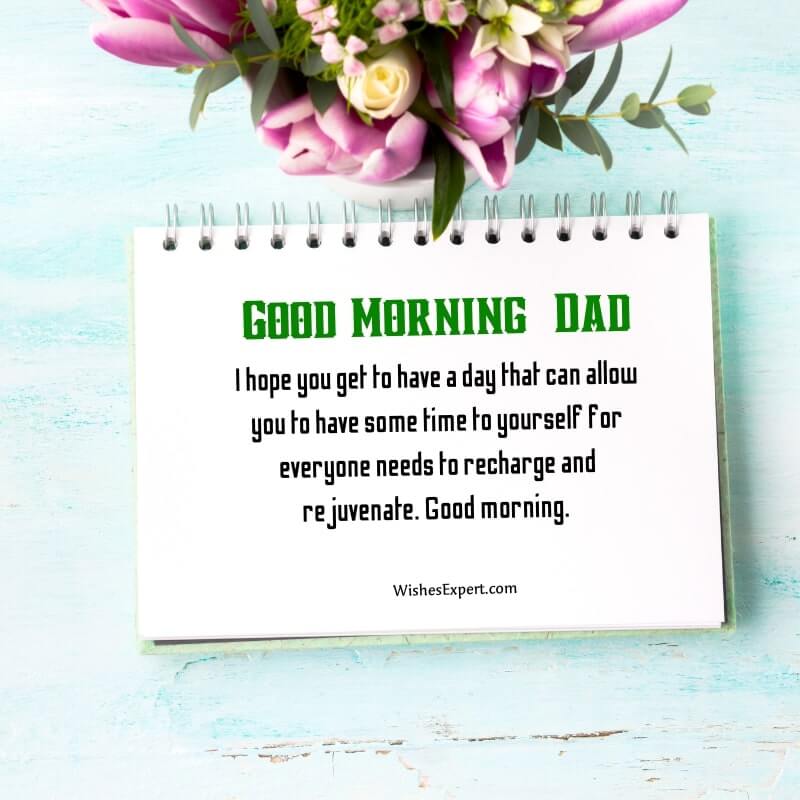 Read: Good Morning Family Quotes
Good Morning Daddy
#1. Like the strings of the violin, I wish each event that takes place today only enhances the harmony in your life, good morning, daddy.
#2. At the break of the dawn, peace tries to sweep in to calm your soul and prepare you for the day ahead, let it sink in. Good morning, daddy.
#3. I hope daddy you get to log only into the apps that fill your cup of love and joy; discard each tab that doesn't serve you well because you deserve the best. Good morning, daddy.
#4. In the blooming tales of today, I wish you get to live the best one simply because you're a wonderful being. Good morning, daddy.
#5. I wish you a day, daddy, where all the blues stay miles away from you and you keep on only vibrating on your high energy, good morning!
Read Also: Birthday Prayers And Blessings For Dad
Good Morning Messages for Dad
#1. For you provide us with everything, daddy, I wish that you get to live each day with the abundance of everything you desire for. Good morning.
#2. Let your adventurous spirit come through to lead you to the path of freedom for you deserve to live a life that's free from burdens. Good morning.
#3. I pray today that the gateways of contentment never are forbidden for you and you feel at home every day.  Good morning, dad.
#4. You're more than precious to us than you know, realize, or can imagine. And hence we always wish to see you smiling while carrying a bountiful heart.
#5. Sip the cups of love from an infinite sea of love that divine has given us. Today, at least, savor yourself only and have a day by yourself only. Good morning, dad.
Read More: Miss You Dad Quotes
Good Morning Greetings for Dad
#1. I wish dad you live a day today with such pleasant moments that you get to tell the story of today with a winsome smile on your face. Good morning!
#2. Because you've brought us all the presents we asked for, I hope, divine balances out the scale and give you the presents each day you've never asked for. Good morning.
#3. Your warmth and sweetness make this cold and bitter world better each day, don't worry about to what extent. Giving a drop back each day to the universe is enough. Good morning, dad.
#4. Even while being aware that poetry and art will make your day anyway, I still need to wish you a pleasant day. Good morning.
#5. Nothing is perfect in this world yet I wish you to have a perfectly fabulous day because you're a flawless father. Good morning, dad.
Dad Good Morning Wishes
#1. Say goodbye to your safety net today dad, and go into the wilderness to live a day like never before, good morning.
#2. To the extraordinary being, I wish you a blissful morning. For you're a bit extra, I wish you a day that's an extra(good kinda) too. Good morning, dad.
#3. If the spark has been lost dad I wish you a day that ignites the passion in you simply to live each day to the fullest and burn with inspiration only. Good morning.
#4. If you're reading this, you're one of the best dads anyone can have and your daughter/son is sending you this to remind you that with a note that says, "good morning".
#5. Dad, make yourself available today for yourself solely and take time out to do something for yourself only. Good morning.
Because the above-mentioned good morning wishes for dad are unique ones, not only you'll feel happy to share them but your dad might find them amusing too. You can find the other good morning texts and greetings as well on our main page for your friends, other family members, or partners.
As the mornings that begin with a positive attitude, lead to only the brighter days. And when we aren't able to pump ourselves with that motivation sometimes, our loved ones can. Before anyone does it, you become that caring and nurturing being.