Good friends are a rare gift to find. Friends have to stay in contact to know when they are needed. Sending short, humorous and nice good morning messages to friends is a great way to improve their mood and to make your bond strong. A good friend always expects that the other one should be aware of what is going on with the other one. If you are looking for some sweet and cool quotes to brighten up the mood of your friend then here is a list you can choose from.
Good Morning Messages for Friends:
1. Hello, dude wakes up. You need to go to work or you will be late.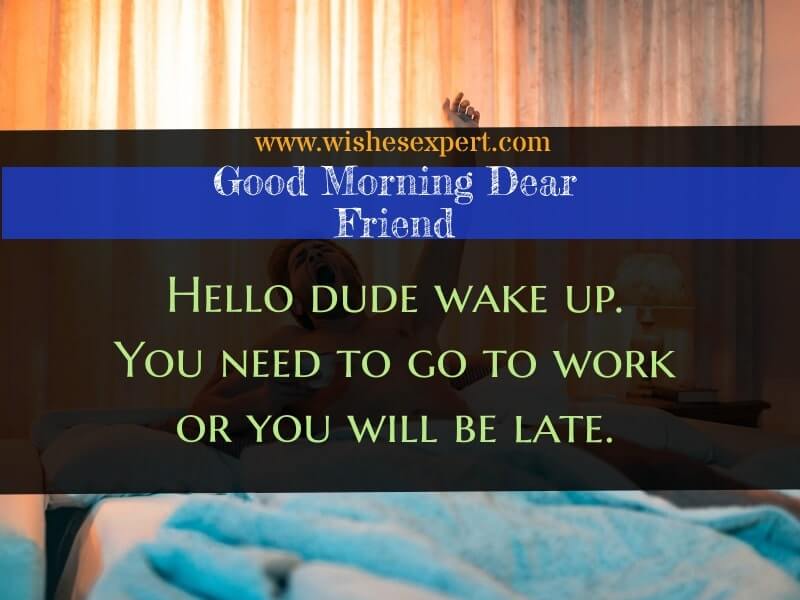 2. Hoping that your day starts with a lot of fun and happiness.
3. Good morning my sleepy head. Come on there is a whole day ahead.
4. This morning, I'm sending out abundant wishes to bless your day with sunshine, happiness, and all the beautiful things that will make your heart happy. Good Morning, my dear friend.
5. It's important to begin each day with a good affirmation. You are the ultimate blessing the universe has given. I am grateful to have a friend like you. Good Morning!
6. Here's a heartfelt message of love and prosperity to start your day. Wishing a happy and successful day to one of the most wonderful friends in the world. Good Morning.
7. I hope you are filled with good and joyful ideas as you begin your day. My friend, you deserve all of life's most incredible things. Good morning, beautiful.
8. May the morning welcome you with a smile and extend its arms to you every morning. Have a wonderful day! Good morning my dearest friend.
9. You kept me awake all night and look at you now how much are you enjoying your sleep.
10. You know what you have been roaming in my mind for the whole night. Good morning!
11. There are so many things I want to talk with you about. Wake up and give me a call!
12. Good morning my friend and remember you have a schedule to follow today.
13. It's unimaginable how my life would have been if I had not found a friend like you. Get out of bed!
14. Having a friend like you sure is a blessing. Come on wake up or you will lag behind.
15. Wake up, bro! Tell me what are your plans for today.
Check: Good Morning Messages for Husband
Cute Good Morning Messages for Friends:
16. Since you are already seeing this message then get out of bed fast!
17. Good Morning, friend! I hope you're having a fantastic start to your day. I've missed your company and am waiting to see you soon again. Take care of yourself.
18. Good morning, amazing soul. You've been a fantastic partner in crime and a genuine friend. I'm glad for everything we have and everything we've gone through together.
19. I've been able to accomplish a lot since I have a friend like you. You have instilled confidence and fearlessness in me. I shall be eternally grateful. Good morning friend.
20. I wish you all the happiness this morning, along with a prayer to keep bad luck away from you. May our bond of friendship stay forever. Good morning my friend.
21. Even on my worst days, thinking about you brings me clarity and optimism. You bring light to my darkest days. Thank you for not leaving by my side. Good Morning.
22. I have made a cup of coffee for you. Wait you know I am joking right!
23. Start with a beautiful smile of yours. I like nothing more than your smiling face.
24. Thinking of the first time I met you, I remember how sleepy your eyes were. Change something about yourself!
25. Haven't seen in a while. Wash your face and give me a call!
Read: Good Morning Wishes For Rainy Day
Good Morning Messages for Best Friend:
26. Very good morning to the sweetest soul on earth.
27. Being your best friend, I am born with the duty of waking you up every morning.
28. Wake up my love! A whole kingdom is waiting for you to conquer.
29. Listen I have a very important thing to tell you and that is to stop being a lazy guy bro!
30. Having a Best friend like you itself makes me so proud of myself. Have a very good morning.
Also Read: Good Morning Message For Her
Good Morning Text To A Friend
A good friend can always lighten up our day very easily with some sweet message or a funny one. So, if you know that a friend is having a hard time or he/she is in need of some motivation then sending them a good morning and good night message with some positive words will make them feel better.
31. You don't need the sun to wake you up in the morning for you have me. Good night!
32. Sleeping a lot will drain colors from your fresh face so wake up baby!
33. Oh, dear friend, you must have turned off your alarm so here I am wake you up.
34. Hello, Mr. Dreamer it is time for you to bring your goals to reality.
35. My dear Friend, you know what waking up early is the first step for achieving big.
36. I miss you, my friend. Wake up and come to see me.
37. I just wanted to assure you to go out with a positive mindset. You can do everything you put your heart to, wishing you a morning filled with positivity.
38. Good morning, my dear companion. Even on the gloomiest of days, you are a breath of fresh air. Enjoy your day, and remember I am always there for you.
39. You are stunning in your thoughts, appearance, and personality. I hope you have a wonderful day ahead. My dearest friend, good morning.
40. Get out of bed and begin your day with a smile on your face. I wish you all the prosperity and happiness in the world. Good morning my friend.
41. The good times are easy, but the bad times put friendship to test. Thank you for being the light in my life when I needed it the most. Good Morning.
42. When I first saw you, I never knew that we would be such good friends. Have a blessed morning!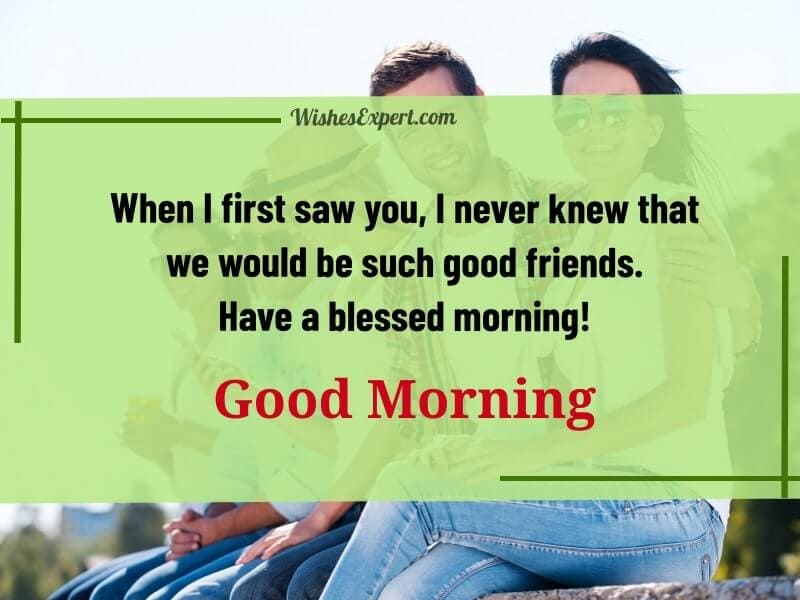 43. I could never imagine that I will have such a cute and funny guy as my best friend. Wake up, my boy!
44. Astronomy has told me that you are going to have an amazing day ahead so get ready.
45. I know sleeping is something you never get tired of but you have a life to live too.
Try: Good Morning Wishes for Sister
Good Morning Quotes for Friends :
46. It's already evening and you are still asleep. Wake up!!
47. The only thing that is an obstacle for you in the path to success is your oversleeping.
48. Look out of the window and see how happiness is waiting for you.
49. I know you are going through some hard times but never forget that I will always be by your side.
50. Have a deep breath in this fresh air and observe the beauty of nature.
51. Sleeping in the morning will make you lazy so good morning my boy.
52. Very good morning to one of the smartest people I know.
53. It has been ages since we moved away but our friendship never changed. Thank you!
54. You are sleeping and I have already started thinking about you buddy. Wake up!
55. Have an amazing day ahead my champ. Waiting to see you soon!
Also Read: Funny Good Morning Quotes
Morning Quotes for Friends:
56. Since I have to send you a good morning message every day so I cannot send you some flowers and chocolates but you are sweet enough so you don't need them anyway.
57. I just woke up and thought of you so here I am wishing you a very good morning.
58. Yesterday was hard but it is gone so take a fresh start.
59. I cannot start a day without talking to you first so wake up my honeybunny.
60. Good morning to the man who knows all. You will sure get late if you have not woken up yet.