Having a loved one is a blessing and you need to show them how grateful you are to have such a gift. You always have to make them feel special. Husbands want their wives to be extra caring and considerate about their feeling so leaving a good morning message for husband or wishing him good night with sweet and love coated words will brighten up his day in a way that he will start loving you more. Just the feeling of you thinking about him in such beautiful gestures will spark the chemistry between the two of you.  Let us see some beautiful and creative quotes you could use to wish your better half a good morning.
Good Morning Husband
Waking up every day to celebrate my love for you makes me so happy. Good morning handsome!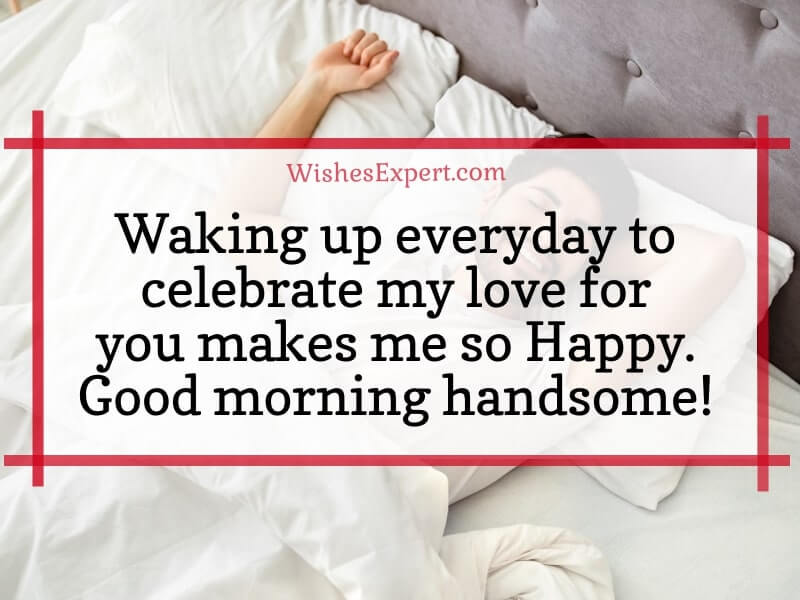 To the man who shines for me brighter than the stars. Love you sweetheart.
Open your eyes and see the world that you have to win. Good morning the king of my heart.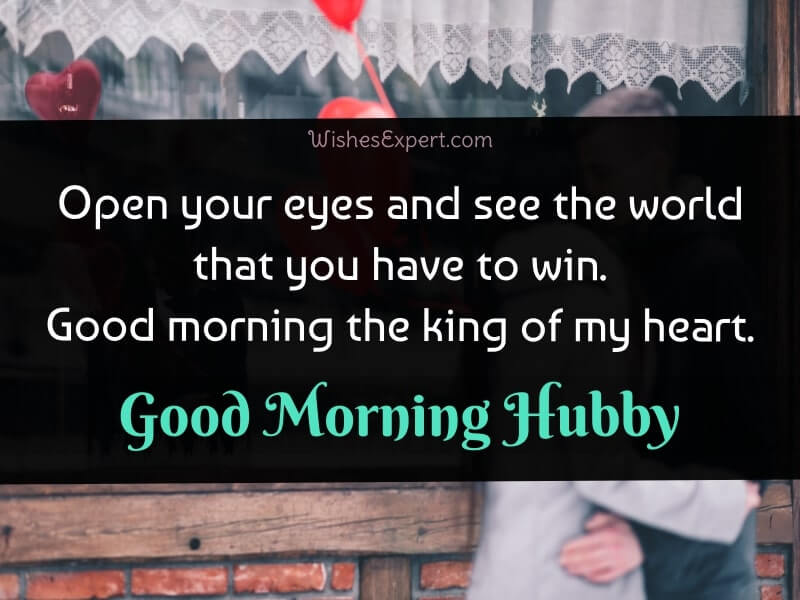 Taking just one sight of you makes my heart go crazy. It is unbelievable that someone could be so charming and loveable. Good morning Mr. Husband.
Everything looks to be pleasant in your presence. It's always a pleasure to wake up by your side and to start the day with you. Good morning, love.
To the source of my shine, happiness, and inspiration, I like how you look at me and smile every morning. My day starts bright with your smile.
The sight of you first thing in the morning constantly reminds me of the world's loveliness and simplicity. Love, you'll always be my happiness. Good morning.
I appreciate your presence in my life. I swear I'll always be at your side and flourish our life together. Good morning, husband.
Waking beside you, my dearest husband is another cause to be grateful for the day; you are the one who brightens my morning. Have a wonderful morning, love.
Wake up sleepy head. It's time for you to miss me. Love you so much.
Wanted to wake you up to tell you that there is no one in this world who can be as softhearted and loving as you are. You need to wake up or you will be late for work.
Every woman dreams of a man like you. Just the sight of you makes my heart skip its beat. Good morning and love you sugar bunny.
Every day is filled with the realization that I have started to love you more than ever. Waiting to see you, sweetheart.
Read: Good Morning Message For Her
Good Morning Quotes for Husband
Thinking of the first time I saw you; I could never have imagined that you will be such a beautiful part of my life. Wake up for a new day to enjoy our love.
I will always treasure the gift of loving you, and I will always be grateful for the blessing of having you. I wish you a wonderful morning.
Your memories, care, and support brighten my dark days. I feel happy when you're around. I will always adore you. Good morning, my sweetheart.
Thanks to you, my troubles became joys, my fear became love, and my nightmares became lovely dreams. I'll always be in love with you. Good morning, darling!
For me, the best moment of the day is when I wake and see you staring back at me with affection. Have a wonderful morning.
Your existence in my life improves me beyond where I was. I can't think what my life would be like without you. I love you, dear. Have a pleasant morning.
Good morning to the man for whom I walked down the aisle as the happiest woman.
The way you make me laugh is so special for me. Wishing you a beautiful morning love.
I can't Thank God enough for making you the man of my heart. Waiting for you to wake up.
Time to leave the dream world, Mister. Let the world see your handsome face.
Watching you stare at me with those charming eyes of yours makes me feel I have won the world's love.
Never had I imagined that a man could be so caring, loving, and adorable. Smile for this world is all your Dear.
Check: Rainy Good Morning Quotes
Good Morning My Husband
You are the wisest, sweetest, and cutest of all the men I ever met. I cannot believe I have you as my life partner. Good morning!
A very special good morning to the man who deserves all the happiness and comfort of the world. It is a blessing to be born as your soul mate.
For all that we went through waking up by your side is worth every sacrifice. Wake up, love.
Guess who robbed me of my heart. It was you, handsome man. Open your eyes and let me see you.
Who are you dreaming of when I am here waiting to hug you? Wake up, you dreamer.
Waking up and not finding you by my side is so heartbreaking. Come back to me, sweetheart.
Good morning to the man who has won my heart every time he smiles. Moments that I have spent with you cannot be traded for any treasure of the world.
Good Morning Hubby
I bet that in this life or any other nobody can love you more than I do my Dear Hubby.
In a world of so much distress, just the thought of you makes it a better place sweetheart. Wake up my Romeo.
I love the way you hold me in front of so many people like a treasured doll. The way you show the world I am yours makes me cheerful.
The moment we met for the first time I knew I could never love someone else. Good morning my hubby.
Watching you make me bed tea feels so special. Waiting for my special treat honey.
Romantic Good Morning Messages for Husband
Falling In love with you is something I could trade for my life. I want you so badly Hubby.
Whenever I look at you, I realize that there is nothing about you that I can't love. Wake up, my husband.
There is nothing in this world I want to be but by your side. You fill my heart with immeasurable warmth.
A Good Morning to you loaded with kisses and hugs. For me you are perfect.
Wishing a good morning to my knight in shining armor. Nobody can love me and cherish me the way you do honey bunny.
To the wisest and most humored person on Earth. May my good morning message reach you with all its warmth filled with my love.
Talking with you till late at night and watching you sleep is so heaven like but you need to wake up for this new day in your journey to success.
I wish I could be there to draw the curtains and bring you a cup of hot coffee. Start your Good morning thinking the days of us being far are finally ending my hero.
Expressing your feelings and confessing your love to your husband can make your love eternal. There is no better way for your man to start his day but by receiving a lovely good message from you. These good morning messages will show him how much you adore him and this will enhance the romance between your couple in a way that will never get boring neither for nor for him.