You can make someone's morning and make them smile as soon as they wake up with these funny good morning quotes, wishes and messages. Starting a day with fun and positivity will make the day beautiful.
You might or might not be able to make your day beautiful on your own, but you can make someone else's day a good one by sending them funny good morning wishes. Your text will be the first thing they will be reading. Make sure it is hilarious and ridiculous enough to make them laugh and forget about their sorrows. If you wish to send someone funny good morning wishes, here are some funny good morning quotes, wishes, and messages to help you figure out some funny words to send.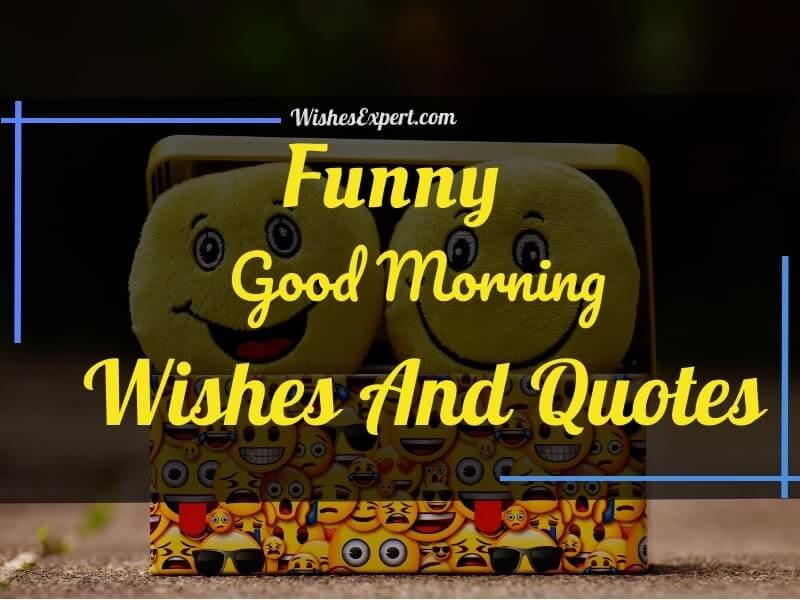 Funny Good Morning Quotes:
1. Good morning to you, even though the morning is not good. I hate waking up this early. But I got to do it anyway. Coffee may make it better.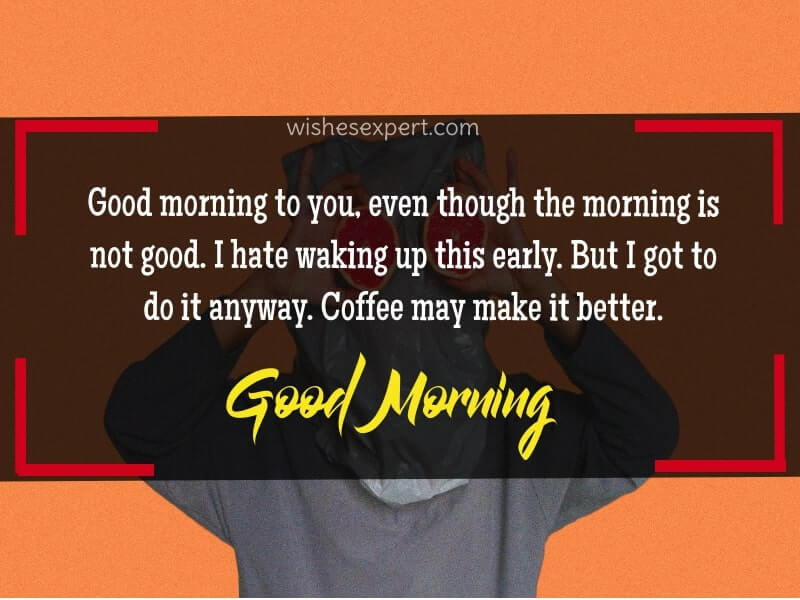 2. Morning is never a good one unless coffee pours down some energy in me. So let me have a strong cup of coffee to wish you a good morning.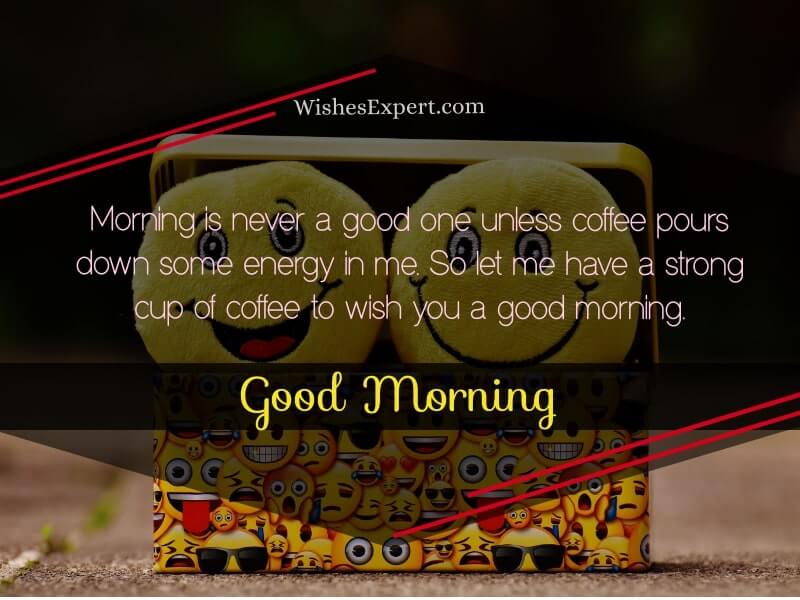 3. I sometimes think that I am deaf because setting my alarms at a low volume always fails to wake me up. But after I am out of sleep, I get my hearing senses again. Good morning.
4. I think even the morning has no choice but to wake up so early and disturb all of us. If it had, maybe it would come a little late. Good morning.
5. Good morning to all the lazy bum out there and not to all the energetic heads because we cannot match your energy and we hate to stand down.
6. My normal human senses i.e., smell, taste, sight, touch, and hearing do not work as soon as I wake up. It only does after I get a strong cup of joe.
7. A half good morning to everyone because I am only half awake. I will wish you a full one after I completely wake up from my sleep.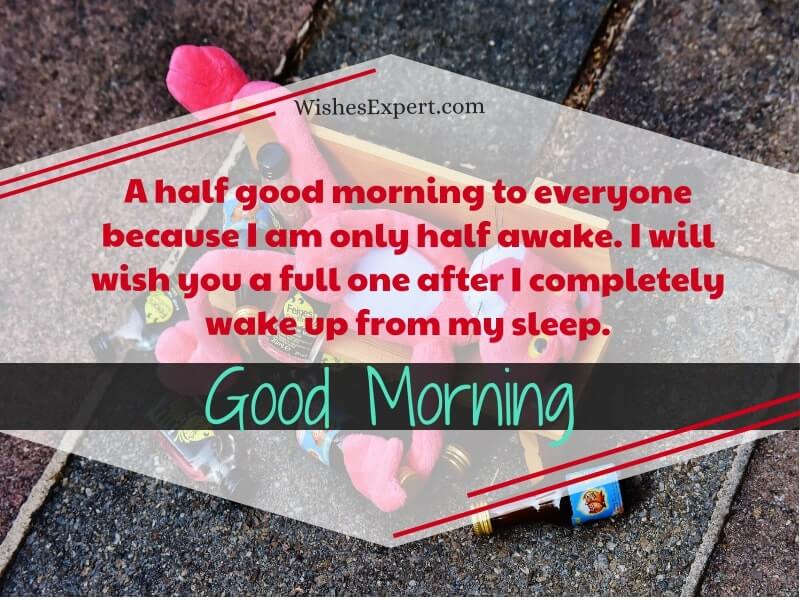 8. The government should have put up a rule against people who wake up early in the morning. The day would start late and be peaceful. Good morning.
9. Why does my alarm always ring when I am having such a sweet dream? Why does the bird have to scream this hard? I hate everything about mornings.
10. I am not a morning person, but my boss from work is. Why do we have to face it when he is the one having a problem?
Read: Good Morning Messages For Wife
Funny Good Morning Quotes With Images:
11. I don't know when I will progress in life. But my progress is made when I wake up a little early in the morning because I am strictly not a morning person.
12. I have started to hate my adulthood because as a kid I always dreamt of waking up late in the morning when I had to wake up early for school. It is still the same.
13. I am that one lazy person who has to set at least eight alarms to wake up. And sometimes, even they don't work. Why does life have to be like this?
14. I don't want to wake up from my dreams because they are far better than my reality. Why can't I just snooze and keep living in my dreams?
15. I wish I had a time machine. I would wake up and go past just to go back to sleep again. Good morning to everyone who wishes the same.
Also Read: Good Morning Messages for Friends
Funny Ways To Say Good Morning :
16. There is still a long way for the weekend to arrive. So it's just better to start your day without planning your weekend. Good luck!
17. The weekend is calling me to have some fun, but the rest of the days just love me too much. It doesn't let me go. Good morning, beautiful people.
18. Where is the good in the good morning? Morning is always bad because I have to wake up from my wonderful sleep. But good morning, anyway.
19.  They say love your life because you only get to live it once. But I don't know how to love my life when I have to wake up early in the morning.
2. I was on my way to winning a lottery of $5000, but then my alarm rang, and now I have to be on my way to work. What a misery!
Check: Good Morning Text To Your Crush
Funny Good Morning Texts:
21. Yes, I have many goals to achieve in my life. But waking up early is not one of them. Let me go back to sleep again!
22. I want holidays because I have to rise early in the morning for work. But at the same time, I need money to go on a holiday which will be provided only when I work.
23. Why does the start of the day have to be with a disturbing alarm clock? The good morning turns into bad when an alarm clock is right beside your head.
24. Welcome one more day of complaining about waking up early, working your ass off, and draining your energy. Good morning, to all the people having this life.
25. It is the rise and shines for other people, but it is a rise and barely survives for me. Welcoming another day of barely surviving in my work environment.
26. Who said life is good? Life is stressful, man. Only if I could avoid life by simply going back to sleep again would life be good.
27. I am alive, but why? Only to wake up early and see my grumpy boss first thing in the morning? I would rather be dead. Good morning, everyone.
28. Good morning. The beginning of another stressful day has begun. I wonder when I will be old enough to retire and spend my days in peace.
29. I think I have an affair with my bed. It loves me so much that it doesn't let me get up in the evening. Good morning.
30. It is a waste of time to send me good morning wishes because I am not a morning person. I wake up at noon.
Take A Look: Good Morning Messages for Him
Funny Good Morning Messages:
31. Open your eyes, get off your bed, and dash into the kitchen cause coffee will make your morning less lazy. Good Morning Coffee Lovers!
32. I love listening to the rain when it hits my window and the chilliness that comes along. It gives me a reason to stay in bed longer. Good Morning.
33. People are similar to plants like cactus, grass, Dandelions, which are all different but all need water to grow every day. But I don't want to wake up and prepare to grow.
34. The sun shines to let you know that she is here to warm you from the cold night and prepare for the windy evenings. So rise and shine with sunny mornings.
35. You have these beautiful eyes so, but not to see the beauty of morning sun for happy mornings. So, go back to sleep and wake up in the noon.
Funny Good Morning Sayings :
36. I see you peeping Mr.Sun. You look warm and handsome as always. Good Morning Beautiful People! Don't forget to brush your teeth today!
37. If you are a fish, then happiness is water. Happiness is always around you, so stop searching for it. Good Morning fish!
38. Oopsy, did I just see the sun? Cause I heard the sun likes to wait upon beautiful people in the morning. Good morning, my pretty person.
39. People from other sides of the globe are sleeping cause the sun is on your side. So, wake up and start your day with a freshly grounded cup of coffee.
40. Every time I wake up, I always get amused, thinking why you are so beautiful. Maybe it is because I am still a little asleep and haven't woken up properly. Good morning exquisite you!
Funny Good Morning Text For Her:
41. Good morning, love. I thought waking up next to you would be peaceful. But the deal of bringing you Coffee first thing in the morning has ruined it.
42. Walking up to a beautiful face would be wonderful. But your face would be beautiful after you wash it because it's oily. Good morning.
43 Why does my morning have to start with your stinky farts? You need to eat healthily and get rid of it. Anyway, Good morning, beautiful.
44. Everyone wakes up with an energetic mind like they want to go on an adventure. But looking at your lazy face, my energy gets down. Good morning.
45. I think kissing your good morning would be amazing, but I wouldn't do it unless you brush your teeth. Good morning, cutie. Now, go brush your teeth.
Funny Good Morning Text For Him:
46. I would love to stay in bed with you and talk about things, but coffee is my priority in the morning. Sorry, honey, and good morning.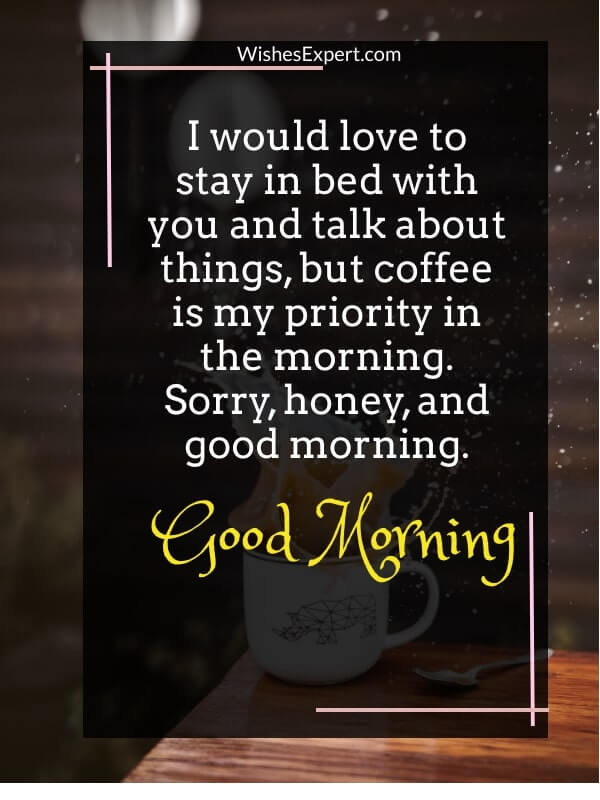 47. Good morning, my dear husband. I hope you get out of bed and help me do the chores. If you don't, it will be a bad morning for you.
48. My best friend has a husband who makes her coffee. I want a husband like him, not you. Good morning. Would you please serve me my coffee?
49. You and I were on a romantic date where you wrote poems for me and read them out loud. Then I woke up and realized how bad you are at it. Good morning.
50. Good morning. Our day is going to be productive because we are going to text each other the whole day. I am not letting you do anything else today.
Help someone start their day with a big smile on their face with some funny sayings in the morning. Positivity in the morning time helps the mind to freshen up. Above are some funny good morning texts to send if you cannot find the right words to say.